krainaksiazek the dangers of missing out 20054560
- znaleziono 6 produktów w 1 sklepie 64,81 zł
Książki / Literatura obcojęzyczna
Without telling her family, Elyria takes a one-way flight to New Zealand, abruptly leaving her stable life in Manhattan, her home, her career and her loving husband. As the people she has left behind scramble to figure out what has happened to her, Elyria embarks on a hitchhiker's odyssey, testing fate by travelling in the cars of overly-kind women and deeply-strange men, tacitly being swept into the lives of strangers, and sleeping in fields, forests, and public parks. As she journeys from Wellington, to Picton, Takaka, Kaikoura and onwards she asks herself, what is it that I am missing? How can a person be missing?Full of mordant humour and uncanny insights, Nobody Is Ever Missing is a startling tale of love, loss, and the dangers encountered in the search for self-knowledge. It is a novel which goes far beyond the story of a physical journey and asks what it means to be human, to be a woman, and to be at the mercy of forces beyond one's own control.
Sklep: Libristo.pl 28,66 zł
Red Star Hodder & Stoughton
Książki / Literatura obcojęzyczna
Red Star is Keira's own beloved pony - an athletic strawberry roan who is affectionate and loyal and has been part of Keira's life since she was three years old. Keira loves this pony more than anything else in the world - Red Star can do all the cowboy stuff - spins, sliding stops, roping and rounding up cattle. And he seems to read Keira's mind. 'You'd think he was almost human!' big sister Brooke says. So one night when he goes missing, Keira at first thinks he worked out the latch on his stable door and has snuck out looking for feed. But she searches the grain store and the hay barn and can't find him anywhere. Panic sets in - if Red Star took off into the mountains, there are dangers out there for a lone pony - coyotes, bears, even mountain lions. Anyway, he's too smart to get himself into that kind of fix. 'Maybe somebody stole him!' Brooke suggests. So Keira and her family turn detective to track Red Star down.
Sklep: Libristo.pl 125,55 zł
Książki / Literatura obcojęzyczna
A Globe & Mail 100 SelectionAward-winning investigative reporter Robert Kolker delivers a haunting and humanizing account of the true-life search for a serial killer still at large on Long Island, in a compelling tale of unsolved murder and Internet prostitution.One late spring evening in 2010, Shannan Gilbert, after running through the oceanfront community of Oak Beach screaming for her life, went missing. No one who had heard of her disappearance thought much about what had happened to the twenty-four-year-old: she was a Craigslist prostitute who had been fleeing a scene--of what, no one could be sure. The Suffolk County Police, too, seemed to have paid little attention--until seven months later, when an unexpected discovery in a bramble alongside a nearby highway turned up four bodies, all evenly spaced, all wrapped in burlap. But none of them Shannan's.There was Maureen Brainard-Barnes, last seen at Penn Station in Manhattan three years earlier, and Melissa Barthelemy, last seen in the Bronx in 2009. There was Megan Waterman, last seen leaving a hotel in Hauppage, Long Island, just a month after Shannan's disappearance in 2010, and Amber Lynn Costello, last seen leaving a house in West Babylon a few months later that same year. Like Shannan, all four women were petite and in their twenties, they all came from out of town to work as escorts, and they all advertised on Craigslist and its competitor, Backpage.In a triumph of reporting--and in a riveting narrative--Robert Kolker presents the first detailed look at the shadow world of escorts in the Internet age, where making a living is easier than ever and the dangers remain all too real. He has talked exhaustively with the friends and family of each woman to reveal the three-dimensional truths about their lives, the struggling towns they came from, and the dreams they chased. And he has gained unique access to the Oak Beach neighborhood that has found itself the focus of national media scrutiny--where the police have flailed, the body count has risen, and the neighbors have begun pointing fingers at one another. There, in a remote community, out of sight of the beaches and marinas scattered along the South Shore barrier islands, the women's stories come together in death and dark mystery. Lost Girls is a portrait not just of five women, but of unsolved murder in an idyllic part of America, of the underside of the Internet, and of the secrets we keep without admitting to ourselves that we keep them.
Sklep: Libristo.pl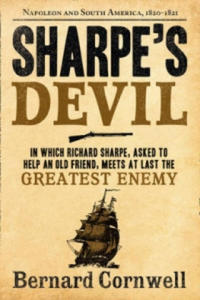 44,46 zł
Książki / Literatura obcojęzyczna
Richard Sharpe, asked to help an old friend, meets, at last, the greatest enemy. Five years after the Battle of Waterloo, Sharpe's peaceful retirement in Normandy is shattered. An old friend, Don Blas Vivar, is missing in Chile, reported dead at rebel hands - a report his wife refuses to believe. She appeals to Sharpe to find out the truth. Sharpe, along with Patrick Harper, find themselves bound for Chile via St. Helena, where they have a fateful meeting with the fallen Emperor Napoleon. Convinced that they are on their way to collect a corpse, neither man can imagine that dangers that await them in Chile...Soldier, hero, rogue - Sharpe is the man you always want on your side. Born in poverty, he joined the army to escape jail and climbed the ranks by sheer brutal courage. He knows no other family than the regiment of the 95th Rifles whose green jacket he proudly wears.
Sklep: Libristo.pl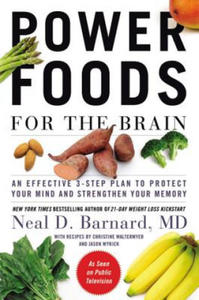 129,95 zł
Książki / Literatura obcojęzyczna
Could your breakfast or lunch be harming your memory? §Are you missing out on the foods that could prevent Alzheimer's disease? §Everyone knows good nutrition supports your overall health, but few realize that certain foods-power foods-can protect your brain and optimize its function, and even dramatically reduce your risk of Alzheimer's Disease. Now, New York Times bestselling author, clinical researcher and health advocate Dr. Neal Barnard has gathered the most up-to-date research and created a groundbreaking program that can strengthen your memory and protect your brain's health.§In this effective 3-step plan Dr. Barnard reveals which foods to increase in your diet and which to avoid, and shows you specific exercises and supplements that can make a difference. It will not only help boost brain health, but it can also reduce your risk of Alzheimer's disease, stroke, and other less serious malfunctions such as low energy, poor sleep patterns, irritability, and lack of focus. You'll discover: §The best foods to increase cognitive function §Dairy products and meats-the dangers they may pose to your memory §The surprising roles alcohol and caffeine play in Alzheimer's risk §The latest research on toxic metals, like aluminum found in cookware, soda cans, and common antacids. §Plus a detailed menu plan, recipes and time-saving kitchen tips
Sklep: Libristo.pl 120,83 zł
Książki / Literatura obcojęzyczna
Adolescence hasn't been fun for Liss Lawrence. And after a year in Vancouver, when she's finally adjusted to her new situation, a freak car accident sends her life spinning out of control and crashing into the world of the malions, a hidden race silently helping humanity from secret enclaves underground. Liss's knowledge of the malions endangers her family when Jaredsons Securities takes an interest in her accident. Few know the men of Jaredsons Securities, an international intelligence company specializing in missing persons cases, are actually the Vykhars, ancient malion enemies whose true purpose is the eradication of the malion race. The Vykhars will stop at nothing to discover if Liss is connected with the malions, and if they do, they will exploit her. Perhaps more dangerous still are Liss's growing feelings for Rion, a strong-willed malion scarred by his encounters with Vykhars and carrying a secret that could destroy their relationship. But Liss has a secret and scars of her own, and Rion's fiercely protective nature threatens to tear them back open. Can this pair of unlikely lovers survive the dangers of the Vykhars? And can their love survive their own misconceptions?
Sklep: Libristo.pl
Sklepy zlokalizowane w miastach: Warszawa, Kraków, Łódź, Wrocław, Poznań, Gdańsk, Szczecin, Bydgoszcz, Lublin, Katowice
Szukaj w sklepach lub całym serwisie
2. Szukaj na wszystkich stronach serwisu
t1=0.024, t2=0, t3=0, t4=0, t=0.024