krainaksiazek the dangers of missing out 20054560
- znaleziono 7 produktów w 1 sklepie 27,20 zł
Książki / Literatura obcojęzyczna
A rather large problem has befallen the Huit girls. (Sisters, actually. Octuplets to be exact.) One particular New Year's Eve, the girls wait for their Mummy to bring them hot chocolate and their daddy to return with more wood for the fire. But they don't. Mummy and Daddy, that is. They're gone. Poof! Maybe dead - no one knows for sure. You must see the problem here. Eight little girls on their own, no mommy or daddy to take care of them. This is not a good thing. So now these little girls, must take care of themselves. Get to school, cook the meals, feed the cats (eight of them, too), and pay the bills. They can't ask for help, oh no. Any self-respecting adult would surely call in social services, and those well-meaning people would have to split them up. After losing their parents, being split up would be completely unbearable. At the same time, the question remains: What happened to Mummy and Daddy? The Sisters Eight (as they are called, affectionately and otherwise) are determined to find out. Luckily, they do seem to have someone or something helping them. Notes keep appearing behind a loose brick in the fireplace. It's a good old-fashioned mystery with missing (or dead) parents, nosy neighbours, talking refrigerators, foul-smelling fruitcake (is there any other kind?), and even a little magic. Eight little girls, eight cats, and one big mystery - let the fun begin.
Sklep: Libristo.pl 39,24 zł
Książki / Literatura obcojęzyczna
Without telling her family, Elyria takes a one-way flight to New Zealand, abruptly leaving her stable life in Manhattan, her home, her career and her loving husband. As the people she has left behind scramble to figure out what has happened to her, Elyria embarks on a hitchhiker's odyssey, testing fate by travelling in the cars of overly kind women and deeply strange men, tacitly being swept into the lives of strangers, and sleeping in fields, forests, and public parks. As she journeys from Wellington to Picton, Takaka, Kaikoura and onwards she asks herself, what is it that I am missing? How can a person be missing? Full of mordant humour and uncanny insights, Nobody Is Ever Missing is a startling tale of love, loss, and the dangers encountered in the search for self-knowledge. It is a novel which goes far beyond the story of a physical journey and asks what it means to be human, to be a woman, and to be at the mercy of forces beyond one's own control.
Sklep: Libristo.pl 33,63 zł
Searchers KENSINGTON PUBLISHING GROUP
Książki / Literatura obcojęzyczna
From the moment they left their homestead unguarded on that scorching Texas day, Martin Pauley and Amos Henry became searchers. First they had to return to the decimated ranch, bury the bodies of their family, and confront the evil cunning of the Comanche who had slaughtered them. Then they set out in pursuit of missing Lucy Henry. In the years that follow, Amos and Henry survive storms of nature and of men, seeking more than a missing girl, and more than revenge. Both are driven by secrets, guilt, love, and rage. Defying the dangers all around them, two men become frontier legends, searching for the one moment, and the one last battle that will finally set them free...
Sklep: Libristo.pl 28,85 zł
Red Star Hodder & Stoughton
Książki / Literatura obcojęzyczna
Red Star is Keira's own beloved pony - an athletic strawberry roan who is affectionate and loyal and has been part of Keira's life since she was three years old. Keira loves this pony more than anything else in the world - Red Star can do all the cowboy stuff - spins, sliding stops, roping and rounding up cattle. And he seems to read Keira's mind. 'You'd think he was almost human!' big sister Brooke says. So one night when he goes missing, Keira at first thinks he worked out the latch on his stable door and has snuck out looking for feed. But she searches the grain store and the hay barn and can't find him anywhere. Panic sets in - if Red Star took off into the mountains, there are dangers out there for a lone pony - coyotes, bears, even mountain lions. Anyway, he's too smart to get himself into that kind of fix. 'Maybe somebody stole him!' Brooke suggests. So Keira and her family turn detective to track Red Star down.
Sklep: Libristo.pl 44,68 zł
Książki / Literatura obcojęzyczna
It's been almost a year since October "Toby" Daye averted a war, gave up a county, and suffered personal losses that have left her wishing for a good day's sleep. She's tried to focus on her responsibilities-training Quentin, upholding her position as Sylvester's knight, and paying the bills-but she can't help feeling like her world is crumbling around her, and her increasingly reckless behavior is beginning to worry even her staunchest supporters. To make matters worse, Toby's just been asked to find another missing child...only this time it's the changeling daughter of her fellow knight, Etienne, who didn't even know he was a father until the girl went missing. Her name is Chelsea. She's a teleporter, like her father. She's also the kind of changeling the old stories warn about, the kind with all the strength and none of the control. She's opening doors that were never meant to be opened, releasing dangers that were sealed away centuries before-and there's a good chance she could destroy Faerie if she isn't stopped. Now Toby must find Chelsea before time runs out, racing against an unknown deadline and through unknown worlds as she and her allies try to avert disaster. But danger is also stirring in the Court of Cats, and Tybalt may need Toby's help with the biggest challenge he's ever faced. Toby thought the last year was bad. She has no idea.
Sklep: Libristo.pl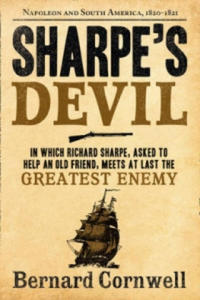 44,18 zł
Książki / Literatura obcojęzyczna
Richard Sharpe, asked to help an old friend, meets, at last, the greatest enemy. Five years after the Battle of Waterloo, Sharpe's peaceful retirement in Normandy is shattered. An old friend, Don Blas Vivar, is missing in Chile, reported dead at rebel hands - a report his wife refuses to believe. She appeals to Sharpe to find out the truth. Sharpe, along with Patrick Harper, find themselves bound for Chile via St. Helena, where they have a fateful meeting with the fallen Emperor Napoleon. Convinced that they are on their way to collect a corpse, neither man can imagine that dangers that await them in Chile...Soldier, hero, rogue - Sharpe is the man you always want on your side. Born in poverty, he joined the army to escape jail and climbed the ranks by sheer brutal courage. He knows no other family than the regiment of the 95th Rifles whose green jacket he proudly wears.
Sklep: Libristo.pl 104,19 zł
Książki / Literatura obcojęzyczna
How could looking at Monet's water lily paintings help save your company millions? How can checking out people's footwear foil a terrorist attack? How can your choice of adjective win an argument, calm your kid, or catch a thief? In her celebrated seminar, the Art of Perception, art historian Amy Herman has trained experts from many fields how to perceive and communicate better. By showing people how to look closely at images, she helps them hone their "visual intelligence," a set of skills we all possess but few of us know how to use properly. She has spent more than a decade teaching doctors to observe patients instead of their charts, helping police officers separate facts from opinions when investigating a crime, and training professionals from the FBI, the State Department, Fortune 500 companies, and the military to recognize the most pertinent and useful information. Her lessons highlight far more than the physical objects you may be missing; they teach you how to recognize the talents, opportunities, and dangers that surround you every day. Whether you want to be more effective on the job, more empathetic toward your loved ones, or more alert to the trove of possibilities and threats all around us, this book will show you how to see what matters most to you more clearly than ever before.
Sklep: Libristo.pl
Sklepy zlokalizowane w miastach: Warszawa, Kraków, Łódź, Wrocław, Poznań, Gdańsk, Szczecin, Bydgoszcz, Lublin, Katowice
Szukaj w sklepach lub całym serwisie
2. Szukaj na wszystkich stronach serwisu
t1=0.03, t2=0, t3=0, t4=0, t=0.03