krainaksiazek the decline of the american economy 20095976
- znaleziono 14 produktów w 2 sklepach 177,06 zł
Książki / Literatura obcojęzyczna
In his long career, Andre Raymond has been one of the foremost scholars of urban history in the Arab world, and in particular of Cairo during the Ottoman period. His work was instrumental in changing orientalist views on the decline and stagnation of this region prior to the modern period, and has inspired researchers across the academic spectrum. This diverse collection of studies by leading scholars in Egypt, the United States, and Europe offers a wide selection of recent research in Ottoman-era Egypt and the Middle East, and serves as a fitting tribute to Raymond's own work. A main theme of this volume is the urban society and economy in Egypt and the eastern Mediterranean of the seventeenth to nineteenth centuries, suggesting new ways through which the history of this period can be understood. The topics include a comparison of Egypt's experiences with Italy's in the seventeenth and eighteenth centuries, and an investigation of European attitudes toward the Orient through the travel accounts of Russian pilgrims to the Levant.
Sklep: Libristo.pl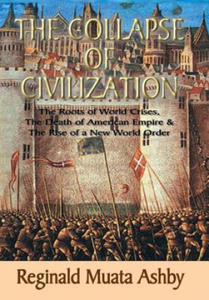 143,42 zł
Książki / Literatura obcojęzyczna
This work is a collection of essays relating to social and economic, leadership, and ethics, ecological and religious issues that are facing the world today in order to understand the course of history that has led humanity to its present condition and then arrive at positive solutions that will lead to better outcomes for all humanity. It surveys the development and decline of major empires throughout history and focuses on the creation of American Empire along with the social, political and economic policies that led to the prominence of the United States of America as a Superpower including the rise of the political control of the neo-con political philosophy including militarism and the military industrial complex in American politics and the rise of the religious right into and American Theocracy movement. This volume details, through historical and current events, the psychology behind the dominance of western culture in world politics through the "Superpower Syndrome Mandatory Conflict Complex" that drives the Superpower culture to establish itself above all others and then act hubristically to dominate world culture through legitimate influences as well as coercion, media censorship and misinformation leading to international hegemony and world conflict. This volume also details the financial policies that gave rise to American prominence in the global economy, especially after World War II, and promoted American preeminence over the world economy through Globalization as well as the environmental policies, including the oil economy, that are promoting degradation of the world ecology and contribute to the decline of America as an Empire culture. This volume finally explores the factors pointing to the decline of the American Empire economy and imperial power and what to expect in the aftermath of American prominence and how to survive the decline while at the same time promoting policies and social-economic-religious-political changes that are needed in order to promote the emergence of a beneficial and sustainable culture.
Sklep: Libristo.pl 119,31 zł
Książki / Literatura obcojęzyczna
"This is not a book about the decline of America, but rather about the rise of everyone else." So begins Fareed Zakaria's important new work on the era we are now entering. Following on the success of his best-selling The Future of Freedom, Zakaria describes with equal prescience a world in which the United States will no longer dominate the global economy, orchestrate geopolitics, or overwhelm cultures. He sees the "rise of the rest" the growth of countries like China, India, Brazil, Russia, and many others as the great story of our time, and one that will reshape the world. The tallest buildings, biggest dams, largest-selling movies, and most advanced cell phones are all being built outside the United States. This economic growth is producing political confidence, national pride, and potentially international problems. How should the United States understand and thrive in this rapidly changing international climate? What does it mean to live in a truly global era? Zakaria answers these questions with his customary lucidity, insight, and imagination."
Sklep: Libristo.pl 36,60 zł
Biznes
Our world is changing. Globalization is not working. It is hurting those it was meant to help. And now, the tide is turning
Sklep: Albertus.pl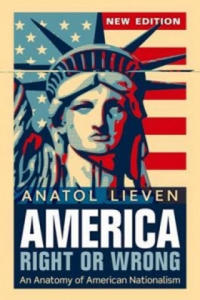 83,61 zł
Książki / Literatura obcojęzyczna
American policies, the American economy, and the health of the American political system are all of crucial importance to the world - and to other Western democracies in particular. Yet in recent years, the American political scene has become increasingly radicalized, embittered, and polarized - contributing to a near-paralysis of economic policy and intense partisanship concerning relations with the rest of the world. In this essential guide to the present state of US politics, renowned commentator Anatol Lieven pin-points American nationalism as the key to explaining the present troubles in America's body politic. Delving deep into the cultural and historical roots of the phenomenon, Lieven portrays American nationalism as a highly complex mixture of different elements which are sometimes opposed to each other, and sometimes intertwined. On the one hand, there is the core tradition of American civic nationalism based on the universalist 'American Creed' of almost religious reverence for American democratic institutions and the U.S. constitution. On the other, there exists a chauvinist nationalism which holds that these institutions are underpinned by cultural values which belong only to certain Americans, and which is strongly hostile both to foreigners and to minorities in America which are felt not to share those values. In this updated edition of his classic study, Anatol Lieven traces the re-emergence of radical strains of American nationalism in recent years, manifested in the rise of the Tea Party movement and the ongoing radicalization of the Republican Party. He attributes this to a combination of the effects of 9/11, the influence of the alliance with Israel, and above all, the long-term and increasing economic decline of large sections of the white middle classes. Deprived by nationalist ideology of the ability to explain what is happening to them in rational terms, many of these people are now turning to ideologies and demonologies that contribute greatly to the paralysis of effective government in what remains the world's most powerful and important country.
Sklep: Libristo.pl 113,44 zł
Książki / Literatura obcojęzyczna
The author presents a comprehensive explanation of Argentina's history, covering the period from Spanish colonization to the climactic events of the five years following the Falklands War. Argentine history represents a progression, via bloody dictatorship, from peripheral colony, to successful immigrant nation with a constitutional government, an important role in the economy of the world and an optimistic future. Its initial promise was followed by a steady decline after the Depression, marked by a transition from populism to authoritarianism, the empty exhuberance of the Peronist era, a cycle of military intervention and repression, the occasional release of pent-up nationalism and the state-sanctioned terror of the Junta period, culminating in the frustration of the Falklands defeat and new attempts at democracy - all formidable problems for the historian and social scientist to explore and explain. Rock argues that Argentina's decline during recent decades - and the instability linked to this decline - stems from the collapse of long-established links with Western Europe and the country's failure to establish substitutes. He shows how the early colonial period works as a crucially formative influence on the country's later development, and he brings together a wide variety of issues which have previously been treated separately and disconnectedly. Professor Rock has also written "Politics in Argentina 1980-1930: The Rise and Fall of Radicalism". His work on Argentina has won him the Herbert Bolton Prize for Latin American History.
Sklep: Libristo.pl 33,63 zł
Książki / Literatura obcojęzyczna
Unless Europe takes action soon, its further economic and political decline is almost inevitable, economists Alberto Alesina and Francesco Giavazzi write in this provocative book. Without comprehensive reform, continental Western Europe's overprotected, overregulated economies will continue to slow--and its political influence will become negligible. This doesn't mean that Italy, Germany, France, and other now-prosperous countries will become poor; their standard of living will remain comfortable. But they will become largely irrelevant on the world scene. In The Future of Europe, Alesina and Giavazzi (themselves Europeans) outline the steps that Europe must take to prevent its economic and political eclipse.Europe, the authors say, has much to learn from the market liberalism of America. Europeans work less and vacation more than Americans; they value job stability and security above all. Americans, Alesina and Giavazzi argue, work harder and longer and are more willing to endure the ups and downs of a market economy. Europeans prize their welfare states; Americans abhor government spending. America is a melting pot; European countries--witness the November 2005 unrest in France--have trouble absorbing their immigrant populations. If Europe is to arrest its decline, Alesina and Giavazzi warn, it needs to adopt something closer to the American free-market model for dealing with these issues.Alesina and Giavazzi's prescriptions for how Europe should handle worker productivity, labor market regulation, globalization, support for higher education and technology research, fiscal policy, and its multiethnic societies are sure to stir controversy, as will their eye-opening view of the European Union and the euro. But their wake-up call will ring loud and clear for anyone concerned about the future of Europe and the global economy.
Sklep: Libristo.pl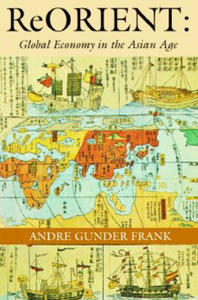 147,07 zł
ReORIENT UNIVERSITY PRESSES
Książki / Literatura obcojęzyczna
Andre Gunder Frank asks us to re-orient our views away from Eurocentrism - to see the rise of the West as a mere blip in what was, and is again becoming, an Asia-centered world. In a bold challenge to received historiography and social theory he turns on its head the world according to Marx, Weber, and other theorists, including Polanyi, Rostow, Braudel, and Wallerstein. Frank explains the Rise of the West in world economic and demographic terms that relate it in a single historical sweep to the decline of the East around 1800. European states, he says, used the silver extracted from the American colonies to buy entry into an expanding Asian market that already flourished in the global economy. Resorting to import substitution and export promotion in the world market, they became Newly Industrializing Economies and tipped the global economic balance to the West. That is precisely what East Asia is doing today, Frank points out, to recover its traditional dominance. As a result, the 'center' of the world economy is once again moving to the 'Middle Kingdom' of China. Anyone interested in Asia, in world systems and world economic and social history, in international relations, and in comparative area studies, will have to take into account Frank's exciting reassessment of our global economic past and future.
Sklep: Libristo.pl 119,63 zł
Książki / Literatura obcojęzyczna
The all-too-brief period of relative tranquility that extended from the end of the Cold War to the beginning of the War on Terror is the subject of William L. O'Neill's brilliant new study of recent American history. Mr. O'Neill's sharp eye for the telling incident and the apt quotation combine with an acute historical judgment to make A Bubble in Time a compellingly readable informal history. The first Gulf War and President Clinton's interventions abroad notwithstanding, American spirits were freer from fear than they had been since the 1920s, the author argues. No world war loomed before the United States, and after the Berlin Wall came down the specter of nuclear annihilation faded as well. A brief recession in the 1990s gave way to the most prosperous years Americans had known for decades. Unlike in the 1980s under Ronald Reagan, the increase in national wealth trickled down to the middle class thanks to an unusual rise in productivity and large infrastructure investments by firms in the "new economy." To general amazement, crime rates began falling after almost thirty years of increases, so that Americans were happier, safer, and materially better off than before. Although the Republican party turned to the dark side, Mr. O'Neill writes, peace and prosperity enabled people to enjoy the finer things in life and to lavish their concerns on political correctness, the decline of the military, the troubles of higher education, and the manifestations of an out-of-control popular culture he calls "Tabloid Nation"-the trials of O.J. Simpson and President Clinton, SUVs, cell phones, and bimbo eruptions. Mr. O'Neill explores them all, and more, with insight and wit. "It was all too good to last," he tells us. "Reality intruded again with the dot.com crash in 2000 and the terrorist attacks of 2001. Still, we will always have Paris Hilton." With 8 pages of black-and-white photographs.
Sklep: Libristo.pl 128,67 zł
Książki / Literatura obcojęzyczna
Joe's Junk Yard is a personal narrative, spanning fifty years and three genera- tions, that explores the achievement and subsequent demise of the Ameri- can Dream. Kereszi's grandfather, a first-generation American and boxer- turned-junkman, built an empire of used cars and scrap metal during the 1950's boom times, only to be slowly, but consistently, foiled by a series of events, some outside of his control. Kereszi's disquieting, loving photo- graphs of the last decade of the busi- ness, along with business ephemera and family scrapbook photographs, tell the story of this family and its strug- gles with a changing economy, urban decline, family feuds, tragic and un- timely deaths, and the challenges of an independent business. The family and the junkyard also represent larger themes that exist in our culture and economy today. In this photographic series, begun before she pursued formal studies in photography and continued during her years at Bard College and at Yale Uni- versity, Kereszi shows that loss is frequently found in the landscape of the junk- yard, alongside a wealth of useful objects - every possible part for any mechanical function. Lisa Kereszi is a Lecturer at Yale University, and is the author of three previous books: Governors Island, with Andrew Moore (GIPEC and Public Art Fund, 2004), Fantasies (Damiani, 2008), Fun and Games (Nazraeli Press, 2009).
Sklep: Libristo.pl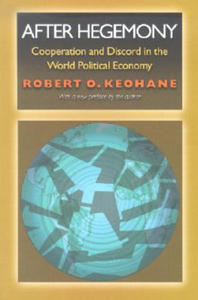 147,07 zł
Książki / Literatura obcojęzyczna
This book is a comprehensive study of cooperation among the advanced capitalist countries. Can cooperation persist without the dominance of a single power, such as the United States after World War II? To answer this pressing question, Robert Keohane analyzes the institutions, or 'international regimes', through which cooperation has taken place in the world political economy and describes the evolution of these regimes as American hegemony has eroded. Refuting the idea that the decline of hegemony makes cooperation impossible, he views international regimes not as weak substitutes for world government but as devices for facilitating decentralized cooperation among egoistic actors. In the preface, the author addresses the issue of cooperation after the end of the Soviet empire and with the renewed dominance of the United States, in security matters, as well as recent scholarship on cooperation.
Sklep: Libristo.pl 68,86 zł
Książki / Literatura obcojęzyczna
From the Author of Forest Gump Ronald Reagan: Our 40th President He was one of America's true greats. As president, he changed the world, developing a successful strategy for defeating Communism, toppling the Soviet Union, and liberating Eastern Europe (while hardly firing a shot). And just as important, he restored an America that had found itself mired in a malaise of falling living standards, moral decay, and what seemed like inevitable decline. Though he was our oldest president, Reagan acted as a tonic, rejuvenating America's economy, restoring her confidence, and attracting a majority of young voters won over by his vision of making America once again a shining city on a hill. In this superlative biography for young adults, bestselling author Winston Groom-author of Forrest Gump-gives us the full Reagan, from his Midwestern American boyhood, to his early career as a radio sports announcer, to his days as a Hollywood star and his extraordinary political career as a union leader, governor of California, and president of the United States. Covering the gamut of Reagan's dramatic life, Ronald Reagan: Our 40th President is essential reading, as inspiring as its subject.
Sklep: Libristo.pl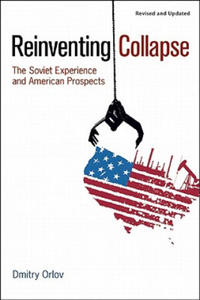 82,50 zł
Książki / Literatura obcojęzyczna
The United States is in steep decline. Plagued by runaway debt, a shrinking economy, and environmental catastrophes to rival Chernobyl, the United States has been retracing the trajectory of the Soviet Union in the early 1980s toward national bankruptcy and political dissolution. By comparing a collapse that has run its course to one that is now unfolding, Dmitry Orlov holds a unique lens up to America's present and future. As Orlov's predictions continue to come true, his writing continues to gain mainstream acceptance. This revised and updated edition of Reinventing Collapse examines the circumstances of the demise of the Soviet superpower and offers clear insights into how we might prepare for the events that are unfolding here. Orlov gives no quarter to prophets of doom and gloom, finding plenty of room for optimism, if only we focus our efforts on personal and cultural transformation instead of trying to perpetuate an impossible status quo. This challenging yet inspiring and surprisingly upbeat work is a must-read for anyone concerned about peak oil, the environment, geopolitics, international relations, and life in a resource-constrained world. Dmitry Orlov is an American engineer who was an eyewitness to the Soviet collapse and has written extensively on the subject of the impending collapse of the United States.
Sklep: Libristo.pl 191,18 zł
Książki / Literatura obcojęzyczna
In the formative years of the Japanese labor movement after World War II, the socialist unions affiliated with the General Council of Trade Unions (the labor federation known colloquially as Sohyo) formally endorsed the principles of women's equality in the workforce and put in place measures to promote women's active participation in union activities. However, union leaders did not embrace the legal framework for gender equality mandated by their American occupiers; rather, they pressured thousands of women labor activists to assume supportive roles that privileged a male-centered social agenda. By the late 1950s, even Japan's radical socialist unions had reestablished the primacy of conservative gender norms, channeling women's labor activism to support political campaigns that advantaged a male-headed household and that relegated women's wage-earning value to the periphery of the household economy. By showing how unions raised the wages of male workers in part by transforming working-class women into middle-class housewives, Christopher Gerteis demonstrates that organized labor's discourse on womanhood not only undermined women's status within the labor movement but also prevented unions from linking with the emerging woman-led, neighborhood-centered organizations that typified social movements in the 1960s - a misstep that contributed to the decline of the socialist labor movement in subsequent decades.
Sklep: Libristo.pl
Sklepy zlokalizowane w miastach: Warszawa, Kraków, Łódź, Wrocław, Poznań, Gdańsk, Szczecin, Bydgoszcz, Lublin, Katowice
Szukaj w sklepach lub całym serwisie
2. Szukaj na wszystkich stronach serwisu
t1=0.075, t2=0, t3=0, t4=0.027, t=0.075