krainaksiazek the demons brunettes the life on the other side 20169152
- znaleziono 9 produktów w 3 sklepach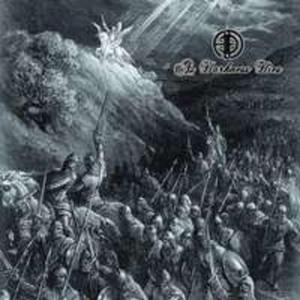 87,49 zł
Muzyka>Rock>Heavy / Hard
1. Black Death 2. Cloaked In Darkness 3. Searching For Light 4. Silent Wings 5. Ghost 6. Other Side 7. High Road 8. World Of Decay 9. Life Incomplete 10. One Mistake 11. Demons 12. Far Away - Bonus Track
Sklep: Gigant.pl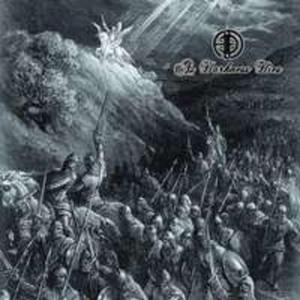 87,49 zł
Muzyka>Rock>Heavy / Hard
1. Black Death 2. Cloaked In Darkness 3. Searching For Light 4. Silent Wings 5. Ghost 6. Other Side 7. High Road 8. World Of Decay 9. Life Incomplete 10. One Mistake 11. Demons 12. Far Away - Bonus Track
Sklep: Gigant.pl 115,78 zł
Książki / Literatura obcojęzyczna
Source: Wikipedia. Commentary (music and lyrics not included). Pages: 99. Chapters: Sounds of the Universe, Supernature, Play, Seventh Tree, Black Cherry, Head First, Wait for Me, Playing the Angel, Felt Mountain, Music for the Masses, Violator, Ultra, Black Celebration, Songs of Faith and Devotion, Grinderman 2, Murder Ballads, Speak & Spell, Exciter, A Broken Frame, Paper Monsters, Dig, Lazarus, Dig!!!, Silent Shout, Construction Time Again, Abattoir Blues/The Lyre of Orpheus, Animal Rights, Upstairs at Eric's, Some Great Reward, Saturdays = Youth, Non-Stop, Truelove's Gutter, Your Funeral... My Trial, The Boatman's Call, Everything Is Wrong, No More Shall We Part, Hourglass, Last Night, 45 RPM, Kicking Against the Pricks, SubHuman, From Her to Eternity, Unsound Methods, Tender Prey, The Innocents, 18, Volk, Liquid, Hotel, Moss Side Story, The Good Son, Dead Cities, Red Seas & Lost Ghosts, You and Me Both, Bloodline, The Firstborn Is Dead, Before the Dawn Heals Us, Grand Union, Henry's Dream, Cowboy, Incontinent, The Ideal Copy, Counterfeit˛, We Can Create, Light at the End of the World, Erasure, Wonderland, Reconnected Live, The Knife, Animal Lover, Reflections, Chorus, Add Insult to Injury, Liars, Fireside Favourites, I Say I Say I Say, Nightbird, Nocturama, The Circus, A Bell Is a Cup... Until It Is Struck, Coles Corner, In Our Nature, Kapital, Wild!, They Were Wrong, So We Drowned, Other People's Songs, Polly Scattergood, Lady's Bridge, 1+2, Loveboat, Part Two, Exploding Head, Let Love In, The First Letter, WAT, Opus Dei, Devil Hopping, Union Street, Surgery, Landed, Life, Drum's Not Dead, Jane from Occupied Europe, Out There and Back, Xtra-Acme USA, The End of Everything, Digital Shades Vol. 1, Perpetuum Mobile, Let It Be, Damage, Orange, Manscape, Saint of the Pit, M83, Pink Elephants, Now I Got Worry, God & Beast, Tabula Rasa, That Total Age, Soon Over Babaluma, Intoxicated Man, It's Frightening, The Voice of Midnight, Tweedles, Showtime, Music Is a Hungry Ghost, Snakes and Ladders, The Litanies of Satan, Avant Hard, Fairytales of Slavery, Jesus Christ Superstars, Saw Delight, A Trip to Marineville, Belief, Black Love, Rite Time, Soul Murder, 2x45, Zoomer, The Sporting Life, Madra, Ebbhead, Hydrology, Global, LAIBACHKUNSTDERFUGE, Silence Is Sexy, Extra Width, Big Hit, Under the Flag, The Divine Punishment, Bang Bang Boom Cake, Suspiria, The Singer, Baby Monkey, Malediction & Prayer, Revenge of the Goldfish, One Man's Treasure, Children of the Black Sun, Macbeth, Seasons in the Sun, The Beast Inside, Knowledge Through Science, Gag, The Drill, Demons/Horses, On the Wires of Our Nerves, Easy Listening for the Hard of Hearing, Pole, Loud Like Nature, Might!, The Black Album. Excerpt: Sounds of the Universe is the twelfth studio album by English electronic band Depeche Mode, released in Europe on 20 April 2009 and in the United States and Canada on 21 April 2009. It was supported by the 2009-2010 concert tour Tour of the Universe. As with the previous album, Playing the Angel, Dave Gahan has once again written three songs with Christian Eigner and Andrew Phillpott: "Hole to Feed", "Come Back" and "Miles Away/The Truth Is". "Spacewalker" and the bonus track "Esque" are instrumentals. Martin Gore shares lead singing duties with Gahan on "In Chains", "Peace" and "Little Soul", he sings the lead of "Jezebel" and the probable B-side "The Sun and the Moon and the Stars" on the second disc of the deluxe box set. The B-side "Oh Well" is the...
Sklep: Libristo.pl 95,42 zł
Książki / Literatura obcojęzyczna
Whereas you could read in Karan how Dev finds out what his life is about by getting to know Karan and his love, the sequel will show the other side. In the second book of the Karan saga, Karans development will be focussed on - naturally accompanied by his sometimes uncomprehending, but always supporting Dev. Readers will be able to watch how Karan leaves Devs protective shadow, experiences his coming out and finally conquers a life of his own. Synopsis The world is crowded by inner and outer demons, and they all seem to relish the stupid quirk of not being able to leave Dev Rao and Karan Mahal alone. After hot-tempered Dev and shy Karan were forced to fight against and for their love for so many years, they are finally living together in London - though not yet officially - as a couple. If, from now on, there were only the adversities of everyday family and professional life to be kept under control, nobody would so much as utter a single word of complaint. After all, quarrels and conciliations have always been an integral part of them being together, which is not really astonishing, taking their entirely different characters into account. But this time the adversary is even stronger. Not only does Devs past close in on them and endanger their relationship. But also Karans old enemy re-enters their life. An adversary, who comes from within and threatens to destroy everything. As is commonly known - you cannot escape the fear residing deep inside yourself...
Sklep: Libristo.pl 148,35 zł
Książki / Literatura obcojęzyczna
Source: Wikipedia. Pages: 148. Chapters: Cara Sucia, In Bed with Medinner, The Larry Sanders Show, YuYu Hakusho, Batman: The Animated Series, Crayon Shin-chan, Tekkaman Blade, Ghostwriter, Highlander: The Series, Shortland Street, My Little Pony Tales, The Tonight Show with Jay Leno, Celia, A Touch of Frost, Conan the Adventurer, Nick Arcade, X-Men, Barney & Friends, Beakman's World, Gladiators, Forever Knight, FTL Newsfeed, Eek! The Cat, Nickelodeon GUTS, Gute Zeiten, schlechte Zeiten, The Greed of Man, Red Shoe Diaries, Dog City, ESPN National Hockey Night, Pole to Pole, Battle of the Brains, Noddy's Toyland Adventures, Truckers, The Little Mermaid, California Dreams, Fish Police, Rederiet, Eldorado, María Mercedes, Nightmare Cafe, Picket Fences, Bananas in Pyjamas, Home Along Da Riles, Por Estas Calles, Bob, The Original Amateur Hour, Fievel's American Tails, Knights and Warriors, Virtual Murder, The Finder, The Plucky Duck Show, Egoli: Place of Gold, Roundhouse, Rides, The Adventures of T-Rex, Real Sex, Covington Cross, Renegade, Stand By Your Man, Parallel 9, Up to the Minute, Raw Toonage, Cha Cha Cha, GMA Network News, Bad Influence!, Mara Clara, The Heights, Down the Shore, Rox, Tropang Trumpo, Sightings, Flying Blind, Lamb Chop's Play-Along, Tequila and Bonetti, Out All Night, Shaky Ground, Funnybones, Swans Crossing, Def Comedy Jam, TG5, Mulberry, Ober Da Bakod, Valiente, Nightmare Stage, The Book and the Sword, The Hollywood Game, Rocketship 7, Extraordinary People, Rubbish, King of the Jumble, Hoy Gising!, Julie, Kitty Cats, Rage and Passion, Me, You and Him, Big News, La loba herida, Junglies, Lifestories: Families in Crisis, Frannie's Turn, The Little Polar Bear, Name Your Adventure, Warriors in Transit, Reliable Sources, Delta, Vuelo secreto, Money Talks News, Ready Set Learn, Dame Edna's Neighbourhood Watch, Double Up, Pedra sobre Pedra, Philbert Frog, TG4, Super Dave: Daredevil for Hire, Good Morning with Anne and Nick, So Haunt Me, Terry and Julian, Degrassi Talks, Prairie Fire, Laurie Hill, Julie Lescaut, Oi Mikromesaioi, Power play, The Cloning of Joanna May, Piel, Side by Side, Aby do switu..., B&B, The Brollys, MTV's Most Wanted, Lira, Star Drama Presents, Screen Scene, Donald's Quack Attack, 3pm, Victoria Wood's All Day Breakfast, In Bed With Chris Needham, Balitang Balita, Personal Diary, Las dos Dianas, TV Champion, Mickey's Mouse Tracks, Hélčne et les Garçons, My Two Wives, Ett Äktenskap i kris, TV Squash, Alabang Girls, Gimme 5, Show & Tell, Computer Doctor, Une famille formidable, 17 Bernard Club, Oi frouroi tis Achaias, Erotic Confessions, Tales From The Poop Deck, Rhythm & Blues, The Son of a Gunn Show, Americana, You're on Nickelodeon, Charlie Brown, Jase TV, Noticias Uno, Juniper Jungle. Excerpt: is a Japanese manga series written and illustrated by Yoshihiro Togashi. The name of the series is spelled YuYu Hakusho in the Viz Media manga and Yu Yu Hakusho in other English distributions of the franchise. The series tells the story of Yusuke Urameshi, a teenage delinquent who is struck and killed by a car while attempting to save a child's life. After a number of tests presented to him by Koenma, the son of the ruler of the afterlife Underworld, Yusuke is revived and appointed the title of "Underworld Detective", with which he must investigate various cases involving demons and apparitions in the human world. The manga becomes more focused on martial arts battles and tournaments as it progresses. Togashi beg...
Sklep: Libristo.pl 49,99 zł
Książki / Literatura obcojęzyczna
In the follow up to the Sunday Times bestseller, The Gift, we are taken on a journey further into the psychic world of Mia Dolan, one of Britain's most gifted psychics. Mia's World is an amazing psychic adventure which reveals the truth about the spirit world. In Mia's World, Mia Dolan takes on a student - Roz Chissick, a writer with absolutely no previous psychic training, and teaches her how to tap into her innate psychic gift. The result is an exciting psychic adventure not only for Roz but also for you the reader. Mia reveals more of her fascinating experiences of ghosts, spirits and explains the truth about the darker forces from the other side. We are taken on ghost-busts, to the mystical site of Avalon and astral travels to the home of her spirit guide. Mia reveals how we find happiness in this world and answers profound questions about life, death and psychic phenomena: - What is it like to die? - How can we still communicate with loved ones after death? - Do angels and demons exist? - Is there such a thing as a soul mate? - Is there such a thing as destiny or do we control our own fate? - What happens to our souls after we die? 'I wish there was some way I could share my ability to see things other people can't. We all have a guide, but not everyone can see or hear theirs. I've no idea what opened up the link between Eric and me, but I consider it a gift.' Mia Dolan in Real magazine
Sklep: Libristo.pl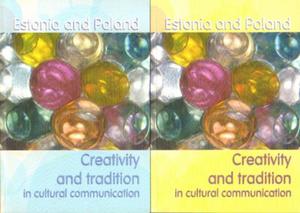 82,00 zł
Antykwariat literacki / Książki angielskojęzyczne
Volume 1: Jokes and their relations This book deals with the creativity and tradition of cultural phenomena in the rapidly transforming post-socialist societies. Parallel research articles by Estonian and Polish authors set out to analyse media texts and other contemporary (folkloric) narratives in order to pin down the influence of political and economic changes on culture. Research material for Volume 1: Jokes and their relations includes primarily humour, but also proverbs and online aggressiveness. The results throw light on the similarities and differences in the ways cultural narratives have changed in the past decades and identity issues in the former Eastern Bloc are reflected in everyday texts, either online, on television, or in face-to-face communication. The analysis of culturally significant texts also helps to redefine the borders and influences of the local and the global in creativity and tradition. Contents vol. 1 : A. Krikmann "Estonian three nation jokes (1964-2012)" D. Brzozowska "Three characters in Polish jokes" L. Laineste "Women in Estonian jokes" D. Brzozowska "Family in Polish jokes" L. Laineste "Stand-up in Estonia: From Soviet estrada to Comedy Estonia" W. Chlopicki "Stand-up tragedy in Poland?" M. Rebane "Some aspects of telling political jokes in Soviet Estonia" M. Poprawa "Polish political humour. An outline of the phenomenon" M. Lőhmus "Political correctness and political humourin Soviet Estonia and beyond" G. Strzadala "Censorship in the People's Republic of Poland" A. Baran "Visual humour on the Internet" T. Piekot Pictorial "representation of idioms in Internet humour" L. Laineste "Verbal expressions of aggressiveness on the Estonian Internet" A. Tereszkiewicz "Do Poles flame? Aggressiveness on Polish discussion groups and social networking sites" P. Voolaid "In graffiti veritas: A paremic glance at graffiti in Tartu" G. Szpila "Regulating the reality? Proverbs in Polish graffiti" Volume 2: Perspectives on national and regional identity The focus of the book is on the role of creativity and tradition in contemporary Eastern Europe, with Estonia and Poland as cases in point. The volume of articles addresses diverse narratives in the Eastern European cultural space as they occur in various types of media. Parallel research articles by scholars from a wide range of fields seek to provide a novel perspective on the ongoing discussions of identity in these rapidly changing societies. Research material for Volume 2: "Perspectives on national and regional identity" is drawn from a variety of sources, both contemporary, e.g. advertisement campaigns, urban legends, cookbooks, etc, and archival, especially folkloric. The analysis of culturally significant narratives helps to specify their role in the construction of collective identity. The results of the studies demonstrate that both national and regional identities are at least partly determined by concepts and stories shared by the people, but at the same time they are the products of external variables, such as public policies or globalisation. Contents vol. 2 : A. Lubecka National identities on display. The role of advertisements in the management of Polish national identity E. Kalmre "Rumours and contemporary legends as part of identity creation process" M. Wójcicka "Urban legends in Poland" M. Kőiva "Calendar feasts: Politics of adoption and reinstatement" A. Lubecka "Polish ritual year - a reflection of Polish cultural policy" R. Järv "A hen who doesn't lay golden eggs?! Fairy tale advertisements and their strategies" M. Wójcicka "Oral textual patterns in modern advertising" E. Annuk "Culinary discourse: Organic food in Estonia" W. Zarski "Culinary identity as the determinant of cultural distinctiveness in Silesia and the Vilnius Region" M. Sarv "Traditional Estonian lullabies. A tentative overview" K. Sikora, B. Zebrowska "Traditional Polish lullabies" U. Lehr "The transcendental side of life. Aquatic demons in Polish folklore" M. Kalda "Hidden treasure lore in Estonian folk tradition" M. Izykowska "Money as an object of desire in Silesian folklore"
Sklep: Hatteria.pl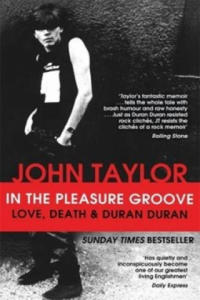 49,99 zł
Książki / Literatura obcojęzyczna
With Duran Duran, John Taylor has created some of the greatest songs of our time. From the disco dazzle of debut single 'Planet Earth' right up to their latest number one album All You Need is Now, Duran Duran has always had the power to sweep the world onto its feet. It's been a ride - and for John in particular, the ride has been wild, thrilling...and dangerous. Now, for the first time, he tells his incredible story - a tale of dreams fulfilled, lessons learned and demons conquered. A shy only child, Nigel John Taylor wasn't an obvious candidate for pop stardom and frenzied girl panic. But when he ditched his first name and picked up a bass guitar, everything changed. John formed Duran Duran with his friend Nick Rhodes in the spring of 1978, and they were soon joined by Roger Taylor, then Andy Taylor and finally Simon Le Bon. Together they were an immediate, massive global success story, their pictures on millions of walls, every single a worldwide hit. In his frank, compelling autobiography, John recounts the highs - hanging out with icons like Bowie, Warhol and even James Bond; dating Vogue models and driving fast cars - all the while playing hard with the band he loved. But he faced tough battles ahead - troubles that brought him to the brink of self-destruction - before turning his life around. Told with humour, honesty and hard-won wisdom, and packed with exclusive pictures, In the Pleasure Groove is a fascinating, irresistible portrait of a man who danced into the fire...and came through the other side.
Sklep: Libristo.pl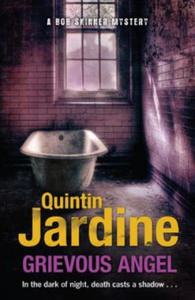 44,94 zł
Książki / Literatura obcojęzyczna
Edinburgh's toughest cop, Bob Skinner, looks into his past to assuage his demons in Quintin Jardine's thrilling new mystery. Skinner revisits his nightmares: old but not forgotten. Fifteen years in the past, newly promoted Detective Superintendent Bob Skinner is called to investigate a most brutal death. A man lies at the deep end of an empty swimming pool, his neck broken and almost every other bone in his body shattered. Soon, an organised crime connection looms, and bloody retribution spreads to a second city. Then violence erupts on a new front, as a vicious knifeman seems to be targeting Edinburgh's gay population. As if this double dose of homicide isn't enough for a single man with a teenage daughter to raise and protect, Skinner's personal life takes a similar, perilous twist. Can he stay on the side of the angels, or will he fall ...?
Sklep: Libristo.pl
Sklepy zlokalizowane w miastach: Warszawa, Kraków, Łódź, Wrocław, Poznań, Gdańsk, Szczecin, Bydgoszcz, Lublin, Katowice
Szukaj w sklepach lub całym serwisie
2. Szukaj na wszystkich stronach serwisu
t1=0.039, t2=0, t3=0, t4=0.021, t=0.039