krainaksiazek the dog crusoe and his master a story of adventure in the western prairies 20093629
- znaleziono 6 produktów w 2 sklepach 92,35 zł
Książki
Sklep: KrainaKsiazek.pl 146,30 zł
Książki
Sklep: KrainaKsiazek.pl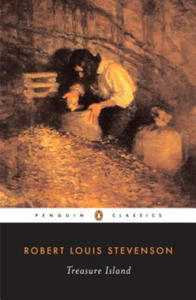 29,80 zł
Książki / Literatura obcojęzyczna
The quintessential adventure story that first established pirates in the popular imagination, Robert Louis Stevenson's "Treasure Island" is edited with an introduction by John Seelye in "Penguin Classics". When a mysterious sailor dies in sinister circumstances at the Admiral Benbow inn, young Jim Hawkins stumbles across a treasure map among the dead man's possessions. But Jim soon becomes only too aware that he is not the only one who knows of the map's existence, and his bravery and cunning are tested to the full when, with his friends Squire Trelawney and Dr Livesey, he sets sail in the Hispaniola to track down the treasure. With its swift-moving plot and memorably drawn characters - Blind Pew and Black Dog, the castaway Ben Gunn and the charming but dangerous Long John Silver - Stevenson's tale of pirates, treachery and heroism was an immediate success when it was first published in 1883 and has retained its place as one of the greatest of all adventure stories. In his introduction John Seelye examines Stevenson's life and influences and the novel's place within adventure fiction. This edition also includes Stevenson's essay on the composition of "Treasure Island". Robert Louis Stevenson (1850-1894) was born in Edinburgh, the son of a prosperous civil engineer. Although he began his career as an essayist and travel writer, the success of "Treasure Island" (1883) and "Kidnapped" (1886) established his reputation as a writer of tales of action and adventure. Stevenson's Calvinist upbringing lent him a preoccupation with predestination and a fascination with the presence of evil, themes he explored in "The Strange Case of Dr Jekyll and Mr Hyde" (1886), and "The Master of Ballantrae" (1893). If you enjoyed "Treasure Island", you might like Daniel Defoe's "Robinson Crusoe", also available in "Penguin Classics".
Sklep: Libristo.pl 34,52 zł
Książki / Literatura obcojęzyczna
An epic journey through famine, hope and survival by Britain's best-loved children's author and the man behind War Horse, Michael Morpurgo. Sean and Annie have one chance to escape the potato famine and plague in Ireland. They survive a shipwreck and land safely in America searching for their father. But their new land is one of hardship and they live in poverty on the streets of Boston. However, their adventure is just beginning ...they live on a steamboat and then join pioneers travelling across the prairies. Their music and dancing bring joy to all they meet, but their family torc brings both blessings and curses and thieves prowl to get hold of it. Annie and Sean must hang on to their torc - their family's survival depends on it. Former Children's Laureate and award-winning author of War Horse, Michael Morpurgo, again demonstrates why he is considered to be the master story teller with one of his most gripping children's stories ...Twist of Gold.
Sklep: Libristo.pl 133,85 zł
Książki / Literatura obcojęzyczna
Source: Wikipedia. Commentary (films not included). Pages: 126. Chapters: Tears of the Black Tiger, List of Thai films, The Love of Siam, Ploy, Tom-Yum-Goong, Ong Bak 2, Ong-Bak: Muay Thai Warrior, 13 Beloved, King Naresuan, Uncle Boonmee Who Can Recall His Past Lives, Bangkok Traffic Love Story, Monrak Transistor, Syndromes and a Century, The Overture, Pleasure Factory, The Legend of Suriyothai, Noo Hin: The Movie, Bangkok Love Story, Miss Suwanna of Siam, Buppah Rahtree, Final Score, The Eye, Citizen Dog, Bangkok Loco, Phobia 2, Chocolate, Ong Bak 3, The Eye 10, Body, Gunman, Queens of Langkasuka, The Possible, SARS Wars, Salween, Shutter, The Adventure of Iron Pussy, Hormones, The Victim, Handle Me With Care, The Snake King's Child, Ai-Fak, Innocence, 4bia, Last Life in the Universe, 4 Romance, Angulimala, The Red Eagle, Alone, Lucky Loser, The King Maker, Out of the Darkness, Dang Bireley's and Young Gangsters, Ma-Mha, King of the White Elephant, Tropical Malady, Sick Nurses, Dek hor, Jan Dara, The Bodyguard, Opapatika, Invisible Waves, Me ... Myself, Plae Kao, Fan Chan, Yam Yasothon, Muay Thai Chaiya, Dynamite Warrior, Friendship, Bangkok Dangerous, Midnight My Love, Three, Sunset at Chaophraya, Coming Soon, Insee thong, The Letter, The Iron Ladies, Ruang Talok 69, The Unseeable, Raging Phoenix, Metrosexual, Blissfully Yours, Black Silk, Seasons Change, Born to Fight, Tongpan, Power Kids, The Amazing Truth About Queen Raquela, Bang Rajan, Monrak luk thung, Mercury Man, Mysterious Object at Noon, Nang Nak, Art of the Devil 2, Mekhong Full Moon Party, Killer Tattoo, Re-cycle, Sai Lor Fah, La-Tha-Pii, Country Hotel, Ghost of Mae Nak, Beautiful Boxer, Hello Stranger, The Tiger Blade, Buppah Rahtree Phase 2: Rahtree Returns, The Eye 2, OK Baytong, Chai Lai, The Eagle Path, Dark Heaven, Body Jumper, Bangkok Haunted, One Take Only, I-San Special, Ghost Station, Sayew, Ahimsa: Stop to Run, Necromancer, The Tesseract, First Love, The Snake King's Wife Part 2, The Bodyguard 2, Omen, Bus Lane, The 6 Ultra Brothers vs. the Monster Army, One Night Husband, Blackbirds at Bangpleng, Secret Sunday, SuckSeed, Fun Bar Karaoke, Cheerleader Queens, Nothing to Lose, Hotel Angel, Butterfly Man, 999-9999, Wonderful Town, The Sperm, Kung Fu Tootsie, Diary, Teng Nong kon maha hia, Butterfly and Flowers, The Coffin, Demonic Beauty, The Tin Mine, Nymph, Thai Thief, Fake, Colic: The Movie, The Kick, Sugar Is Not Sweet, Video Clip, Nong Teng Nakleng-pukaotong, Krasue Valentine, The Colonel, Bangkok Knockout, My Ex, Who Is Running?, Art of the Devil 3, Ruk Jung, Garuda, Mae bia, Hanuman and the Five Riders, The Holy Man, Loveaholic, Pisaj, Legend of Sudsakorn, 303 Fear Faith Revenge, Fireball, Khao Chon Kai, Siyama, The Haunted Drum, Dark Side Romance, February, Jumborg Ace & Giant, Scared, Once Upon a Time, Son of the Northeast, Beautiful Wonderful Perfect, Haunting Me, Luang ta, Butterfly in Grey, Saving Private Tootsie, The Elephant King, The Sin. Excerpt: Tears of the Black Tiger (Thai: , or Fah talai jone, literally, "the heavens strike the thief") is a 2000 Thai western film written and directed by Wisit Sasanatieng. The story of a tragic romance between Dum, a fatalistic, working-class hero, who has become an outlaw, and Rumpoey, the upper-class daughter of a provincial governor, it is equal parts homage to and parody of Thai action films and romantic melodramas of the 1950s and 1960s. The film was the first from Thailand to be selected for competition a...
Sklep: Libristo.pl 74,09 zł
Książki / Literatura obcojęzyczna
USA TODAY BESTSELLING AUTHOR "This fast-paced, action-filled whodunit was enjoyable and hard to put down. The mystery was good, the characters are likeable and it was fun to watch all the pieces come together in this well-written drama. I'm looking forward to the next book in this series." - Dru's Book Musings "Funny, fast paced and just a smidge of romance. What more could you ask for? Bring on the next one!" - T. Sue Versteeg, Author of My Ex-Boyfriend's Wedding "A high-octane, fast-paced thrill ride of a mystery adventure that will definitely leave you anxious for the next installment." - Girl with Book Lungs "This fast-paced mystery had me reading far past my usual time for bed. I simply couldn't put it down because I was so drawn into the story. It's simply wonderful!" - Dianne Harman, Author of the Cedar Bay Cozy Mysteries "The book takes you on car chases, shooting, great locations around the world all in the hopes of finding a missing friend and lost artifact. I read the book three times enjoying each time." - Heidi Wimmer, Book Him Danno "An intricately woven tale with plenty of action and suspense. The story is crafted in such a way to keep readers guessing. The characters are well-written with smart and witty dialogue. An enjoyable read." - A Cozy Book Nook "A fast-paced book, and to save the day, Laurel takes you with her every step of the way on subways, planes, fast cars, and motorcycles all while being in danger. This book is truly a keeper, jump in a go for a ride!" - Destiny's Book Reviews "I love the main character of Laurel. She is not just smart - she is quick on the uptake and manages to get herself out of many tight spots...a fast-paced, well-plotted read. I could not put this book down. I hope we get to read many more adventures with Laurel in the future. So if you like a mystery with a touch of James Bond, you should be reading Counterfeit Conspiracies." - Cheryl Green, MyShelf Reviews Laurel Beacham may have been born with a silver spoon in her mouth, but she has long since lost it digging herself out of trouble. Her father gambled and womanized his way through the family fortune before skiing off an Alp, leaving her with more tarnish than trust fund. Quick wits and connections have gained her a reputation as one of the world's premier art recovery experts. The police may catch the thief, but she reclaims the missing masterpieces. The latest assignment, however, may be her undoing. Using every ounce of luck and larceny she possesses, Laurel must locate a priceless art icon and rescue a co-worker (and ex-lover) from a master criminal, all the while matching wits with a charming new nemesis. Unfortunately, he seems to know where the bodies are buried-and she prefers hers isn't next. Related subjects include: women sleuths, cozy mysteries, amateur sleuth books, murder mysteries, whodunit mysteries (whodunnit), book club recommendations. Books in the Bodies of Art Mystery Series: . COUNTERFEIT CONSPIRACIES (#1) . MARKED MASTERS (#2) . ABSTRACT ALIASES (#3) October 2016 Part of the Henery Press Mystery Series Collection, if you like one, you'll probably like them all... Author Bio: Ritter Ames lives atop a high green hill in the country with her husband and Labrador retriever, and spends each day globe-trotting the art world from her laptop with Pandora blasting into her earbuds. Often with the dog snoring at her feet. Much like her Bodies of Art Mysteries, Ritter's favorite vacations start in London, then spiral out in every direction. She's been known to plan trips after resear
Sklep: Libristo.pl
Sklepy zlokalizowane w miastach: Warszawa, Kraków, Łódź, Wrocław, Poznań, Gdańsk, Szczecin, Bydgoszcz, Lublin, Katowice
Szukaj w sklepach lub całym serwisie
2. Szukaj na wszystkich stronach serwisu
t1=0.056, t2=0, t3=0, t4=0, t=0.057