krainaksiazek the end of law a novel of hitler s germany 20109844
- znaleziono 11 produktów w 3 sklepach 11,15 zł
Książki & Multimedia > Książki
Opis - Pierwsze na świecie świadectwo ofiary zbrodni honorowej. Miała siedemnaście lat i zakochała się: zhańbiła rodzinę. Więc rodzina wydała na nią wyrok śmierci... Pokochała go pierwszą miłością. Myślała, że się z nią ożeni. Ale ukochany zniknął, a ona odkryła, że jest w ciąży. A w jej świecie to najcięższa zbrodnia... W zapomnianej przez Boga wiosce w Cisjordanii kobiety są warte mniej niż zwierzęta domowe. Tu mężczyzna jest panem życia i śmierci żony, córki, siostry. Brat może bezkarnie zabić siostrę, matka - córkę, kolejną bezużyteczną dziewczynkę, jaka się urodzi. Tu kobiecie odbiera się godność, a nawet życie zgodnie z odwiecznym obyczajem i uświęconą tradycją. A śmierć jest karą dla dziewczyny, która zhańbi rodzinę. Tak jak Souad. Wyrok wydaje jej ojciec. Szwagier dokonuje egzekucji. Oblewa Souad benzyną i podpala... SOUAD przeżyła - cudem, ale rodzina usiłowała zabić ją nawet w szpitalu. Na zawsze jednak pozostanie straszliwie okaleczona - na ciele i duszy. I wciąż musi się ukrywać; dopóki żyje, jej rodzinę okrywa hańba. Spalona żywcem, opublikowana pod pseudonimem szokująca opowieść o piekle, jakim było jej dzieciństwo i młodość, stała się międzynarodowym bestsellerem. Wydana w 37 w krajach książka przerywa tabu milczenia wobec istniejącej nadal w krajach muzułmańskich barbarzyńskiej tradycji. Nieludzkiego obyczaju, prawa mężczyzn, na mocy którego co najmniej pięć tysięcy kobiet pada co roku ofiarą zbrodni honorowej. Nazwa - Spalona Żywcem Wyd. Kieszonkowe Autor - Souad Oprawa - Miękka Wydawca - Amber Kod ISBN - 9788324159406 Kod EAN - 9788324159406 Wydanie - 1 Rok wydania - 2016 Tłumacz - 31182,maria rostworowska; Format - 110 x 175 x 14 Ilość stron - 224 Podatek VAT - 5% Premiera - 2016-06-23
Sklep: InBook.pl 18,56 zł
Książki & Multimedia > Muzyka
Opis - Kompozycja, składająca się z 14 utworów, została napisana dla uczczenia drugiej rocznicy śmierci Jana Pawła II. Proste teksty ks. Mateusza Jeża są hołdem oddanym Matce Bożej. Muzyka Zbigniewa Małkowicza łączy w sobie wiele stylów: smyczki brzmią klasycznie, melodie wpadają w ucho jak popowe przeboje, śpiew chóru zahacza o gospel, a bas wybija chwilami jazzowo-funkowe rytmy. Wszystko razem jest mieszanką przyjemną dla ucha, a dawka liryzmu zawarta w utworach sprzyja modlitewnemu skupieniu.Do udziału w nagraniu płyty Przy sercu Twoim zespół LUMEN zaprosił kilku gości specjalnych. Należy do nich m.in. Dariusz Tokarzewski z grupy Vox, który wystąpił w świetnym duecie z młodziutką Aleksandrą Małkowicz. Pociesz mnie to jedna z najładniejszych piosenek na tym krążku. Ale dobrych kompozycji jest tu więcej. Wśród tych bardziej dynamicznych wyróżnia się niewątpliwie utwór Królowo nasza, aniołów Pani, budzący delikatne skojarzenia z twórczością TGD. Wśród spokojniejszych fragmentów zwraca uwagę utwór tytułowy i Kołysanka, wprowadzająca nas w klimat Bożego Narodzenia.Różnorodność stylistyczna tej płyty zespołu LUMEN sprawia, że każdy znajdzie tu coś dla siebie. Nazwa - Przy sercu Twoim. Kantata dla NMP Autor - Praca zbiorowa Oprawa - OT Wydawca - AGAPE Kod ISBN - 9788364774461 Kod EAN - 9788364774461 Rok wydania - 2017 Format - x / 148 / 210 Ilość stron - 58 Podatek VAT - 5%
Sklep: InBook.pl 54,10 zł
Inne 1
The Third Reich in Power examines how it was possible for a group of ideological obsessives to remould a society famous for its sophistication and complexity into a one-party state directed at war and race hate.  Richard J. Evans shows how the Nazis won over the hearts and minds of German citizens, twisted science, religion and culture, and transformed the economy, education, law and order to achieve total dominance in German politics and society.  Drawing on an extraordinary range of research, blending narrative, description and analysis he creates a picture of a dictatorship consumed by visceral hatreds and ambitions, and driven by war. 'Authoritative history... impressive sweep... This essential book comes as a stark reminder, should we need one, of how much freedom a people is prepared to give away in a political climate dominated by fear.' Daily Telegraph Extract from The Third Reich in Power, 1933-1939 by Richard J. Evans Despised minorities were, to be sure, put in the concentration camps; but to focus exclusively on this ignores the much larger number of political and other deviants condemned by the courts and put in state prisons and penitentiaries.  The further in time we get from Nazi Germany, the more difficult it becomes for historians living in democratic political systems and in cultures which respect the rights of the individual to make the leap of imagination necessary to understand people's behaviour in a state such as Nazi Germany, where imprisonment, torture or even death might await anyone who dared to voice the slightest criticism of the regime and its leaders.  Those who approved of such repression were in all likelihood a minority, active supporters and functionaries of the Party like the Block Wardens, and a good number of middle- and upper-class, conservative Germans who thought the best place for Marxists to be was in prison anyway.  Even they, however, knew well enough that they had to be careful about what they said and did, and the dangers of not doing so became abundantly clear once opposition began to spread among these groups too.  The shots that killed Kurt von Schleicher, Herbert von Bose, Edgar Jung, Gustav von Kahr, Erich Klausener and Kurt von Bredow at the beginning of July 1934 were also a warning to upper- and middle-class conservatives to keep their heads down if they did not want them to be blown off. Ordinary conservative citizens like Luise Solmitz, who harboured no thoughts of political activism, may have turned aside from the bleak fact of the regime's willingness to murder its opponents, revealed so starkly in late June and early July 1934, in their relief that the order they craved had been restored; to such people, Röhm's stormtroopers seemed as great a menace as the Reichsbanner or the Red Front-Fighters' League of the Weimar years.  Yet behind closed doors they cannot have been oblivious to the fate of the conservative clique around Vice-Chancellor von Papen.  It was not only the third or so of the population who had been committed to the Marxist left before 1933 that was subject to massive intimidation.  Indeed, scarcely had the murderous violence of the 'Night of the Long Knives' receded, than an even larger minority than the Marxists, that of the German Catholics, began to be prosecuted and imprisoned as they gave vent to their increasingly critical views of the regime in public.  More general still were measures such as the Law on Malicious Gossip, which clamped down on the most trivial expressions of dissent and put people who told jokes about Hitler and Göring in prison.  These were mainly members of the German working class, it is true, but the working class after all made up around half the entire population, and middle- and even upper-class offenders in this respect were brought before the Special Courts as well.  Successful prosecutions under this law were a further instrument of mass intimidation, adding to the general climate of fear and helping to create the spiral of silence in which the regime could commit ever greater crimes without fear of public censure or opposition. The truth is that far from Nazi terror being levelled exclusively against small and despised minorities, the threat of arrest, prosecution and incarceration in increasingly brutal and violent conditions loomed over everyone in the Third Reich, even, as we have seen in the cases brought before the Special Courts, over members of the Nazi Party itself.  The regime intimidated Germans into acquiescence, visiting a whole range of sanctions upon those who dared to oppose it, systematically disorienting people, and depriving them of their traditional social and cultural milieux, such as the pub or the club or the voluntary association, above all where these could be seen as a potential source of resistance, as in the case of the labour movement.  Fear and terror were integral parts of the Nazis' armoury of political weapons from the very beginning.  The state and the Party could use them because within a few months of Hitler's appointment as Reich Chancellor, they had systematically deprived all Germans of virtually every basic human and civil right they had enjoyed under the Weimar Republic.  The law was no protection against the state if the state or any of its agencies suspected that a citizen was disinclined to demonstrate approval of its policies and purposes.  On the contrary, vast numbers of new, often draconian laws were decreed that gave the police, the Gestapo and the SS a virtual carte blanche to deal with anyone suspected of deviating from the norms of human behaviour laid down by the Third Reich for its citizens.  In this situation, it was not surprising that ordinary people and lower-level officials of the Nazi Party began to reinforce the atmosphere of pervasive terror and intimidation by sending their own unsolicited denunciations of deviants to the Gestapo. At the same time, the Gestapo was only one part of a much wider net of surveillance, terror and persecution cast by the Nazi regime over German society in the 1930s; others included the SA and SS, the Criminal Police, the prison service, the social services and employment offices, the medical profession, health centres and hospitals, the Hitler Youth, the Block Wardens and even apparently politically neutral organizations like tax offices, the railway and the post office.  All of these furnished information about deviants and dissidents to the Gestapo, the courts and the prosecution service, forming a polymorphous, uncoordinated but pervasive system of control in which the Gestapo was merely one institution among many.  Everything that happened in the Third Reich took place in this pervasive atmosphere of fear and terror, which never slackened and indeed became far more intense towards the end.  'Do you know what fear is?' an elderly worker asked an interviewer some years after it was all over:  'No. The Third Reich was fear.'  Yet terrorism was only one of the Third Reich's techniques of rule.  For the Nazis did not just seek to batter the population into passive, sullen acquiescence.  They also wanted to rouse it into positive, enthusiastic endorsement of their ideals and their policies, to change people's minds and spirits and to create a new German culture that would reflect their values alone.  This meant propaganda, and here too, as we shall now see, they went to unprecedented lengths to achieve their aims.
Sklep: Albertus.pl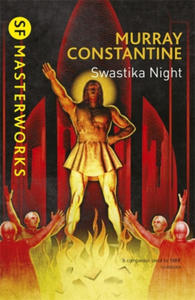 41,27 zł
Książki / Literatura obcojęzyczna
SWASTIKA NIGHT takes place seven hundred years after Nazism achieved power, by which time Adolf Hitler is worshipped as a god. Elsewhere, the Japanese rule the Americas, Australia, and Asia. Though Japan is the only rival superpower to the Nazi West, their inevitable wars always end in stalemate. The fascist Germans and Japanese suffer much difficulty in maintaining their populations, because of the physical degeneration of their women. The protagonist is an Englishman named Alfred on a German pilgrimage. In Europe, the English are loathed because they were the last opponents of Nazi Germany in the war. Per official history, Hitler is a tall, blond god who personally won the war. Alfred is astounded when shown a secret, historic photograph depicting Hitler and a girl before a crowd. He is shocked that Hitler is a small man with dark hair and a paunch. In the novel's conclusion, the SS murder Alfred, yet he passes the truth about Nazi history to his surviving son.
Sklep: Libristo.pl 38,70 zł
Książki / Literatura obcojęzyczna
Berlin in 1933 is in upheaval. Eleven-year-old Carla von Ulrich struggles to understand the tensions disrupting her family as Hitler strengthens his grip on Germany. Into this turmoil steps her mother's formidable friend and former British MP, Ethel Leckwith, and her student son, Lloyd, who soon learns for himself the brutal reality of Nazism. He also encounters a group of Germans resolved to oppose Hitler - but are they willing to go so far as to betray their country? Such people are closely watched by Volodya, a Russian with a bright future in Red Army Intelligence. The international clash of military power and personal beliefs that ensues will sweep over them all as it rages from Cable Street in London's East End to Pearl Harbor in Hawaii, from Spain to Stalingrad, from Dresden to Hiroshima. At Cambridge Lloyd is irresistibly drawn to dazzling American socialite Daisy Peshkov, who represents everything his left-wing family despise. But Daisy is more interested in aristocratic Boy Fitzherbert - amateur pilot, party lover and leading light of the British Union of Fascists. Back in Berlin, Carla worships golden boy Werner from afar. But nothing will work out the way they expect as their lives and the hopes of the world are smashed by the greatest and cruellest war in the history of the human race. Winter of the World is the second novel in Ken Follett's uniquely ambitious and deeply satisfying trilogy 'The Century'. On its own or read in sequence with Fall of Giants, this is a magnificent, spellbinding epic of global conflict and personal drama.
Sklep: Libristo.pl 36,77 zł
Książki / Literatura obcojęzyczna
Five linked families live out their destinies as the world is shaken by tyranny and war in the mid-twentieth century Berlin in 1933 is in upheaval. Eleven-year-old Carla von Ulrich struggles to understand the tensions disrupting her family as Hitler strengthens his grip on Germany. Into this turmoil steps her mother
Sklep: Libristo.pl 70,55 zł
Książki / Literatura obcojęzyczna
In the mid-1930s, Irmina, an ambitious young German, travels to London. There she meets Howard Green, one of the first black students at Oxford. Like Irmina, Green is looking for an independent existence - and a love affair between the two outsiders blossoms. But the relationship comes to an abrupt end when Irmina, constrained by the political situation in Hitler's Germany, has to return to Berlin.§Political events Speed up, and her letters to Howard are returned unopened. It will be 30 years In until she receives another. Based on a true story, this moving and perceptive graphic novel conjures the oppressive atmosphere of wartime Germany and reflects with sympathy and intelligence on the passive complicity of its people.
Sklep: Libristo.pl 49,62 zł
Książki / Literatura obcojęzyczna
Edith Hahn was a young law student in Vienna when Hitler absorbed Austria in 1938. Madly in love with a young man called Pepi who was half-Jewish, she was separated from him and sent to a forced labour camp. So began the extraordinary chain of events that led to her return to Vienna, her life as a 'hidden' Jew with an identity given to her by a German girlfriend, her marriage to a Nazi who knew she was Jewish and protected her, her intervention through her husband on behalf of Pepi, and her life at the end of the war in Eastern Germany where she was appointed a judge over the persecutors of her people. She fled the Communist regime there because of the conflicting emotions she felt for these who had NOT informed on her. She settled and married in London, and now lives in Israel, aged 84.
Sklep: Libristo.pl 36,87 zł
Książki / Literatura obcojęzyczna
There were not so much people as animals. Sometimes small and frightened, huddling together in cattle cars, wounds gaping, tongues swelling even as they licked the moist frost from the walls...Grievously wounded - having survived the operating table and the perilous journey West on a freezing freight train - Sven Hassel and his comrades find themselves behind the lines in a Hamburg hospital. The Reich is a hotbed of lies, betrayal and propaganda. Disgusted by the Nazi cause, the comrades drink themselves into oblivion, visit brothels where women dance naked on saloon tables and reach for home comforts before they return to the dreaded Russian Front. Because Hitler's war must go on...COMRADES OF WAR is a gritty portrayal of war's harsh realities and the fear and fanaticism at the heart of The Third Reich. Sven Hassel's unflinching narrative is based on his own experiences in the German Army. He began writing his first novel, LEGION OF THE DAMNED in a prisoner of war camp at the end of the Second World War.
Sklep: Libristo.pl
70,26 zł
Książki / Literatura obcojęzyczna
Fans of Sven Hassel will love this new adaptation of WHEELS OF TERROR - a graphic novel which portrays the blistering cold of the Russian steppe, the horrors of tank warfare and the grim realities of life on the Eastern Front in stunning visual detail. Stationed on the Russian Front and now equipped with armoured vehicles, Sven Hassel and his comrades from the 27th Penal Regiment fight on remorselessly ...All of them should be dead: life expectancy on the Front is measured in weeks. But Sven, Porta, Tiny and The Legionnaire fight to the end, not for Germany, not for Hitler, but for survival.
Sklep: Libristo.pl 36,57 zł
Książki / Literatura obcojęzyczna
'This is a book of horrors, and should be left alone by those prone to nightmares. Sven Hassel's descriptions of the atrocities committed by both sides are the most horrible indictments of war I have ever read ...A great war novel!' Alan Silitoe Stationed on the Russian Front and now equipped with armoured vehicles, Sven Hassel and his comrades from the 27th Penal Regiment fight on remorselessly...All of them should be dead: life expectancy on the Russian Front is measured in weeks. But Sven, Porta, Tiny and The Legionnaire fight to the end, not for Germany, not for Hitler, but for survival. WHEELS OF TERROR is a sobering depiction of war's brutalities, and the violence and inhumanity that the history books leave out.
Sklep: Libristo.pl
Sklepy zlokalizowane w miastach: Warszawa, Kraków, Łódź, Wrocław, Poznań, Gdańsk, Szczecin, Bydgoszcz, Lublin, Katowice
Szukaj w sklepach lub całym serwisie
2. Szukaj na wszystkich stronach serwisu
t1=0.067, t2=0, t3=0, t4=0.023, t=0.067