krainaksiazek the eschatology of 1 peter 20112130
- znaleziono 8 produktów w 2 sklepach 328,08 zł
Książki / Literatura obcojęzyczna
The author of 1 Peter regards Christian suffering as a necessary feature of faithful allegiance to Jesus, which precedes the full restoration and vindication of God's people. Much previous research has explored only the cause and nature of suffering; Kelly D. Liebengood now addresses the need for an explanation for the source that has generated this particular understanding. If Jesus truly is God's redemptive agent, come to restore His people, how can Christian suffering be a necessary part of discipleship after his coming, death and resurrection, and what led the author of 1 Peter to such a startling conclusion? Liebengood analyzes the appropriation of shepherds, exodus, and fiery trials imagery and argues that the author of 1 Peter is dependent upon the eschatological programme of Zechariah 9
Sklep: Libristo.pl 324,12 zł
Książki / Literatura obcojęzyczna
Refers to universal eschatology contain in the Letters to the Thessalonians (1 Thess 4, 13-5, 11; 2 Thess 2, 1-12).
Sklep: Libristo.pl 338,98 zł
Książki / Literatura obcojęzyczna
Deliverance Now and Not Yet follows Albert Schweitzer's view of mystically dying with Christ and Merkabah mysticism at Qumran to propose that the New Testament pictures Christ's atonement with mystical implications. These pictures set up three forms of New Testament eschatology: consistent, inaugurated, and realized. With regard to the relationship of the Church and the Great Tribulation: (1) Paul and John present deliverance now (realized eschatology), and (2) the rest of the New Testament presents deliverance not yet in two categories - (2a) Mark, James, Peter, and Jude present deliverance not yet (consistent), and (2b) Matthew, Luke - Acts, Hebrews, and Revelation portray deliverance as now and not yet (inaugurated eschatology). Taken together, the Christian's experience of the Messianic woes and mystical expression of the Kingdom prompts us to long deeply for the climactic expression of the Kingdom of God.
Sklep: Libristo.pl 222,45 zł
Książki / Literatura obcojęzyczna
This study of water symbolism in the Gospel of John attempts to unravel its subtle reference to eschatology. Wai-yee Ng, after examining various approaches to the interpretation of symbols in John, offers a composite treatment of the subject by surveying the literary development of
Sklep: Libristo.pl 128,76 zł
Książki & Multimedia > Książki
Opis - Stan prawny: 1.03.2013 r. Publikacja stanowi komentarz do przepisów części drugiej kodeksu postępowania cywilnego - istotnych z punktu widzenia praktyki stosowania prawa - regulujących postępowanie zabezpieczające. Obecne, drugie wydanie książki uwzględnia zmiany, w tym wprowadzone przez ustawę z dnia 16 września 2011 r. nowelizującą kodeks postępowania cywilnego, jak również najnowsze orzecznictwo Sądu Najwyższego w omawianym zakresie. Dla wzmocnienia jego walorów praktycznych, w tekście opracowania zamieszczono także wybór powoływanych orzeczeń, częściowo z najistotniejszymi fragmentami ich uzasadnień, oraz wybór przepisów odnoszących się do postępowania zabezpieczającego znajdujących się poza kodeksem postępowania cywilnego. Nazwa - Kodeks postępowania cywilnego Postępowanie zabezpieczające Autor - Dariusz Zawistowski Oprawa - Twarda Wydawca - Wolters Kluwer Kod ISBN - 9788326441974 Kod EAN - 9788326441974 Wydanie - 2 Rok wydania - 2013 Język - polski Seria wydawnicza - Praktyczne komentarze Lex Format - 148 × 210 Ilość stron - 304 Podatek VAT - 5% Premiera - 2013-04-24
Sklep: InBook.pl 33,66 zł
Książki & Multimedia > Książki
Opis - Praca podejmuje problematykę kontestacji współczesnej globalizacji. Książka, pisana z perspektywy doświadczeń antropologicznych, sytuuje się w szerokim nurcie zainteresowań nauk społecznych tak zwanymi nowymi ruchami społecznymi. Prezentuje ona alterglobalizm przez pryzmat wartości i działań społecznych podejmowanych przez zwolenników "alternatywnej" globalizacji. To właśnie dynamika społeczna staje się kluczem do opisu buntu i oporu wobec kultury globalnego kapitalizmu. W tym wypadku działania społeczne są polem rozpowszechniania ideologii, krytyki hegemonicznego systemu i kreowania wiedzy. Takie podejście badawcze wiąże się ściśle z antropologicznym poszukiwaniem specyfiki ruchu, który niezbyt trafnie kilka lat temu okrzyknięty został mianem ruchu "antyglobalnego". Społeczni aktorzy, którzy kontestują porządek świata oparty na neoliberalnej logice, proponują raczej różne alternatywy dotyczące rozwiązań palących problemów współczesności. Rozprawa przedstawia zjawisko alterglobalizmu na szerokim tle kulturowym, jak i w specyficznie polskim kontekście. Kilkuletnie badania terenowe w polskich środowiskach stanowiących część globalnego "ruchu ruchów" (wywiady, rozmowy, obserwacje uczestniczące) oraz analiza dostępnych materiałów takich jak literatura przedmiotu, artykuły prasowe, dokumenty pisane, strony internetowe czy filmy stanowią naukową podstawę do zrozumienia poczynań i wizji świata proponowanych przez alterglobalistów. Nazwa - Alterglobaliści Autor - Adam Pomieciński Oprawa - Miękka Wydawca - Wydawnictwo Naukowe UAM Kod ISBN - 9788323225294 Kod EAN - 9788323225294 Rok wydania - 2012 Język - polski Format - 17.9x25.4 Ilość stron - 240 Podatek VAT - 5% Premiera - 2013-04-12
Sklep: InBook.pl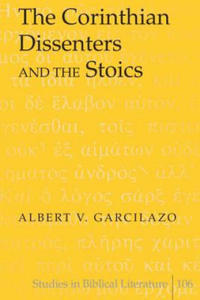 260,69 zł
Książki / Literatura obcojęzyczna
This book focuses on the controversy recorded in 1 Corinthians 15 regarding the denial of the resurrection of the dead. Many attempts and proposals have been made to understand the background of Paul's opponents. By focusing on the possible impact of Stoicism, Albert V. Garcilazo argues that the internal evidence of the letter indicates that some of the Corinthians had adopted a realized eschatology as well as an antisomatic view of the resurrection, which in turn prompted them to reject the future resurrection of the dead. Garcilazo suggests that the higher status members of the congregation were influenced by the cosmological, anthropological, and ethical teachings of the Stoa, especially the tenets of the Roman Stoics. He demonstrates this possibility by first considering the similarities between the doctrines of the Corinthian dissenters and the teachings of the Stoic philosophers, particularly the teachings of Seneca. Following a brief overview of Stoicism, the author concentrates on some of the theological issues revealed in the letter and examines how other scholars have interpreted 1 Corinthians 15. Finally, he provides a detailed analysis of 1 Corinthians 15:12-49. In short, Garcilazo argues that the philosophy of the Stoics seemingly contributed to the resurrection controversy recorded in 1 Corinthians 15.
Sklep: Libristo.pl 279,06 zł
Książki / Literatura obcojęzyczna
This study seeks to ascertain whether there are indicators of typology within the Old Testament. Various elements that comprise biblical typology such as the historical aspect, divine design, prophetic aspect, Steigerung (intensification), and eschatology are traced in a number of texts that deal with the Exodus motif. Chapter 1 surveys the perception and use of typology throughout the centuries up to the present. Chapter 2 seeks to establish the basic elements that are part of a biblical typology in passages that are directly linked to or describe the Exodus in the Pentateuch. Chapter 3 seeks to trace these elements throughout the prophetic writings that deal with the Exodus motif. This study concludes that there is, indeed, a type/anti-type relation that connects the Old with the New Testament which has various indicators already within the Old Testament.
Sklep: Libristo.pl
Sklepy zlokalizowane w miastach: Warszawa, Kraków, Łódź, Wrocław, Poznań, Gdańsk, Szczecin, Bydgoszcz, Lublin, Katowice
Szukaj w sklepach lub całym serwisie
2. Szukaj na wszystkich stronach serwisu
t1=0.037, t2=0, t3=0, t4=0, t=0.037