krainaksiazek the essentials of great writing 20115947
- znaleziono 10 produkty w 2 sklepach 56,99 zł
Książki Obcojęzyczne>Angielskie>Humanities>Philosophy
A Work Of Literary Theory That Draws On The Writings Of Demosthenes, Plato, Sappho, Thucydides, Euripides, And Aeschylus, Among Others, To Examine And Delineate The Essentials Of A Noble Style.
Sklep: Gigant.pl 181,12 zł
Książki / Literatura obcojęzyczna
Step-by-step instructions for the AutoCAD fundamentals§§AutoCAD 2015 Essentials contains 400 pages of full-color, comprehensive instruction on the world's top drafting and architecture software. This 2015 edition features architectural, manufacturing, and landscape architecture examples. And like previous editions, the detailed guide introduces core concepts using interactive tutorials and open-ended projects, which can be completed in any order, thanks to downloadable data sets (an especially useful feature for students and professionals studying for Autodesk AutoCAD certification).§§Unlike many other guides, which are organized around conceptual themes or task categories, AutoCAD 2015 Essentials takes a start-to-finish approach that mirrors how you will work with the program in the real world. Starting with basic 2D drawing and progressing through organizing objects with groups and blocks, creating and editing text, and 3D modeling, the process you'll learn in this book is ready to take to work. Inside, each chapter follows an intuitive structure:§Quick discussions of concepts and learning goals§Hands-on drafting tutorials for active learning and confidence building§Open-ended projects to reinforce new drafting skills§Downloadable end files, so you can check your work§§AutoCAD 2015 Essentials is great for professionals and students who need to quickly and effectively learn the most common features of 2D and 3D design. With over 12 years of experience teaching and writing about this formidable design program, Scott Onstott provides you with everything you'll need to leverage the full capabilities of AutoCAD.
Sklep: Libristo.pl 44,80 zł
Książki / Literatura obcojęzyczna
Students! Need to improve your critical thinking for top marks? Learn the core analytical skills for critical thinking...Student Essentials: Critical Thinking - in one hour helps you master the essentials of this core study skill in just 60 minutes. If you are studying for an undergraduate degree at university, critical thinking and analysis is imperative when studying and can often be the difference between an acceptable grade and a great grade. This book will help you develop the key essentials of this crucial skill in just one hour so you can successfully apply it to your studies straight away. Student Essentials: Critical Thinking - in one hour is packed full of jargon-free advice, step-be-step guidance and useful summaries to help you really get to grips with every element of critical thinking and analysis. Checklists and exercises ensure you tackle each stage of critical thinking head on and develop your skills from analysis and evaluation to constructing sound arguments and weighing up evidence. Learn the critical thinking essential toolkit quickly and apply it to all areas of your study, including: What is critical thinking? - the principles and essentials for study Analytical skills - improve your technique when reading and note taking Evaluating evidence - get to grips with arguments, counter claims and credibility Building arguments - using evidence, secondary resources and examples effectively Key tools - use the checklists and exercises to master every stage of critical thinking In just one hour develop your core critical thinking skills for study success and perform at your optimum with Trotman's Student Essentials series. Discover other titles in the series to help boost your study skills including: Student Essentials: Exam and Revision Strategies - in one hour Student Essentials: Essay Writing - in one hour Student Essentials: Study Skills - in one hour Student Essentials: Dissertation - in one hour
Sklep: Libristo.pl 53,99 zł
Książki Obcojęzyczne>Angielskie>Society & social sciences>Education>Study & learning skills: general
This Practical And Easy-to-use Guide Allows Students To Master Essential Dissertation Skills In Just One Hour. With Advice, Useful Checklists And Exercises To Help Develop The Core Skills Required To Successfully Plan And Write A Great Dissertation. From Planning, Structure And Research To Writing Effectively.
Sklep: Gigant.pl 54,05 zł
Książki / Literatura obcojęzyczna
Excerpt from Business Correspondence: Correspondence English, Business Letter Writing Customs, Files and Systems, Writing Effective Business Letters The business man who sees the sure result of a satisfactorily-handled letter naturally wants to know "how it is done." Many books are in existence which give a great deal of information about certain essentials of letter-writing, but there has always seemed to be lacking in most of these works the specific directions which a broad business man needs to produce a well-written letter. It is not to be supposed that the more common details and essentials need be given much space, for that is not what is demanded. Rather, about the essentials should be grouped such facts as experience has taught those who are in touch with business conditions are the broad truths, the large views of this important science. This, indeed, is the aim of the entire Business Men's Library, of which this is the second volume. Part I, "The Principles and Factors of the Art of Correspondence," takes up in its initial chapters the general underlying factors, these becoming more specific until Part II, "Correspondence in the Various Departments of Business," is reached. Here departmental correspondence is treated in detail. Beginning with the form letter which initiates a sale, and continuing through the various departments which make use of the written communication, there will be found that specific information which has built many a business from the smallest of small beginnings to industrial enterprises whose fame is world-wide. About the Publisher Forgotten Books publishes hundreds of thousands of rare and classic books. Find more at www.forgottenbooks.com This book is a reproduction of an important historical work. Forgotten Books uses state-of-the-art technology to digitally reconstruct the work, preserving the original format whilst repairing imperfections present in the aged copy. In rare cases, an imperfection in the original, such as a blemish or missing page, may be replicated in our edition. We do, however, repair the vast majority of imperfections successfully; any imperfections that remain are intentionally left to preserve the state of such historical works.
Sklep: Libristo.pl 118,46 zł
Książki / Literatura obcojęzyczna
Effective communication is a vital skill for everyone in business today. Great communicators have a distinct advantage in building influence and jumpstarting their careers. This practical guide offers readers a clear and comprehensive overview on how to communicate effectively for every business situation, from sensitive feedback to employees to persuasive communications for customers. It offers advice for improving writing skills, oral presentations, and one-on-one dealings with others. Contents include: Understanding the optimal "medium" to present information Learning the best timing to deliver a message Delivering an effective presentation Drafting proposals Writing effective e-mails Improving self-editing skills Plus, readers can access free interactive tools on the Harvard Business Essentials companion web site. Series Adviser: Mary Munter Professor Mary Munter has taught management communication for over twenty-five years, for seven years at the Stanford Graduate School of Business and since 1983 at the Tuck School of Business at Dartmouth. Professor Munter is considered one of the leaders in the management communication field. Among her publications is Guide to Managerial Communication-recently published in its sixth edition and named "one of the five best business books" by the Wall Street Journal. She has also published many other articles and books and consulted with over ninety corporate and not-for-profit clients. Harvard Business Essentials The Reliable Source for Busy Managers The Harvard Business Essentials series is designed to provide comprehensive advice, personal coaching, background information, and guidance on the most relevant topics in business. Drawing on rich content from Harvard Business School Publishing and other sources, these concise guides are carefully crafted to provide a highly practical resource for readers with all levels of experience. To assure quality and accuracy, each volume is closely reviewed by a specialized content adviser from a world class business school. Whether you are a new manager interested in expanding your skills or an experienced executive looking for a personal resource, these solution-oriented books offer reliable answers at your fingertips.
Sklep: Libristo.pl 47,19 zł
Książki / Literatura obcojęzyczna
Life Descending/Ascending is a significant work of lyrical, cerebral poetry that reveals seven universal experiences in life, from crime, politics and death to nature, ephemera, creativity, and love. From a clandestine attempt at theft to a final acceptance of life's convoluted and challenging path, in a burst of "Song," Life: Descending / Ascending covers much ground with thistle and wildflowers. Shapiro's second collection of poems is a rare volume that is both celebratory and somberly thought-provoking. It takes a poet, painter or musician to point out the minutiae of details in our human experience, those impressions that most strongly influence us, even in our unawareness of them. Shapiro's poems, in an esoteric but accessible fashion, are signals, symbols, hints at who we really are in this life. PRAISE "In this new volume of poems, Alice Shapiro finds countless ways to show us how we live now. She transforms the present moment into vivid art, blends down-to-earth voices with a poet's sense of sound deftly, and meets the challenge of writing originally about big subjects like politics, death, disease, loneliness, and love. In Crime, Shapiro is guilty of great writing, and her poetry descends into life itself and ascends into rare achievement." --Hans Ostrom, author of The Coast Starlight: Collected Poems 1976-2006 Alice Shapiro's far-reaching second collection of poems, Crime, investigates the lesson that "has no end" and seeks-out philosophical clues that make up our lives during a time of war: an ink-black ocean, paisley dress, chocolate, a door ajar, cup of joe... Where "arguments / lose their salt" fact becomes the closed spaces in a "mind exiled from its mental country" because, as the speaker says, "your truth is my oblivion". Seen from "the pit of a heart" and "heard within our own adventure," Crime journeys forward trying to solve the endless, personal mystery of another day on Earth. Listen: the breath, the yelp, the distant roar, "the future?" --Elena Karina Byrne "I can feel the shiver / of love" in these poems. --Mary Harwell Sayler ALICE SHAPIRO's first collection of poems, CRACKED Timeless Topics of Nature, Courage and Endurance, was published by TotalRecall Press (2009) with a preface by Suffolk L.I. Poet Laureate David Axelrod, and was nominated for a 2010 Pushcart Prize and a GAYA Award (Georgia Author of the Year). Her second collection, LIFE Descending / Ascending published by TotalRecall Press (2010) and a third volume in 2011. She is author of a chapbook, Seasons of the Heart published by Scars Publications (2007). Shapiro is also winner of the Bill C. Davis Drama Award for a one-act verse play (Four Voices) that was produced in New York. It will again be produced by StageWorks, Virginia in 2010. She was judge for Poetry Out Loud 2010 at the regional level. INTERVIEW WITH ALICE SHAPIRO Q: Explain your passion for poetry. A: Writing poetry is a fulfilling activity, like work. With the barest essentials - a pen and paper - I can create a dream world that is stimulating, exciting, sometimes dangerous, always nurturing, and filled with a sense of unconditional love. Poetry is a gift from God that I may share with others. Q: What's the t
Sklep: Libristo.pl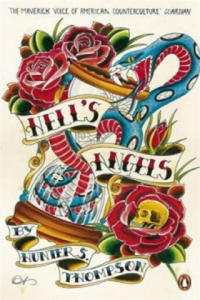 47,35 zł
Książki / Literatura obcojęzyczna
Journalist, maverick, rebel and author of "Fear and Loathing in Las Vegas" Hunter S. Thompson offers another novel of American counterculture in Hell's Angels, beautifully repackaged as part of the Penguin Essentials range. 'A phalanx of motorcycles came roaring over the hill from the west...the noise was like a landslide, or a wing of bombers passing over. Even knowing the Angels I couldn't quite handle what I was seeing. It was like Genghis Khan, Morgan's Raiders, the Wild One and the Rape of Nanking all at once.' In September, 1964 a cavalcade of motorbikes ripped through the city of Monterey, California. It was a trip destined to make Hell's Angels household names across America, infamous for their violent, drunken rampages and feared for the destruction left in their wake. Enter Hunter S. Thompson, the master of counter-culture journalism who alone had the ability and stature to ride with the Angels on their terms. In this brilliant and hair-raising expose, he journeys with the last outlaws of the American frontier. A mixture of journalism, story-telling and sheer bravado, Hell's Angels is Hunter S. Thompson at full throttle. "Excellent documentary non-fiction". ("Time Out"). "The maverick voice of American counterculture". ("Guardian"). "There are only two adjectives writers care about any more - "brilliant" and "outrageous" - and Hunter has a freehold on both of them". (Tom Wolfe). "The book that made Thompson's name". ("Loaded"). Hunter S. Thompson was born in Louisville, Kentucky in 1937. He began his writing career as a sports columnist in Florida and went on to work on newspapers and magazines in New York, San Juan and Rio de Janeiro. His articles appeared in Esquire, "Rolling Stone" magazine and the "San Francisco Chronicle". He is the author of a number of books, including "Fear and Loathing in Las Vegas", "Fear and Loathing on the Campaign Trail '72", "The Great Shark Hunt", "Generation of Swine", "The Curse of Lono", "Songs of the Doomed", "Better Than Sex", "The Proud Highway" and "The Rum Diary". Hunter S. Thompson died in 2005.
Sklep: Libristo.pl 163,11 zł
Książki / Literatura obcojęzyczna
The iOS 8 SDK changes everything. New programming language, new ways to work with other apps, new tools to do cool stuff. In a world of iPhones and iPads, it's a great time to make a fresh start developing apps for the platform. This book guides you through the state of the art of iOS development, including the radically overhauled Xcode 6 toolchain, the iOS 8 SDK, and the new iPhone 6 and iPhone 6 Plus. Entirely rewritten to use Apple's new Swift programming language, this book will take you through the fundamentals of writing apps that are responsive, adaptive, practical, and exciting. Whether you're starting out or starting over, iOS 8 has set developers on a new path. With a capable and practical new programming language, a wide variety of new features and frameworks, and a new spirit of openness and connectivity, it's a long way from the locked-down, webapps-only original iPhone. iOS 8 SDK Development is a practical guide to the essentials of developing for iOS 8. You'll start building and revising a real app that's written entirely in Apple's new Swift programming language. You'll send network requests and handle the responses, build from one screen to many, adapt from the close confines of the iPhone screen to the wide expanse of the iPad, and accommodate the big iPhone 6 in between. You'll master the fundamentals of keeping apps responsive with Grand Central Dispatch, organize your logic into View Controllers, delight users with multi-touch gestures and photo manipulation, and offer services to other apps through iOS 8 Extensions. You'll also learn the fine arts of testing, debugging, and the care and feeding of your app before submitting to the App Store--and after it's in the public's hands. The iOS 8 SDK changes everything. Change with it. It's only getting better. What You Need: This title covers the iOS 8 SDK and Xcode 6. Readers will need a Mac with OS X 10.9 (Mavericks), or later, and Xcode 6 (free from the Mac App Store).
Sklep: Libristo.pl 275,99 zł
Książki / Literatura obcojęzyczna
Graphics and game developers must learn to program for mobility. This book will teach you how. "This book - written by some of the key technical experts...provides a comprehensive but practical and easily understood introduction for any software engineer seeking to delight the consumer with rich 3D interactive experiences on their phone. Like the OpenGL ES and M3G standards it covers, this book is destined to become an enduring standard for many years to come." - Lincoln Wallen, CTO, Electronic Arts, Mobile "This book is an escalator, which takes the field to new levels. This is especially true because the text ensures that the topic is easily accessible to everyone with some background in computer science...The foundations of this book are clear, and the authors are extremely knowledgeable about the subject. - Tomas Akenine-M ller, bestselling author and Professor of Computer Science at Lund University "This book is an excellent introduction to M3G. The authors are all experienced M3G users and developers, and they do a great job of conveying that experience, as well as plenty of practical advice that has been proven in the field." - Sean Ellis, Consultant Graphics Engineer, ARM Ltd The exploding popularity of mobile computing is undeniable. From cell phones to portable gaming systems, the global demand for multifunctional mobile devices is driving amazing hardware and software developments. 3D graphics are becoming an integral part of these ubiquitous devices, and as a result, Mobile 3D Graphics is arguably the most rapidly advancing area of the computer graphics discipline. Mobile 3D Graphics is about writing real-time 3D graphics applications for mobile devices. The programming interfaces explained and demonstrated in this must-have reference enable dynamic 3D media on cell phones, GPS systems, portable gaming consoles and media players. The text begins by providing thorough coverage of background essentials, then presents detailed hands-on examples, including extensive working code in both of the dominant mobile APIs, OpenGL ES and M3G. C/C++ and Java Developers, graphic artists, students, and enthusiasts would do well to have a programmable mobile phone on hand to try out the techniques described in this book. The authors, industry experts who helped to develop the OpenGL ES and M3G standards, distill their years of accumulated knowledge within these pages, offering their insights into everything from sound mobile design principles and constraints, to efficient rendering, mixing 2D and 3D, lighting, texture mapping, skinning and morphing. Along the way, readers will benefit from the hundreds of included tips, tricks and caveats. *Written by experts at Nokia whose workshops at industry conferences are blockbusters *The programs used in the examples are featured in thousands of professional courses each year *Extensive working sample code is presented throughout the book and on the companion website
Sklep: Libristo.pl
Sklepy zlokalizowane w miastach: Warszawa, Kraków, Łódź, Wrocław, Poznań, Gdańsk, Szczecin, Bydgoszcz, Lublin, Katowice
Szukaj w sklepach lub całym serwisie
2. Szukaj na wszystkich stronach serwisu
t1=0.039, t2=0, t3=0, t4=0, t=0.039