krainaksiazek the first ball a charming short story 20042086
- znaleziono 13 produktów w 5 sklepach 10,90 zł
Książki & Multimedia > Książki
Opis - Pierwsze na świecie świadectwo ofiary zbrodni honorowej. Miała siedemnaście lat i zakochała się: zhańbiła rodzinę. Więc rodzina wydała na nią wyrok śmierci... Pokochała go pierwszą miłością. Myślała, że się z nią ożeni. Ale ukochany zniknął, a ona odkryła, że jest w ciąży. A w jej świecie to najcięższa zbrodnia... W zapomnianej przez Boga wiosce w Cisjordanii kobiety są warte mniej niż zwierzęta domowe. Tu mężczyzna jest panem życia i śmierci żony, córki, siostry. Brat może bezkarnie zabić siostrę, matka - córkę, kolejną bezużyteczną dziewczynkę, jaka się urodzi. Tu kobiecie odbiera się godność, a nawet życie zgodnie z odwiecznym obyczajem i uświęconą tradycją. A śmierć jest karą dla dziewczyny, która zhańbi rodzinę. Tak jak Souad. Wyrok wydaje jej ojciec. Szwagier dokonuje egzekucji. Oblewa Souad benzyną i podpala... SOUAD przeżyła - cudem, ale rodzina usiłowała zabić ją nawet w szpitalu. Na zawsze jednak pozostanie straszliwie okaleczona - na ciele i duszy. I wciąż musi się ukrywać; dopóki żyje, jej rodzinę okrywa hańba. Spalona żywcem, opublikowana pod pseudonimem szokująca opowieść o piekle, jakim było jej dzieciństwo i młodość, stała się międzynarodowym bestsellerem. Wydana w 37 w krajach książka przerywa tabu milczenia wobec istniejącej nadal w krajach muzułmańskich barbarzyńskiej tradycji. Nieludzkiego obyczaju, prawa mężczyzn, na mocy którego co najmniej pięć tysięcy kobiet pada co roku ofiarą zbrodni honorowej. Nazwa - Spalona Żywcem Wyd. Kieszonkowe Autor - Souad Oprawa - Miękka Wydawca - Amber Kod ISBN - 9788324159406 Kod EAN - 9788324159406 Wydanie - 1 Rok wydania - 2016 Tłumacz - 31182,maria rostworowska; Format - 110 x 175 x 14 Ilość stron - 224 Podatek VAT - 5% Premiera - 2016-06-23
Sklep: InBook.pl 42,72 zł
Książki / Literatura obcojęzyczna
Considered one of the greatest short story writers of her generation, Katherine Mansfield was a modernist writer from New Zealand. This collection includes thirty-five of her most popular stories. In this volume you will find the following stories: "The Tiredness of Rosabel", "At Lehmann's", "Frau Brechenmacher Attends a Wedding", "The Swing of the Pendulum", "The Woman at the Store", "How Pearl Button Was Kidnapped", "Ole Underwood", "Millie", "Bains Turcs'", "The Little Governess", "An Indiscreet Journey", "The Wind Blows", "Prelude", "A Dill Pickle", "Je Ne Parle Pas Français", "Bliss", "Psychology", "Pictures", "The Man Without a Temperament", "Revelations", "The Escape", "The Young Girl", "The Stranger", "Miss Brill", "Poison", "The Daughters of the Late Colonel", "Life of Ma Parker", "Her First Ball", "Marriage ý la Mode", "At the Bay", "The Voyage", "The Garden Party", "The Doll's House", "The Fly", and "The Canary".
Sklep: Libristo.pl 30,24 zł
Książki / Literatura obcojęzyczna
More fun from the world of Ever After High! This story collection features tales about the lovable and one-of-a-kind pets of your favourite characters. The collection includes: Duchess Swan and the Next Top Bird: A Little Pirouette Story Lizzie Hearts and the Hedgehog's Hexcellent Adventure: A Little Shuffle Story Ginger Breadhouse and the Candy Fish Wish: A Little Jelly Story Hopper Croakington II and the Princely Present: A Little Drake Story Dexter Charming and the Trouble with Jackalopes: A Little Mr. Cottonhorn Story Darling Charming and the Horse of a Different Color: A Little Sir Gallopad Story PLUS, two brand-new short stories! These stories by Suzanne Selfors have previously been published as digital shorts - this collection brings them together in print for the first time.
Sklep: Libristo.pl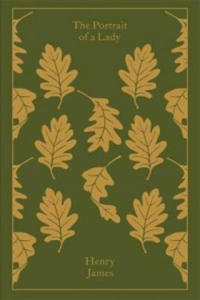 90,72 zł
Książki / Literatura obcojęzyczna
Henry James' great masterpiece, now in a stunning Penguin clothbound edition designed by the acclaimed Coralie Bickford-Smith. When Isabel Archer, a beautiful, spirited American, is brought to Europe by her wealthy aunt Touchett, it is expected that she will soon marry. But Isabel, resolved to enjoy her freedom, does not hesitate to turn down two eligible suitors. Then she finds herself irresistibly drawn to Gilbert Osmond. Charming and cultivated, Osmond sees Isabel as a rich prize waiting to be taken. In this portrait of a 'young woman affronting her destiny', Henry James created one of his most magnificent heroines, and a story of intense poignancy. This edition is based on the earliest published copy of the novel: this is the version that was read first and loved by most readers in James' lifetime. It also includes an introduction, notes and other editorial materials by leading James scholar Philip Horne. Henry James was born in 1843 in Washington Place, New York, of Scottish and Irish ancestry. In addition to many short stories, plays, books of criticism, autobiography and travel, he wrote some twenty novels, the first published being Roderick Hudson (1875). They include The Europeans, Washington Square, The Portrait of a Lady, The Bostonians, The Princess Casamassima, The Tragic Muse, The Spoils of Poynton, The Awkward Age, The Wings of the Dove, The Ambassadors and The Golden Bowl. Philip Horne is Professor of English at University College London.
Sklep: Libristo.pl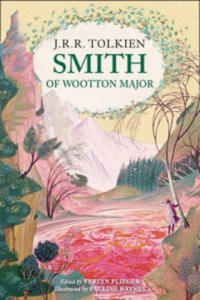 50,40 zł
Książki / Literatura obcojęzyczna
A charming new pocket edition of one of Tolkien's major pieces of short fiction, and his only finished work dating from after publication of The Lord of the Rings. What began as a preface to The Golden Key by George MacDonald eventually grew into this charming short story, so named by Tolkien to suggest an early work by P.G. Wodehouse. Composed almost a decade after The Lord of the Rings, and when his lifelong occupation with the 'Silmarillion' was winding down, Smith of Wootton Major was the product of ripened experience and reflection. It was published in 1967 as a small hardback, complete with charming black and white illustrations by Pauline Baynes, and would be the last work of fiction to be published in Tolkien's own lifetime. Now, almost 50 years on, this enchanting tale of a wanderer who finds his way into the perilous realm of Faery is being published once again as a pocket hardback. Contained here are many intriguing links to the world of Middle-earth, as well as to Tolkien's other tales, and this new edition is enhanced with a facsimile of the illustrated first edition, a manuscript of Tolkien's early draft of the story, notes and an alternate ending, and a lengthy essay on the nature of Faery.
Sklep: Libristo.pl 40,80 zł
Powieści i opowiadania
When Alistair Cooke retired in March 2004 and then died a few weeks later, he was acclaimed by many as one of the greatest broadcasters of all time. His Letters from America, which began in 1946 and continued uninterrupted every week until early 2004, kept the world in touch with what was happening in Cooke's wry, liberal and humane style. This selection, made largely by Cooke himself and supplemented by his literary executor, gives us the very best of these legendary broadcasts. Over half have never appeared in print before. It is a remarkable portrait of a continent - and a man. Fred Astaire 26 June 1987 Movie stars don't make it. Nor statesmen. Not Prime Ministers, or dictators unless they die in office. Not even a world-famous rock star, unless he's assassinated. But last Monday, none of the three national television networks hesitated about the story that would lead the evening news. On millions of little screens in this country and I don't doubt in many other countries around the world, the first shots were of an imp, a graceful wraith, a firefly in impeccable white tie and tails. And for much longer than the lead story usually runs, for a full five minutes on NBC, we were given a loving retrospective of the dead man, ending with the firm declaration by Nureyev that 'He was not just the best ballroom dancer, or tap dancer, he was simply the greatest, most imaginative, dancer of our time.' And the newsmen were right to remind us of the immortal comment of the Hollywood mogul, who, with the no-nonsense directness of an expert, reported on Fred Astaire's first film test: 'Has enormous ears, can't act, can't sing, dances a little.' That Hollywood mogul, long gone, spent his life ducking round corners, to avoid being identified as the oaf who looked in the sky and never saw the brightest star. However, that expert opinion was, as the lawyers say, controlling at the time and in Astaire's first movies, there was no thought of allowing him to act or sing. But not for long. And thanks to the invention of television, and the need to fill vast stretches of the afternoon and night with old movies, it has been possible for my daughter, for instance, to claim Fred Astaire as her favourite film star from the evidence of all the movies he made fifteen, ten, five, three years before she was born. When I got the news on Monday evening here, and realized with immediate professional satisfaction that the BBC had smartly on hand a musical obituary tribute to him I put together eight years ago, I couldn't help recalling the casual, comic way this and similar radio obituaries came about. I was in London at the end of 1979, and Richard Rodgers - one of the two or three greatest of American songwriters - had just died, I believe on New Year's Eve or the night before. Britons, by then, were getting accustomed, without pain, to making what used to be a two-day Christmas holiday into a ten-day much-needed rest. For all laborious research purposes, the BBC was shut up. And there was no retrospective programme on the life and music of Richard Rodgers in the BBC's archives. Of course, in a gramophone library that looks like an annex to the Pentagon, there were hundreds, perhaps thousands, of recordings of his songs. The SOS went out to a writer, a producer, and - I presume - a man who had the key to the gramophone library. The silent place was unlocked, and the three of them laboured through the day to put together an hour's tribute to Richard Rodgers. It was done. It was competent enough, but rushed to an impossible deadline. This hasty improvisation happened just when my own music producer and I, who had enjoyed working together for six years or so on American popular music, were wondering what we could offer next. We'd done a sketch history of jazz, through individuals. We'd gone through all the popular music of the 1920s, 1930s and 1940s, and were stumped for a new series, at which point I asked if we mightn't go and talk to the head of the channel, network or whatever. We went in, and the genial boss asked me what we had in mind. 'A morgue,' I said. A what? 'Where', I asked, 'is your morgue?' He was not familiar with the word, a newspaper term. 'Well,' I said, 'all newspapers have them.' 'How d'you mean?' 'If, I explained, 'Mrs Thatcher died tonight and you woke up and read a two-sentence obituary, you'd be rightly outraged. But if you saw a two-page obituary, you'd take it for granted. When d'you suppose it was written?' 'That's right,' he said thoughtfully. What I was proposing was a morgue of the Americans eminent in popular music and jazz, so they'd not get caught short again. A splendid idea, the man said; pick your stars. We made a list and were commissioned to return to America and finish all of them. Naturally, we looked at a calendar, and birthdates of Hoagy Carmichael, Earl Hines, Harold Arlen, Ethel Merman, Stephane Grappelli, Ella Fitzgerald. But then, in a spasm of panic, we thought of two giants - if the word can be used about two comparative midgets: Irving Berlin and Fred Astaire. Berlin was then 91. And Fred Astaire was just crowding 80. The boss man, to whom the idea of a morgue had been, only a few minutes before, quaint if not morbid, wondered what we were waiting for. Better get busy, at once, on Berlin and then on Astaire. I remember doing the Astaire obit, then and there, while I was still in London. Meanwhile, we'd simply pray every night that the Lord would keep Irving Berlin breathing till I could get home and get busy. I remember being picked up in a car by a charming young girl to get to the BBC and record my Astaire narration - there wasn't a moment to lose. She asked me, in the car, what the script was that I was clutching. 'It's an obituary', I said, 'of Fred Astaire.' 'Fred Astaire,' she shrieked, 'dead?' and almost swerved into a bus. 'Of course, he's not dead,' I said, 'but he's going to be one day.' She, too, was new to the institution of a morgue. I recalled that when I was a correspondent for a British paper in the United States, and when for example. Dean Acheson was appointed Secretary of State, the first cable I had from my editor said, 'Welcome Acheson obituary soonest.' How ghoulish, she said. I imagine that to two generations at least, it's assumed that Fred Astaire, this slim, pop-eyed newcomer to Hollywood who couldn't act, couldn't sing, danced a little, only made a fool of the mogul through the movies he made, with Ginger Rogers, in the mid- and late 1930s. But long before then, from the mid-1920s on, he was already an incomparable star - as a dancer - to theatre audiences both in New York and in London. Perhaps more in London than anywhere, certainly in the 1920s, with the early Gershwin hits, Funny Face and Lady Be Good, and lastly, in 1933, in Cole Porter's Gay Divorce (which was the title of the theatre show; Hollywood would not then allow so shocking a title and called the movie version, The Gay Divorcee). Of all the thousands of words that have been written this week, and will be written, there is a passage I went back to on Tuesday night which, I think, as well as anything I know, sums up Astaire's overall appeal - the appeal that takes in but transcends one's admiration for his dancing and for his inimitably intimate singing style. This was written in November 1933, by a theatre critic who had so little feel for dancing that he marvelled why London should go on about 'Mr Astaire's doing well enough what the Tiller Girls at Blackpool do superbly'. The critic, the writer, was James Agate, the irascible, dogmatic, opinionated but brilliant journalist, and I believe the best critic of acting we have had this century. He is writing his review of Gay Divorce, after declaring yet again his contempt for musical comedy as an entertainment for idiots, deploring the play's plot and the acting and hoping 'Micawberishly, for something to turn up'. 'Presently,' he wrote, 'Mr Fred Astaire obliged, and there is really no more to be said.' Except
Sklep: Albertus.pl 94,72 zł
Książki / Literatura obcojęzyczna
"Denny, long before he surfaced in my cove, was a legend well-known to me, a myth entitled: Best-Kept Boy in the World."-Truman Capote Denham (Denny) Fouts, the twentieth century's most famous male prostitute, was a socialite and literary muse whose extraordinary life started off humbly in Jacksonville, Florida. But in short order he befriended (and bedded) the rich and celebrated and in the process conquered the world. No less an august figure than the young Gore Vidal was enchanted by Denny's special charms. He twice modeled characters on Denny in his fiction, saying it was a pity that Denny never wrote a memoir. To Vidal he was "un homme fatal." Truman Capote, who devoted a third of Answered Prayers to Denny's life story, found that "to watch him walk into a room was an experience. He was beyond being good-looking; he was the single most charming-looking person I've ever seen." Writer Christopher Isherwood was more to the point: he called Denny "the most expensive male prostitute in the world." In his short life, Denny achieved a mythic status, and Best-Kept Boy in the World for the first time follows him into his rarefied world of barons and shipping tycoons, lords, princes, heirs of great fortunes, artists, and authors. Here is the story of an American original, a story with an amazing cast of unforgettable characters and extraordinary settings, the book Gore Vidal wished Denny had written. Arthur Vanderbilt is the author of many books of history, biography, memoirs, and essays. He lives in New Jersey and Massachusetts.
Sklep: Libristo.pl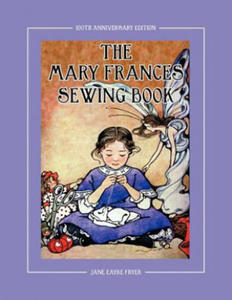 104,16 zł
Książki / Literatura obcojęzyczna
This delightful book is a unique treasure for its endearing story, charming illustrations, comical characters, abundance of nostalgia, and practical instruction that introduces children to the world of sewing in a gentle and encouraging way while preserving a valuable collection of doll clothing patterns from the Edwardian and Titanic fashion era. Join Mary Frances as each item in the sewing basket comes to life, ready and eager to teach her how to sew. You will meet Sewing Bird, Tommy Pin Cushion, Scissors Shears and their friends as they lead you through a series of lessons, and a great adventure to Thimble Land, in a book that's at its best when read aloud. Children will love the quaint language and captivating storyline alone, and by following along with the projects, they will be rewarded with hand-sewing skills and a lovely wardrobe of doll clothes. The author's unique quarter-fold cutting method provides fewer pattern pieces, less seaming, and an easy learning curve for beginners. The projects are simple, fast, and fun. Adults and experienced seamstresses will appreciate the authentic early 1900's patterns, and can easily adapt the instructions for machine stitchery. Modern girls can make the vintage styles look fresh through the use of up-to-date fabrics and colors. Vintage clothing pieces combined with trendy accessories will give any contemporary doll a fashionable style that is retro chic! The twenty-nine full-size doll clothing patterns include nightwear, daywear, swimwear, playwear, outerwear, fancywear, and a wedding dress. The Mary Frances Sewing Book 100th Anniversary Edition also serves as a valuable ongoing reference for fifteen basic hand-sewing and embroidery stitches that are showcased on a 20th century sampler. Black and white illustrations are included on every page, and color illustrations on the front and back covers. Woven through the sewing lessons are moral lessons that teach the importance of practice, perseverance, courtesy, sharing, and kindness while the quirky cast of characters offers plenty of comic relief. The Mary Frances Sewing Book 100th Anniversary Edition has been restored, updated, and expanded for the 21st century to include a new introduction, larger format, fresh typesetting, enhanced graphics, general directions, a fabric and notion list for each project, and resized patterns for doll clothes that fit American Girl and other 18-inch dolls. Sewing is an important skill that can be learned at a young age. Every project teaches new stitches and techniques that can be mastered in a short while, and practiced for a lifetime. The complete Mary Frances 100th Anniversary collection includes The Mary Frances Cook Book 100th Anniversary Edition, The Mary Frances Sewing Book 100th Anniversary Edition, The Mary Frances Housekeeper 100th Anniversary Edition, The Mary Frances Garden Book 100th Anniversary Edition, The Mary Frances Knitting and Crocheting Book 100th Anniversary Edition, The Mary Frances First Aid Book 100th Anniversary Edition and The Mary Frances Story Book 100th Anniversary Edition.
Sklep: Libristo.pl 75,04 zł
Książki / Literatura obcojęzyczna
Children love learning about baby animals, and this charming narrative tells the heartwarming, true-life story of Vicks, a polar bear cub at the Rotterdam Zoo. From his first soft growl as a baby to his first dive as a tough polar bear, it chronicles young Vicks' adventures in the year following his birth. In the pages of this book, kids can join Vicks as he takes his first steps, learns to catch fish, improves his swimming skills, and grows big enough to climb rocks that once scared him. With amazing photographs and informative text, it celebrates this special animal's amazing transformation from tiny, white ball of fluff to fully grown polar bear.
Sklep: Libristo.pl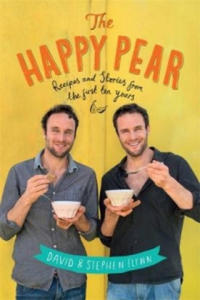 85,76 zł
Książki / Literatura obcojęzyczna
"I love The Happy Pear. Its cheery optimism is enough to make it a charming refuge ...genuinely good food that brings healthy eating in from the cold". (Irish Times). Let's face it: while we want to eat more fruit and veg and things we know are good for us, we sometimes fall short because we're not sure how to turn all that great produce into great food. Well, welcome to the Happy Pear way of eating - healthy but never worthy, easy but never dull, and packed with mind-blowing flavour, exciting texture and vibrant colour. The Happy Pear opened ten years ago when twins David and Stephen Flynn, passionate about starting a food revolution in their home town, took over their local fruit and veg shop and later opened a cafe. Their revolution has not only succeeded, but it is spreading, and The Happy Pear's fans range from young parents to pensioners, ladies-who-lunch to teens-on-the-run, Electric Picnickers to Hollywood stars. David and Stephen's first cookbook is full of irresistible recipes for everything from everyday breakfasts, lunches and dinners, to scrumptious - and yes, still wholesome! - cakes and sweet treats, to special occasion splurges. David and Stephen also tell their story (how they transformed from jocks to hippies before finally finding their groove), share their top tips for maximizing taste and goodness in food, and explain how they've succeeded in building a food business based on flavour, health and community. "One of the funkiest eateries in the country". (Irish Independent).
Sklep: Libristo.pl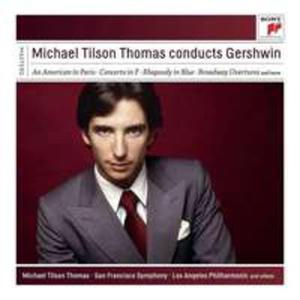 82,49 zł
Muzyka>Klasyczna
1. Thomas, Michael Tilson - An American In Paris (Ein 2. Ohlsson, Garrick - Konzert Fuer Klavier Und Orches 3. 1. Allegro 4. 2. Adagio - Andante Con Moto 5. 3. Allegro Agitato 101. Mcdonald, Audra - Catfish Row Suite (Aus Porgy & B 102. 1. Catfish Row - Summertime 103. 2. Porgy Sings 104. 3. Fugue 105. 4. Bess, You Is My Woman Now 106. 5. Hurricane 107. 6. My Man's Gone Now 108. 7. There's A Boat Dat's Leaving Soon 109. 8. Good Mornin' Sistuh! 110. Thomas, Michael Tilson - Rhapsody Nr. 2 (Fuer Klav 201. Gershwin, George - Rhapsody In Blue 202. Thomas, Michael Tilson - An American In Paris (Ein 203. Thomas, Michael Tilson - Oh, Kay! (Musical) (Auszu 204. Ouvertuere 205. Thomas, Michael Tilson - Funny Face (Musical) (Aus 206. Ouvertuere 207. Thomas, Michael Tilson - Girl Crazy (Musical) (Aus 208. Ouvertuere 209. Thomas, Michael Tilson - Strike Up The Band (Music 210. Ouvertuere 211. Thomas, Michael Tilson - Of Thee I Sing (Musical) 212. Ouvertuere 213. Thomas, Michael Tilson - Let 'Em Eat Cake (Musical 214. Ouvertuere 301. Levee, Lorin - Rhapsody In Blue 302. Thomas, Michael Tilson - Preludes Nr. 1-3 (Fuer Kl 303. Nr. 1 Allegro Ben Ritmato E Deciso - Nr. 2 Andante 304. Thomas, Michael Tilson - Short Story (Rekonstr. Vo 305. Thomas, Michael Tilson - Violin Piece (Melody Nr. 306. Thomas, Michael Tilson - Rhapsody Nr. 2 (Fuer Klav 307. Thomas, Michael Tilson - For Lily Pons (Melody Nr. 308. Thomas, Michael Tilson - Sleepless Night (Melody N 309. Thomas, Michael Tilson - Promenade 401. Zimmermann, Mark - Of Thee I Sing (Musical) (Gesam 402. Overture 403. Wintergreen For President (1. Akt) 404. Who Is The Lucky Girl To Be? 405. The Dimple On My Knee 406. Because, Because 407. Never Was There A Girl So Fair 408. Some Girls Can Bake A Pie 409. Love Is Sweeping The Country 410. Of Thee I Sing 411. Supreme Court Judges 412. A Kiss For Cinderella - Some Girls Can Bake A Pie 413. Hello, Good Morning (2. Akt) 414. Who Cares? 415. The Illegitimate Daughter - Because, Because (Repr 416. Who Cares? (Reprise) 417. The Senator From Minnesota 418. The Senate 419. Jilted - I'm About To Be A Mother 420. Posterity Is Just Around The Corner 421. Trumpeter Blow Your Golden Horn 422. Finale Ultimo 423. Of Thee I Sing (Reprise) 501. Zimmerman, Mark - Let 'Em Eat Cake (Musical) (Gesa 502. Overture 503. Tweedledee For President (1. Akt) 504. Union Square 505. Store Scene: Shirts By The Millions 506. Comes The Revolution 507. Mine 508. Climb Up The Social Ladder (The New Blue D. A. R.) 509. The Union League (Cloistered From The City Noise) 510. On & On & On 511. Introduction 512. I've Brushed My Teeth 513. The General's Gone To A Party 514. Mothers Of The Nation 515. Let 'Em Eat Cake 516. Blue, Blue, Blue (2. Akt) 517. Who's The Greatest? 518. The League Of Nations 519. No Comprenez, No Capish, No Versteh? 520. When Nations Get Together 521. Why Speak Of Money? - Who's The Greatest? (Reprise 522. Up & At 'Em 523. The Trial Of Throttlebottom: That's What He Did 524. I Know A Foul Ball 525. Throttle Throttlebototm 526. The Trial Of Wintergreen: It Isn't What You Did 527. Mine (Reprise) 528. First Lady & First Gent 529. Hanging Throttlebottom In The Morning 530. Fashion Show 531. Finale Ultimo - Of Thee I Sing (Reprise) 601. Vaughan, Sarah - Porgy & Bess (Oper In 3 Akten): M 602. Introduction - Summertime - It Ain't Necessarily S 603. Vaughan, Sarah - Oh, Kay! (Musical): Medley 604. But Not For Me - Love Is Here To Stay - Embraceabl 605. Vaughan, Sarah - Sweet & Low-down 606. Vaughan, Sarah - Lady, Be Good (Musical) (Auszug) 607. Fascinating Rhythm 608. Vaughan, Sarah - Do It Again! 609. Vaughan, Sarah - Porgy & Bess (Oper In 3 Akten) (A 610. My Man's Gone Now 611. Vaughan, Sarah - The Man I Love 612. Vaughan, Sarah - Nice Work If You Can Get It - The 613. Vaughan, Sarah - I've Got A Crush On You - A Foggy
Sklep: Gigant.pl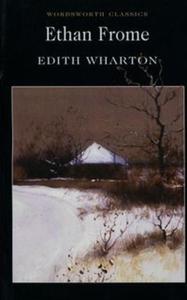 10,40 zł
Powieść zagraniczna
With this intensely moving short novel, Edith Wharton set out ?to draw life as it really was? in the lonely villages and desolate farms of the harsh New England mountains. Through the eyes of a visitor from the city, trapped for a winter in snowbound Starkfield, readers glimpse the hidden histories of this austere and beautiful land. Piecing together the story of monosyllabic Ethan Frome, his grim wife, Zeena, and Mattie Silver, her charming cousin, Wharton explores psychological dead-lock:frustration, longing, resentment, passion.First published in 1911, the novella stunned its public with its consummate handling of the unfolding drama, and has remained for many readers the most compelling and subtle of all Wharton?s fiction.
Sklep: Booknet.net.pl 94,72 zł
Książki / Literatura obcojęzyczna
Source: Wikipedia. Pages: 50. Chapters: Adam Wisniewski-Snerg, Barrington J. Bayley, John Russell Fearn, Lavie Tidhar, Neal Asher, Walt Willis, Kate Orman, J. T. McIntosh, Josef Nesvadba, Alexander Kazantsev, Adam Roberts, Ben Aaronovitch, Ryu Mitsuse, Wayland Drew, Linda Evans, Tony Ballantyne, M. Christian, Vyacheslav Rybakov, William King, Laurence Manning, Jean Bruller, Robert Charroux, S. Fowler Wright, Maureen F. McHugh, Brenda Clough, T. L. Sherred, Jack Womack, Maxim Jakubowski, Kyril Bonfiglioli, Adam Browne, Tomasz Kolodziejczak, Liz Williams, Brian Thomsen, John Rankine, Ryo Hanmura, Brian Earnshaw, Eileen Kernaghan, Andy Remic, James Alan Gardner, David Louis Edelman, Mags L Halliday, Peter Anghelides, Marianne de Pierres, Geoffrey Hoyle, David J. Williams, William F. Wu, Joseph Shallit, Charles Eric Maine, Paul Harland, Mariko Ohara, Michel Pagel, Bernard Wolfe, Antonina Liedtke, Robert J. Szmidt, Nir Yaniv, Nick Gevers, Patrick Tilley, Paul Erickson, Jose Molina, Dorothy J. Heydt, Matt Hughes, G. C. Edmondson, Charles A. Spano, Jr., Yoji Kondo, Shinji Kajio, Simon Ings, Nick Webb, Carol Resnick, Tricia Sullivan, J. Grant Thiessen, Ronald M. Hahn, Alain Le Bussy, Jim Munroe, Robert Moore Williams, Miroslav Zamboch, Christopher Hodder-Williams, Margaret Ball, M. J. Engh, List of Romanian science fiction writers, Martti Löfberg, Arthur Thomson, Sylvia Kelso, Dalibor Perkovic, Marek Baraniecki, Paul Davids, Guy Hasson, Mikhail Yemtsev, Marek Huberath, Lesley Scott, Hans Beimler, Paul Melko, Cynthia Felice, Mizuhito Akiyama, C. I. Defontenay, Avedon Carol, John Glasby, Dave Wainwright, Jaroslaw Grzedowicz, Niall Harrison, Chris Boyce, Lan Wright, Nathalie Mallet, Michael Collier, Massimo del Pizzo, Redd Boggs, Dwight V. Swain, R. DeWitt Miller, Francis Leslie Ashton, Graham Sleight, Victor Koman, Peter Friend, Vid Pecjak, Gloria Barberi, William Barnwell, Chiaki Kawamata, Maja Lidia Kossakowska, Vylar Kaftan, Yves Meynard, W. H. C. Lawrence, Phil Janes, Shane Dix, Catherine Dufour, Sally Caves, Aleksandar Ziljak, Donald H. Tuck, Joëlle Wintrebert, Ye Yonglie, Pierre Stolze, Chris Nakashima-Brown, Sylvie Denis, Yuji Hayami, J.-H. Rosny jeune, Zheng Wenguang, Wyman Guin, Homer Eon Flint, Francis Berthelot, K. H. Scheer, Sage Walker, Wojciech Swidziniewski, Frank L. Pollack, Leigh Kennedy, William F. Temple, Yuli Burkin, Massimo Citi, Frank Riley, Sally Malcolm, Joseph E. Kelleam, Tensei Kono, Paul Rafaelovich Amnuél, David S. Garnett, Johan Heliot, Wildy Petoud, Aeron Clement, Philippe Curval, Marie-Anne de Roumier-Robert, Thomas Calvert McClary, Kazuma Shinjo, Ryszard Glowacki, Konrad Fialkowski, Thom Keyes, Anil Menon, Jean-Marc Ligny, Péter Zsoldos, Anna Hunger, Aarne Haapakoski, Ugo Bellagamba, Christine Renard, Yoshinori Shimizu, Musashi Kanbe, Hans Dominik, Joël Houssin, Otto Witt, Hugo Correa, Barbara Delaplace, Ram Moav, Fabrice Colin, Reginald Alec Martin, Jamil Nasir, Michael Ely. Excerpt: Barrington J. Bayley (April 9, 1937 - October 14, 2008) was an English science fiction writer. Bayley was born in Birmingham and educated in Newport, Shropshire. He worked a number of jobs before joining the Royal Air Force in 1955; his first published story, "Combat's End", had seen print the year before in Vargo Statten Magazine. In the 1960s, Bayley's short stories featured regularly in New Worlds magazine and then later in various New Worlds paperback anthologies, becoming friends with New Worlds editor Michael Mo...
Sklep: Libristo.pl
Sklepy zlokalizowane w miastach: Warszawa, Kraków, Łódź, Wrocław, Poznań, Gdańsk, Szczecin, Bydgoszcz, Lublin, Katowice
Szukaj w sklepach lub całym serwisie
2. Szukaj na wszystkich stronach serwisu
t1=0.069, t2=0, t3=0, t4=0.022, t=0.069