krainaksiazek the foundation for purpose is relationship 20123431
- znaleziono 7 produktów w 1 sklepie 141,69 zł
Our Highest Priority Strategic Book Publishing & Rights Agency, LLC
Książki / Literatura obcojęzyczna
Spectacular, all-encompassing, life-changing! These power-packed poems bleed one's heart of negativity and inject the positive. They awaken your senses, excite your mind and expand awareness of yourself with new perceptions of your environment and the wider world. Steeped in logical thought, it is philosophy for the ages. Boundless in scope, limitless in reach, purpose and opportunity are given a case for revival and renewal based on moral principles, guided by the inner self. Showing us how nature uses its relationship with the planet, the built-in checks and balances which we take for granted, is a masterstroke. Given the breathtaking appeal of love letters, these poems make the heart sing and bring hope to a world that's not yet at peace. I was inspired to write these poems by a need for answers to questions I was asking myself. I did a lot of research, physically and mentally, looking for clues to help me understand what is the purpose of this life: Why do we live the way we do and make choices the way we do? As I understand it, our system of life is only one of billions where every wish is granted and every need is met. No life is wasted and each one is a learning experience to teach us that We Are Our Highest Priority! We are all here to support each other in whatever adventure we've undertaken. The brave ones are those with "Special Needs." This poetic collection of stories, Our Highest Priority: Embrace Courage, Abandon Fear, is brilliantly written and offers a foundation of thought that's innovative and original. Stunningly illuminating and timeless, they capture the essence of daily life, its complication and simplicity, and give it vitality with "The world functions on a vision of hope." This idea suggests there are no dead ends; only perseverance will produce results. It inspires courage, builds confidence, and quickens one's desire for action in a world where dreams do succeed. Daring and mesmerizing, these bold ideas deeply explore the quality of relationships, e.g., "Trust is essential to fuel persuasion"; or "A relationship based on jealousy cannot survive." Factors that influence our world view and forces that impact our philosophy of life are all given scrutiny. We are encouraged to be proud of ourselves and our own accomplishments because we contribute to the greater cause. Using our life skills, we are shown roots of a problem and the approach to solve it. Included are fascinating descriptions of how discipline and competition, faith, and optimism function in our world, e.g., "Discipline must be encouraged for competition to flourish"; and "Faith is reflected in our confidence, our inner sense of security." These are attitude changers intended to energize our self-image and motivate us to let our imagination and our vision soar. Marva A. Smith grew up in Barbados, emigrated to Canada as an adult, and currently lives in Toronto. Publisher's website: http://sbprabooks.com/MarvaASmith
Sklep: Libristo.pl 335,79 zł
Książki / Literatura obcojęzyczna
The gradual legal and political evolution of the European Union has not, thus far, been accompanied by the articulation or embrace of any substantive ideal of justice going beyond the founders' intent or the economic objectives of the market integration project. This absence arguably compromises the foundations of the EU legal and political system since the relationship between law and justice - a crucial question within any constitutional system - remains largely unaddressed. This edited volume brings together a number of concise contributions by leading academics and young scholars whose work addresses both legal and philosophical aspects of justice in the European context. The aim of the volume is to appraise the existence and nature of this deficit, its implications for Europe's future, and to begin a critical discussion about how it might be addressed. There have been many accounts of the EU as a story of constitutional evolution and a system of transnational governance, but few which pay sustained attention to the implications for justice. The EU today has moved beyond its initial and primary emphasis on the establishment of an internal market, as the growing importance of EU citizenship and social rights suggests. Yet, most legal analyses of the EU Treaties and of EU case law remain premised broadly on the assumption that EU law still largely serves the purpose of perfecting what is fundamentally a system of economic integration. The place to be occupied by the underlying substantive ideal of justice remains significantly underspecified or even vacant, creating a tension between the market-oriented foundation of the Union and the contemporary essence of its constitutional system. The relationship of law to justice is a core dimension of constitutional systems around the world, and the EU is arguably no different in this respect. The critical assessment of justice in the EU provided by the contributions to this book will help to create a fuller picture of the justice deficit in the EU, and at the same time open up an important new avenue of legal research of immediate importance.
Sklep: Libristo.pl 335,79 zł
Książki / Literatura obcojęzyczna
Winner of the second SLS Peter Birks Prize for Outstanding Legal Scholarship 2010. Fiduciary Loyalty presents a comprehensive analysis of the nature and function of fiduciary duties. The concept of loyalty, which lies at the heart of fiduciary doctrine, is a form of protection which is designed to enhance the likelihood of due performance of non-fiduciary duties, by seeking to avoid influences or temptations that may distract the fiduciary from providing such proper performance. In developing this position, the book takes the novel approach of putting to one side the difficult question of when fiduciary duties arise in order to focus attention instead on what fiduciary duties do when they are owed. The issue of when fiduciary duties arise can then be returned to, and considered more profitably, once a clear view has emerged of the function that such duties perform. The analysis advanced in the book has both practical and theoretical implications for understanding fiduciary doctrine. For example, it provides a sound conceptual footing for understanding the relationship between fiduciary and non-fiduciary duties, highlighting the practical importance of analysing both forms of duties carefully when considering fiduciary claims. Further, it explains a number of tenets within fiduciary doctrine, such as the proscriptive nature of fiduciary duties and the need to obtain the principal's fully informed consent in order to avoid fiduciary liability. Understanding the relationship between fiduciary and non-fiduciary duties also provides a solid foundation for addressing issues concerning compensatory remedies for their breach and potential defences such as contributory fault. The distinctive purpose that fiduciary duties serve also provides a firm theoretical basis for maintaining their separation from other forms of civil obligation, such as those that arise under the law of contracts and of torts.
Sklep: Libristo.pl 186,25 zł
Książki / Literatura obcojęzyczna
Many inservice teacher educators are experienced classroom teachers; however, they have little - if any - formal training in the design of professional development. As a result, they are likely to use an unintentional design process to create professional development that conflicts with what research has found to be effective, and lacks the capacity to change deeply held pre-existing beliefs, attitudes, and assumptions of inservice teachers. The purpose of this book is to provide inservice teacher educators with a design process developed especially for them, in-depth knowledge of the research foundation of the process, and the knowledge required to use that process effectively. This book will provide a comprehensive view of the relationship between the effectiveness of professional development and its design.
Sklep: Libristo.pl 90,24 zł
Książki / Literatura obcojęzyczna
Taoist adepts developed tai chi as both a martial art and a way to cultivate their physical body, energy body, and spirit body. Like all Taoist exercises, its main purpose is to form a connection to the basic energy that is the foundation of all life: chi. Until the beginning of the twentieth century, tai chi was considered a secret practice that was passed down only within a closely knit structure of family and loyal disciples. Despite its widespread growth in popularity as a martial art and health exercise, many of its underlying internal practices remain unknown. The Inner Structure of Tai Chi explores the deep, internal work necessary for the effective practice of tai chi. Designed for practitioners at every level, the book contains step-by-step illustrated instructions for mastering the 13 forms of early Yang-style tai chi, also known as Tai Chi Chi Kung. The authors demonstrate the relationship of the inner structure of tai chi to the absorption, transformation, and circulation of the three forces that animate all life--the Universal force, the Cosmic force, and the Earth force--revealing the principles and practices necessary to receive the full spectrum of physical, psychological, and spiritual benefits that tai chi can bring.
Sklep: Libristo.pl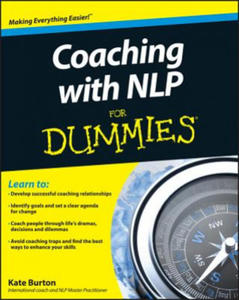 84,95 zł
Książki / Literatura obcojęzyczna
How to become an NLP practitioner or supercharge your coaching skills with NLP One of the most popular methods for helping people achieve their life aspirations Neuro-Linguistic Programmming, or NLP, holds the key to remaking one's future. NLP encourages users to re-create the thought patterns common to those who excel, a process that helps gradually weed out negative or habitual thinking. Using the key elements of NLP developing a coaching relationship, shedding light on patterns, managing emotional states, and shaping an agenda for change this practical, inspiring guide offers the tools for helping your clients upgrade the quality of their personal or professional lives. Reveals ten powerful coaching questions, ten traps to avoid in coaching, and ten ways to enhance your coaching skills Offers tips on laying the foundation for success and quick win sessions Insights on how to tap into passion and purpose and making goals come alive Methods for coaching yourself or your team and coaching through conflict Other books by Burton: NLP For Dummies, NLP Workbook For Dummies , and Building Self-Confidence For Dummies Ideal for those working towards becoming an NLP practitioner or master coach, Coaching with NLP For Dummies is a guidebook to life transformation for both client and practitioner.
Sklep: Libristo.pl 163,81 zł
Książki / Literatura obcojęzyczna
People worldwide are questioning the materialistic, mechanistic scientific pradigm that has been the dominant cosmology for the past one hundred years or so. The purpose of The New Paradigm is to provide a philosophical foundation for a spiritual cosmology that can incorporate both modern science and ancient wisdom. This is a paradigm that many have hoped would arise to usher in the predicted New Age of elevated spiritual awareness and understanding. The New Paradigm offers insights into the nature of people and their relationship to the one universal Spirit they have called God. This philosophical treatise makes a strong case to the effect that people are created from the substance of Spirit and hence are powerful spiritual beings who have forgotten their true nature and origin.
Sklep: Libristo.pl
Sklepy zlokalizowane w miastach: Warszawa, Kraków, Łódź, Wrocław, Poznań, Gdańsk, Szczecin, Bydgoszcz, Lublin, Katowice
Szukaj w sklepach lub całym serwisie
2. Szukaj na wszystkich stronach serwisu
t1=0.073, t2=0, t3=0, t4=0, t=0.074