krainaksiazek the fundamental theorems of the differential calculus 20092109
- znaleziono 6 produktów w 2 sklepach 138,27 zł
Książki
Sklep: KrainaKsiazek.pl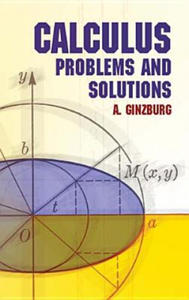 140,73 zł
Calculus Dover Publications
Książki / Literatura obcojęzyczna
1. Sequences 2. Functions of a Single Variable 3. Limit of a Function 4. Differential Calculus for Functions of a Single Variable 5. Fundamental Theorems of the Differential Calculus 6. Applications of Differential Calculus 7. The Differential 8. The Indefinite Integral 9. The Definite Integral 10. Applications of the Definite Integral 11. Infinite Series 12. Various Problems Solutions, Hints, Answers. Index. List of Greek Letters.
Sklep: Libristo.pl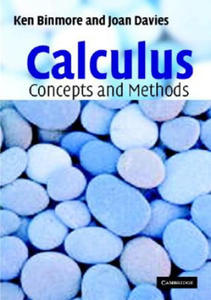 319,92 zł
Książki / Literatura obcojęzyczna
The pebbles used in ancient abacuses gave their name to the calculus, which today is a fundamental tool in business, economics, engineering and the sciences. This introductory book takes readers gently from single to multivariate calculus and simple differential and difference equations. Unusually the book offers a wide range of applications in business and economics, as well as more conventional scientific examples. Ideas from univariate calculus and linear algebra are covered as needed, often from a new perspective. They are reinforced in the two-dimensional case, which is studied in detail before generalisation to higher dimensions. Although there are no theorems or formal proofs, this is a serious book in which conceptual issues are explained carefully using numerous geometric devices and a wealth of worked examples, diagrams and exercises. Mathematica has been used to generate many beautiful and accurate, full-colour illustrations to help students visualise complex mathematical objects. This adds to the accessibility of the text, which will appeal to a wide audience among students of mathematics, economics and science.
Sklep: Libristo.pl 710,69 zł
Książki / Literatura obcojęzyczna
All the existing books in Infinite Dimensional Complex Analysis focus on the problems of locally convex spaces. However, the theory without convexity condition is covered for the first time in this book. This shows that we are really working with a new, important and interesting field. Theory of functions and nonlinear analysis problems are widespread in the mathematical modeling of real world systems in a very broad range of applications. During the past three decades many new results from the author have helped to solve multiextreme problems arising from important situations, non-convex and non linear cases, in function theory. "Foundations of Complex Analysis in Non Locally Convex Spaces" is a comprehensive book that covers the fundamental theorems in Complex and Functional Analysis and presents much new material. The book includes generalized new forms of: Hahn-Banach Theorem, Multilinear maps, theory of polynomials, Fixed Point Theorems, p-extreme points and applications in Operations Research, Krein-Milman Theorem, Quasi-differential Calculus, Lagrange Mean-Value Theorems, Taylor series, Quasi-holomorphic and Quasi-analytic maps, Quasi-Analytic continuations, Fundamental Theorem of Calculus, Bolzano's Theorem, Mean-Value Theorem for Definite Integral, Bounding and weakly-bounding (limited) sets, Holomorphic Completions, and Levi problem. Each chapter of this book contains illustrative examples to help the student and researcher to enhance his knowledge of theory of functions. The new concept of Quasi-differentiability introduced by the author represents the backbone of the theory of Holomorphy for non-locally convex spaces. In fact it is different but much stronger than the Frechet one. The book is intended not only for Post-Graduate (M.Sc. & Ph.D.) students and researchers in Complex and Functional Analysis, but for all Scientists in various disciplines whom need nonlinear or non-convex analysis and holomorphy methods without convexity conditions to model and solve problems. The book contains new generalized versions of: Fundamental Theorem of Calculus, Lagrange Mean-Value Theorem in real and complex cases, Hahn-Banach Theorems, Bolzano Theorem, Krein-Milman Theorem, Mean value Theorem for Definite Integral, and many others; and Fixed Point Theorems of Bruower, Schauder and Kakutani's. The book contains some applications in Operations research and non convex analysis as a consequence of the new concept p-Extreme points given by the author. The book also contains a complete theory for Taylor Series representations of the different types of holomorphic maps in F-spaces without convexity conditions. The book contains a general new concept of differentiability stronger than the Frechet one. This implies a new Differentiable Calculus called Quasi-differential (or Bayoumi differential) Calculus. It is due to the author's discovery in 1995. The book contains the theory of polynomials and Banach Stienhaus theorem in non convex spaces.
Sklep: Libristo.pl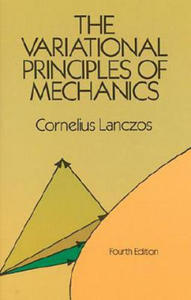 89,44 zł
Książki / Literatura obcojęzyczna
Introduction 1. The variational approach to mechanics 2. The procedure of Euler and Lagrange 3. Hamilton's procedure 4. The calculus of variations 5. Comparison between the vectorial and the variational treatments of mechanics 6. Mathematical evaluation of the variational principles 7. Philosophical evaluation of the variational approach to mechanics I. The Basic Concepts of Analytical Mechanics 1. The Principal viewpoints of analytical mechanics 2. Generalized coordinates 3. The configuration space 4. Mapping of the space on itself 5. Kinetic energy and Riemannian geometry 6. Holonomic and non-holonomic mechanical systems 7. Work function and generalized force 8. Scleronomic and rheonomic systems. The law of the conservation of energy II. The Calculus of Variations 1. The general nature of extremum problems 2. The stationary value of a function 3. The second variation 4. Stationary value versus extremum value 5. Auxiliary conditions. The Lagrangian lambda-method 6. Non-holonomic auxiliary conditions 7. The stationary value of a definite integral 8. The fundamental processes of the calculus of variations 9. The commutative properties of the delta-process 10. The stationary value of a definite integral treated by the calculus of variations 11. The Euler-Lagrange differential equations for n degrees of freedom 12. Variation with auxiliary conditions 13. Non-holonomic conditions 14. Isoperimetric conditions 15. The calculus of variations and boundary conditions. The problem of the elastic bar III. The principle of virtual work 1. The principle of virtual work for reversible displacements 2. The equilibrium of a rigid body 3. Equivalence of two systems of forces 4. Equilibrium problems with auxiliary conditions 5. Physical interpretation of the Lagrangian multiplier method 6. Fourier's inequality IV. D'Alembert's principle 1. The force of inertia 2. The place of d'Alembert's principle in mechanics 3. The conservation of energy as a consequence of d'Alembert's principle 4. Apparent forces in an accelerated reference system. Einstein's equivalence hypothesis 5. Apparent forces in a rotating reference system 6. Dynamics of a rigid body. The motion of the centre of mass 7. Dynamics of a rigid body. Euler's equations 8. Gauss' principle of least restraint V. The Lagrangian equations of motion 1. Hamilton's principle 2. The Lagrangian equations of motion and their invariance relative to point transformations 3. The energy theorem as a consequence of Hamilton's principle 4. Kinosthenic or ignorable variables and their elimination 5. The forceless mechanics of Hertz 6. The time as kinosthenic variable; Jacobi's principle; the principle of least action 7. Jacobi's principle and Riemannian geometry 8. Auxiliary conditions; the physical significance of the Lagrangian lambda-factor 9. Non-holonomic auxiliary conditions and polygenic forces 10. Small vibrations about a state of equilibrium VI. The Canonical Equations of motion 1. Legendre's dual transformation 2. Legendre's transformation applied to the Lagrangian function 3. Transformation of the Lagrangian equations of motion 4. The canonical integral 5. The phase space and the space fluid 6. The energy theorem as a consequence of the canonical equations 7. Liouville's theorem 8. Integral invariants, Helmholtz' circulation theorem 9. The elimination of ignorable variables 10. The parametric form of the canonical equations VII. Canonical Transformations 1. Coordinate transformations as a method of solving mechanical problems 2. The Lagrangian point transformations 3. Mathieu's and Lie's transformations 4. The general canonical transformation 5. The bilinear differential form 6. The bracket expressions of Lagrange and Poisson 7. Infinitesimal canonical transformations 8. The motion of the phase fluid as a continuous succession of canonical transformations 9. Hamilton's principal function and the motion of the phase fluid VIII. The Partial differential equation of Hamilton-Jacobi 1. The importance of the generating function for the problem of motion 2. Jacobi's transformation theory 3. Solution of the partial differential equation by separation 4. Delaunay's treatment of separable periodic systems 5. The role of the partial differential equation in the theories of Hamilton and Jacobi 6. Construction of Hamilton's principal function with the help of Jacobi's complete solution 7. Geometrical solution of the partial differential equation. Hamilton's optico-mechanical analogy 8. The significance of Hamilton's partial differential equation in the theory of wave motion 9. The geometrization of dynamics. Non-Riemannian geometrics. The metrical significance of Hamilton's partial differential equation IX. Relativistic Mechanics 1. Historical Introduction 2. Relativistic kinematics 3. Minkowski's four-dimensional world 4. The Lorentz transformations 5. Mechanics of a particle 6. The Hamiltonian formulation of particle dynamics 7. The potential energy V 8. Relativistic formulation of Newton's scalar theory of gravitation 9. Motion of a charged particle 10. Geodesics of a four-dimensional world 11. The planetary orbits in Einstein's gravitational theory 12. The gravitational bending of light rays 13. The gravitational red-shirt of the spectral lines Bibliography X. Historical Survey XI. Mechanics of the Continua 1. The variation of volume integrals 2. Vector-analytic tools 3. Integral theorems 4. The conservation of mass 5. Hydrodynamics of ideal fluids 6. The hydrodynamic equations in Lagrangian formulation 7. Hydrostatics 8. The circulation theorem 9. Euler's form of the hydrodynamic equations 10. The conservation of energy 11. Elasticity. Mathematical tools 12. The strain tensor 13. The stress tensor 14. Small elastic vibrations 15. The Hamiltonization of variational problems 16. Young's modulus. Poisson's ratio 17. Elastic stability 18. Electromagnetism. Mathematical tools 19. The Maxwell equations 20. Noether's principle 21. Transformation of the coordinates 22. The symmetric energy-momentum tensor 23. The ten conservation laws 24. The dynamic law in field theoretical derivation Appendix I; Appendix II; Bibliography; Index
Sklep: Libristo.pl 287,23 zł
Książki / Literatura obcojęzyczna
I. Introductory II. Solution of Integral Equation of Second Kind by Successive Substitutions III. Solution of Fredholm
Sklep: Libristo.pl
Sklepy zlokalizowane w miastach: Warszawa, Kraków, Łódź, Wrocław, Poznań, Gdańsk, Szczecin, Bydgoszcz, Lublin, Katowice
Szukaj w sklepach lub całym serwisie
2. Szukaj na wszystkich stronach serwisu
t1=0.027, t2=0, t3=0, t4=0, t=0.027