krainaksiazek the gospel of mark bible study guide 20044530
- znaleziono 14 produktów w 3 sklepach 97,08 zł
Książki
Sklep: KrainaKsiazek.pl 54,59 zł
Książki
Sklep: KrainaKsiazek.pl 43,40 zł
Książki
Sklep: KrainaKsiazek.pl 47,71 zł
Książki
Sklep: KrainaKsiazek.pl 31,99 zł
Książki Obcojęzyczne>Angielskie>Children
GCSE Religious Studies Edexcel Christianity, RC & Mark's Gospel Revision Guide
Sklep: Gigant.pl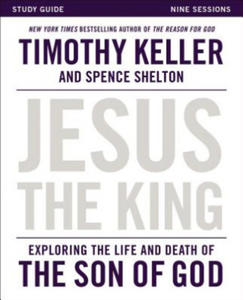 56,63 zł
Książki / Literatura obcojęzyczna
In this 9-session Bible study guide, Timothy Keller will help you and your group discover the most influential man to ever walk the earth...Jesus. His story has been told in hundreds of different ways for thousands of years. What more can be said about this man? Timothy Keller will help you and your group to unlock new insights into the life of Jesus Christ as he explores how Jesus came as a king, but a king who had to bear the greatest burden anyone ever has. Jesus the King Study Guide helps you discover the life of Christ as told in the Gospel of Mark. Keller shows how the story of Jesus is at once cosmic, historical, and personal, calling each of us to look anew at our relationship with God. It is an unforgettable study of Jesus Christ, and one that will leave an indelible imprint on your group's journey through the Gospel of Mark.
Sklep: Libristo.pl 35,07 zł
Książki / Literatura obcojęzyczna
Revised and updated, the MacArthur Study Guide Series takes the participant on a journey through the Bible, book by book. Inquisitive questions, "Keys to the Text" feature, and new material compose this useful and concise tool from renowned Bible teacher John MacArthur.
Sklep: Libristo.pl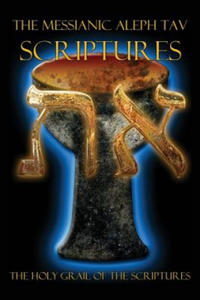 275,10 zł
Książki / Literatura obcojęzyczna
The Messianic Aleph Tav Scriptures (MATS) is a study bible which focuses on the study of the Aleph Tav character symbol used throughout the old testament (Tanakh) by both Moses and the Prophets and is the most exhaustive and unique rendition of its kind in the world. Over 5 years in the making, this English rendition reveals every place the Hebrew Aleph Tav symbol was used as a "free standing" character symbol believed to express the "strength of the covenant" in its original meaning. The Aleph Tav was believed also to be the "mark" of the "divine hand" for thousands of years by such famous rabbis as Nahum of Gimzo, Akiva, and R. S. Hirsch as well as the Apostle John. Also revealed in MATS is the use of the Aleph Tav as it is incorporated into the creation of hundreds of Hebrew words used thousands of times throughout the Tanakh and how the "mark" incorporates Y'shua haMashiach (Jesus the messiah), as well as all mankind and creation, which substantiates and expresses its divinity, thus taking our understanding of the scriptures to a whole new level. MATS comes in your choice of either Paleo or Modern Hebrew editions in a trim size of the regular 6"x9" or the large print edition 8.5"x11". About the Author: William H. Sanford is a licensed Minister of Bet Ami, a Messianic Congregation in Oklahoma City, Oklahoma, and has been studying and preaching the gospel for over 40 years. William has several videos about The Messianic Aleph Tav Scriptures (MATS) on YouTube, and he may be contacted through his website www.AlephTavScriptures.com or on Facebook at Aleph Tav Scriptures.
Sklep: Libristo.pl 173,91 zł
Książki / Literatura obcojęzyczna
The Life Application Study Bible is today's #1-selling study Bible, containing notes that not only explain difficult passages and give information on Bible life and times, but go a step further to show you how to "take it personally," as God's Word speaks to every situation and circumstance of your life! It's the one Bible resource that incorporates today's top scholarship in answering your real-life questions and includes nearly 10,000 Life Application notes and features designed to help readers apply God's truth to everyday life. Features include: Nearly 10,000 Life Application Study Tools Packed with helpful notes, maps, charts, and other features to aid your personal study and application of God's Word. Life Application Notes Dig deeper with thousands of Life Application notes, spread throughout, that help you understand the meaning of the Bible and apply its truth to your life. Contributors Nearly 100 contributors and several renowned Bible scholars from various denominations helped prepare and review the study helps. Their participation assures you that all study helps are accurate and true to the Bible text. Book Introductions The first-ever application-oriented introductions focus on each book's great themes. An outline, timeline, and other vital facts are also included. Profiles Of Bible Figures Special highlighted sections feature profiles of over 100 key Bible figures. Each profile contains a biographical sketch; a key lesson from that person's life; and lists of that person's strengths, accomplishments, weaknesses, and mistakes. Harmony Of The Gospels A Harmony of the Gospels is built right into the text of Matthew, Mark, Luke, and John. In each Gospel, each event is cross-referenced to the other Gospels and to one complete Harmony of the Gospels. Charts And Maps The Life Application Study Bible has more maps and charts than any other study Bible. With over 200 maps available within the text and book introductions, it's like having an atlas built right into your Bible! Over 260 charts and diagrams help highlight important information and clarify difficult concepts and relationships. Cross-ReferencesAn updated, extensive cross-reference system helps you find related passages quickly. Index/Dictionary/Concordance The comprehensive index to all the notes, charts, maps, and personality profiles, and the 70-page dictionary/concordance, are ideal for Bible study and teaching preparation. Christian Worker's Resource Expanded helps for five key areas of ministry and leadership: sharing your faith, discipling a new believer, maximizing an application-based Bible, group teaching and leading, and everyday application. Expanded Features The Life Application Study Bible features the words of Christ in red and the outline of a daily devotional reading program. 8pt text size.
Sklep: Libristo.pl 161,36 zł
Książki / Literatura obcojęzyczna
Vanishing Grace is a six-session small group Bible study by Philip Yancey exploring how Christians offer grace in a way that is compelling to a jaded society. Yancey delves into the reasons for the hostility and gives us models of different, more effective ways to communicate the Gospel and why it is Good News after all.
Sklep: Libristo.pl 43,99 zł
Książki Obcojęzyczne>Angielskie>Humanities>Religion & beliefs>Christianity>Biblical studies & exegesis>Bible studies: for individual...
Rowan Williams Explores The Essential Meaning And Purpose Of St Mark's Gospel For Complete Beginners - As Well As For Those Who've Read The Gospel Many Times Before And Want To See It In A Fresh Light.
Sklep: Gigant.pl 150,74 zł
Książki / Literatura obcojęzyczna
In this four-session video-based Bible study, the Daniel Plan team explores the spiritual and physical benefits of following a healthy lifestyle by focusing on the second essential of the Daniel Plan: Food. The sessions include: Enjoying God's AbundanceCravings Comfort Food, and Choices Create a Daniel Plan Kitchen No Such Thing as Failure Each session will highlight testimony from those who have incorporated The Daniel Plan into their everyday lifestyle, plus tips on getting started and medically-based information on maintaining a healthy lifestyle by following The Daniel Plan. Each of the other DVD/Study Guides will focus on another essential: Faith, Fitness, Focus, and Friends. Each pack contains one study guide and one DVD.
Sklep: Libristo.pl 236,65 zł
Książki / Literatura obcojęzyczna
Modern scholars have varied responses to apocalyptic narrative in the Synoptic Gospels. Some ignore it; others reinterpret it and don't think that Jesus' warning about persecution works in this setting. In order to understand apocalyptic in the New Testament, we need to understand Jewish apocalyptic, and its similarities and differences with Jesus. We need to know the key themes and where those themes develop in the Synoptic Gospels. Eschatological Relationships and Jesus begins by exploring the components of prophetic and apocalyptic eschatology (figurative language, history, sequence, and juxtaposition of ideas) and then develops some of the major theological themes in Meyer, Wright, and Progressive Dispensationalism from the Synoptic Gospels. As readers work through Eschatological Relationships and Jesus, they begin to see and interpret the various patterns and themes in the eschatological discourses. Samples from Mark's Gospel to Matthew and Luke and a table of key eschatological relations makes this study a practical guide to the gospels. ""Interpreting eschatology in apocalyptic literature introduces one to a maze of options. Fountain's study takes a close look at some key approaches. . . . Effectively using Mark 13 as a sample text, one can see how the various views read the text the way they do. . . . This is a solid guide into how to handle such complex passages."" --Darrell Bock, Senior Research Professor of New Testament Studies, Dallas Theological Seminary ""Fountain is to be congratulated for his excellent work. His study strikes a thoughtful balance between critical issues such as the relationship between apocalyptic and eschatology, the work and method of the perspectives examined, and interpretation of the NT text. In particular, he presents a viable, well-supported reading of Mark 13. This is a must-read for those who are exploring eschatological perspectives."" --Mark J. Keown, Senior Lecturer in New Testament, Laidlaw College Richard Fountain (PhD, Dallas Theological Seminary), a resident of Auckland, NZ, is a theological consultant and teacher. He has been involved with seminary distance education for ten years and has developed online courses including The Life of Christ, Christian Leadership, and The Story of the Bible.
Sklep: Libristo.pl 109,56 zł
Książki / Literatura obcojęzyczna
Introducing a breakthrough small group resource: The Best of Small Groups, Volume 1 brings together twelve of the best small group Bible study curriculums from today's most well-known Christian leaders, all on one DVD.Small Group leaders are always looking for a resource that they can use to transition to another study, sometimes seasonally and around the holidays or even during the summer months. The Best of... series delivers that and much more, representing a healthy balance of voices from the evangelical community. This exciting new series will be both timeless and timely in nature and is sure to become a staple in any small group leader's arsenal for years to come.The curriculum includes a study guide and 1 DVD with 8 hours of teaching, as well as introductions and transition material by Brett Eastman, founder of Lifetogether Ministries.Twelve sessions include- John Piper: Introduction to When I Don't Desire God from When I Don't Desire God- Erwin McManus: Does God Care? from Life's Toughest Questions- Francis Chan: I've Got Jesus, Why Do I Need the Spirit? from Forgotten God- Don Piper: Heaven in the Next Instant? from 90 Minutes in Heaven- Mark Driscoll: Is Jesus the Only God? from Vintage Jesus- Randy Alcorn: What We Know About Heaven, from Heaven- Gary Smalley: Do You Have a Plan? from A Child's Heart- Pete Wilson: Heart Look Close from Canvas- Chip Ingram: God's Dream for Your Life from True Spirituality - Kerry Shook: Living in the Dash from One Month To Live- Nancy Guthri: Seeing Jesus in the Old Testament from The Promised One- Steve Gladen: Becoming a Celebrating Community from Building Biblical CommunityBonus Sessions include- Best Of Small Group Series Preview- Small Group Leadership 101- Winning at Life Together- Why Small Groups are Such a Big Deal- Max Lucado/Randy Frazee: Making Room for Life from Making Room for Neighbors
Sklep: Libristo.pl
Sklepy zlokalizowane w miastach: Warszawa, Kraków, Łódź, Wrocław, Poznań, Gdańsk, Szczecin, Bydgoszcz, Lublin, Katowice
Szukaj w sklepach lub całym serwisie
2. Szukaj na wszystkich stronach serwisu
t1=0.062, t2=0, t3=0, t4=0, t=0.062