krainaksiazek the gospel of matthew bible study guide 20049807
- znaleziono 11 produktów w 3 sklepach 48,48 zł
Książki
Sklep: KrainaKsiazek.pl 3,80 zł
Książki / Literatura obcojęzyczna
This attractive little book is ideal for many purposes: * evangelistic use by churches or missions * personal study and devotion * a great introduction to the clarity of Today's New International Version of the Bible Only for sale as part of 20-copy pack (0340862602) Keeping pace with contemporary biblical scholarship and the subtle shifts in use and understanding of the English language, Today's NIV ensures the continuing relevance and vibrancy of God's word in the modern world. The full Today's NIV Bible text is due to be published in 2004 by Hodder & Stoughton and the International Bible Society.
Sklep: Libristo.pl 126,56 zł
Książki / Literatura obcojęzyczna
'Jesus took bread and blessed it, and broke it, and gave it to his disciples, and said' "Take, eat, this is my body".' Matthew is written in a rhythmical and often poetic prose. It is the gospel best suited for public reading, and, as a result, it is probably the best known: It tells the story of Christ's infancy; the Sermon on the Mount; the parables of the wheat and the tares; the sheep and the goats; and the Resurrection. William Barclay's insightful commentary brings freshness to these familiar passages and uncovers the vivid depth of meaning often lost in translation and repetition. In this second volume examining the Gospel of Matthew, discover again the miracles, the parables and the Resurrection of Jesus. William Barclay's world-renowned down-to-earth New Daily Study Bible commentaries - including his own translations of the New Testament texts - have inspired millions of people across the generations 'to know better their Bible, their God and their Saviour'.
Sklep: Libristo.pl 48,99 zł
Książki Obcojęzyczne>Angielskie>Humanities>Religion & beliefs>Christianity>Biblical studies & exegesis>Bible studies: for individual...
Sklep: Gigant.pl 154,92 zł
Książki / Literatura obcojęzyczna
The Life Application Study Bible is today's #1-selling study Bible, containing notes that not only explain difficult passages and give information on Bible life and times, but go a step further to show you how to "take it personally," as God's Word speaks to every situation and circumstance of your life! It's the one Bible resource that incorporates today's top scholarship in answering your real-life questions and includes nearly 10,000 Life Application notes and features designed to help readers apply God's truth to everyday life. Features include: Nearly 10,000 Life Application Study Tools Packed with helpful notes, maps, charts, and other features to aid your personal study and application of God's Word. Life Application Notes Dig deeper with thousands of Life Application notes, spread throughout, that help you understand the meaning of the Bible and apply its truth to your life. Contributors Nearly 100 contributors and several renowned Bible scholars from various denominations helped prepare and review the study helps. Their participation assures you that all study helps are accurate and true to the Bible text. Book Introductions The first-ever application-oriented introductions focus on each book's great themes. An outline, timeline, and other vital facts are also included. Profiles Of Bible Figures Special highlighted sections feature profiles of over 100 key Bible figures. Each profile contains a biographical sketch; a key lesson from that person's life; and lists of that person's strengths, accomplishments, weaknesses, and mistakes. Harmony Of The Gospels A Harmony of the Gospels is built right into the text of Matthew, Mark, Luke, and John. In each Gospel, each event is cross-referenced to the other Gospels and to one complete Harmony of the Gospels. Charts And Maps The Life Application Study Bible has more maps and charts than any other study Bible. With over 200 maps available within the text and book introductions, it's like having an atlas built right into your Bible! Over 260 charts and diagrams help highlight important information and clarify difficult concepts and relationships. Cross-ReferencesAn updated, extensive cross-reference system helps you find related passages quickly. Index/Dictionary/Concordance The comprehensive index to all the notes, charts, maps, and personality profiles, and the 70-page dictionary/concordance, are ideal for Bible study and teaching preparation. Christian Worker's Resource Expanded helps for five key areas of ministry and leadership: sharing your faith, discipling a new believer, maximizing an application-based Bible, group teaching and leading, and everyday application. Expanded Features The Life Application Study Bible features the words of Christ in red and the outline of a daily devotional reading program. 8pt text size.
Sklep: Libristo.pl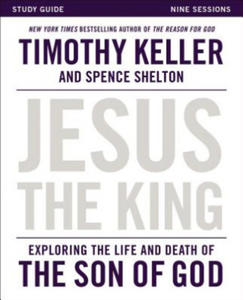 57,03 zł
Książki / Literatura obcojęzyczna
In this 9-session Bible study guide, Timothy Keller will help you and your group discover the most influential man to ever walk the earth...Jesus. His story has been told in hundreds of different ways for thousands of years. What more can be said about this man? Timothy Keller will help you and your group to unlock new insights into the life of Jesus Christ as he explores how Jesus came as a king, but a king who had to bear the greatest burden anyone ever has. Jesus the King Study Guide helps you discover the life of Christ as told in the Gospel of Mark. Keller shows how the story of Jesus is at once cosmic, historical, and personal, calling each of us to look anew at our relationship with God. It is an unforgettable study of Jesus Christ, and one that will leave an indelible imprint on your group's journey through the Gospel of Mark.
Sklep: Libristo.pl 162,05 zł
Książki / Literatura obcojęzyczna
Vanishing Grace is a six-session small group Bible study by Philip Yancey exploring how Christians offer grace in a way that is compelling to a jaded society. Yancey delves into the reasons for the hostility and gives us models of different, more effective ways to communicate the Gospel and why it is Good News after all.
Sklep: Libristo.pl 185,49 zł
Książki / Literatura obcojęzyczna
Source: Wikipedia. Commentary (films not included). Pages: 205. Chapters: Chariots of Fire, Monty Python's Life of Brian, Dogma, The Song of Bernadette, Friendly Persuasion, Signs, The Gospel According to St. Matthew, Quo Vadis, Black Narcissus, Themes in Avatar, Tron: Legacy, The Da Vinci Code, Kingdom of Heaven, Angels & Demons, The Prince of Egypt, Ben-Hur, The Boondock Saints, Of Gods and Men, The Last Temptation of Christ, Lord of the Universe, Jesus of Nazareth, Sister Act, Fireproof, The Bridge, The Profit, The Boondock Saints II: All Saints Day, The Book of Eli, Jesus Camp, The Mission, The Egyptian, Demon Knight, Becket, Saved!, Left Behind: The Movie, The Ultimate Gift, Jai Santoshi Maa, Revanche, September Dawn, Lord of Illusions, List of films about Muhammad, Joan of Arc, End of the Spear, Martin Luther, Scary Movie 3, Joseph, Like Dandelion Dust, Joseph: King of Dreams, The Decalogue, Dracula 2000, Children of the Corn, Submission, Samson and Delilah, Mohammad, Messenger of God, Courageous, Children of the Corn 666: Isaac's Return, Frailty, Apocalypse IV: Judgment, Apocalypse III: Tribulation, Stigmata, Demetrius and the Gladiators, The Omega Code, The Nines, Facing the Giants, Miracle in the Rain, Inherit the Wind, Mary, Guyana Tragedy: The Story of Jim Jones, Come to the Stable, The Milky Way, Megiddo: The Omega Code 2, Elmer Gantry, Godspell, Revelation, Winter Light, Saint Joan, The Secrets of Jonathan Sperry, Flywheel, The Desert Within, Brother Sun, Sister Moon, Den, Sri Ramadasu, Apocalypse II: Revelation, Barabbas, Jesus of Montreal, Hail Mary, The Shoes of the Fisherman, The Keys of the Kingdom, One Night with the King, Extreme Days, The Great Commandment, Where the River Runs Black, Time Changer, Children of the Corn III: Urban Harvest, Come What May, Repossessed, Children of the Corn II: The Final Sacrifice, Masada, The Miracle of Our Lady of Fatima, Children of the Corn V: Fields of Terror, Preacher's Kid, The Cardinal, A.D., The Book of Mormon Movie, Vol. 1: The Journey, Left Luggage, The Miracle Maker, Unidentified, The First Power, King David, David and Bathsheba, Sinner, Noëlle, Bless the Child, Split Image, The Silver Chalice, The Passion of Darkly Noon, The Calling, Das Mirakel, Mekhong Full Moon Party, The Pope Must Die, Woman Thou Art Loosed, Echoes of Innocence, Letters to Father Jacob, Orientation: A Scientology Information Film, Upside, The Body, The Rapture, The Apocalypse, The Next Voice You Hear..., Ben Hur, The Cross, The Nun and the Sergeant, The Ten Commandments, Peter and Paul, Waiting for Armageddon, Deus É Brasileiro, Abraham, Ahimsa: Stop to Run, Sebastiane, The Queen of Sheba, Martin Luther, Heretic, Wise Blood, Children of the Corn IV: The Gathering, Children of the Corn: Revelation, Love, So Divine, A Gesheft, The Civilization of Maxwell Bright, Muhammad: The Last Prophet, Resurrection, Fabiola, Mahapurush, Apocalypse Revelation, Moses the Lawgiver, Late One Night, Brother John, Gospa, The Fourth King, 313, The Inquiry, John Wycliffe: The Morning Star, Constantine and the Cross, Slave of Dreams, Joni, The Visual Bible: Acts, Seven Kilometers from Jerusalem. Excerpt: The 2009 American science fiction film Avatar has earned widespread success, becoming the highest-grossing film of all time. The blockbuster has provoked vigorous discussion of a wide variety of cultural, social, political, and religious themes identified by critics and commentators, and the film's writer and director James Ca...
Sklep: Libristo.pl 162,05 zł
Książki / Literatura obcojęzyczna
In this six-session small group Bible study, If You Want to Walk on Water, You've got to Get Out of the Boat, by John Ortberg, you'll learn how to move beyond fear to discover God's unique calling for your life! Peter may have been the first one out of the boat, but Jesus' invitation to walk on water is for you as well. But walk on water? What does that mean? If You Want to Walk on Water, You've Got to Get Out of the Boat helps you answer helps you answer Christ's call to greater faith, power-filled deeds, and a new way of knowing how to discern God's call, transcend fear, risk faith, manage failure, and trust God. Relating to the story in Matthew 14 to life today, teacher and bestselling author John Ortberg invites you to consider the incredible potential that awaits you outside your comfort zone. This pack contains one participant's guide and one DVD. It's filled with insights, questions for discussion, and applications that will help you connect a new way of thinking to actual deeds and a different approach to life. Out on the risky waters of faith, Jesus is waiting to meet you in ways that will change your forever, deepening your character and your trust in God. Sessions include: What's Water Walking? The Tragedy of the Unopened Gift Find Your Calling and Get Your Feet Wet! Facing Our Challenges, Conquering Our Fears Good News for Cave Dwellers Learning to Wait on Our Big God
Sklep: Libristo.pl 237,60 zł
Książki / Literatura obcojęzyczna
Modern scholars have varied responses to apocalyptic narrative in the Synoptic Gospels. Some ignore it; others reinterpret it and don't think that Jesus' warning about persecution works in this setting. In order to understand apocalyptic in the New Testament, we need to understand Jewish apocalyptic, and its similarities and differences with Jesus. We need to know the key themes and where those themes develop in the Synoptic Gospels. Eschatological Relationships and Jesus begins by exploring the components of prophetic and apocalyptic eschatology (figurative language, history, sequence, and juxtaposition of ideas) and then develops some of the major theological themes in Meyer, Wright, and Progressive Dispensationalism from the Synoptic Gospels. As readers work through Eschatological Relationships and Jesus, they begin to see and interpret the various patterns and themes in the eschatological discourses. Samples from Mark's Gospel to Matthew and Luke and a table of key eschatological relations makes this study a practical guide to the gospels. ""Interpreting eschatology in apocalyptic literature introduces one to a maze of options. Fountain's study takes a close look at some key approaches. . . . Effectively using Mark 13 as a sample text, one can see how the various views read the text the way they do. . . . This is a solid guide into how to handle such complex passages."" --Darrell Bock, Senior Research Professor of New Testament Studies, Dallas Theological Seminary ""Fountain is to be congratulated for his excellent work. His study strikes a thoughtful balance between critical issues such as the relationship between apocalyptic and eschatology, the work and method of the perspectives examined, and interpretation of the NT text. In particular, he presents a viable, well-supported reading of Mark 13. This is a must-read for those who are exploring eschatological perspectives."" --Mark J. Keown, Senior Lecturer in New Testament, Laidlaw College Richard Fountain (PhD, Dallas Theological Seminary), a resident of Auckland, NZ, is a theological consultant and teacher. He has been involved with seminary distance education for ten years and has developed online courses including The Life of Christ, Christian Leadership, and The Story of the Bible.
Sklep: Libristo.pl 20,59 zł
Książki / Literatura obcojęzyczna
Lent for Everyone, Matthew: Year A gently takes the reader through the designated Lectionary reading for every day of Lent and Easter. The Bible readings are Tom Wright's own clear and accessible translations from Matthew for Everyone (SPCK, 2002). Each passage is followed by a greatly written reflection and a prayer that will help readers to ponder the relevance of Matthew's Gospel for their own lives.Suitable for both individual and group study and reflection, Tom Wright's Lent book will allow you to make Matthew your own, thoughtfully and prayerfully. It will help to make your journey through Lent a period of rich discovery and growth.
Sklep: Libristo.pl
Sklepy zlokalizowane w miastach: Warszawa, Kraków, Łódź, Wrocław, Poznań, Gdańsk, Szczecin, Bydgoszcz, Lublin, Katowice
Szukaj w sklepach lub całym serwisie
2. Szukaj na wszystkich stronach serwisu
t1=0.055, t2=0, t3=0, t4=0, t=0.055