krainaksiazek the gospels and acts luke john acts 20095314
- znaleziono 12 produktów w 5 sklepach 66,75 zł
Książki
Sklep: KrainaKsiazek.pl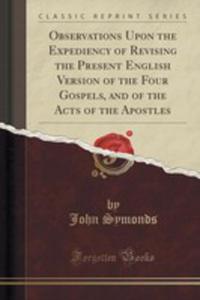 48,99 zł
Książki Obcojęzyczne>Nieprzypisane
0x0031ba7900000000
Sklep: Gigant.pl 194,26 zł
Książki / Literatura obcojęzyczna
Demonstrates that the Gospels originated from a sequential hypertextual reworking of the contents of Paul's letters and, in case of Matthew and John, of the Acts of the Apostles. This title presents the quest for the historical Jesus, which takes this discovery into serious consideration, results in a rather limited reconstruction of Jesus' life.
Sklep: Libristo.pl 708,30 zł
Inne 1
This text is a research tool for the analysis of the first three Gospels, providing an extensive mass of data that greatly facilitates literary and linguistic examination. The advantages of a concordance are combined with those of a synopsis: each occurrence of a word in the synoptic Gospels, along with a sec-tion of text that provides its context, is displayed in three columns. The result is that one sees not only the occurrences of a certain word in one Gospel, but also the parallels in the other two Gospels. Prior to the availability of this new scholarly tool, it was necessary first to check the concordance for the occurrences of a certain word, then to look up each reference individually in a synopsis, and, finally to take notes, before moving on to the next entry in the concordance, and so on. The Synoptic Concordance presents the whole synoptic situation at one time: all of the differences and similarities are obvious at a glance, so that the first three Gospels can easily be compared according to their divergent termi-nology and syntax. On the two-document hypo-thesis, one can see, for example, how Matthew or Luke takes over and changes his Markan source, or how they differ in the redaction of their Q text. Gray shadowing calls attention to the differing sequence of the verses and pericopes in the three Gospels. By paying attention to this shadowing, one can follow all occurrences of the key word in the original sequence of each Gospel. An appendix gives the relevant verses in the Acts of the Apostles, in order to make available the full linguistic usage of Luke. The research project presupposes that there are literary relationships among the first three Gos-pels. According to widespread consensus, the two-document hypothesis provides the most plausible explanation of these relationships. The presentation of the text, however, seeks to display the synoptic situation in a way that is independent of any source theory, so as to allow each user to seek his or her own solution. At the beginning of each entry, a chart gives a statistical overview of the usage of the key word in the entire New Testament. A second chart, with a detailed evaluation of the distribution of the key word in the synoptic Gospels, displays how often the usage of the one Gospel agrees with (or differs from) the usage of the other two Gospels. In terms of the two-document hypothesis, one can, for example, find the words that Matthew (or Luke) prefers or avoids, or catch sight of the so-called "minor agreements." When relevant, these statistics are also given for recur-rent formulas and fixes phrases. These formulas and phrases are indicated by a small letter inde-xing them (as is usual in concordances). By this means the relevant verses can easily be verified in the synoptic presentation of the occurrences. The "Synoptic Concordance" will be published in four volumes, with a total size of about 5000 pages. The whole project will be completed by the year 2001.
Sklep: Albertus.pl 51,27 zł
Książki & Multimedia > Książki
Opis - Książka, posiadająca istotne walory praktyczne, jest pierwszą pozycją polskiej autorki w tak kompleksowy sposób analizującą nie tylko istotę funkcjonowania kredytowych instrumentów pochodnych, ale również modele ich wyceny, doskonalenie których autorka słusznie uznaje za kluczowe dla rozwoju tego rynku. Niewątpliwą zaletą opracowania jest mnogość przykładów, przeprowadzających Czytelnika przez kolejne etapy szacowania wartości omawianych struktur i tworzących idealną bazę dla zrozumienia konstrukcji tych złożonych produktów. Prof. zw. dr hab. Janusz Soboń Publikacja stanowi cenne kompendium wiedzy zarówno dla praktyków rynku finansowego, jak i studentów oraz słuchaczy studiów podyplomowych i doktoranckich, jak również dla pracowników nauki zainteresowanych wdrażaniem metod kwantyfikacji ryzyka kredytowego w praktykę. Prof. nadzw. SGH dr hab. Paweł Niedziółka Nazwa - Pochodne instrumenty kredytowe Autor - Izabela Pruchnicka-Grabias Oprawa - Miękka Wydawca - CeDeWu Kod ISBN - 9788375563733 Kod EAN - 9788375563733 Wydanie - 1 Rok wydania - 2011 Język - polski Format - 16.5x23.0cm Ilość stron - 280 Podatek VAT - 5%
Sklep: InBook.pl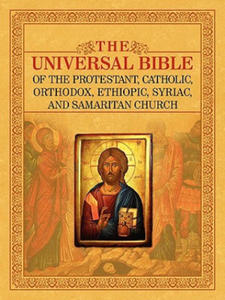 251,15 zł
Książki / Literatura obcojęzyczna
OLD TESTAMENT BOOKS- 1. Genesis - 2. Exodus - 3. Leviticus - 4. Numbers - 5. Deuteronomy - 6. Joshua - 7. Judges - 8. Ruth - 9. 1 Samuel - 10. 2 Samuel - 11. 1 Kings - 12. 2 Kings - 13. 1 Chronicles - 14. 2 Chronicles - 15. Ezra - 16. Nehemiah - 17. Esther - 18. Job - 19. Psalms and 151, 151.1 - 20. Proverbs - 21. Ecclesiastes - 22. Song of Songs- 23. Isaiah - 24. Jeremiah - 25. Lamentations - 26. Ezekiel - 27. Daniel - 28. Hosea - 29. Joel - 30. Amos - 31. Obadiah - 32. Jonah - 33. Micah - 34. Nahum - 35. Habakkuk - 36. Zephaniah - 37. Haggai - 38. Zechariah - 40. Malachi - New Testament - 1. Matthew - 2. Mark - 3. Luke - 4. John - 5. Acts - Including Chapter 29 - 6. Romans - 7. I Corinthians - 8. II Corinthians - 9. Galatians - 10. Ephesians - 11. Philippians - 12. Colossians - 13. I Thessalonians - 14. II Thessalonians - 15. I Timothy - 16. II Timothy - 17. Titus - 18. Philemon - 19. Hebrews - 20. James - 21. I Peter - 22. II Peter - 23. I John - 24. II John - 25. III John - 26. Jude - 27. Revelation - Additional Books of the New Testament- Epistle to the Laodiceans - Acts of Paul and Thecla - III Corinthians - Apocrypha - 1. 1 Esdras - 2. 2 Esdras - 3. 1 Maccabees - 4. 2 Maccabees - 5. 3 Maccabees - 6. 4 Maccabees - 7. Letter (Epistle) of Jeremiah - 8. The Prayer of Azariah - Song of the Three Children - 9. Baruch - 10. Prayer of Manasseh (Manassas) - 11. Bel and the Dragon - 12. Wisdom of Sirach - 13. Wisdom of Solomon - 14. Additions to Esther - 15. Tobit - 16. Judith - 17. Susanna - 18. Enoch - 19. Jubilees - 20. 1 Clement - 21. The Ascension of Isaiah - 22. Shepherd of Hermas - 23. The Didache - 24. Apocalypse of Baruch - 25. Josephus' Jewish War VI - 26. 4 Baruch -
Sklep: Libristo.pl 93,50 zł
Książki / Literatura obcojęzyczna
Spanning early Christian writings from the Gospel of Mark to the Acts of John, this book by Vernon Robbins explores the various ways early Christians explained their understanding of the special nature of Jesus beyond the canonical Gospels.Who Do People Say I Am? shows how second- and third-century Christian authors of additional Gospels and Gospel-like writings expanded and elaborated on Jesus' divinity in the context of his earthly existence. According to Robbins, these Christian authors thought that the New Testament Gospel writers could and should have emphasized the divinity of Jesus more than they did.Learning activities and a bibliography at the end of each chapter help make this book a valuable resource for any interested general readers.
Sklep: Libristo.pl 31,54 zł
Książki & Multimedia > Książki
Opis - NOWA SERIA WSPÓŁCZESNYCH POWIEŚCI OBYCZAJOWO-KRYMINALNYCH, KTÓRYCH AKCJA ROZGRYWA SIĘ W USA, A ICH WSPÓLNYM MOTYWEM SĄ DAMSKIE MARKOWE TOREBKI. Kryminał, jakiego jeszcze w Polsce nie było! Żywa, dowcipna, dynamiczna akcja, pełna nieoczekiwanych i zaskakujących zwrotów. Powieść barwniejsza niż hollywoodzki film - czyta się doskonale! Jeśli spodobała Ci się książka Diabeł ubiera się u Prady, musisz przeczytać serię o Haley Randolph. Torebki i morderstwo to dowcipna i inteligentna powieść dziejąca się w Los Angeles, Mieście Aniołów, z rozlicznymi centrami handlowymi, butikami i straganami gdzie sprzedaje się damskie torebki. Pasją życiową bohaterki, Haley Randolph, są właśnie torebki. Ale wyłącznie MARKOWE, zaprojektowane przez stylistów z najwyższej półki... I ta namiętność sprowadzi na bohaterkę mnóstwo kłopotów, wśród których najmniejszymi będą oskarżenia o morderstwo i defraudację... Aby mieć środki na życie - i na swoja życiową pasję - Haley musi pracować na dwóch posadach. Ta główna, prestiżowa, to praca w renomowanej firmie prawniczej Pike&Warner, której centrum decyzyjne mieści się na tajemniczym, i dla urzędniczego proletariatu firmy niedostępnym, Szesnastym Piętrze. Druga posada to praca ekspedientki-kasjerki-sprzątaczki-magazynierki (zależnie od kaprysu kierownictwa...) w wielkim domu towarowym Holt`s, w którym sprzedaje się "ohydne ciuchy", "koszmarne buty" i "beznadziejne torebki"... To właśnie tam, w magazynie damskiej bielizny, znajduje zwłoki Richarda, wyjątkowo niesympatycznego faceta, którego ktoś zatłukł drążkiem wyłamanym ze stojaka na ubrania... Niebawem ona sama staje się główną podejrzaną. Haley sama musi oczyścić się z zarzutów i podejmuje prywatne śledztwo. Kończy się ono nieoczekiwanym rezultatem... Nazwa - Torebki i morderstwo Autor - Dorothy Howell Oprawa - Twarda Wydawca - Bellona Kod ISBN - 9788311132061 Kod EAN - 9788311132061 Rok wydania - 2014 Format - 13x20 Ilość stron - 382 Podatek VAT - 5% Premiera - 2014-09-30
Sklep: InBook.pl 114,28 zł
Książki / Literatura obcojęzyczna
Steve Moyise provides an accessible and well-informed introduction to the Old Testament in the New Testament. Tried and tested in previous editions, it explores the basic issues and offers summaries of the uses of the Old Testament in the Gospels and Acts, in Paul and Hebrews, James, and Revelation. Issues of quotation, allusion and echo are fully explored and placed sensitively in the context of the differing approaches to the interpretation of Old Testament texts. Readers are informed of contemporary debates that have arisen from literary criticism, such as the questions of intertextuality and the uses of allegory. Also discussed are the uses of the Bible in the first century. For the second edition two entirely new chapters on 'Jesus and Scripture' and 'James and 1-3 John' have been added, as well as full revisions to the text where necessary to take account of changes and developments in scholarship. Each chapter includes a summary-conclusion, and extensive and detailed suggestions for further reading. This is an ideal textbook for undergraduate students.
Sklep: Libristo.pl 363,62 zł
Książki / Literatura obcojęzyczna
Deliverance Now and Not Yet follows Albert Schweitzer's view of mystically dying with Christ and Merkabah mysticism at Qumran to propose that the New Testament pictures Christ's atonement with mystical implications. These pictures set up three forms of New Testament eschatology: consistent, inaugurated, and realized. With regard to the relationship of the Church and the Great Tribulation: (1) Paul and John present deliverance now (realized eschatology), and (2) the rest of the New Testament presents deliverance not yet in two categories - (2a) Mark, James, Peter, and Jude present deliverance not yet (consistent), and (2b) Matthew, Luke - Acts, Hebrews, and Revelation portray deliverance as now and not yet (inaugurated eschatology). Taken together, the Christian's experience of the Messianic woes and mystical expression of the Kingdom prompts us to long deeply for the climactic expression of the Kingdom of God.
Sklep: Libristo.pl
Sklepy zlokalizowane w miastach: Warszawa, Kraków, Łódź, Wrocław, Poznań, Gdańsk, Szczecin, Bydgoszcz, Lublin, Katowice
Szukaj w sklepach lub całym serwisie
2. Szukaj na wszystkich stronach serwisu
t1=0.048, t2=0, t3=0, t4=0.013, t=0.049