krainaksiazek the guggenheim museum bilbao 20089305
- znaleziono 14 produktów w 1 sklepie 165,14 z³
Ksi±¿ki / Literatura obcojêzyczna
Art museums have emerged in recent decades as the most vibrant and popular of all cultural institutions. Though art museums have never been more popular, their direction and values are now being contested as never before - both in the media and in the art world itself. This engaging thematic history of the art museum from its inception in the eighteenth century to the present offers an essential framework for understanding contemporary debates as they have evolved in Europe and the United States. From the visionary museums of Boullee in the eighteenth century to the new Guggenheim in Bilbao and beyond, it explores key aspects of museum theory and practice: ideals and mission; architecture; collecting, classification, and display; the public; commercialism; and restitution and repatriation. The only single volume to give a comprehensive account of the issues critical to museums, the book also highlights the challenges they will face in the future.
Sklep: Libristo.pl 20,31 z³
Hello Bilbao Herb Lester Associates Ltd
Ksi±¿ki / Literatura obcojêzyczna
No visitor to this Basque city is likely to miss the stunning Guggenheim museum and nor should they, but our guide digs deeper: uncovering wonderful food, traditional shops and diverse cultural attractions. Alongside stunning modern architecture - Gehry's Guggenheim, a metro system with stations designed by Norman Foster, Phillipe Starck's reinvention of a wine warehouse into cultural space - there are dozens of tiny bars vying to serve the most elegant and delicious pintxos, extraordinary views and lively markets.
Sklep: Libristo.pl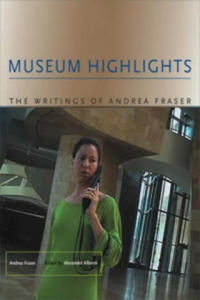 145,97 z³
Ksi±¿ki / Literatura obcojêzyczna
Andrea Fraser's work, writes Pierre Bourdieu in his foreword to Museum Highlights, is able to "trigger a social mechanism, a sort of machine infernale whose operation causes the hidden truth of social reality to reveal itself." It often does this by incorporating and inhabiting the social role it sets out to critique -- as in a performance piece in which she leads a tour as a museum docent and describes the men's room in the same elevated language that she uses to describe seventeenth-century Dutch paintings. Influenced by the interdisciplinarity of postmodernism, Fraser's interventionist art draws on four primary artistic and intellectual frameworks -- institutional critique, with its site-specific examination of cultural context; performance; feminism, with its investigation of identity formation; and Bourdieu's reflexive sociology. Fraser's writings form an integral part of her artistic practice, and this collection of texts written between 1985 and 2003 -- including the performance script for the docent's tour that gives the book its title -- both documents and represents her work.The writings in Museum Highlights are arranged to reflect different aspects of Fraser's artistic practice. They include essays that trace the development of critical "artistic practice" as cultural resistance; performance scripts that explore art institutions and the public sphere; and texts that explore the ambivalent relationship of art to the economic and political interests of its time. The final piece, "Isn't This a Wonderful Place? (A Tour of a Tour of the Guggenheim Bilbao)," reflects on the role of museums in an era of globalization. Among the book's 30 illustrations are stills from performance pieces, some never before published.
Sklep: Libristo.pl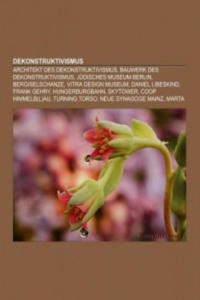 72,74 z³
Ksi±¿ki / Literatura obcojêzyczna
Quelle: Wikipedia. Seiten: 34. Kapitel: Architekt des Dekonstruktivismus, Bauwerk des Dekonstruktivismus, Jüdisches Museum Berlin, Bergiselschanze, Vitra Design Museum, Daniel Libeskind, Frank Gehry, Hungerburgbahn, Skytower, Coop Himmelb(l)au, Turning Torso, Neue Synagoge Mainz, MARTa, BMW-Werk Leipzig, Zaha-Hadid-Haus, Guggenheim-Museum Bilbao, Peter Eisenman, Walt Disney Concert Hall, Parc de la Villette, Bernard Tschumi, John Sallis, Tanzendes Haus, Bata Shoe Museum, Aquatics Centre London, Gehry-Tower, American Center, Ufa-Kristallpalast, Imperial War Museum North, Weisman Art Museum. Auszug: Das Jüdische Museum Berlin ist ein Berliner Museum. Es zeigt dem Besucher zwei Jahrtausende deutsch-jüdische Geschichte, die Höhe- und Tiefpunkte der Beziehungen zwischen Juden und Nichtjuden in Deutschland. Das Museum beherbergt eine Dauerausstellung, mehrere Wechselausstellungen, ein umfassendes Archiv, das Rafael Roth Learning Center und Forschungseinrichtungen. All diese Abteilungen dienen dazu, jüdische Kultur und jüdisch-deutsche Geschichte darzustellen. Das Museumsgebäude in der Lindenstraße im Berliner Ortsteil Kreuzberg verbindet den barocken Altbau des Kollegienhauses (ehemaliger Sitz des Kammergerichts) mit einem Neubau. Dieser zickzackförmige Bau geht auf einen Entwurf des amerikanischen Architekten Daniel Libeskind zurück und soll an einen geborstenen Davidstern erinnern. Auf der anderen Seite der Lindenstraße wird seit 2011 eine Erweiterung des Museums in die ehemalige Blumengroßmarkthalle hineingebaut. Nach einem weiteren Entwurf von Libeskind werden dort Flächen für Bibliothek, Pädagogische Museumsarbeit und ein Garten unter Bewahrung der Außenhülle angelegt. Das Museum ist eine Stiftung öffentlichen Rechts in der Verantwortung des Bundes. Direktor ist W. Michael Blumenthal. Das Museum hatte seit der Eröffnung 2001 bis Mitte 2007 über vier Millionen Besucher. Mit rund 734.000 Besuchern im Jahr 2007 gehört es zu den meistbesuchten Museen Berlins. Das Jüdische Museum entstand aus der "Jüdischen Abteilung" des ehemaligen Berlin-Museums für Berliner Geschichte. 1989 gewann Daniel Libeskind mit seinem Entwurf den ersten Preis eines Architektenwettbewerbs für die Erweiterung des Berlin-Museums. 1992 wurde der Grundstein für den Neubau gelegt. Während der sich lange hinziehenden Bauphase gab es heftige Diskussionen über die Nutzung des Neubaus und die Stellung der "Jüdischen Abteilung". Im Dezember 1997 bekam das Museum einen neuen Direktor, Werner Michael Blumenthal, der auf der Gründung eines eigenständigen Jüdischen Museums im Altbau und im Neubau des Be
Sklep: Libristo.pl 159,24 z³
Ksi±¿ki / Literatura obcojêzyczna
Since the end of the 20th century, an unprecedented§number of remarkable museums have§been built. None have had bigger worldwide implications§than Frank Gehry's Guggenheim Museum§in Bilbao (1991-97). Until, that is, the new§Musée des Confluences in Lyon was opened§to the public, in late 2014. It was created by§Wolf D. Prix of the Coop Himmelb(l)au team,§which was founded in the 1970s. Many avantgarde§groups from those wild years - such as§Archigram, Superstudio, Archizoom, Haus-Rucker-§Co, and the Japanese Metabolists - are§now consigned to the past, but the Coop Himmelb(§l)au architecture firm, whose special aspiration§was always to bring into the world buildings§that overcome the pull of the earth - buildings§"to float on the horizon like clouds" - is§more in demand than ever.§The finest demonstration of this endeavour to§date can now be admired in Lyon. Functioning§as a museum of human history, this impressive§concrete, metal and glass colossus truly does§appear to float above the peninsula at the confluence§of the Rhône and the Saône. Like the§Guggenheim Museum in Bilbao, this new building,§so impossible to overlook, is an inspiration§for the revitalisation of disrupted urban areas and§the valorisation of derelict industrial areas - within§the city precincts, but also far beyond Lyon.§This Opus volume deals with the origins, construction,§function and formal appearance of the§Musée des Confluences, and also offers a preliminary§theoretically based evaluation of the architecture§of the building.§Frank R. Werner was professor of history and§architecture theory at the Staatliche Akademie§der Bildenden Künste Stuttgart from 1990 until§1994 and director of the Institut für Architekturgeschichte§und Architekturtheorie at the Bergische§Universität in Wuppertal from 1993 until his retirement§in 2012. He studied painting, architecture§and history of architecture in Mainz, Hanover and§Stuttgart. Christian Richters studied communication§design at the Folkwangschule in Essen. He§is one of the most sought-after architecture photographers§in Europe. To date he has been represented§in the Opus series by 13 volumes, including§ones about the embassies of the Nordic§countries and the Bode Museum in Berlin, the§Nieuwe Luxor Theater in Rotterdam and the§BMW Welt in Munich.§See also: Opus 66. Coop Himmelb(l)au, BMW§Welt, München, Edition Axel Menges 2009.
Sklep: Libristo.pl 161,70 z³
Ksi±¿ki / Literatura obcojêzyczna
The Guggenheim Museum Bilbao is organising 'Antoni Tapies, from Object to Sculpture (1964-2002)', an exhibition devoted to the lesser known facets of the painter: his sculptures and assemblages. This is the first complete analysis of the sculptures and objects created by Tapies, encompassing the whole of his artistic production for almost five decades. The exhibition is conceived as a chronological analysis of Tapies' sculptural work and as a methodical examination of his treatment of space, revealing conceptual genealogies which locate sculpture, the object and assemblage on the front line of the artist's investigations. The show is curated by Alvaro Rodriguez Fominaya (Las Palmas of Gran Canaria, 1968), an internationally renowned curator of exhibitions on contemporary art. Currently a curator at New York's Guggenheim Museum, from 2008-2011, he served as Executive Director-Curator of the Para/Site Art Space, the main independent centre for contemporary art in Hong Kong, and worked for more than six years at the Centro Atlantico de Arte Moderno (CAAM) in Spain, where he was Acting Director from 2006-07.
Sklep: Libristo.pl 157,93 z³
Ksi±¿ki / Literatura obcojêzyczna
From Pulitzer Prize-winning architectural critic Paul Goldberger: an engaging, nuanced exploration of the life and work of Frank Gehry, undoubtedly the most famous architect of our time. This first full-fledged critical biography presents and evaluates the work of a man who has almost single-handedly transformed contemporary architecture in his innovative use of materials, design, and form, and who is among the very few architects in history to be both respected by critics as a creative, cutting-edge force and embraced by the general public as a popular figure.§§Building Art shows the full range of Gehry's work, from early houses constructed of plywood and chain-link fencing to lamps made in the shape of fish to the triumphant success of such late projects as the spectacular art museum of glass in Paris. It tells the story behind Gehry's own house, which upset his neighbors and excited the world with its mix of the traditional and the extraordinary, and recounts how Gehry came to design the Guggenheim Museum in Bilbao, Spain, his remarkable structure of swirling titanium that changed a declining city into a destination spot. Building Art also explains Gehry's sixteen-year quest to complete Walt Disney Concert Hall, the beautiful, acoustically brilliant home of the Los Angeles Philharmonic.§§Although Gehry's architecture has been written about widely, the story of his life has never been told in full detail. Here we come to know his Jewish immigrant family, his working-class Toronto childhood, his hours spent playing with blocks on his grandmother's kitchen floor, his move to Los Angeles when he was still a teenager, and how he came, unexpectedly, to end up in architecture school. Most important, Building Art presents and evaluates Gehry's lifetime of work in conjunction with his entire life story, including his time in the army and at Harvard, his long relationship with his psychiatrist and the impact it had on his work, and his two marriages and four children. It analyzes his carefully crafted persona, in which a casual, amiable "aw, shucks" surface masks a driving and intense ambition. And it explores his relationship to Los Angeles and how its position as home to outsider artists gave him the freedom in his formative years to make the innovations that characterize his genius. Finally, it discusses his interest in using technology not just to change the way a building looks but to change the way the whole profession of architecture is practiced.§§At once a sweeping view of a great architect and an intimate look at creative genius, Building Art is in many ways the saga of the architectural milieu of the twenty-first century. But most of all it is the compelling story of the man who first comes to mind when we think of the lasting possibilities of buildings as art.§
Sklep: Libristo.pl 71,10 z³
Ksi±¿ki / Literatura obcojêzyczna
The history of modern architecture is as diverse as it is beautiful, varying wildly from region to region and era to era. Here Deyan Sudjic, Director of the Design Museum, explores 50 of the most significant and striking buildings in the world, from the modernist aesthetic of Le Corbusier's Villa Savoye to the eye-catching flair of Beijing's CCTV Headquarters. Contents include: Villa Savoye, Poissy Rockefeller Center, New York Eames House, Los Angeles Montreal Biosphere, Montreal Pompidou Centre, Paris Guggenheim Museum, Bilbao Beijing Olympic Stadium, Beijing Selfridges, Birmingham ...and many more.
Sklep: Libristo.pl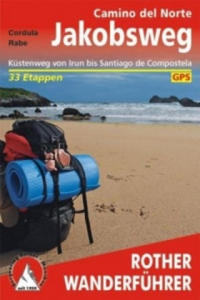 72,08 z³
Ksi±¿ki / Literatura obcojêzyczna
Der Küstenweg ist einer der beliebtesten Pilgerwege nach Santiago de Compostela und trotzdem fast noch ein Geheimtipp. Jedoch steigt auch hier das Pilgeraufkommen kontinuierlich an. Hier finden die Pilger tatsächlich noch die Balance zwischen Ruhe und Gelassenheit abseits des Massenbetriebes. Gleichzeitig ist der Camino del Norte landschaftlich und kulturell ein besonders lohnendes Ziel. Er präsentiert mit der grünen, zuweilen wilden und schroffen Nordküste ein Spanien, das mal befremdlich vertraut, mal unerwartet exotisch wirkt. Städte wie das mondäne Seebad San Sebastián, das von der Industrie- zur Kulturstadt gewandelte Bilbao mit dem Guggenheim-Museum, die einzigartigen Höhlenmalereien von Altamira, aber auch das eher nachdenklich stimmende Gernika sind einige der wichtigsten Stationen. Der Küstenweg führt in 29 Etappen von Irun nach Santiago de Compostela und in vier weiteren bis nach Finisterre und Muxía. Wie in allen Rother Wanderführern findet sich zu jeder Etappe eine genaue Wegbeschreibung, ein professionelles Wanderkärtchen sowie ein aussagekräftiges Höhenprofil. Ausführliche Informationen zur Infrastruktur, den Herbergen und alternativen Unterkünften am Weg sowie kulturelle und geschichtliche Hintergründe runden das Buch ab.
Sklep: Libristo.pl 232,80 z³
Ksi±¿ki / Literatura obcojêzyczna
A true heroine of modern art, Niki de Saint-Phalle (France, 1930-USA, 2002) gave birth to a complex and unique universe which she fed with autobiographical, cultural and political references, synthesis between life and art. The story of Niki de Saint Phalle is that of an artist on a quest for emancipation in a world dominated by men. Her highly individual stance and her profoundly innovative oeuvre left a firm imprint on the cultural landscape of the 20th century. This book, published for the retrospective of Niki de Saint Phalle hosted by the Guggenheim Museum Bilbao, explores numerous aspects of a unique, heterogeneous, and complex oeuvre, and follows the artist's voice through the texts she wrote herself, of irreplaceable value for an understanding of the sense and dimension of her work. This volume provides a unique opportunity to explore a career marked by metamorphosis and constant reinvention; the works on display range from the paintings with objects of 1958-59 to a group of large sculptures conceived in 2000, two years before the artist's death.
Sklep: Libristo.pl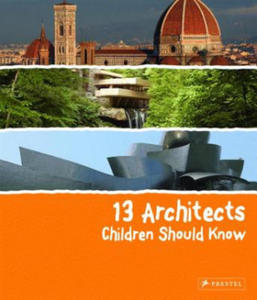 50,62 z³
Ksi±¿ki / Literatura obcojêzyczna
Buildings of every shape and size and from all corners of the world, populate this colourful and beautifully produced book that introduces children to history's most iconic architectural feats and the people behind them. In lively illustrated spreads, young readers will learn how Christopher Wren reconstructed an 11th-century cathedral after London's great fire of 1666 to become the St Paul's Cathedral that we know today and how its dome survived the Blitz. They will find out how Thomas Jefferson, in building his plantation, Monticello, created a new architecture for a new nation. They will be introduced to the genius of Frank Lloyd Wright, Le Corbusier, Mies van der Rohe and Zaha Hadid and can examine in detail the wonders of the Eiffel Tower, the Guggenheim Museum in Bilbao, Spain and Rome's most beautiful theatre. The book proceeds chronologically, accompanied by a timeline to offer helpful historical context. Each architect's entry includes a concise biography, illustrations of major works and lively texts that speak directly to young readers. Additional information about the buildings pictured, suggestions for further reading and online resources will satisfy the most curious of minds.
Sklep: Libristo.pl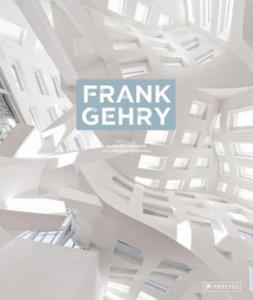 200,36 z³
Ksi±¿ki / Literatura obcojêzyczna
Frank Gehry. Die erste umfassende Monografie§§Das architektonische Schaffen Frank Gehrys dargestellt anhand der 50 wichtigsten Bauten aus den letzten zwei Jahrzehnten.§§Frank Gehrys Spätwerk mit einem Schwerpunkt auf öffentlichen Bauten und Museumskomplexen steht im Mittelpunkt dieses Buchs. Chronologisch nach Projekten gegliedert, verfolgt der Band, wie Gehry konsequent seine Vision verfolgte und technische Schwierigkeiten und ästhetische Stagnation innovativ überwand. Anhand von Gehrys Entwürfen im Kontext des urbanen Raums wird anschaulich, wie der Stararchitekt seinem Motto gerecht wurde, Stadtarchitektur spannungsvoll in Bezug zur gebauten Umgebung zu setzen. Beeindruckende Farbaufnahmen, Originalentwürfe, Pläne und Architekturmodelle dokumentieren die besprochenen Bauten, unter anderem das Vitra Designmuseum in Birsfelden/Schweiz, die Walt Disney Concert Hall in Los Angeles und das Guggenheim-Museum in Bilbao.§§
Sklep: Libristo.pl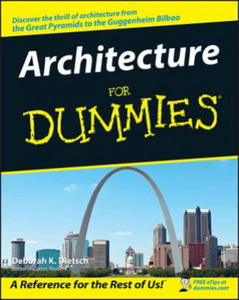 80,93 z³
Ksi±¿ki / Literatura obcojêzyczna
When is a building just a building and when is it art? This accessible guide cuts through the jargon and clearly explains the essentials of architecture, demystifying the incredible ways in which structures and spaces come alive. You'll gain a real appreciation for architecture and the confidence to talk about it even to an architect. It provides just the essential information for readers on the go who want to understand architecture. It covers the highlights of architectural history, from the Great Pyramids to Frank Gehry's Guggenheim museum in Bilbao. It explains how to look at a building and appreciate it. It explains when a building's a building and when it's art. Part of Tens includes Ten Great Architectural Masterpieces, Ten Biggest Architectural and Engineering Failures, Ten of the Most Interesting Architects Working Today, and more.
Sklep: Libristo.pl 202,49 z³
Ksi±¿ki / Literatura obcojêzyczna
The success of the Guggenheim Museum in Bilbao, designed and engineered by Frank O. Gehry and inaugurated in 1997, opened the eyes of the world to the plastic possibilities of Free Form Design. That is, on the side of architects and their admiring clients. Some architects draw up complicated but surprising and attractive Free Form Designs and win design competitions. The next step is to involve the manufacturing industry and the contractors in realizing these dreams. According to the authors, the desire and logic for an adapted Free Form Technology will become became apparent after more designs. At Mick Eekhouts design build
Sklep: Libristo.pl
Sklepy zlokalizowane w miastach: Warszawa, Kraków, £ód¼, Wroc³aw, Poznañ, Gdañsk, Szczecin, Bydgoszcz, Lublin, Katowice
Szukaj w sklepach lub ca³ym serwisie
2. Szukaj na wszystkich stronach serwisu
t1=0.065, t2=0, t3=0, t4=0, t=0.065