krainaksiazek the happiest time of their lives 20119139
- znaleziono 10 produkty w 5 sklepach 57,99 zł
Książki Obcojęzyczne>Nieprzypisane
0x00e89b3a00000000
Sklep: Gigant.pl 87,17 zł
Książki
Sklep: KrainaKsiazek.pl 141,27 zł
Książki
Sklep: KrainaKsiazek.pl 40,43 zł
Książki / Literatura obcojęzyczna
'Never was a painter more nobly joyous, never did an artist take a greater delight in life, seeing it all as a kind of breezy festival and feeling it through the medium of perpetual success...He was the happiest of painters.' Henry James on Veronese, 1909 Collected here for the first time, these fascinating early biographies (one of which has never been translated before) describe and celebrate the astonishingly fertile art of Paolo Veronese. Most of what we know about Veronese comes from these three essays. 'I have known this Paolino and I have seen his beautiful works. He deserves to have a great volume written in praise of him, for his pictures prove that he is second to no other painter', wrote Veronese's contemporary Annibale Carracci in the margins to his copy of Vasari's writings, continuing 'and this fool passes over him in four lines. And just because he was not Florentine.' It was indeed a measure of his fame that Vasari, whose 'Life of Veronese' is reprinted here, should have overcome his pro-Tuscan prejudices to write about his great Venetian contemporary; and he was followed in this by another Florentine, the theorist Raffaele Borghini. But the most striking record of the impact of Veronese's art on his countrymen is the extensive biography by his fellow Venetian, Carlo Ridolfi. Entirely original in the seriousness and passion with which he approached his subject, Ridolfi permanently changed the course of writing about art. This is the first translation of his work into English. Translated and introduced by Xavier F. Salomon, curator of 'Veronese: Renaissance Magnificence' at the National Gallery, London. 50 pages of colour illustrations cover the span of Veronese's breathtaking career.
Sklep: Libristo.pl 40,64 zł
Książki & Multimedia > Muzyka
Lista utworów - Płyta 1 1. Hey You 2. See Emily Play 3. The Happiest Days Of Our Lives 4. Another Brick In The Wall pt2 5. Have A Cigar 6. Wish You Were Here 7. Time 8. The Great Gig In The Sky 9. Money 10. Comfortably Numb 11. High Hopes 12. Learning To Fly 13. The Fletcher Memorial Home 14. Shine On You Crazy Diamond (Edit) 15. Brain Damage 16. Eclipse Opis - Kompilacja najbardziej znanych utworów zespołu. Okładka zaprojektowana przez Storma Thorgersona. Wszystkie utwory zremasterowane w 2011 roku przez Jamesa Guthrie. Nazwa - A Foot In The Door: The Best Of Pink Floyd Autor - Pink Floyd Wydawca - Warner Music Kod EAN - 5099902896625 Rok wydania - 2011 Nośnik - Płyta CD Ilość elementów - 1 Podatek VAT - 23% Premiera - 2011-11-07
Sklep: InBook.pl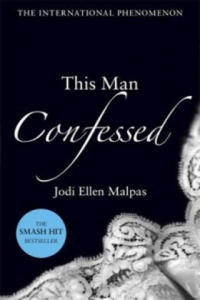 40,45 zł
Książki / Literatura obcojęzyczna
Addictive, dangerous, your guiltiest pleasure yet: the thrilling climax to the hit trilogy. The very place where their passionate love affair began, The Manor, fills with guests on what should be the happiest day of Ava and Jesse's lives. She has accepted that she'll never tame the fierceness in Jesse, and she doesn't want to. Their love is profound, their connection powerful, but just when she thinks that she's finally got beneath his guarded exterior, more questions arise which lead Ava to believe that Jesse Ward may not be the man she thinks he is. He knows too well how to take her to a place beyond ecstasy...but will he also drive her to the brink of despair? It's time for this man to confess. Includes a bonus scene from Jesse's perspective.
Sklep: Libristo.pl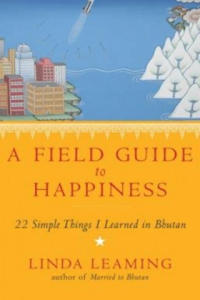 49,66 zł
Książki / Literatura obcojęzyczna
'In the West, we have everything we could possibly need or want - except for peace of mind,' Linda Leaming writes, 'We go to extravagant lengths to try to be happy. Living in Bhutan and the United States has taught me that we can all learn to create a space within us where we are untouched, at our best, where we can be open to life and we can be, even in the darkest hours, calm and relatively happy.' A Field Guide to Happiness is a practical and inspirational guide to living more simply and in balance. From her experiences as an American writer and teacher living in Bhutan, Linda Leaming shares endearing, often humorous stories from the happiest country in the world. Having spent her early years in Nashville, and most of her adult life in Thimphu - two wildly different and unique cities in their own right - Linda has been forced to think differently about time, work, money, family and herself. Instead of fuming impatiently in line at the bank, she decided to take up knitting. By calming down and going with the flow, she's learned to relax and embrace the absurdity that is everywhere. And facing her own mortality, 'thinking the unthinkable', has inspired her to live life to the fullest, with ease, fearlessness and believe it or not, laughter. A special section at the end of each chapter gives concrete steps for creating more happiness in our lives.
Sklep: Libristo.pl 979,99 zł
Muzyka>Rock>Progresywny / Art-Rock
1. Astronomy Domine 2. Lucifer Sam 3. Matilda Mother 4. Flaming 5. Pow R. Toc H. 6. Take Up Thy Stethoscope And Walk 7. Interstellar Overdrive 8. The Gnome 9. Chapter 24 10. Scarecrow 11. Bike 101. Let There Be More Light 102. Remember A Day 103. Set The Controls For The Heart Of The Sun 104. Corporal Clegg 105. A Sauceful Of Secrets 106. See-saw 107. Jugband Blues 201. Cirrus Minor 202. The Nile Song 203. Crying Song 204. Up The Khyber 205. Green Is The Colour 206. Cymbaline 207. Party Sequence 208. Main Theme 209. Ibiza Bar 210. More Blues 211. Quicksilver 212. A Spanish Piece 213. Dramatic Theme 301. Astronomy Domine 302. Careful With That Axe, Eugene 303. Set The Controls For The Heart Of The Sun 304. A Saucerful Of Secrets 305. Sysyphus 1-4 306. Grantchester Meadows 307. Several Species Of Small Furry Animals Gathered. 308. The Narrow Way Part 1-3 309. The Grand Vizier's Garden Party Part 1-3 401. Atom Heart Mother 402. If 403. Summer 404. Fat Old Sun 405. Alan's Psychedelic Breakfast 501. One Of These Days 502. A Pillow Of Winds 503. Fearless 504. San Tropez 505. Seamus 506. Echoes 601. Obscured By Clouds 602. When You're In 603. Burning Bridges 604. The Gold It's In The... 605. Wot's...uh The Deal 606. Mudmen 607. Childhood's End 608. Free Four 609. Stay 701. Speak To Me 702. Breathe 703. On The Run 704. Time 705. The Great Gig In The Sky 706. Money 707. Us And Them 708. Any Colour You Like 709. Brain Damage 801. Shine On You Crazy Diamond-part 1 802. Welcome To The Machine 803. Have A Cigar 804. Wish You Were Here 901. Pigs On The Wing 1 902. Pigs-three Different Ones 903. Sheep 904. Pigs On The Wing 2 1001. In The Flesh? 1002. The Thin Ice 1003. Another Brick In The Wall Part 1 1004. The Happiest Days Of Our Lives 1005. Another Brick In The Wall Part 2 1006. Mother 1007. Goodbye Blue Sky 1008. Empty Spaces 1009. Youg Lust 1010. One Of My Turns 1011. Don't Leave Me Now 1012. Another Brick In The Wall Part 3 1013. Goodbye Cruel World 1014. Hey You 1015. Is There Anybody Out There 1016. Nobody Home 1017. Vera 1018. Bring The Boys Back Home 1019. Comfortable Numb 1020. The Show Must Go On 1021. In The Flesh 1022. Run Like Hell 1023. Waiting For The Worms 1024. Stop 1025. The Trial 1026. Outside The Wall 1101. The Post War Dream 1102. Your Possible Pasts 1103. One Of The Few 1104. When The Tigers Broke Free 1105. The Hero's Return 1106. The Gunners Dream 1107. Paranoid Eyes 1108. Get Your Filthy Hands Off My Desert 1109. The Fletcher Memorial Home 1110. Southampton Dock 1111. The Final Cut 1112. Now Now John 1113. Two Suns In The Sunset 1114. When The Tigers Broke Free 1201. Signs Of Life 1202. Learning To Fly 1203. The Dogs Of War 1204. One Slip 1205. On The Turning Away 1206. Yet Another Movie 1207. Round And Around 1208. A New Machine Part 1 1209. Terminal Frost 1210. A New Machine Part 2 1211. Sorrow 1301. Cluster One 1302. What Do You Want From Me 1303. Poles Apart 1304. Marooned 1305. A Great Day For Freedom 1306. Wearing The Inside Out 1307. Take It Back 1308. Keep Talking 1309. Coming Back To Life 1310. Lost For Words 1311. High Hopes
Sklep: Gigant.pl 49,10 zł
Powieści i opowiadania
The Ghost Writer, John Harwood's debut novel, is a rousing story with many twists and turns--rather reminiscent of taking apart a Russian matryoshka nesting doll. Gerard Freeman, aged 10, sneaks into his mother's room and unlocks a secret drawer, only to find a picture of a woman he has never seen before, but one that he will find again and again. His mother discovers him and gives him the beating of his life. Why this excessive reaction? She is a worried, paranoid, thin and fretful type with an 'anxious, haunted look'. By tale's end, we know why.Phyllis Freeman, Gerard's mother, was happiest when speaking fondly of Staplefield, her childhood home, where there were things they 'didn't have in Mawson [Australia]--chaffinches and mayflies and foxgloves and hawthorn, coopers and farriers and old Mr Bartholomew who delivered fresh milk and eggs to their house with his horse and cart.' It's the sort of childhood idyll that the timid and lonely Gerard believes in and longs for. He strikes up a correspondence with an English penfriend, Alice Jessel, when he is 13 and a half, living in a desolate place with a frantic mother and a silent father. She is his age, her parents were killed in an accident and she has been crippled by it. She now lives in an institution, and her description of the grounds sounds much like his mother's description of Staplefield. They go through young adulthood together, in letters only, thousands of miles apart, eventually declaring their love for one another.Interwoven with the narrative of Alice and Gerard's letters are real ghost stories, the creation of Gerard's great-grandmother, Viola. At first, they seem to be scary Victorian tales of the supernatural. Then we see that they have a spooky way of mirroring, or preceding, events in real life, off the page. Gerard comes upon them, one by one, in mysterious ways, but clearly something, or someone, is leading him. The stories seem to implicate his mother in some nefarious goings-on, but the truth is far worse than Gerard imagines.Any more would be telling too much. Turn on all the lights in the house when you settle down with this one, and plan to spend a long time reading because you will be lost in the story immediately.
Sklep: Albertus.pl 26,68 zł
Książki / Literatura obcojęzyczna
Striking Out: the second book in the Football Academy series by Tom Palmer. Yunis can't believe that he's United leading scorer. It should be the happiest time of his life, but his father wants him to give up football and work hard at school. Can Yunis convince his dad that he can do both, or will he have to hang up his boots forever? Stay on the ball this season with all the action from Football Academy. As well as being a huge football fan, Tom Palmer has an international reputation in reader development. He is a coordinator of the Reading Partners consortium, works with The Reading Agency, Booktrust and the National Literacy Trust, and has been the official writer for the Premier League Reading Stars scheme for five years. He is the author of the Football Detective series, also for Puffin Books. Tom lives in West Yorkshire with his wife and daughter. Also by Tom Palmer: Football Academy: Boys United; Striking Out; Free Kick; Captain Fantastic Foul Play: Foul Play; Killer Pass; Dead Ball; Own Goal; Off Side The Squad: White Fear; and Black Op.
Sklep: Libristo.pl
Sklepy zlokalizowane w miastach: Warszawa, Kraków, Łódź, Wrocław, Poznań, Gdańsk, Szczecin, Bydgoszcz, Lublin, Katowice
Szukaj w sklepach lub całym serwisie
2. Szukaj na wszystkich stronach serwisu
t1=0.077, t2=0, t3=0, t4=0.023, t=0.077