krainaksiazek the heart of milton poetry love reflection 20115577
- znaleziono 9 produktów w 3 sklepach 64,81 zł
Książki / Literatura obcojęzyczna
Sit back and enjoy the chosen collection of unappalled insight into the heart and mind of the bold, passionate, fiery, spiritual and playful poet. She will keep you on the edge of your seat, wanting more, as you continue to turn the pages of her first poetry book. With titles like, Black Woman (Sugar Brown, Caramel Cream, Dark Chocolate from the African seed, Red Bone, and Yellow Tone is a reflection of who I am). Fingertips (I'm like BK and you can have it your way. Because he aims to please, and I'm mesmerized by the sensation of having both spots). Love Hurts (I traded my life for less than minimum wage-I snapped, I couldn't take it anymore-His hands hit me, I hit the floor). I'm Sorry Lord (I'm sorry that I never took the time to thank you for the storms of life lessons. In the midst of your love, grace and mercy all I felt was the pain). We Do Matter (How long are we willing to stand aside and watch the opposition make a brash attempt of genocide in front of America eyes) and more.
Sklep: Libristo.pl
72,30 zł
Książki / Literatura obcojęzyczna
Take a wild poetic ride through a landscape of unexpected emotions. "Reflections on a Crystal Wind" is Michael Graves' much anticipated foray into the realm of "off line" literature. His unusual approach to poetic subjects spans the spectrum from the cerebral to the deeply erotic and has won the hearts of thousands of online readers. "I was transported! It's written so beautifully; it's like an exhilarating life-lesson that feels like a ride down a mystical river" Carole Eddington/Poet, author of Midnight Snacking in True Meaning Land "He has a way of shining new light on common subjects..." Marguerite Ashton, author of Inherited Lies "Michael Graves is one of the most truly gifted poets of our time. His insight, wisdom, reflection, optimism and positive thinking are a true pleasure to enjoy, in every stack and stanza. My kinda poet. I'd love to share a beer with him, preferably rich, dark and intense!" Günther Bedson. Poet, Composer, and Scotch Whisky Connoisseur According to Graves, "Most people who read poetry want the truth to reach out through the words and grab them by the throat. They're looking for a portal through which to escape the mundane. What good is poetry if it can't provide that?"
Sklep: Libristo.pl 80,12 zł
Książki / Literatura obcojęzyczna
"Arguments for Stillness" is a debut book of extraordinary accomplishment, a vivid examination of daily life filtered through a Buddhist consciousness. Campbell's concerns are wide ranging- from political injustice to the solace of nature and the comfort of love. In essence he is searching for balance in the center of quietness. These are clear, direct poems readily accessible, although they resonate with psychological and philosophical depth. "Arguments for Stillness," in short, is just that: a case for stillness and a lyrical exploration of contemplation in our world of frenetic motion; an examination and series of "arguments" for the quality and possibilities of stillness and reflection in spite and because of what Neil Postman referred to as our current "peek-a-boo world." The theme of the collection is perhaps best expressed in the last two lines from Campbell's poem, "Considering Metal Man (as a Template for World Peace)": "Look how he sits and stares, they say. Observe how // Nobody dies because of this." Reminiscent of the work of Billy Collins, these are finely wrought poems-thoughtful, witty, precise-reflecting upon small farmers, hoboes, business, movies, books, and art. With an introduction by Nebraska State Poet William Kloefkorn. Erik Campbell lives in Papua, Indonesia, working as a technical writer for an American mining company. His poems and essays have appeared in numerous prestigious literary magazines, including "The Iowa Review," "Tin House," "The Massachusetts Review," "The Virginia Quarterly Review," "Nimrod," "New Delta Review," and "Rattle." He has been nominated for a 2005 Pushcart Prize in poetry.
Sklep: Libristo.pl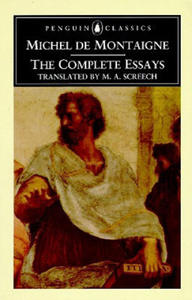 98,84 zł
Książki / Literatura obcojęzyczna
In 1572, Montaigne retired to his estates in order to devote himself to leisure, reading and reflection. There he wrote his constantly expanding 'essays', inspired by the ideas he found in books from his library and his own experience. He discusses subjects as diverse as war-horses and cannibals, poetry and politics, sex and religion, love and friendship, ecstasy and experience. Above all, Montaigne studied himself to find his own inner nature and that of humanity. The Essays are among the most idiosyncratic and personal works in all literature. An insight into a wise Renaissance mind, they continue to engage, enlighten and entertain modern readers.
Sklep: Libristo.pl 57,85 zł
Książki & Multimedia > Książki
Opis - Przewodniki po filozofii to pierwsza w Polsce seria książkowa, której celem jest zdanie sprawy z aktualnego stanu badań naukowych w zakresie wszystkich dyscyplin filozoficznych. Każda pozycja w serii jest zbiorem esejów autorstwa czołowych polskich znawców przedmiotu reprezentujących różne ośrodki akademickie. Adresatami serii są zarówno wykładowcy i studenci filozofii, jak i szersze grono miłośników filozofii, stąd obok dbałości o merytoryczną jakość tekstów, redaktorom serii przyświeca troska o ich jasność i przystępność. Oprócz uporządkowanej prezentacji najważniejszych wątków toczonych dziś filozoficznych debat Czytelnik otrzymuje obszerne wskazówki bibliograficzne, z uwzględnieniem najnowszych publikacji na dany temat.Redaktorzy serii: Sebastian Tomasz Kołodziejczyk & Janusz SalamonPrzewodnik po metafizyce to zbiór artykułów prezentujących najnowsze stany badań nad bogatą problematyką metafizyczną we współczesnej filozofii. Niewątpliwą zaletą Przewodnika jest to, że jego Autorzy przekonująco pokazują, iż wiele problemów tradycyjnej filozofii zostało w wieku XX i XXI podjętych i opracowanych na nowo, głównie dzięki temu, że filozofia analityczna potrafiła przezwyciężyć swoje antymetafizyczne nastawienie. Dodatkowo Autorzy umiejętnie łączą tradycję kontynentalną z analityczną, by w ten sposób zaznaczyć unikalną wartość metafizyki jako dyscypliny uniwersalnej.Redaktor tomu: Sebastian Tomasz KołodziejczykKsiążka, którą łaskawy Czytelnik obecnie otrzymuje, jest świadectwem zainteresowań metafizycznych młodszego pokolenia filozofów polskich. Ich inspiracje są różne, łączy ich jednak fascynacja problematyką metafizyczną i rzetelność w jej podejmowaniu. Dzięki różnorodności propozycji książka stanowi dobry przegląd tego, co dziś w filozofii, także polskiej, się dzieje. Przewodniczący Rady Naukowej Serii: Władysław Stróżewski Nazwa - Przewodnik po metafizyce Autor - Sebastian Tomasz Kołodziejczyk (red.) Oprawa - Miękka Wydawca - WAM Kod ISBN - 9788375057485 Kod EAN - 9788375057485 Rok wydania - 2011 Język - polski Seria wydawnicza - Przewodniki po filozofii Format - 15.5x23.0cm Ilość stron - 636 Podatek VAT - 5%
Sklep: InBook.pl 82,07 zł
Silent Eyes Lightning Source UK Ltd
Książki / Literatura obcojęzyczna
Threads that intermingle With saffron strands of fleece Combine and blend together Like kisses from a lover A dream of inner peace Where lips are melted chocolate That sweeten to the taste And hands caress and comfort Memories - never erased -Katje Kaase In her second collection of poetry, Kathy Kuzma, interweaves vivid imagery with lyrical verse to share a poignant glimpse into her heart, her inquisitive mind, and her observations of the world around her. Kuzma, a retired teacher and seasoned poet, shares her reflections on a variety of relatable subjects that include the beauty of nature, the joy of love, the loneliness of heartbreak, and the trepidation of change. With the intent of encouraging reflection in others, Kuzma leads others on an intriguing, poetic journey as she ponders life and all it encompasses in its most realistic sense. Silent Eyes is a volume of poems that captures emotions and moments in time. They are then transformed into words so the soul and mind are both understood. Visit her website at: www.kkuzma.com.
Sklep: Libristo.pl 46,08 zł
Książki / Literatura obcojęzyczna
Unlike many Latin American writers whose work has been published in the United States, Francisco Hinojosa does not rely on magical realism, exotic recipes or cultural nostalgia. Rather, his stories convey a mercilessly sardonic view of family and society, and his ingenious array of anti-heroes embodies a conspicuous disdain for convention. Here, in eight masterly stories that are as cruel and pitiless as they are hilarious, he explores the complexities of love and human relationships. These fiercely funny picaresque adventures are peopled with characters who inspire feelings of both solidarity and derision, but let the reader beware: just when you find yourself laughing out loud, you might recognize your reflection in the funhouse mirror. Francisco Hinojosa was born in Mexico City in 1954, and is the author of three story collections, two volumes of poetry, and numerous childrens' books. He is the recipient of Mexico's National Prize for the Short Story, among other awards.
Sklep: Libristo.pl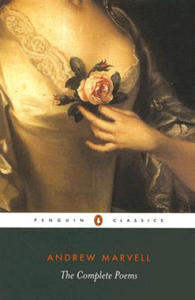 64,81 zł
Książki / Literatura obcojęzyczna
Member of Parliament, tutor to Oliver Cromwell's ward, satirist and friend of John Milton, Andrew Marvell was one of the most interesting and important poets of the seventeenth century. The Complete Poems demonstrates his unique skill and immense diversity to the full, and includes lyrical love-poetry, religious works and biting satire. From the passionately erotic To his Coy Mistress, to the astutely political Cromwellian poems and the profoundly spiritual On a Drop of Dew, in which he considers the nature of the soul, these works are masterpieces of clarity and metaphysical imagery. Eloquent and compelling, they remain among the most vital and profound works of the era - works by a figure who, in the words of T. S. Eliot, speaks clearly and unequivocally with the voice of his literary age'.
Sklep: Libristo.pl 52,99 zł
Książki Obcojęzyczne>Angielskie>Literature & literary studies>Classical textsKsiążki Obcojęzyczne>Angielskie>Literature & literary stud...
Inspired By Homer And Inspiration For Dante And Milton, The Aeneid Is An Immortal Poem At The Heart Of Western Life And Culture. Virgil Took Aeneas As His Hero And In Telling A Story Of Dispossession And Defeat, Love And War, He Portrayed Human Life In Al
Sklep: Gigant.pl
Sklepy zlokalizowane w miastach: Warszawa, Kraków, Łódź, Wrocław, Poznań, Gdańsk, Szczecin, Bydgoszcz, Lublin, Katowice
Szukaj w sklepach lub całym serwisie
2. Szukaj na wszystkich stronach serwisu
t1=0.05, t2=0, t3=0, t4=0, t=0.051