krainaksiazek the higher learning the universities and the public 20106654
- znaleziono 7 produktów w 2 sklepach 245,07 zł
Książki / Literatura obcojęzyczna
Educating students for twenty-first century engagement with communities, both local and global, presents universities with opportunities to teach critical reflection on the social challenges they face. Building on the strong foundation established by the service-learning movement in higher education, social entrepreneurship education is becoming prominent on many campuses. Enos conducted research at ten campuses in the United States recognized for their leadership and gives an instructive look into how campuses - large and small, public and private - organize their resources to engage students with the community. The author proposes four strategies to educate students: organizing frames that serve as unifying visions, expanded concepts of engagement, the exchange of the 'best' of service-learning and social entrepreneurship practices with each other, and the design of learning goals and strategies that achieve the ends of both approaches.
Sklep: Libristo.pl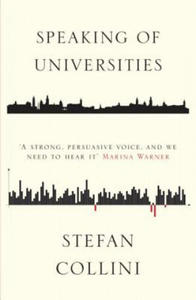 72,23 zł
Książki / Literatura obcojęzyczna
A devastating analysis of what is happening to our universities Does "marketization" threaten to destroy what we most value about education? Will this new era of "accountability" distort what it purports to measure? What do we mean by a "public" system of higher education and how should we defend it? Globalization has transformed the economic horizon. At the same time governments have systematically imposed new regulations for funding, governance, and assessment. Increasingly, universities behave more like business enterprises in a commercial marketplace than centers of learning. In recent decades there has been an immense global surge in the number of universities and the size of the student population. Technology has created new ways of learning and teaching. In Speaking of Universities , historian and critic Stefan Collini analyses these changes and challenges the assumptions of policymakers and commentators. This is an urgent call to "focus on what is actually happening and the clichés behind which it hides; an incitement to think again, think more clearly, and then to press for something better."
Sklep: Libristo.pl 141,63 zł
Książki / Literatura obcojęzyczna
In this book, Mike Higton provides a constructive critique of Higher Education policy and practice in the UK, the US and beyond, from the standpoint of Christian theology. He focuses on the role universities can and should play in forming students and staff in intellectual virtue, in sustaining vibrant communities of inquiry, and in serving the public good. He argues both that modern secular universities can be a proper context for Christians to pursue their calling as disciples to learn and to teach, and that Christians can contribute to the flourishing of such universities as institutions devoted to learning for the common good. In the process he sets out a vision of the good university as secular and religiously plural, as socially inclusive, and as deeply and productively entangled with the surrounding society. Along the way, he engages with a range of historical examples (the medieval University of Paris, the University of Berlin in the nineteenth century, and John Henry Newman's work in Oxford and Dublin) and with a range of contemporary writers on Higher Education from George Marsden to Stanley Hauerwas and from David Ford to Rowan Williams.
Sklep: Libristo.pl 269,34 zł
Książki / Literatura obcojęzyczna
Increasing numbers of people now receive a higher education. Yet we still do not have that 'educated public' about which the philosopher, Alasdair MacIntyre, wrote two decades ago. The stranger within: On the idea of an educated public reflects on this situation, regarding the future shape of the university as a kind of public sphere in exile and a site of social and cultural interpenetration. At its centre is a revaluation of the Scottish tradition of 'democratic intellectualism', highlighted by George Davie in his book The democratic intellect (1961). Davie charts the gradual extinction in the Scottish universities of a type of higher education which encouraged breadth of study, public engagement and, through the compulsory study of philosophy, a concern with theory and ideas. The stranger within: On the idea of an educated public seeks to reframe this Scottish tradition and its associated ideal of an educated public in light of recent debates concerning cultural difference, the nation, imperialism and globalisation. It investigates how the radical social purpose inherent in the democratic intellect tradition might be re-vitalised to become a feature of higher education and of a more broadly based popular education worldwide. The book is underpinned by philosophical, social and cultural studies and it draws specifically on radical adult education practices related to social movements and to liberating knowledge 'from below'. It should be a valuable resource for academics from different disciples who wish to communicate across disciplines about key issues of the day; to managers in higher education who wish to counteract the fragmentation of disciplines; and to adult, community and lifelong education workers, and members of the wider public who seek strategies to counter current educational and 'lifelong learning' orthodoxies. Cover illustration: Cell 1, etching by Jo Ganter.
Sklep: Libristo.pl 133,68 zł
Książki / Literatura obcojęzyczna
As colleges and universities become more entrepreneurial in a post-industrial economy, they focus on knowledge less as a public good than as a commodity to be capitalized on in profit-oriented activities. In Academic Capitalism and the New Economy, higher education scholars Sheila Slaughter and Gary Rhoades detail the aggressive engagement of U.S. higher education institutions in the knowledge-based economy and analyze the efforts of colleges and universities to develop, market, and sell research products, educational services, and consumer goods in the private marketplace. Slaughter and Rhoades track changes in policy and practice, revealing new social networks and circuits of knowledge creation and dissemination, as well as new organizational structures and expanded managerial capacity to link higher education institutions and markets. They depict an ascendant academic capitalist knowledge/learning regime expressed in faculty work, departmental activity, and administrative behavior. Clarifying the regime's internal contradictions, they note the public subsidies embedded in new revenue streams and the shift in emphasis from serving student customers to leveraging resources from them. Defining the terms of academic capitalism in the new economy, this groundbreaking study offers essential insights into the trajectory of American higher education.
Sklep: Libristo.pl 146,60 zł
Inne 1
This text is a clarion call to policy-makers, business leaders, and the public at large to rethink the direction of the contemporary university. Paul Axelrod demonstrates that liberal education, the core of higher learning, is threatened by the constricting pressures of the marketplace and shows how political and economic pressures are redefining higher learning. Axelrod demonstrates how, in the race for riches B symbolized by endless rhetoric about the need for Canada to become globally competitive, technologically advanced, and proficient at churning out Aknowledge workers; our schools and universities are being forced by government policy to narrow their educational vistas. The decision-making autonomy that universities must have to provide cultural, intellectual, community-service, and training functions is being eroded. Values in Conflict explains why this is happening, and why it matters.
Sklep: Albertus.pl 65,10 zł
Książki / Literatura obcojęzyczna
As accountability expectations for schools, universities, and businesses rapidly take root in Westernized countries, the widespread importance of mentoring is indisputable. Current trends have escalated the role and practice of mentorship, aligning it with human performance, institutional reform, teacher education, leadership development, student learning, cultural diversity, and policy initiatives. Although already a hot topic in educational research, new policy and legislative changes for success within K-12 public schools and, with growing attention, higher education have secured the fate of mentorship. The Mentorship Primer raises awareness about the value of mentoring and presents its changing and complex meaning for students, educators, and leaders. This comprehensive introduction covers three broad areas: the foundations of mentorship, technical mentoring, and alternative mentoring. Anyone searching for guidance in their profession or for a clearer picture of mentorship in its myriad forms will benefit from reading this book, complete with glossaries and references.
Sklep: Libristo.pl
Sklepy zlokalizowane w miastach: Warszawa, Kraków, Łódź, Wrocław, Poznań, Gdańsk, Szczecin, Bydgoszcz, Lublin, Katowice
Szukaj w sklepach lub całym serwisie
2. Szukaj na wszystkich stronach serwisu
t1=0.057, t2=0, t3=0, t4=0.012, t=0.058