krainaksiazek the history and practice of the art of photography 20039791
- znaleziono 11 produktów w 6 sklepach 38,01 zł
Książki obcojęzyczne / angielskie
Sklep: Literacka.pl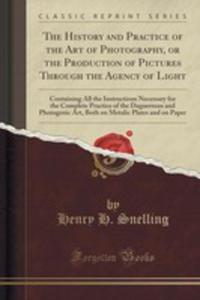 44,99 zł
Książki Obcojęzyczne>Nieprzypisane
0x00b3a98d00000000
Sklep: Gigant.pl 57,70 zł
Książki / Literatura obcojęzyczna
An unillustrated reprint of an edition of 1849.
Sklep: Libristo.pl 124,99 zł
Książki Obcojęzyczne>Nieprzypisane
0x000e9a6200000000
Sklep: Gigant.pl 37,13 zł
Książki
Sklep: KrainaKsiazek.pl 73,00 zł
WYDAWNICTWA ALBUMOWE > Fotografia
Art and Photography ISBN: 9780714863924 Autor: Campany David     Rok wydania: 2012-05-03 Ilość stron: 220 Oprawa: miękka Format: 290 x 250 mm Art and Photography is the first book of its kind to survey the major presence of photography at the centre of artistic practice from the 1960s onwards. On its invention, the photograph was considered a purely mechanical, an artless object that could not be included in the fine arts. Despite its increasing use by the twentieth century's most significant artists, only since the late 1960s have art museums gradually begun to exhibit and acquire the photograph as an artwork. Today photography is the pre-eminent artistic medium for contemporary artists. Survey David Campany provides a comprehensive historical overview of photography's place in twentieth-century art history. Works provides an extensive colour plate and duotone image section with extended captions for every artwork. Divided thematically, each chapter explores a different aspect of photography in twentieth-century culture, examining the diverse ways in which artists have explored and pushed boundaries. Among more than 190 examples of the most significant photographic projects by artists are works by John Baldessari, Lewis Baltz, Bernd & Hilla Becher, Christian Boltanski, Chris Burden, Victor Burgin, Sophie Calle, Elinor Carucci, Chuck Close, James Coleman, John Coplans, Gregory Crewdson, Philip Lorca DiCorcia, William Eggleston, Joan Fontcuberta, Lee Friedlander, Nan Goldin, Andreas Gursky, John Hilliard, Candida Höfer, Roni Horn, Barbara Kruger, Louise Lawler, Sherrie Levine, Richard Long, Robert Mapplethorpe, Annette Messager, Joel Meyerowitz, Duane Michals, Boris Mikhailov, Richard Misrach, Gabriel Orozco, Giuseppe Penone, Richard Prince, Gerhard Richter, Martha Rosler, Georges Rousse, Thomas Ruff, Ed Ruscha, Lucas Samaras, Andres Serrano, Cindy Sherman, Stephen Shore, Katharina Sieverding, Lorna Simpson, Thomas Struth, Hiroshi Sugimoto, Larry Sultan, Wolfgang Tillmans, Jeff Wall, Andy Warhol, Gillian Wearing, Boyd Webb, Carrie Mae Weems, William Wegman and Francesca Woodman. Documents contextualises the Works with original artists' statements and interviews, often reproduced in book form for the first time, plus writings on art and photography by leading critics, writers and theorists of the late twentieth century. Overview International in scope, Art and Photography is the most authoritative and wide-ranging survey on the place of photography in contemporary art and culture David Campany offers a unique insight into the ways in which the medium has transformed both art and vision Discusses photography
Sklep: Multistore24.pl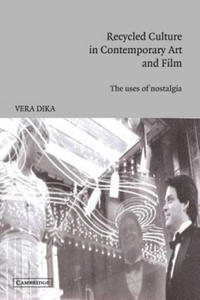 204,97 zł
Książki / Literatura obcojęzyczna
The reuse of images, plots and genres from film history has become prominent in contemporary culture. In this 2003 study, Vera Dika explores this phenomenon from a broad range of critical perspectives, examining works of art and film that resist the pull of the past. Dika provides an in-depth analysis of works in several media, including performance, photography, Punk film, and examples from mainstream American and European cinema. Proclaiming the renewed importance of the image and of genre, she investigates works as diverse as Cindy Sherman's Untitled Film Stills, Amos Poe's The Foreigner, Terence Malick's Badlands, and Francis Ford Coppola's One from the Heart. Her study positions avant-garde art work within the context of contemporary mainstream film practice, as well as in relationship to their historical moment.
Sklep: Libristo.pl 198,10 zł
Sztuka
As accessibility and understanding of electronic media grows, its use by artists becomes more widespread. Yet the art world, both critically and practically, was initially slow to accept this emergence - new technology is potentially alienating and esoteric. Edward A. Shanken gives a lucid evaluation of the subject, contextualizing it in a broader art-historical and political framework. A comprehensive survey, his essay also addresses the reaction, development and future of artistic practice in the face of new technology, and how art can 'humanize and mythologize' science. Divided into seven thematic sections, the book follows a broadly chronological approach.The seven sections of this survey include: light, space, motion, time which lays the foundations in the early twentieth century, artists introduced motion and light into their work, defying the traditional concept of art as static, lit object - the jump-off point for interactive art incorporating digital media; Coded Form and Electronic Production which shows how the emergence of computer graphics and electronic photocopying (1950s and 1960s), and high resolution digital photography, printing and rapid prototyping (1980s and 1990s) expanded the possibilities for artistic production and reproduction, challenging notions of originality and creativity; Simulation and Simulacra which describes the interactive exchanges allowed by virtual reality, engaging audiences with simulated forms and environments, playing on the trompe-l'oeil verisimilitude of art history.Sections also include Electronic Environments which is distinctly different from virtual reality outlines performances enacted in electronic environments that enable audience feedback to influence the unfolding of various elements or demonstrate the politicized contexts in which the media (and the mass media in particular) operate. This work also includes sections such as: Networks, Surveillance, Culture Jamming which discusses public access cable television, satellite transmissions, and especially the union of computers and telecommunications, and how these have led to exchange, transfer and collaborative creation; Bodies, Surrogates, and Emergent Systems which questions the distinction between real and artificial, as artists join their bodies (and/or those of their audiences) with electronic media, creating cyborgs and robots in order to examine human existence; and, Exhibitions, Institutions and Communities which looks at how technical requirements and financial overheads demand close collaboration between artists, scientists and engineers, shaping production, reception and historicization
Sklep: Albertus.pl 116,21 zł
Still Moving COMBINED ACADEMIC PUBLISHERS
Książki / Literatura obcojęzyczna
In "Still Moving" noted artists, filmmakers, art historians, and film scholars explore the boundary between cinema and photography. The interconnectedness of the two media has emerged as a critical concern for scholars in the field of cinema studies responding to new media technologies, and for those in the field of art history confronting the ubiquity of film, video, and the projected image in contemporary art practice. Engaging still, moving, and ambiguous images from a wide range of geographical spaces and historical moments, the contributors to this volume address issues of indexicality, medium specificity, and hybridity as they examine how cinema and photography have developed and defined themselves through and against one another.Foregrounding the productive tension between stasis and motion, two terms inherent to cinema and to photography, the contributors trace the shifting contours of the encounter between still and moving images across the realms of narrative and avant-garde film, photography, and installation art. "Still Moving" suggests that art historians and film scholars must rethink their disciplinary objects and boundaries, and that the question of medium specificity is a necessarily interdisciplinary question. From a variety of perspectives, the contributors take up that challenge, offering new ways to think about what contemporary visual practice is and what it will become. The contributors include: George Baker; Rebecca Baron; Karen Beckman; Raymond Bellour; Zoe Beloff; Timothy Corrigan; Nancy Davenport; Atom Egoyan; Rita Gonzalez; Tom Gunning; Louis Kaplan; Jean Ma; and, Juan A. Suarez.
Sklep: Libristo.pl 126,80 zł
At a Distance MIT Press Massachusets Institute of Tech nology
Sztuka
Networked collaborations of artists did not begin on the Internet. In this multidisciplinary look at the practice of art that takes place across a distance -- geographical, temporal, or emotional -- theorists and practitioners examine the ways that art, activism, and media fundamentally reconfigured each other in experimental networked projects of the 1970s and 1980s. By providing a context for this work -- showing that it was shaped by varying mixes of social relations, cultural strategies, and political and aesthetic concerns -- At a Distance effectively refutes the widely accepted idea that networked art is technologically determined. Doing so, it provides the historical grounding needed for a more complete understanding of today's practices of Internet art and activism and suggests the possibilities inherent in networked practice. At a Distance traces the history and theory of such experimental art projects as Mail Art, sound and radio art, telematic art, assemblings, and Fluxus. Although the projects differed, a conceptual questioning of the "art object," combined with a political undermining of dominant art institutional practices, animated most distance art. After a section that sets this work in historical and critical perspective, the book presents artists and others involved in this art "re-viewing" their work -- including experiments in "mini-FM," telerobotics, networked psychoanalysis, and interactive book construction. Finally, the book recasts the history of networks from the perspectives of politics, aesthetics, economics, and cross-cultural analysis. Annmarie Chandler is Director of Emerging Field in New Media and Digital Culture at University of Technology, Sydney, Australia. Norie Neumark is Associate Professor of Media Arts and Production at University of Technology, Sydney, Australia."The book is an exhilarating, eye-opening read that restores the body to the virtual and pulls the virtual out of the digital and back into lived and produced social relations." -- Patricia R. Zimmermann, Department of Cinema and Photography, Ithaca College
Sklep: Albertus.pl 299,28 zł
Książki / Literatura obcojęzyczna
With a diverse oeuvre ranging from painting to mixed-media installations to performance, video, and photography, Maria Magdalena Campos-Pons is one of the most significant artists to emerge from post-Revolutionary Cuba. Her evocative works probe questions of race, class, cultural hybridism, and national identities in African diasporic communities. "Maria Magdalena Campos-Pons: Everything Is Separated by Water" is the first full-scale survey of the artist's career. The title, borrowed from one of her works, evokes at once the dangerous sea crossings faced by her enslaved ancestors from Africa and her Cuban contemporaries seeking greater freedom in America, and the sense of dislocation felt when physical and geo-political barriers divide family and friends, past and future. Lisa Freiman considers how Campos-Pons's practice, which is predicated on concepts of separation, memory, and fragmentation, developed and transformed from her artistic training and early production in Cuba in the 1980s through her move to the United States in 1991 and her subsequent recognition as a major figure in the international art world. Okwui Enwezor interprets Campos-Pons's expressive materials, reassembled fragments of lost traditions and symbols, and memories of personal and collective history, religion, and mythology, within the context of post-colonial theory. Handsomely designed and produced, this book offers an unprecedented opportunity to assess the significance and import of this challenging artist's work.
Sklep: Libristo.pl
Sklepy zlokalizowane w miastach: Warszawa, Kraków, Łódź, Wrocław, Poznań, Gdańsk, Szczecin, Bydgoszcz, Lublin, Katowice
Szukaj w sklepach lub całym serwisie
2. Szukaj na wszystkich stronach serwisu
t1=0.062, t2=0, t3=0, t4=0.021, t=0.062