krainaksiazek the hummus cookbook 100 delicious hummus recipes 20094670
- znaleziono 5 produktów w 1 sklepie 100,55 zł
Książki / Literatura obcojęzyczna
Not just a name on a yoghurt pot, Yeo Valley is a real organic farm in the picturesque West Country. In this stunning book the family behind this very twenty-first-century farm serve up a slice of the good life, with a collection of over 100 mouthwatering recipes inspired by the traditions of the British farmhouse kitchen. From soups and pates to stews, casseroles, roasts, and pies, and from tarts and crumbles to puddings, cakes, breads, jams and chutneys, seasonal produce from the kitchen garden and rural surroundings is used to present a wonderful range of simple, heartwarming and tasty dishes. Informed by rural Britain's superb culinary heritage but given a modern twist, recipes range from Cheddar Farls Stuffed with Fried Eggs and Crispy Bacon to Broad Bean Hummus Toasts, Somerset Scrumpy Cake to Eton Mess Semifreddo, capturing the true taste of today's country cooking and bringing the fresh ingredients and seasonal flavours of a farmhouse kitchen into your own home. Stuffed full of details on selecting the best ingredients, eating seasonally and foraging, this book is an invaluable source of information as well as a delicious collection of recipes. Journeying from the dairy, farmyard and vegetable garden into the fields, hedgerows and woods and back to the kitchen to prepare a feast of home-grown produce, wild foods and quality local ingredients Yeo Valley's The Great British Farmhouse Cookbook is a celebration of modern country living and how to get involved with the land and the food you eat.
Sklep: Libristo.pl 81,56 zł
Książki / Literatura obcojęzyczna
Ninja Blender Cookbook:Fast Healthy Blender Recipes for Soups, Sauces, Smoothies, Dips, and More Make the most of your Ninja high-speed blender! While the Ninja blender is great for making smoothies it has the potential to be used for so much more! This book contains a huge selection of delicious recipes that can all be made quickly and easily in your Ninja Blender including: -Almond Milk -Coconut Milk -Maple-Pecan Milk -Almond Flour -Sweet Vanilla Roasted Cashew Butter -Dark Chocolate Hazelnut Butter -Spicy Chicken Burgers -Lentil Quinoa Burgers -Walnut-Rice Burgers -Chickpea, Sesame, and Carrot Burger -Ginger-Spiced Salmon Burgers -Creamy Coconut-Pumpkin Soup -Roasted Butternut Squash Soup -Fresh Tomato Soup -Artichoke-Spinach Dip -Hummus -Olive Tapenade -Lemon-Dill Yogurt Dressing -Garlicky Ranch Dressing -Raspberry Wine Vinaigrette -Pesto Rosso -Pineapple Coconut Banana Smoothie -Orange Papaya Carrot Smoothie -Lemon Sorbet -Triple Berry Sorbet -And Many More!
Sklep: Libristo.pl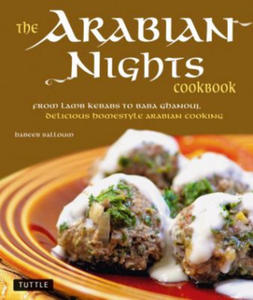 113,42 zł
Książki / Literatura obcojęzyczna
For untold centuries, the Bedouin of the Arabian Peninsula, in their desert tents, have served their honored guests lavish meals featuring roasted lamb with rice. Arab hospitality has not changed over the ages but the cuisine has undergone a remarkable evolution in the last 100 years, making it extremely diverse. This diversity is due, in part, to the thriving petroleum industry which has drawn people--along with their foods and cooking methods--from around the world. The blending of these culinary worlds has produced something remarkable. In "The Arabian Nights Cookbook," author Habeeb Salloum has compiled an amazing array of recipes that celebrate this blending of cultures while still making it compatible with the everyday kitchens of the Western world. From the familiar, Hummus Bi-Tahini, to the unique, Stuffed Lamb, Salloum offers an accessible world of savory tastes and memory provoking aromas.
Sklep: Libristo.pl 78,35 zł
Książki / Literatura obcojęzyczna
The first step to becoming healthier can often be the hardest to take. The Ultimate Paleo Collection helps ease this transition by providing a fantastic starting point with a detailed menu covering breakfast, lunch, and dinner ideas over a four-week period. There's no better way to begin your road to success than with these simple, flavorful meals. Within The Ultimate Paleo Collection, readers will find a wide range of recipes covering every meal from breakfast to lunch and dinner, including scrumptious grain-free, gluten-free appetizers and desserts. Some of the delicious choices you'll find in this collection are: * Delicious quiche cups * Hearty sauteed peach salad * Grilled chicken breasts with garlic * Garlic hummus * Chocolate coconut pudding * And many different muffin, bread, and pancake recipes! Also included in this cookbook is an overview of the paleo lifestyle that will give you a quick, easy-to-follow guide of the recommended foods and the ones to avoid. Learn how to transform some of your favorite traditional dishes like waffles and muffins into paleo-friendly ones. Improving your health has never been easier!
Sklep: Libristo.pl 90,89 zł
Książki / Literatura obcojęzyczna
If you thought you had to be a nutritionist to figure out a vegetarian diet, it's actually a lot simpler than you think. Eating vegetarian, in addition to being healthy and delicious, is just plain fun. Discovering new and exotic vegetables like celeriac or kohlrabi will widen your palate as well as your sense of adventure in the kitchen. Plus, vegetarian cuisine is chockfull of dishes that are robust and flavorful, and a match for any standard meat dish. And, most important of all, eating a plateful of vegetarian lasagne or pasta primavera, or any other scrumptious dish prepared vegetarian style will let you indulge without guilt! With Vegetarian Cooking For Dummies, you'll get the skinny on just what lacto-ovo, lacto, and just plain vegan diets are all about and how to create nutritious meals from the rich cornucopia of whole grains, legumes, vegetables, fruits, nuts and seeds, and dairy and egg substitutes that are the staple of the vegetarian menu. You'll also find out: How to get your full complement of protein and vitamins, including calcium, iron, C, B12, and zinc and from what, often surprising, food sources How to successfully convert to a vegetarian diet How to stock up a vegetarian pantry including tips on where to shop, starting a kitchen garden, as well as handy weekly and monthly food lists Vegetarian cooking basics including preparing ingredients, cooking beans and grains, handling tofu and tempeh, washing and cutting fruits and vegetables Simple cooking techniques including baking, boiling, steaming, sauteing, and stewing The ins and outs of vegetarian etiquette Not only will you become fully acquainted with the new and delicious world of meat replacements (like tofu, tempeh, seitan, textured vegetable protein, veggie burgers and franks) and egg, dairy, yogurt and cheese substitutes, you'll see how truly simple and enjoyable cooking vegetarian can be. With over delicious 100 recipes, you'll find yourself choosing among such soon-to-be favorites as: Smoothie snacks including a Caramel Apple Smoothie and a Winter Berry Smooth Breakfast dishes including Savory Mushroom Tofu Quiche, Healthy Pancakes, and French Toasties Delicious dips including Hummus, Baba Ghanouj, and Fresh Avocado and Lime Dip Soups for all seasons including Vegetarian Chili with Cashews and Southern Sweet Onion Soup Scrumptious salads including Festive Broccoli Salad, Tofu Salad, and Lentil Vinaigrette Salad Entrees for everyone including Basic Bean Burritos, Spinach and Mushroom Manicotti, Garden Pizza, and Tempeh Sloppy Joes Full of tips on adapting traditional recipes to vegetarian style cooking, plus a spicy spin on old standbys like Home Fries, Vegetarian Cooking For Dummies lets you reinvent the vegetarian lifestyle to suit your needs and tastes. With pages of full-color photos, black-and-white how-to illustrations, and humorous cartoons along the way, this fun, informative, and upbeat guide makes every meal an exciting step in the journey toward lifelong health.
Sklep: Libristo.pl
Sklepy zlokalizowane w miastach: Warszawa, Kraków, Łódź, Wrocław, Poznań, Gdańsk, Szczecin, Bydgoszcz, Lublin, Katowice
Szukaj w sklepach lub całym serwisie
2. Szukaj na wszystkich stronach serwisu
t1=0.033, t2=0, t3=0, t4=0, t=0.033