krainaksiazek the influence of gothic literature 20039641
- znaleziono 5 produktów w 1 sklepie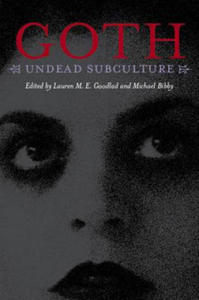 136,62 zł
Kniha Goth Duke University Press
Książki / Literatura obcojęzyczna
Since it first emerged from Britain's punk-rock scene in the late 1970s, goth subculture has haunted postmodern culture and society, reinventing itself inside and against the mainstream. Goth: Undead Subculture is the first collection of scholarly essays devoted to this enduring yet little examined cultural phenomenon. Twenty-three essays from various disciplines explore the music, cinema, television, fashion, literature, aesthetics, and fandoms associated with the subculture. They examine goth's many dimensions - including its melancholy, androgyny, spirituality, and perversity - and take readers inside locations in Los Angeles, Austin, Leeds, London, Buffalo, New York City, and Sydney. A number of the contributors are or have been participants in the subculture and several draw on their own experiences. The editors provide a rich history of goth, describing its play of resistance and consumerism, its impact on class, race, and gender, and its distinctive features as an "undead" subculture in light of post-subculture studies and other critical approaches. The essays include an interview with the distinguished fashion historian Valerie Steele; analyses of novels by Anne Rice, Poppy Z. Brite, and Nick Cave; discussions of goths on the Internet; and readings of iconic goth texts from Bram Stoker's Dracula to James O'Barr's graphic novel The Crow. Other essays focus on gothic music - including seminal precursors such as Joy Division and David Bowie - and goth-influenced performers such as the Cure, Nine Inch Nails, and Marilyn Manson. Gothic sexuality is explored in multiple ways, from the San Francisco queercore scene of the 1980s to the increasing influence of fetishism and fetish play. Together these essays demonstrate that while its participants are often middle-class suburbanites, goth blurs normalizing boundaries even as it appears as an everlasting shadow of late capitalism.
Sklep: Libristo.pl 265,75 zł
Książki / Literatura obcojęzyczna
The author offers an accessible overview of the vibrant personal and intellectual developments in the medieval court and monasteries during Eleanor of Aquitaine's lifetime. Primary documents, biographical material and thematic chapters bring this unique period to life. Eleanor of Aquitaine lived in a remarkable age. The 12th century saw significant advances in both the intellectual and emotional spheres. Scholars explored new areas of philosophy and science and also began to reflect on relationships and what it meant to be human and an individual. For the troubadours and the writers of the new romances, who composed in vernacular language, the focus of their works was the expression of personal feelings and the image of the feminine. Women had had more significant parts to play in the first millennium than in the second, because with the militarization of Europe and the emergence of universities, from which women were excluded, they lost much of their influence. This created an imbalance in society and it is within this context that Eleanor's life should be reviewed. The period is sometimes called the Twelfth Century Awakening due to the outpouring of extraordinary intellectual inquiry and discovery. Cathedral schools and universities, Islamic influence on European thought, the classical revival, vernacular literature, and Gothic architecture all exerted powerful pulls on the era's culture and politics. Accounts of Eleanor of Aquitaine's life provides a rare glimpse into women's lives during the medieval period, and though an admittedly extraordinary figure, we are able to draw some general conclusions about marriage and motherhood. Troubadours and courtly love, which revolved around declarations of service, devotion, and passion, and an emerging sense of the self. Thematic chapters hit the major topics, laying them out in clear and easy-to-follow writing. Nineteen biographical sketches bring to life the topics, and 15 primary documents, including songs, letters, and poems provide a close-up glimpse of how the people of the time saw their own world. Genealogical tables, maps, chronology, and a timeline provide useful and information quickly. The book concludes with an annotated bibliography and an index.
Sklep: Libristo.pl 72,30 zł
Dracula Indoeuropeanpublishing.com
Książki / Literatura obcojęzyczna
Dracula is an 1897 novel by Irish author Bram Stoker, featuring as its primary antagonist the vampire Count Dracula. It was first published as a hardcover in 1897 by Archibald Constable and Co. Dracula has been attributed to many literary genres including vampire literature, horror fiction, the gothic novel and invasion literature. Structurally it is an epistolary novel, that is, told as a series of letters, diary entries, ships' logs, etc. Literary critics have examined many themes in the novel, such as the role of women in Victorian culture, conventional and conservative sexuality, immigration, colonialism, postcolonialism and folklore. Although Stoker did not invent the vampire, the novel's influence on the popularity of vampires has been singularly responsible for many theatrical, film and television interpretations throughout the 20th and 21st centuries.
Sklep: Libristo.pl 119,69 zł
Książki / Literatura obcojęzyczna
Romanticism was "a way of feeling" rather than a style in art in the period c.1775-1830. Against the background of the French Revolution and Napoleonic Wars, artists, poets and composers across Europe initiated their own rebellion against the dominant political, religious and social ethos of the day. Their quest was for personal expression and individual liberation, directness and spontaneity, with an emphasis on the unique integrity of every work. In the process, the Romantics changed the idea of art, seeing it as an instrument of social and psychological change. In this comprehensive volume, David Blayney Brown takes a thematic approach to this fascinating period of art history, relating it to the concurrent, more stylistic movements of Neoclassicism and the Gothic Revival, and discussing its integral relationship with the political and social developments of the era. He not only looks at how artists as diverse as Goya in Spain, Delacroix in France, Friedrich in Germany and Turner in Britain responded to landscapes or depicted historical events, but also examines artists such as David and Ingres who are not usually considered Romantics. Brown examines the influence of Romantic ideas on American artists and concludes with an analysis of the universal relevance of Romantic ideas. As a result, the reader is given an understanding of a movement that produced some of the greatest and most inspiring European art, literature and music.
Sklep: Libristo.pl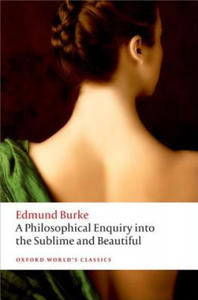 29,15 zł
Książki / Literatura obcojęzyczna
'Pain and pleasure are simple ideas, incapable of definition.' In 1757 the 27-year-old Edmund Burke argued that our aesthetic responses are experienced as pure emotional arousal, unencumbered by intellectual considerations. In so doing he overturned the Platonic tradition in aesthetics that had prevailed from antiquity until the eighteenth century, and replaced metaphysics with psychology and even physiology as the basis for the subject. Burke's theory of beauty encompasses the female form, nature, art, and poetry, and he analyses our delight in sublime effects that thrill and excite us. His revolution in method continues to have repercussions in the aesthetic theories of today, and his revolution in sensibility has paved the way for literary and artistic movements from the Gothic novel through Romanticism, twentieth-century painting, and beyond. In this new edition Paul Guyer conducts the reader through Burke's Enquiry, focusing on its place in the history of aesthetics and highlighting its innovations, as well as its influence on many subsequent authors from Kant and Schiller to Ruskin and Nietzsche. ABOUT THE SERIES: For over 100 years Oxford World's Classics has made available the widest range of literature from around the globe. Each affordable volume reflects Oxford's commitment to scholarship, providing the most accurate text plus a wealth of other valuable features, including expert introductions by leading authorities, helpful notes to clarify the text, up-to-date bibliographies for further study, and much more.
Sklep: Libristo.pl
Sklepy zlokalizowane w miastach: Warszawa, Kraków, Łódź, Wrocław, Poznań, Gdańsk, Szczecin, Bydgoszcz, Lublin, Katowice
Szukaj w sklepach lub całym serwisie
2. Szukaj na wszystkich stronach serwisu
t1=0.023, t2=0, t3=0, t4=0, t=0.024