krainaksiazek the influence of gothic literature 20039641
- znaleziono 13 produktów w 2 sklepach 50,34 zł
Książki
Sklep: KrainaKsiazek.pl 50,42 zł
Książki
Sklep: KrainaKsiazek.pl 496,54 zł
Książki / Literatura obcojęzyczna
American Gothic Art and Architecture in the Age of Romantic Literature analyses the influence of British Gothic novels and historical romances on American art and architecture in the Romantic era. American artists and architects were among the most avid readers of Gothic fiction, which in turn informed their artistic output. In a period of increasing nationalism, the Gothic Revival architectural style in particular served to legitimise the American landscape with the materiality of European culture. At the core of this book is an analysis of American architecture in the late eighteenth and early nineteenth centuries, an understudied era. Key figures include Thomas Jefferson, Washington Allston, Alexander Jackson Davis, James Fenimore Cooper, Washington Irving, Thomas Cole, Edwin Forrest, and Nathaniel Hawthorne. Hawthorne articulated the subject of this book when he wrote that he could understand Sir Walter Scott's romances better after viewing Scott's Gothic Revival house Abbotsford, and he understood the house better for having read the romances. From the very beginning, the Gothic Revival has been a phenomenon that crosses modern disciplinary boundaries. The groundwork in Gothic literary scholarship allows us to move beyond literature to examine how the Gothic seeps into other forms of artistic creation. This interdisciplinary book investigates the symbiotic relationship between the arts and Gothic literature to reveal new interpretative possibilities.
Sklep: Libristo.pl 496,54 zł
Książki / Literatura obcojęzyczna
This book examines the rise of Fantastic literature on the continent in the nineteenth century, the development of a European Gothic and the influence which this exerted on British writers. By examining writers like Nodier, Hoffmann, Gautier, Feval and Stevenson, the book argues firstly how their writings subvert entirely the view of the Fantastic accepted by Todorov, Punter and others, to show that it is the reversal of a pre-Enlightenment, spiritual world-view which causes terror in these works, and further demonstrates that Gothic novels frequently use allusion and anachronism to portray a cyclical view of history opposed to that of Scott.
Sklep: Libristo.pl 308,94 zł
Książki / Literatura obcojęzyczna
The literature of terror and horror continues to fascinate readers both casual and more critical, and it has long been recognised as an international, not merely British, phenomenon. This study provides an in-depth and text-based analysis of Gothic fiction in France and Germany from earlier literary traditions, through the influence of the English Gothic novel, to an extraordinary popularity and dominance by the end of the eighteenth century. It examines how some of the motifs most closely associated with the Gothic - secret societies, the supernatural and suspense, among others - are the product of an uncertain age, and how the use of those motifs differed not just across languages and borders, which in fact the Gothic often crossed with ease, but according to the views, concerns and sometimes insecurities of individual authors. What emerges is a complex genre more diverse than any 'list of Gothic ingredients' would have us believe. Many of the notions and devices explored by the French and German Gothic then continue to intrigue, disturb and unsettle today.
Sklep: Libristo.pl 83,58 zł
Książki / Literatura obcojęzyczna
This is the perfect study guide to Shelley's classic gothic novel, "Frankenstein" - a key text for introductory literature courses at undergraduate level.Mary Shelley's classic gothic novel, "Frankenstein", is one of the most widely studied and read novels in English Literature. Aside from its key position in the English Literature canon and its wide cultural influence, the novel has been the subject of a vast array of interpretations and so leaves students needing guidance through this maze of reading.This guide offers an authoritative, up-to-date guide for students, introducing its context, language, themes, criticism and afterlife, leading students to a more sophisticated understanding of the text. It is the ideal guide to reading and studying the novel, setting "Frankenstein" in its historical, intellectual and cultural contexts, offering analyses of its themes, style and structure, providing exemplary close readings and presenting an up-to-date account of its critical reception.It also includes an introduction to "Frankenstein's" substantial history as an adapted text on stage and screen and its wider influence in film and popular culture. It includes points for discussion, suggestions for further study and an annotated guide to relevant reading."Continuum Reader's Guides" are clear, concise and accessible introductions to key texts in literature and philosophy. Each book explores the themes, context, criticism and influence of key works, providing a practical introduction to close reading, guiding students towards a thorough understanding of the text. They provide an essential, up-to-date resource, ideal for undergraduate students.
Sklep: Libristo.pl 339,76 zł
Książki / Literatura obcojęzyczna
The tradition of supernatural horror fiction runs deep in Anglo-American literature. From the Gothic novels of the eighteenth century to such contemporary authors as Stephen King and Anne Rice, writers have employed horror fiction to unearth many disquieting truths about the human condition, ranging from mistreatment of women and minorities to the ever-present dangers of modern city life. In Journeys into Darkness: Critical Essays on Gothic Horror, James Goho analyzes many significant writers and trends in American and British horror fiction. Beginning with Charles Brockden Brown's disturbing novels of terror and madness, Goho proceeds to discuss the influence of Edgar Allan Poe's "The Fall of the House of Usher" on H. P. Lovecraft, who is treated in several penetrating essays. Lovecraft was a uniquely philosophical writer, and Goho approaches his work through the lens of existentialist philosopher Soren Kierkegaard, while also probing Lovecraft's racism as exhibited in several tales about Native Americans. Goho also discusses the Welsh writer Arthur Machen's tortured tales of suffering and evil and Algernon Blackwood's numerous stories set in the wilds of the Canadian backwoods. The book concludes with a centuries-spanning essay on the witchcraft theme in the American Gothic tradition and a comprehensive essay on Fritz Leiber's invention of the urban Gothic. In this wide-ranging study, James Goho examines the varied ways in which supernatural fiction can address the deepest moral, social, and political concerns of the human experience. Journeys into Darkness will be of interest to readers and scholars of horror fiction and to students of literary history and culture in general.
Sklep: Libristo.pl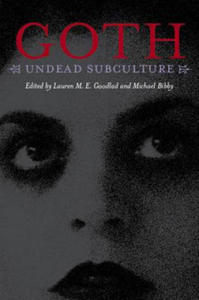 135,84 zł
Kniha Goth Duke University Press
Książki / Literatura obcojęzyczna
Since it first emerged from Britain's punk-rock scene in the late 1970s, goth subculture has haunted postmodern culture and society, reinventing itself inside and against the mainstream. Goth: Undead Subculture is the first collection of scholarly essays devoted to this enduring yet little examined cultural phenomenon. Twenty-three essays from various disciplines explore the music, cinema, television, fashion, literature, aesthetics, and fandoms associated with the subculture. They examine goth's many dimensions - including its melancholy, androgyny, spirituality, and perversity - and take readers inside locations in Los Angeles, Austin, Leeds, London, Buffalo, New York City, and Sydney. A number of the contributors are or have been participants in the subculture and several draw on their own experiences. The editors provide a rich history of goth, describing its play of resistance and consumerism, its impact on class, race, and gender, and its distinctive features as an "undead" subculture in light of post-subculture studies and other critical approaches. The essays include an interview with the distinguished fashion historian Valerie Steele; analyses of novels by Anne Rice, Poppy Z. Brite, and Nick Cave; discussions of goths on the Internet; and readings of iconic goth texts from Bram Stoker's Dracula to James O'Barr's graphic novel The Crow. Other essays focus on gothic music - including seminal precursors such as Joy Division and David Bowie - and goth-influenced performers such as the Cure, Nine Inch Nails, and Marilyn Manson. Gothic sexuality is explored in multiple ways, from the San Francisco queercore scene of the 1980s to the increasing influence of fetishism and fetish play. Together these essays demonstrate that while its participants are often middle-class suburbanites, goth blurs normalizing boundaries even as it appears as an everlasting shadow of late capitalism.
Sklep: Libristo.pl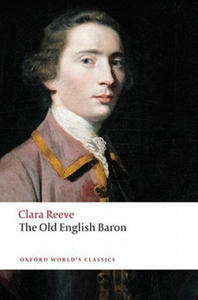 39,56 zł
Książki / Literatura obcojęzyczna
'Though I have been dead these fifteen years, I still command here, and none can enter these gates without my permission.' When Sir Philip Harclay returns to England after a long absence, he finds that his childhood friend, Arthur, Lord Lovel, is no longer alive, and that the castle and estates of the Lovel family have twice changed hands. But a mysteriously abandoned set of rooms in the castle of Lovel promises to disclose the secrets of the past. After a series of frantic episodes and surprising revelations, culminating in a trial by combat, the crimes of the usurper and the legitimacy of the true heir are finally discovered. 'The literary offspring of the castle of Otranto', as Reeve described it, The Old English Baron provides an ambitious rewriting of Horace Walpole's groundbreaking work, transporting the trappings of the Gothic to medieval England. Innovative and original in its day, Reeve's historical romance is increasingly recognized as a major influence on the development of Gothic fiction. ABOUT THE SERIES: For over 100 years Oxford World's Classics has made available the widest range of literature from around the globe. Each affordable volume reflects Oxford's commitment to scholarship, providing the most accurate text plus a wealth of other valuable features, including expert introductions by leading authorities, helpful notes to clarify the text, up-to-date bibliographies for further study, and much more.
Sklep: Libristo.pl 574,84 zł
Książki / Literatura obcojęzyczna
G. W. M. Reynolds (1814-1879) had a major impact on the mid-Victorian era that until now has been largely unacknowledged. A prolific novelist whose work had a massive circulation, and an influential journalist and editor, he was a man of contradictions in both his life and writing: a middle-class figure who devoted his life to working class issues but seldom missed a chance to profit from the exploitation of current issues; the founder of the radical newspaper "Reynolds Weekly", as well as a bestselling author of historical romances, gothic and sensation novels, oriental tales, and domestic fiction; a perennial bankrupt who nevertheless ended his life prosperously.A figure of such diversity requires a collaborative study. Bringing together a distinguished group of scholars, this volume does justice to the full range of Reynolds' achievement and influence. With proper emphasis on new work in the field, the contributors take on Reynolds's involvement with Chartism, serial publication, the mass market periodical, commodity culture, and the introduction of French literature into British consciousness, to name just a few of the topics covered. "The Mysteries of London", the century's most widely read serial, receives the extensive treatment this long-running urban gothic work deserves. Adding to the volume's usefulness are comprehensive bibliographies of Reynolds's own writings and secondary criticism relevant to the study of this central figure in mid-nineteenth-century Britain.
Sklep: Libristo.pl 145,73 zł
Książki / Literatura obcojęzyczna
This study presents an account of all available extant novels of the year 1800 with a view to establishing the literary concerns and conventions that figure prominently in German popular literature towards the end of the 18th century. This cross-cut in depth provides an overview in terms of types: the Gothic, satirical, love and adventure, character and education, and historical; and in terms of themes, methods and concerns, as exemplified by subcategories of the Gothic, satirical targets, middle class attitudes, and narrative approaches. Of special interest is the investigation of the Romantic influence on popular writers. In addition, this volume constitutes a handy reference work, permitting speedy orientation among and convenient access to the 126 novels that are discussed and categorized in the main body of the text and in four appendices.
Sklep: Libristo.pl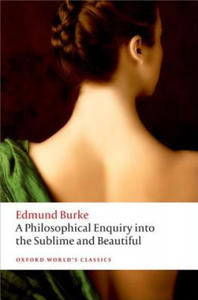 29,51 zł
Książki / Literatura obcojęzyczna
'Pain and pleasure are simple ideas, incapable of definition.' In 1757 the 27-year-old Edmund Burke argued that our aesthetic responses are experienced as pure emotional arousal, unencumbered by intellectual considerations. In so doing he overturned the Platonic tradition in aesthetics that had prevailed from antiquity until the eighteenth century, and replaced metaphysics with psychology and even physiology as the basis for the subject. Burke's theory of beauty encompasses the female form, nature, art, and poetry, and he analyses our delight in sublime effects that thrill and excite us. His revolution in method continues to have repercussions in the aesthetic theories of today, and his revolution in sensibility has paved the way for literary and artistic movements from the Gothic novel through Romanticism, twentieth-century painting, and beyond. In this new edition Paul Guyer conducts the reader through Burke's Enquiry, focusing on its place in the history of aesthetics and highlighting its innovations, as well as its influence on many subsequent authors from Kant and Schiller to Ruskin and Nietzsche. ABOUT THE SERIES: For over 100 years Oxford World's Classics has made available the widest range of literature from around the globe. Each affordable volume reflects Oxford's commitment to scholarship, providing the most accurate text plus a wealth of other valuable features, including expert introductions by leading authorities, helpful notes to clarify the text, up-to-date bibliographies for further study, and much more.
Sklep: Libristo.pl 365,81 zł
Książki / Literatura obcojęzyczna
Sewers, commuters, corpses and revolutionaries intermingle in this heady and pungent exploration of subterranean spaces. The construction of London's underground sewers, underground railway and suburban cemeteries created seismic shifts in the geography and the psychological apprehension of the city. Yet, why are there so few literary and aesthetic interventions in Victorian representations of subterranean spaces? What is London's answer to the Parisian sewers of Victor Hugo or the unflinching realism of Emile Zola's underworld? Where is the great English underground novel? This book explores this elision not as an absence of imaginative output, but a presence and plenitude of anxiety and fears that haunt the pages of Charles Dickens, George Gissing, Bram Stoker and Mary Elizabeth Braddon. The way these writers negotiated the dirt and messiness of underground spaces reveals not only the emergence of Gothic, socialist, and modernist sensibilities, but the way all modern cities deal with what is unseen, intangible and inarticulable. It is an interdisciplinary study that explores Victorian maps, guidebooks and advertisements, alongside literature, journals and art to bring the period to life. It draws on modern critical frameworks of Derrida, Lefebvre, and Kristeva to recover and to conceptualize the lost spaces of the Victorian city. It redefines 'underground' beyond its spatial usage to look at the emergence of underground revolutionary movements in fin-de-siecle London. It argues for the distinctiveness of London's underground culture and its influence on other global cities.
Sklep: Libristo.pl
Sklepy zlokalizowane w miastach: Warszawa, Kraków, Łódź, Wrocław, Poznań, Gdańsk, Szczecin, Bydgoszcz, Lublin, Katowice
Szukaj w sklepach lub całym serwisie
2. Szukaj na wszystkich stronach serwisu
t1=0.045, t2=0, t3=0, t4=0, t=0.045