krainaksiazek the inner work of birth 20091515
- znaleziono 10 produkty w 1 sklepie 217,55 zł
Książki / Literatura obcojęzyczna
OF TIME AND THE TIMELESS uncovers the limitations of our temporal conditioning, which the author explores in the light of a timeless perception that is firmly rooted in the present. The resulting narrative is both intimate and universal, making it accessible to a wide selection of readers who are interested in exploring the essential relationship between inner freedom and the perceptive life. Exploring the significance of causality and change in our lives is never the exclusive province of science or philosophy. When we are done with all the theories, how do we perceive change both within ourselves and in the world around us? A history of spiritual currents in the 20th century and what these reveals about the metaphysics of change itself. This richly illustrated narrative explores the essential relationship between inner freedom and the perceptive life. It is both a spiritual history of the twentieth century, and a personal exploration of the nature of timeless transformation. It includes a study of the life and work of Annie Besant, an examination of the role of Theosophy in the spiritual history of the twentieth century, and the importance of J. Krishnamurti as a dramatic figure of emergent change. Adapted selections from the work: Human affairs can appear insignificant when set against the awesome depth of the night sky. Yet the cosmic drama we see unfolding in the birth and death of stars and the distant evolution of countless worlds is deeply rooted within us. In an age distinguished as much by fear as by the extraordinary advance of science and technology, a momentous conjunction of the irreconcilable has now settled on human affairs. We reach for the stars and turn our backs on those who can barely scratch a living. Haunted by dark forecasts of environmental catastrophe, few would doubt that the last waves of progressive optimism that followed in the wake of the Industrial Revolution are all but spent in the harsh realities of today's world. Rich or poor or just getting by, we are haunted by a largely subconscious background of fear and insecurity, which has so far proved resistant to the rational constraints we attempt to impose on them. If we personally feel that we have lost, never had, or only dreamt of what is truly sacred in life, then the awesome difficulties of our time serve well to remind us how hidebound we have become to a profane and materialistic concept of living. For those who retain the privilege of choice, life has become a sophisticated confusion of needs and wants. Their capacity to assimilate or indeed initiate change has led to many unforeseen and dangerous consequences for the planet as a whole. A burgeoning culture of holistic values may as yet have little significance for a world caught up in a confusion of conflicting viewpoints. Yet however life has shaped us, to live wholly and perceptively leads one to the threshold of a fertile mystery locked in consciousness itself, a place where concepts of self, time and causality can take on an entirely new meaning.
Sklep: Libristo.pl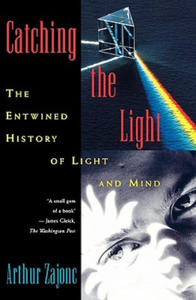 68,39 zł
Książki / Literatura obcojęzyczna
In 1910, the surgeons Moreau and LePrince wrote about their successful operation on an eight-year-old boy who had been blind since birth because of cataracts. When the boy's eyes were healed they removed the bandages and, waving a hand in front of the child's physically perfect eyes, asked him what he saw. "I don't know," was his only reply. What he saw was only a varying brightness in front of him. However, when allowed to touch the hand as it began to move, he cried out in a voice of triumph, "It's moving!" He could feel it move, but he still needed laboriously to learn to see it move. Light and eyes were not enough to grant him sight. How, then, do we see? What's the difference between seeing and perception? What is light? From ancient times to the present, from philosophers to quantum physicists, nothing has so perplexed, so fascinated, so captivated the mind as the elusive definition of light. In Catching the Light, Arthur Zajonc takes us on an epic journey into history, tracing how humans have endeavored to understand the phenomenon of light. Blending mythology, religion, science, literature, and painting, Zajonc reveals in poetic detail the human struggle to identify the vital connection between the outer light of nature and the inner light of the human spirit. He explains the curiousness of the Greeks' blue and green "color blindness": Odysseus gazing longingly at the "wine-dark sea"; the use of chloros (green) as the color of honey in Homer's Odessey; and Euripides' use of the color green to describe the hue of tears and blood. He demonstrates the complexity of perception through the work of Paul Cezanne--the artist standing on the bank of a river, painting the same scene over and over again, the motifs multiplying before his eyes. And Zajonc goes on to show how our quest for an understanding of light, as well as the conclusions we draw, reveals as much about the nature of our own psyche as it does about the nature of light itself. For the ancient Egyptians the nature of light was clear--it simply was the gaze of God. In the hands of the ancient Greeks, light had become the luminous inner fire whose ethereal effluence brought sight. In our contemporary world of modern quantum physics, science plays the greatest part in our theories of light's origin--from scientific perspectives such as Sir Isaac Newton's "corpuscular theory of light" and Michael Faraday's "lines of force" to such revolutionary ideas as Max Planck's "discrete motion of a pendulum" (the basis of quantum mechanics), Albert Einstein's "particles of light" and "theory of relativity," and Niels Bohr's "quantum jumps." Yet the metaphysical aspects of the scientific search, Zajonc shows, still loom large. For the physicist Richard Feynman, a quantum particle travels all paths, eventually distilling to one path whose action is least--the most beautiful path of all. Whatever light is, here is where we will find it. With rare clarity and unmatched lyricism, Zajonc illuminates the profound implications of the relationships between the multifaceted strands of human experience and scientific endeavor. A fascinating search into our deepest scientific mystery, Catching the Light is a brilliant synthesis that will both entertain and inform."
Sklep: Libristo.pl 144,76 zł
Książki / Literatura obcojęzyczna
Why are there scores of confusing, mysterious, and even seemingly contradictory scriptures in the Bible? Why does Jesus appear so differently in each of the four Gospels? Why does he continually insist that our focus should be on God, not on him? Why do Mark and John gloss over the Nativity, the world-altering event that justifies all that comes afterward? Why does Paul make no mention of the empty tomb, the very cornerstone of the mainstream Christian Faith? Why does Jesus never use the word "atonement"? Why is he said to have been born in a town called the "House of Bread," and why is he shown growing up in Nazareth, a city that did not exist in the 1st Century A.D.? If there is only one Christ why did Paul say "Christ is in all," and if there is only one God why did Jesus say that we are all gods? What do the mystical Essenes and Gnostics have to do with the original Christian Church, and why were their names purposefully left out of the Bible? Why did Paul declare that he preached "the hidden wisdom of God in a mystery"? Why did Jesus acknowledge that he taught "the mysteries of the Kingdom of God" openly to an inner secret circle of initiates, but parabolically to the general public? What do the Cana Wedding, the Eucharist, the Logos, the Tree of Life, the Serpent, the Virgin Birth, the Resurrection, the Holy Trinity, the Exodus, original sin, Golgotha, the Devil, Noah's ark, Melchizedek, the Son of Man, and the Upper Room, all have in common? Why are such Bible stories and elements as the Fall of Man, the Great Flood, the Virgin-Mother, walking on water, the Three Wise Men, and the crucifixion and resurrection of the Son of God found in countless pre-Christian religions and myths all around the world? You are not likely to get the answers to these questions from any mainstream Church, but you will find them in "Seabrook's Bible Dictionary of Traditional and Mystical Christian Doctrines," by Bible authority, spiritual teacher, and award-winning historian Lochlainn Seabrook. This one-of-a-kind, easy to use, 300,000 word reference provides a detailed yet clear examination of the Bible as seen through the eyes of Christian mysticism. By comparing both the outer (exoteric) meanings and the inner (esoteric) meanings of the many sometimes strange and bewildering figures, stories, themes, symbols, words, and allegories in the Good Book, the author provides the missing key to understanding its most cryptic teachings. This illustrated introductory work, steeped in intriguing historical references, seldom-discussed scriptures, and forgotten arcane doctrines, will appeal to anyone - Christian or non-Christian, believer or non-believer - with an open inquiring mind, and a desire to gain a deeper more complete understanding of the Bible; one that goes far beyond what is typically taught by the mainline established Church. The result of decades of study and research, and with nearly 5,000 endnotes and a 1,200 book bibliography, "Seabrook's Bible Dictionary" is sure to enlighten, educate, and fascinate. Whether you are a Liberal Christian or a Conservative Christian, this landmark volume is a must-have for both serious Bible students and casual readers, as well as for preachers, theologians, scholars, and the clergy. Available in paperback and hardcover. "An uplifting and highly informative celebration of all that it means to be Christian, based on the long suppressed mystical teachings of Jesus and his first followers." - The Publisher.
Sklep: Libristo.pl 106,01 zł
Książki / Literatura obcojęzyczna
In this book, Berdyaev tells us that the creative development of the spirit and the free exercise of man's powers can be conceived only as the free cooperation of man with the work of God. Creative spiritual development represents a new principle which signifies an offering of human freedom to God, an offering which God expects from us. The life of the spirit is a creative and dynamic process. Spiritual development is possible only because there is freedom. Spiritual development is not movement on the plane of the external world, but the bringing to birth of forces which lie hidden in the inner depths of existence. To quote Berdyaev, "the spiritual world is like a torrent of fire in free creative dynamism." The Russian philosopher Nikolai Berdyaev (1874-1948) was one of the greatest religious thinkers of the twentieth century. His philosophy goes beyond mere thinking, mere rational conceptualization, and tries to attain authentic life itself: the profound layers of existence that are in contact with God's world. Berdyaev directed all of his efforts, philosophical as well as in his personal and public life, at replacing the kingdom of this world with the kingdom of God. According to him, we can all attempt to do this by tapping the divine creative powers which constitute our true nature. Our mission is to be collaborators with God in His continuing creation of the world. This is what Berdyaev said about himself: "Man, personality, freedom, creativeness, the eschatological-messianic resolution of the dualism of two worlds - these are my basic themes."
Sklep: Libristo.pl 64,81 zł
Książki / Literatura obcojęzyczna
On the day you were born, you were imprinted with a plan and a purpose - elegant patterns that can be read to see who you really are and what your true calling is. And like your own personal tide table, the ebbs and flows of each phase of your life were set into motion on the day of your birth. Based on ancient Chinese principles of balance and health, this book gives you a rich understanding of your hidden symmetry - the intricate inner design that influences who you are and how your life unfolds. This book is not about astrology or numerology; it is based on thousands of years of research about how time moves in natural patterns and profoundly affects your life. You can use this knowledge to discover the themes running through your life experience, tap into your core strengths, find lasting love and do your best work in the world. Jean Haner shows you how to ride the waves instead of fight the current of your life, learn how to make best use of what's coming in future years, and understand why things happened as they did in the past. Jean will guide you to discover who you really came here to be, recognize the true nature of everyone you meet and break free of old limitations - and create a life of conscious vitality, joy, ease and love!
Sklep: Libristo.pl 74,91 zł
Książki / Literatura obcojęzyczna
Between the age of two and five, a little girl nicknamed 'the Piggle' - seriously disturbed by the birth of a younger sister - visited Dr Winnicott on sixteen occasions. A verbatim account of her visits is accompanied by illuminating excerpts from letters written to the analyst by the child's parents and an invaluable commentary by Dr Winnicott. This allows the reader to experience in detail the growth of a relationship between child and therapist and the gradual unfolding of the child's inner world. This classic piece of writing gives the reader the rare opportunity of being admitted to the intimacy of the consulting room and of studying the child and therapist at work. Of special value to professionals working with children, it will also fascinate anyone interested in how psychoanalysis works in practice.
Sklep: Libristo.pl 87,12 zł
Książki / Literatura obcojęzyczna
How do you find renewal after loss, especially the loss of a child? How do you find purpose and courage when loss is your constant teacher? After weeks of profound grief following the loss of her young daughter, Sandra Corcoran found herself inexplicably at a life-changing workshop on indigenous teachings and energy healing. With the first glimpse of the light that called her to the workshop, Corcoran found herself beginning a 30-year metaphysical journey within, initially to heal her grief but eventually leading her from the darkness into the light of her own soul's evolution. Working with Native elders and indigenous wisdomkeepers throughout North, Central, and South America, Corcoran opened her heart to the immensity of the living energies of the cosmos and discovered her shamanistic gifts as an intuitive counselor, dreamtime decoder, and facilitator for others' self-healing. As she learned to discern these living energies and work with them, she also discovered the middle path between the soul's dark and luminous energies, striking the balance that allows us to fulfill our destiny. Sharing the core teachings of her many indigenous and esoteric mentors, including lessons in synchronicity, metaphysics, the extraordinary power of the heart, multi-dimensional realms, and energy healing, Corcoran leads readers on an adventure across continents through birth, death, ceremony, and ritual to renewal and the frontiers of expanded consciousness. She shows that no matter how far outside of the familiar we are led, we are guided back to ourselves and offered another opportunity to embrace our world and, ultimately, find our place in it.
Sklep: Libristo.pl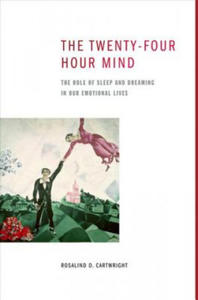 65,62 zł
Książki / Literatura obcojęzyczna
In January of 1999, an otherwise nonviolent man under great stress at work brutally murdered his wife in their backyard. He then went back to bed, awakening only when police entered his home. He claimed to have no memory of the event because, while his body was awake at the time, his mind was not. He had been sleepwalking. In The Twenty-four Hour Mind, sleep scientist Rosalind Cartwright brings together decades of research into the bizarre sleep disorders known as parasomnias to propose a new theory of how the human mind works consistently throughout waking and sleeping hours. Thanks to increasingly sophisticated EEG and brain imaging technologies, we now know that our minds do not simply "turn off" during sleep. Rather, they continue to be active, and research has indicated that one of the primary purposes of sleep is to aid in regulating emotions and processing experiences that occur during preceding waking hours. As such, when sleep is neurologically or genetically impaired or just too short, the processes that good sleep facilitates-those that usually have a positive effect on our mood and performance-can short circuit, with negative results that occasionally reach tragic proportions. Examining the interactions between conscious and unconscious forms of thinking as they proceed throughout the cycles of sleeping, dreaming, and waking, Cartwright demystifies the inner workings of the human mind that trigger sleep problems, how researchers are working to control them, and how they can apply what they learn to further our understanding of the brain. Along the way, she provides a lively account of the history of sleep research and the birth of sleep medicine that will initiate readers into this fascinating field of inquiry and the far-reaching implications it will have on the future of neuroscience. The Twenty-four Hour Mind offers a unique look at a relatively new area of study that will be of interest to those with and without sleep problems, as well as anyone captivated by the mysteries of the brain-and what sleep continues to teach us about the waking mind.
Sklep: Libristo.pl 84,68 zł
Książki / Literatura obcojęzyczna
Annie, the main character of the story, is a Javanese woman of noble birth. Her arranged marriage, and followed by her husband's adulterous betrayal, then subsequent lost of custody of her only child forced her to escape from Indonesia to New York with only a few hundred dollars in her pocket, determined to find a better life. She finds a job as a Balinese dancer. Through hardship, long and winding roads for years in work, courtship and motherhood, such as having an illegitimate son that is disgraceful according to Indonesian moral standard, and being expelled by Indonesian community in New York, she strives to become a distinguished fashion designer. The story of an immigrant struggles for her existence is relevant to American society. I also include Javanese and Balinese traditions, which manifest themselves, shown in the character's inner conflicts, as her efforts to release herself from her original cultural binding and enter the American way of thinking
Sklep: Libristo.pl 125,39 zł
Książki / Literatura obcojęzyczna
What happens when a group of everyday women go off in search of the most vital riches they contain...leaving behind notions of who they're supposed to be and what they're supposed to be doing?! Through this creative inner journey, Sharon Ann Rose, M.Div., intimately explores with a circle of women the many facets of the Mother...the full spectrum of Her deepest darkness to Her lightest ignition. Each woman goes through a life-altering transformation, facing resistance, shame, freedom, surrender, past wounds, new awakening, ancient understandings and the realization of what we encounter as we commit to fully living from the Sacred Feminine and its integrated expression in our modern world. Faces of the Mother offers an intimate portrayal of the REAL DEAL of CREATION, offering a pathway to face one's greatest self-judgments. Here we learn to honor our deepest longings so we can work with, instead of resist them, and birth a life of beauty, blessing and extraordinary love.
Sklep: Libristo.pl
Sklepy zlokalizowane w miastach: Warszawa, Kraków, Łódź, Wrocław, Poznań, Gdańsk, Szczecin, Bydgoszcz, Lublin, Katowice
Szukaj w sklepach lub całym serwisie
2. Szukaj na wszystkich stronach serwisu
t1=0.044, t2=0, t3=0, t4=0, t=0.044