krainaksiazek the journey from doubt to faith 20049137
- znaleziono 5 produktów w 2 sklepach 45,80 zł
Nauki humanistyczne
Alain de Botton, best-selling author of How Proust can Change Your Life, has set six of the finest minds in the history of philosophy to work on the problems of everyday life. Here then are Socrates, Epicurus, Seneca, Montaigne, Schopenhauer and Nietzsche on some of the things that bother us all; lack of money, the pain of love, inadequacy, anxiety, the fear of failure and the pressure to conform.
Sklep: Albertus.pl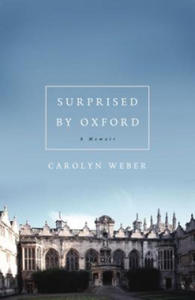 54,25 zł
Książki / Literatura obcojęzyczna
"Well written, often poignant and surprisingly relatable." - Kirkus Reviews "A hugely readable journey of cultural and spiritual discovery, sparkling with wit and wisdom." - Alister McGrath "Carolyn Weber's memoir reads like a fast-paced novel. I loved the humor, skillful use of language and her compelling account of her steps to finding God at Oxford. I was totally captivated from beginning to end." - Marilyn Meberg Surprised by Oxford is the memoir of a skeptical agnostic who comes to a dynamic personal faith in God during graduate studies in literature at Oxford University. Carolyn Weber arrives at Oxford a feminist from a loving but broken family, suspicious of men and intellectually hostile to all things religious. As she grapples with her God-shaped void alongside the friends, classmates, and professors she meets, she tackles big questions in search of Truth, love, and a life that matters. From issues of fatherhood, feminism, doubt, doctrine, and love, Weber explores the intricacies of coming to faith with an aching honesty and insight echoing that of the poets and writers she studied. Rich with illustration and literary references, Surprised by Oxford is at once gritty and lyrical; both humorous and spiritually perceptive. This savvy, credible account of Christian conversion and its after-effects follows the calendar year and events of the school year as it entertains, informs, and promises to engage even the most skeptical and unlikely reader. "Surprised by Oxford is a sprightly contribution to the genre of spiritual memoirs in the vein of C.S. Lewis's Surprised by Joy and Lauren F. Winner's Girl Meets God. Carolyn Weber is an unconventional thinker whose engagingly told faith journey will speak to folks who still believe that thoughtful people cannot be Christian." - Lyle W. Dorsett
Sklep: Libristo.pl 117,25 zł
Książki / Literatura obcojęzyczna
Charles M. Schulz's "Peanuts" comic strip franchise, the most successful of all time, forever changed the industry. For more than half a century, the endearing, witty insights brought to life by Charlie Brown, Snoopy, Linus, and Lucy have caused newspaper readers and television viewers across the globe to laugh, sigh, gasp, and ponder. "A Charlie Brown Religion" explores one of the most provocative topics Schulz broached in his heartwarming work--religion.Based on new archival research and original interviews with Schulz's family, friends, and colleagues, author Stephen J. Lind offers a new spiritual biography of the life and work of the great comic strip artist. In his lifetime, aficionados and detractors both labeled Schulz as a fundamentalist Christian or as an atheist. Yet his deeply personal views on faith have eluded journalists and biographers for decades. Previously unpublished writings from Schulz will move fans as they begin to see the nuances of the humorist's own complex, intense journey toward understanding God and faith."There are three things that I've learned never to discuss with people," Linus says, "Religion, politics, and the Great Pumpkin." Yet with the support of religious communities, Schulz bravely defied convention and dared to express spiritual thought in the "funny pages," a secular, mainstream entertainment medium. This insightful, thorough study of the 17,897 "Peanuts" newspaper strips, seventy-five animated titles, and global merchandising empire will delight and intrigue as Schulz considers what it means to believe, what it means to doubt, and what it means to share faith with the world.
Sklep: Libristo.pl 68,93 zł
Książki / Literatura obcojęzyczna
Azmina Suleman's in-depth account of a near-death experience is a treasure of a spiritual read. Islamic near-death accounts are rather rare in the literature, and this account from a Shia Ismaili Muslim adds a significant dimension to near-death experience accounts. Her 2 - 1/2 page description of her union with Godalone is worth the price of the book! Dr. Ken R. Vincent Author of VISIONS OF GOD FROM THE NEAR-DEATH EXPERIENCE Azmina Suleman is one of those incredible teachers who provides the reader with a unique glimpse into the other side. She brings a very different perspective as a Muslim and someone from a multicultural background. Yet, she has managed to provide a balanced description of her experience without overstating her beliefs. As a well-grounded and published journalist, Azmina shares her near-death experience in a special way, and in doing so bridges an important gap as she addresses such questions as what it means to have an NDE, and what happenson the other side. More importantly, she forces us to take a closer look at what it is that we should be learning and gathering from these experiences. It is a very well-written account that will speak to the medical community caring for the critically ill, the researcher, as well as those just wanting to know more about the phenomena. Dr. Diane K. Corcoran, Ph.D. Past President of IANDS International Association for Near-Death Studies A Passage to Eternity is destined to be remembered as a notable event in the exploration, study and appreciation of the psyche. Azmina Suleman speaks powerfully and unforgettably, as she takes us on an intimate journey through the complex world of near-death experiences. She distills with stunning clarity the emotional depth, beauty, and spiritual richness to be found in a trans-dimensional reality that lies just beyond the physical. Not only is this book a compelling testament to the potential for profound wisdom and mysterious insight open to those who are receptive to such natural wisdom, but it is an important addition to the field of psycho-spiritual studies based on personal experience. Dr. Abdul Sultan Hassam, Ph.D., D.Sc., ABMPP Professor of Cognitive Science & Philosophy of Religion What impresses me most about Azmina Suleman's extraordinary story is its absolute candor and honesty. Whether you believe in an afterlife or not (and I myself am agnostic on this question), you cannot doubt the truth to be found in her telling of a profound personal experience. What is important here is not its epistemic validity, but its moral value - its power to inspire faith, and care for others. John King University of Calgary, Alberta
Sklep: Libristo.pl 43,87 zł
Książki / Literatura obcojęzyczna
"This man could plainly do for mathematics what Brian Cox has done for physics." (Sunday Times). What goes on inside the mind of a rock-star mathematician? Where does inspiration come from? With a storyteller's gift, Cedric Villani takes us on a mesmerising journey as he wrestles with a new theorem that will win him the most coveted prize in mathematics. Along the way he encounters obstacles and setbacks, losses of faith and even brushes with madness. His story is one of courage and partnership, doubt and anxiety, elation and despair. We discover how it feels to be obsessed by a theorem during your child's cello practise and throughout your dreams, why appreciating maths is a bit like watching an episode of Columbo, and how sometimes inspiration only comes from locking yourself away in a dark room to think. Blending science with history, biography with myth, Villani conjures up an inimitable cast of characters including the omnipresent Einstein, mad genius Kurt Godel, and Villani's personal hero, John Nash. Birth of a Theorem combines passion and imagination to take us on a fantastical adventure through the beautiful, mysterious world of mathematics. Maths has never seemed so magical or so exciting.
Sklep: Libristo.pl
Sklepy zlokalizowane w miastach: Warszawa, Kraków, Łódź, Wrocław, Poznań, Gdańsk, Szczecin, Bydgoszcz, Lublin, Katowice
Szukaj w sklepach lub całym serwisie
2. Szukaj na wszystkich stronach serwisu
t1=0.026, t2=0, t3=0, t4=0.022, t=0.026