krainaksiazek the last african empire 20121958
- znaleziono 10 produkty w 2 sklepach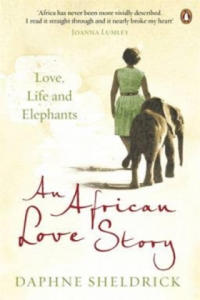 44,46 zł
Książki / Literatura obcojęzyczna
Daphne Sheldrick's best-selling love story of romance, life and elephants, An "African Love Story: Love, Life and Elephants" is an incredible story from Africa's greatest living conservationist. A typical day for Daphne involves rescuing baby elephants from poachers; finding homes for orphan elephants, all the while campaigning the ever-present threat of poaching for the ivory trade. An "African Love Story" is the incredible memoir of her life. It tells two stories - one is the extraordinary love story which blossomed when Daphne fell head over heels with Tsavo Game Park and its famous warden, David Sheldrick. The second is the love story of how Daphne and David, who devoted their lives to saving elephant orphans, at first losing every infant under the age of two until Daphne at last managed to devise the first-ever milk formula which would keep them alive. "Compulsively readable". ("Mail on Sunday"). "An enchanting memoir." ("Telegraph"). Daphne Sheldrick has spent her entire life in Kenya. For over 25 years, she and her husband, David, the famous founder of the the giant Tsavo National Park, raised and rehabilitated back into the wild orphans of misfortune from many different wild species. These included elephants, rhinos, buffaloes, zebra, eland, kudu, impala, warthogs and many other smaller animals. In 2006 she was made Dame Commander of the British Empire by the Queen.
Sklep: Libristo.pl 314,12 zł
Książki / Literatura obcojęzyczna
The Demographics of Empire is a collection of essays examining the multifaceted nature of the colonial science of demography in the last two centuries. The contributing scholars of Africa and the British and French empires focus on three questions: How have historians, demographers, and other social scientists understood colonial populations? What were the demographic realities of African societies and how did they affect colonial systems of power? Finally, how did demographic theories developed in Europe shape policies and administrative structures in the colonies? The essays approach the subject as either broad analyses of major demographic questions in Africa's history or focused case studies that demonstrate how particular historical circumstances in individual African societies contributed to differing levels of fertility, mortality, and migration. Together, the contributors to The Demographics of Empire question demographic orthodoxy, and in particular the assumption that African societies in the past exhibited a single demographic regime characterized by high fertility and high mortality.
Sklep: Libristo.pl 74,91 zł
Książki / Literatura obcojęzyczna
Seminar paper from the year 2012 in the subject English Language and Literature Studies - Literature, printed single-sided, grade: 1,0, University of Constance, language: English, abstract: But this is not a place of words. Each syllable, as it comes out is caught and filled with water and diffused. This is a place where bodies are their own signs. It is the home of Friday. This passage from the last page of J. M. Coetzee's novel Foe, shows a reflection on the limits of language. It solves the puzzle of the story, of why it has previously failed to tell that of Friday. Although it seems to be the centre of Susan Barton's narration, she could only assume what the core of his story is. The reason for this blank space though is explained in that very quote: As a forcefully mutilated and silenced character, whose tongue has been removed,Friday is, in the end, revealed to not be in the power to express himself with the convention of words or in linguistic terms but embodies a different form of communication.The novel Foe, written by the South African author J. M. Coetzee is a rewriting of Daniel Defoe's Robinson Crusoe, first published in 1719. It questions the colonial values embedded in the original and deconstructs the concept of Empire. He thus constructs a pseudobiographical fiction to Defoe himself and the original text. As part of the canon it paints a nearly idealistic picture of first colonial settlement.
Sklep: Libristo.pl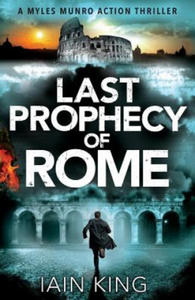 72,46 zł
Książki / Literatura obcojęzyczna
An ancient empire. A terrifying threat to the World's Superpower. Only one man can stop it. ROME: Maverick military historian Myles Munro is on holiday with girlfriend and journalist Helen Bridle. He's convinced a bomb is about to be detonated at the American Embassy. NEW YORK: A delivery van hurtling through Wall Street, blows up, showering the sky with a chilling message: America is about to be brought down like the Roman Empire. Juma, an African warlord, set free by the Arab Spring, plans to make it happen. When a US Senator is taken hostage, a chilling chain of events begins, and Myles finds himself caught in a race against time to stop Juma. But, he's not prepared for the shocking truth that the woman he once loved, Juma's wife, Placidia, has now become a terrorist. An electrifying edge-of-your-seat thriller that will have you coming back for more. Read what everyone is saying about Secrets of the Last Nazi: This is one hell of an action-packed thriller, if you enjoy Dan Brown then there is no way you won't enjoy this...one hell of an unputdownable read!' Crime Book Club 'What the secret is and where and when it originated comprise one of the most original and carefully thought out stories that have yet to appear in print.' Book Bitch 'It had me turning the pages with an ever increasing speed so desperate was I to find the 'secret'...a must read for any thriller fans.' A Book Lover's Blog 'A BRILLIANT but unconventional academic races shadowy agents, a deranged killer and power-mad priests to expose a vast conspiracy...romps along at a ferocious pace.' The Sun 'I was drawn into Secrets of the Last Nazi and will highly recommend it. It was refreshing to read a book which was much grander in scale than my normal choice of story and Iain King weaves the threads of a fantastic narrative into a slick adventure.' Grab This Book 'A great conspiracy thriller, just the sort of book I like. The whole story is based on a fascinating premise and backed up convincingly throughout. A good pace all the way through, building up and racing to an exciting finish. Would recommend to anyone who likes Scott Mariani, Dan Brown type thrillers. I will definitely look out for more books by this author.' Sue Fortin
Sklep: Libristo.pl 45,80 zł
Inne 1
Is America the new world empire? Presidents from Lincoln to Bush may have denied it but, as Niall Ferguson's brilliant and provocative book shows, the US is the greatest military and economic colossus of all time. What's more, it always has been an empire, with its founding fathers battling westwards for territory and their successors spreading freedom across the world - at gunpoint if necessary. Yet is the US really equipped to play Atlas, bearing the weight of the world on its shoulders? America, Ferguson reveals, is now an empire running on empty, backing away from the crucial imperial commitments of time, money and manpower - and resting on perilous financial foundations. When the New Rome falls, its collapse may come from within. Unlike the majority of European writers who have written on this subject, I am fundamentally in favor of empire. Indeed, I believe that empire is more necessary in the twenty-first century than ever before. The threats we face are not in themselves new ones. But advances in technology make them more dangerous than ever before. Thanks to the speed and regularity of modern air travel, infectious diseases can be transmitted to us with terrifying swiftness. And thanks to the relative cheapness and destructiveness of modern weaponry, tyrants and terrorists can realistically think of devastating our cities. The old, post-1945 system of sovereign states, bound loosely together by an evolving system of international law, cannot easily deal with these threats because there are too many nation-states where the writ of the "international community" simply does not run. What is required is an agency capable of intervening in the affairs of such states to contain epidemics, depose tyrants, end local wars and eradicate terrorist organizations. This is the self-interested argument for empire. But there is also a complementary altruistic argument. Even if they did not pose a direct threat to the security of the United States, economic and social conditions in a number of countries in the world would justify some kind of intervention. The poverty of a country like Liberia is explicable not in terms of resource endowment; otherwise (for example) Botswana would be just as poor. The problem in Liberia, as in so many sub-Saharan African states, is simply misgovernment: corrupt and lawless dictators whose conduct makes economic development impossible and encourages political opposition to take the form of civil war. Countries in this condition will not correct themselves. They require the imposition of some kind of external authority. There are those who would insist that an empire is by definition incapable of playing such a role; in their eyes, all empires are exploitative in character. Yet there can be
Sklep: Albertus.pl 63,02 zł
Książki / Literatura obcojęzyczna
Source: Wikipedia. Pages: 26. Chapters: Operation Entebbe, History of Uganda, Yonatan Netanyahu, The Last King of Scotland, Uganda Tanzania War, Entebbe International Airport, Bob Astles, Wadie Haddad, General Idi Amin Dada: A Self Portrait, Brigitte Kuhlmann, Operation Thunderbolt, Battle of Mengo Hill, Raid on Entebbe, Rise and Fall of Idi Amin, Ayesha al-Gaddafi, Victory at Entebbe, Wilfried Böse, 1971 Ugandan coup d'état, Fall of Kampala. Excerpt: Idi Amin Dada (c. 1925 16 August 2003) was a military leader and President of Uganda from 1971 to 1979. Amin joined the British colonial regiment, the King's African Rifles, in 1946, and eventually held the rank of Major General and Commander of the Ugandan Army before taking power in the military coup of January 1971, deposing Milton Obote. He later promoted himself to Field Marshal while he was the head of state. Amin's rule was characterized by human rights abuse, political repression, ethnic persecution, extrajudicial killings, nepotism, corruption, and gross economic mismanagement. The number of people killed as a result of his regime is estimated by international observers and human rights groups to range from 100,000 to 500,000. During his years in power, Amin was backed by Libya's Muammar al-Gaddafi as well as the Soviet Union and East Germany. In 1975 1976, Amin became the Chairman of the Organisation of African Unity, a pan-Africanist group designed to promote solidarity of the African states. During the 1977 1979 period, Uganda was appointed to the United Nations Commission on Human Rights. From 1977 to 1979, Amin titled himself as "His Excellency, President for Life, Field Marshal Al Hadji Doctor Idi Amin Dada, VC, DSO, MC, Conqueror of the British Empire in Africa in General and Uganda in Particular". Dissent within Uganda and Amin's attempt to annex the Kagera province of Tanzania in 1978 led to the Uganda Tanzania War and the demise of his regime. Amin later fled to exile in Libya and Saudi Arabia until his death on 16 August 2003. Amin never wrote an autobiography nor did he authorise any official written account of his life, so there are discrepancies regarding when and where he was born. Most biographical sources hold that he was born in either Koboko or Kampala in around 1925. Other unconfirmed sources state Amin's year of birth from as early at 1923 to as late as 1928. According to Fred Guweddeko, a researcher at Makerere University, Idi Amin w
Sklep: Libristo.pl 357,60 zł
Książki / Literatura obcojęzyczna
Until relatively recently, the connection between British imperial history and the history of early America was taken for granted. In recent times, however, early American historiography has begun to suffer from a loss of coherent definition as competing manifestos demand this or that reordering of the subject in order to combine time periods and geographical areas in ways that would have previously seemed anomalous. It has become common place to announce that the history of America is best accounted for in America itself in a three-way melee between "settlers", the indigenous populations, and the forcibly transported African slaves and their creole descendants. The contributions to British North America in the Seventeenth and Eighteenth Centuries acknowledge the value of the historiographic work done under this new dispensation in the last two decades and incorporate its insights. However, the volume advocates a pluralistic approach to the subject generally and attempts to demonstrate that the metropolitan power was of more than secondary importance to America in the seventeenth and eighteenth centuries. The central theme of this volume is the question: to what extent did it make a difference to those living in the colonies that made up British North America in the seventeenth and eighteenth centuries that they were part of an empire and that the empire in question was British? The contributors, some of the leading scholars in their respective fields, strive to answer this question in various social, political, religious, and historical contexts.
Sklep: Libristo.pl 134,51 zł
Książki / Literatura obcojęzyczna
Source: Wikipedia. Pages: 127. Chapters: List of Scots, List of Italian painters, List of Hungarians, List of Russian artists, List of Dutch painters, List of Native American artists, List of Australian artists, List of Russian landscape painters, List of British artists, List of Chinese painters, List of Irish artists, List of French artists, List of indigenous artists of the Americas, List of Japanese artists, List of Latin American artists, List of French engravers, List of Hungarian painters, List of Dutch artists, List of French painters, List of Canadian artists, List of Canadian painters, List of Belgian painters, List of British painters, List of Greek artists, List of Flemish painters, List of artists from Northern Ireland, List of Iranian artists, List of Swedish artists, List of Finnish painters, List of Spanish artists, List of South African artists, List of Colombian artists, List of Polish artists, List of Austrian artists and architects, List of Norwegian artists, List of Danish painters, List of Korean painters, List of Lithuanian artists, List of German artists, List of Slovenian artists, List of Cuban artists, List of Polish contemporary artists, List of Turkish artists, List of Croatian artists, List of Portuguese artists, List of Israeli visual artists, List of Venezuelan artists, List of Icelandic artists, List of New Zealand artists, List of Romanian painters, List of Cuban painters, List of Albanian painters, List of Chilean artists, List of Pakistani artists, List of St Ives artists, List of Ecuadorian painters, List of Czech artists by date, List of Syrian artists, List of Mexican artists, List of Ecuadorian artists, List of Indian artists, List of Maltese artists, List of Brazilian artists, List of Malaysian artists, List of Iraqi artists, List of Bulgarian artists, List of Peruvian artists, List of Polish graphic designers, List of 19th-century British children's literature illustrators, List of early-20th-century British children's literature illustrators, List of Latvian artists, List of 18th-century British children's literature illustrators, List of Bahraini painters. Excerpt: This is a list of artists of the Russian Federation, Soviet Union, Russian Empire, Tsardom of Russia and Grand Duchy of Moscow, including ethnic Russians and people of other ethnicities. This list also includes those who were born in Russia but later emigrated, and those who were born elsewhere but immigrated to the country and/or worked there for a significant period of time. For the full plain list of Russian artists on Wikipedia, see Category:Russian artists. See also: List of Russian architects, List of Russian inventors, List of Russian explorers, List of Russian language writers, Russian culture Contents: Top 0-9 A B C D E F G H I J K L M N O P Q R S T U V W X Y Z This is a list of painters who were born and/or were primarily active in the Netherlands. For artists born and active in the Southern Netherlands, see the List of Flemish painters. The artists are sorted by century and then alphabetically by last name. In general, artists are included that are mentioned at the artcyclopedia website, in the Grove Dictionary of Art, and/or whose paintings regularly sell for over $20,000 at auctions. Active painters are therefore underrepresented, while more than half of the artists are baroque painters of the 17th century, roughly corresponding to the Dutch Golden Age. The names of older artists often have many different spellings;...
Sklep: Libristo.pl 101,61 zł
Książki / Literatura obcojęzyczna
America's Extreme Capitalism Wreaked Havoc on the American People -- Even Before the Bubble Burst DISCOVERING AMERICA AS IT IS, is a monumental study of the devastating effect American-style capitalism has been having on the American people -- even before the onslaught of recession. It raises serious questions not only concerning America's role as a leading model for development, but even as to its future capacity to compete due to the deterioration of its human capital resulting from anti-social domestic policies. During the era of the Soviet Union, many human rights dissidents turned to the United States to champion their cause. Many even emigrated to the USA. Few, however, have expressed the disappointment that awaited them there, and fewer still have publicly exposed their view of human rights as practiced in the U.S.. That fact, in itself, would make Discovering America As It Is an important book, written by a journalist who was expelled from the USSR for human rights activities on behalf of his native Lithuania, and who, upon arriving in America, shared a political platform with such leaders of the American Republican Party as Newt Gingrich and Phil Gramm. "America remains the destination of choice for those who wish to emigrate from their own countries. It is still like a mysterious enchantress to many," Anelauskas writes. "I write this book for them. I have now spent ten years observing American society. Not only observing, but studying, analyzing and comparing it to other societies. When I lived in the Soviet Union, I thought that the Soviet communist system was the worst possible social order. The more I scrutinize American reality, the more I realize that they are like two ends of the same stick..." Ten years' observation of American reality has led Anelauskas to conclude that the U.S. extreme capitalist system poses an even greater threat than Soviet mock-communism to the well-being of the world. He paints an extraordinary portrait of the America he discovered -- the America as it exists for most Americans. While it has been argued that capitalism in Russia failed because the Russians "didn't know how to do it," in the United States, the veritable beacon of world capitalism, capitalism does not appear to be working for most people, either -- even before the bubble burst. America's two-decades-long love affair with its free market gurus has gutted the body politic, leaving the American Dream of prosperity for the ordinary man little more than a charade the U.S. corporate, media and government elite successfully fronts to a credulous world. Twelve highly-documented chapters -- on poverty, crime, health, education, homelessness, the deterioration of the family, income inequities and the replacement of welfare by workfare -- detail the public disarray which results from an unfettered system of great wealth where the rich determine the social priorities. Even more telling than the comparison of American capitalism with communism, an issue which may -- or may not -- be moot, Anelauskas' book ceaselessly poses this question: Does capitalism have to weigh upon its people so mercilessly -- or is the American version more extreme, more pitiless than that of other industrialized nations? In thousands of citations, Anelauskas documents the precipitous plunge in living standards of American citizens, measured not only against the standards enjoyed by citizens in other capitalist countries in the industrialized world, but against their own past levels. Among the many searing results: in all categories that measure economic equity, citizens of all other industrialized countries generally fare better than do Americans. This blistering reality is culled from innumerable researches by international organizations, domestic and international NGOs, independent U.S. think tanks, journalists, scholars, and even from American government sources, documented in over 80 pages of endnotes. While most critiques focus on one social sector or another, this multidimensional study brings them all together, and the impact is staggering. What this book enables us to grasp -- intellectually and emotionally -- is the predatory and wasteful operation of unbridled capitalism in its systemic dimensions, and the needless, preventable injury it wreaks upon millions. The linkages between government, wealth, poverty and policy, the conflicts between elite interest and collective well-being, clarify as we read. Here are just a few of many mind-catching findings scattered liberally throughout the book: An American child has one chance in 432 of becoming a doctor -- but one chance in five of growing up illiterate. One in four Americans working full time does not earn enough to stay above the official poverty line. "Food insecure households" add up to over 34 million people. The notion that stock ownership is widespread in America is absolutely false -- the bottom 90 percent of Americans own 15.6 percent of stocks (including through mutual funds), while the bottom eighty percent only own three percent! Anelauskas' ominous thirteenth chapter, "The New World Order Takes Shape," elaborates the socio-military resources and paradigms which serve to entrench and extend American hegemony, as it seeks to deflect global efforts to institute the rule of international law, and to turn the world back to the rule of force. From the expropriation of Indian lands, and the exploitation of African labor, to a taste for empire which spread to the continental rim, then jumped across many waters in a hundred-year history of invasions all around the globe, culminating at last in the hegemonic military-economic grip on the world by what many in the Third World view as a Rogue Superpower -- from domestic colonialism to imperial America -- this is America as it is.
Sklep: Libristo.pl 49,50 zł
Książki / Literatura obcojęzyczna
Although Britain's greatest commitment of land forces was on the Western Front during World War I (1914-1918), British, Empire and Dominion troops also fought in other theatres of operations - and in some cases continued to fight there after the Armistice had ended hostilities in the West. This last of our series of three titles describes these far-flung campaigns, in Italy, the Balkans, the Middle East, several parts of Africa, Russia, China, and even the North-West Frontier of India. The text is illustrated with contemporary photographs, and with meticulous colour plates of British, African, Indian and Australian troops, in the uniforms and equipment used on battle fronts from the desert sands to the snows of north Russia.
Sklep: Libristo.pl
Sklepy zlokalizowane w miastach: Warszawa, Kraków, Łódź, Wrocław, Poznań, Gdańsk, Szczecin, Bydgoszcz, Lublin, Katowice
Szukaj w sklepach lub całym serwisie
2. Szukaj na wszystkich stronach serwisu
t1=0.079, t2=0, t3=0, t4=0, t=0.079