krainaksiazek the last african empire 20121958
- znaleziono 6 produktów w 2 sklepach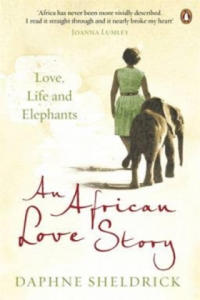 43,87 zł
Książki / Literatura obcojęzyczna
Daphne Sheldrick's best-selling love story of romance, life and elephants, An "African Love Story: Love, Life and Elephants" is an incredible story from Africa's greatest living conservationist. A typical day for Daphne involves rescuing baby elephants from poachers; finding homes for orphan elephants, all the while campaigning the ever-present threat of poaching for the ivory trade. An "African Love Story" is the incredible memoir of her life. It tells two stories - one is the extraordinary love story which blossomed when Daphne fell head over heels with Tsavo Game Park and its famous warden, David Sheldrick. The second is the love story of how Daphne and David, who devoted their lives to saving elephant orphans, at first losing every infant under the age of two until Daphne at last managed to devise the first-ever milk formula which would keep them alive. "Compulsively readable". ("Mail on Sunday"). "An enchanting memoir." ("Telegraph"). Daphne Sheldrick has spent her entire life in Kenya. For over 25 years, she and her husband, David, the famous founder of the the giant Tsavo National Park, raised and rehabilitated back into the wild orphans of misfortune from many different wild species. These included elephants, rhinos, buffaloes, zebra, eland, kudu, impala, warthogs and many other smaller animals. In 2006 she was made Dame Commander of the British Empire by the Queen.
Sklep: Libristo.pl 285,46 zł
Książki / Literatura obcojęzyczna
In The Last Great Safari: East Africa in World War I, military historian Corey W. Reigel explores a fascinating and misunderstood theater of operations in the history of the First World War. Unprepared for the Great War, colonial units combined modern industrial weapons and equipment with traditional African methods to produce a hybrid force. Throughout The Last Great Safari, Reigel challenges myth after myth. Were really one million Allied soldiers pulled up from Europe to toil in the tropical sun only to fall victim to local diseases? Did the Germans truly become masters of guerrilla warfare and humiliate the British Empire in what appeared a David versus Goliath conflict? Reigel brings together traditional military studies and African history to explore the myths, fables, and stereotypes that have long characterized examinations of this topic, from questions as to how German East Africa contributed to the fate of the war to claims respecting significant diversion of resources. Racism played a significant role in then prevalent definitions of what constituted military success and in how Africans and Indians were recruited, holding more sway in the minds of white armies as a success factor than differences in weapons. Reigel points out how modern methods of medicine and transportation ultimately failed, only to be replaced by a hybrid of industrial Europe and traditional African solutions for dealing with an especially difficult climate. In the end, when necessity came to outweigh then current ideas of professionalism did German forces outfight their opponents. The Last Great Safari: East Africa in World War I will interest students of military history, African studies, and World War I, as this tale of colonial warfare within a war of attrition shaped part of Africa's colonial future.
Sklep: Libristo.pl 45,80 zł
Inne 1
Is America the new world empire? Presidents from Lincoln to Bush may have denied it but, as Niall Ferguson's brilliant and provocative book shows, the US is the greatest military and economic colossus of all time. What's more, it always has been an empire, with its founding fathers battling westwards for territory and their successors spreading freedom across the world - at gunpoint if necessary. Yet is the US really equipped to play Atlas, bearing the weight of the world on its shoulders? America, Ferguson reveals, is now an empire running on empty, backing away from the crucial imperial commitments of time, money and manpower - and resting on perilous financial foundations. When the New Rome falls, its collapse may come from within. Unlike the majority of European writers who have written on this subject, I am fundamentally in favor of empire. Indeed, I believe that empire is more necessary in the twenty-first century than ever before. The threats we face are not in themselves new ones. But advances in technology make them more dangerous than ever before. Thanks to the speed and regularity of modern air travel, infectious diseases can be transmitted to us with terrifying swiftness. And thanks to the relative cheapness and destructiveness of modern weaponry, tyrants and terrorists can realistically think of devastating our cities. The old, post-1945 system of sovereign states, bound loosely together by an evolving system of international law, cannot easily deal with these threats because there are too many nation-states where the writ of the "international community" simply does not run. What is required is an agency capable of intervening in the affairs of such states to contain epidemics, depose tyrants, end local wars and eradicate terrorist organizations. This is the self-interested argument for empire. But there is also a complementary altruistic argument. Even if they did not pose a direct threat to the security of the United States, economic and social conditions in a number of countries in the world would justify some kind of intervention. The poverty of a country like Liberia is explicable not in terms of resource endowment; otherwise (for example) Botswana would be just as poor. The problem in Liberia, as in so many sub-Saharan African states, is simply misgovernment: corrupt and lawless dictators whose conduct makes economic development impossible and encourages political opposition to take the form of civil war. Countries in this condition will not correct themselves. They require the imposition of some kind of external authority. There are those who would insist that an empire is by definition incapable of playing such a role; in their eyes, all empires are exploitative in character. Yet there can be
Sklep: Albertus.pl 64,15 zł
Książki / Literatura obcojęzyczna
A hundred years before Columbus and his fellow Europeans began making their way to the New World, fleets of giant Chinese junks commanded by the eunuch admiral Zheng He and filled with the empire's finest porcelains, lacquerware, and silk ventured to the edge of the world's 'four corners.' It was a time of exploration and conquest, but it ended in a retrenchment so complete that less than a century later, it was a crime to go to sea in a multimasted ship. In When China Ruled the Seas, Louise Levathes takes a fascinating and unprecedented look at this dynamic period in China's enigmatic history, focusing on China's rise as a naval power that literally could have ruled the world and at its precipitious plunge into isolation when a new emperor ascended the Dragon Throne. During the brief period from 1405 to 1433, seven epic expeditions brought China's 'treasure ships' across the China Seas and the Indian Ocean, from Taiwan to the spice islands of Indonesia and the Malabar coast of India, on to the rich ports of the Persian Gulf and down the African coast, China's 'El Dorado', and perhaps even to Australia, three hundred years before Captain Cook was credited with its discovery. With over 300 ships - some measuring as much as 400 feet long and 160 feet wide, with upwards of nine masts and twelve sails, and combined crews sometimes numbering over 28,000 men - the emperor Zhu Di's fantastic fleet was a virtual floating city, a naval expression of his Forbidden City in Beijing. The largest wooden boats ever built, these extraordinary ships were the most technically superior vessels in the world with innovations such as balanced rudders and bulwarked compartments that predated European ships by centuries. For thirty years foreign goods, medicines, geographic knowledge, and cultural insights flowed into China at an extraordinary rate, and China extended its sphere of political power and influence throughout the Indian Ocean. Half the world was in China's grasp, and the rest could easily have been, had the emperor so wished. But instead, China turned inward, as suceeding emperors forbade overseas travel and stopped all building and repair of oceangoing junks. Disobedient merchants and seamen were killed, and within a hundred years the greatest navy the world had ever known willed itself into extinction. The period of China's greatest outward expansion was followed by the period of its greatest isolation. Drawing on eye-witness accounts, official Ming histories, and African, Arab, and Indian sources, many translated for the first time, Levathes brings readers inside China's most illustrious scientific and technological era. She sheds new light on the historical and cultural context in ghich this great civilization thrived, as well as the perception of other cultures toward this little understood empire at the time. Beautifully illustrated and engagingly written, When China Ruled the Seas is the fullest picture yet of the early Ming Dynasty - the last flowering of Chinese culture before the Manchu invasions.
Sklep: Libristo.pl 51,95 zł
Książki / Literatura obcojęzyczna
Although Britain's greatest commitment of land forces was on the Western Front during World War I (1914-1918), British, Empire and Dominion troops also fought in other theatres of operations - and in some cases continued to fight there after the Armistice had ended hostilities in the West. This last of our series of three titles describes these far-flung campaigns, in Italy, the Balkans, the Middle East, several parts of Africa, Russia, China, and even the North-West Frontier of India. The text is illustrated with contemporary photographs, and with meticulous colour plates of British, African, Indian and Australian troops, in the uniforms and equipment used on battle fronts from the desert sands to the snows of north Russia.
Sklep: Libristo.pl 415,57 zł
Książki / Literatura obcojęzyczna
This book examines the history of the European Scramble for Africa from the perspective of the Omanis and other Arabs in East Africa. It will be of interest not only to African specialists, but also those working on the Middle East, where awareness is now emerging that the history of those settled on the southern peripheries of Arabia has been intimately entwined with Indian Ocean maritime activities since pre-Islamic times. The nineteenth century, however, saw these maritime borderlands being increasingly drawn into a new world economy, one of whose effects was the development of an ivory front in the interior of the continent that, by the 1850s, led the Omanis and Swahili to establish themselves on the Upper Congo. A reconstruction of their history and their interaction with Europeans is a major theme of this book. European colonial rivalries in Africa is not a subject in vogue today, while the Arabs are still largely viewed as invaders and slavers. The fact that the British separated the Sultanates of Muscat and Zanzibar is reflected in European research so that historians have little grasp of the geographic, tribal and religious continuum that persisted between overseas empire and the Omani homeland. Ibadism is regarded as irrelevant to the mainstream of Islamic religious protest whereas, during the lead up to establishing direct colonial rule, its ideology played a significant role; even the final rally against the Belgians in the Congo was conducted in the name of an Imam al-Muslimin. Back home, the fall out from the British massacre that crushed the last Arab attempt to reassert independence in Zanzibar was an important contributory cause towards the re-founding of an Imamate that survived until the mid-1950s.
Sklep: Libristo.pl
Sklepy zlokalizowane w miastach: Warszawa, Kraków, Łódź, Wrocław, Poznań, Gdańsk, Szczecin, Bydgoszcz, Lublin, Katowice
Szukaj w sklepach lub całym serwisie
2. Szukaj na wszystkich stronach serwisu
t1=0.035, t2=0, t3=0, t4=0.024, t=0.035