krainaksiazek the literary remains of the late henry james 20041652
- znaleziono 14 produktów w 3 sklepach 48,99 zł
Książki Obcojęzyczne>Angielskie>Fiction & related items>Horror & ghost storiesKsiążki Obcojęzyczne>Angielskie>Literature & literary stu...
This Anthology Collects Together Some Of The Most Famous Examples Of The Gothic Tale In The 1890s, With Stories By Arthur Conan Doyle, Vernon Lee, Henry James And Arthur Machen, As Well As Some Lesser Known Yet Superbly Chilling Tales From The Era. The Introduction Explores The Many Reasons For The Gothic Revival, And How It Spoke To The Anxieties Of The Moment.
Sklep: Gigant.pl 30,93 zł
Książki / Literatura obcojęzyczna
This classic novel, originally published as a serial in "Cornhill Magaine" and "Harper's New Monthly Magaine," tells the story of the struggles between a daughter and her intelligent, controlling father from the viewpoint of an unnamed narrator. This book is often compared to Jane Austen's works for the clearness of its prose and its extreme concentration on human troubled relationships. Henry James tells the story of Catherine Sloper, plain and obedient, daughter of the widowed, well-to-do Dr. August Sloper of Washington Square. When a handsome, incompetent man-about-town proposes to Catherine, her father forbids the marriage because he believes the man to be after Catherine's fortune and future inheritance. The conflict between father, daughter, and suitor provokes consequences in the lives of all three that make this story one of James's most piercingly memorable. The inspiration for James's "Washington Square" came from a tale about a jilted heiress, which James heard from the actress Fanny Kemble. The novel provides a social portrait of Washington Square and lower Manhattan during the late nineteenth century and remains a memorable work--one featured in several films. Henry James (1843-1916), American novelist and critic, was an innovator in technique and a distinctive prose stylist. More than any previous writer, James refined the technique of narrating a novel from the point of view of a character, thereby laying the foundations of modern stream-of-consciousness fiction. Among his many acclaimed novels are The Portrait of a Lady, The Ambassadors, The Golden Bowl, and The Wings of the Dove.
Sklep: Libristo.pl 90,56 zł
Książki / Literatura obcojęzyczna
In David Lodge's last novel, Thinks...the novelist Henry James was invisibly present in quotation and allusion. In Author, Author he is centre stage, sometimes literally. The story begins in December 1915, with the dying author surrounded by his relatives and servants, most of whom have private anxieties of their own, then loops back to the 1880s, to chart the course of Henry's 'middle years', focusing particularly on his friendship with the genial Punch artist and illustrator, George Du Maurier, and his intimate but chaste relationship with the American writer Constance Fenimore Woolson. By the end of the decade Henry is seriously worried by the failure of his books to 'sell', and decides to try and achieve fame and fortune as a playwright, at the same time that George Du Maurier, whose sight is failing, diversifies into writing novels. The consequences, for both men, are surprising, ironic, comic and tragic by turns, reaching a climax in the years 1894-5. As Du Maurier's Trilby, to the bewilderment of its author himself, becomes the bestseller of the century, Henry anxiously awaits the first night of his make-or-break play, Guy Domville ...Thronged with vividly drawn characters, some of them with famous names, others recovered from obscurity, Author, Author presents a fascinating panorama of literary and theatrical life in late Victorian England, which in many ways foreshadowed today's cultural mix of art, commerce and publicity. But it is essentially a novel about authorship - about the obsessions, hopes, dreams, triumphs and disappointments, of those who live by the pen - with, at its centre, an exquisite characterisation of one writer, rendered with remarkable empathy.
Sklep: Libristo.pl 135,68 zł
Książki / Literatura obcojęzyczna
The Demon of the Continent Indians and the Shaping of American Literature Joshua David Bellin "This work will join such studies as Toni Morrison's Playing in the Dark, Eric Sundquist's To Wake the Nations, and Lucy Maddox's Removals. It is a thoughtful, engaging study."--Priscilla Wald, Duke University "Bellin not only proposes a major and fundamentally new reading of American literature itself, he also writes beautifully."--Barry F. O'Connell, Amherst College In recent years, the study and teaching of Native American oral and written art have flourished. During the same period, there has been a growing recognition among historians, anthropologists, and ethnohistorians that Indians must be seen not as the voiceless, nameless, faceless Other but as people who had a powerful impact on the historical development of the United States. Literary critics, however, have continued to overlook Indians as determinants of American--rather than specifically Native American--literature. The notion that the presence of Indian peoples shaped American literature as a whole remains unexplored. In The Demon of the Continent, Joshua David Bellin probes the complex interrelationships among Native American and Euro-American cultures and literatures from the mid-seventeenth to the mid-nineteenth centuries. He asserts that cultural contact is at the heart of American literature. For Bellin, previous studies of Indians in American literature have focused largely on the images Euro-American writers constructed of indigenous peoples, and have thereby only perpetuated those images. Unlike authors of those earlier studies, Bellin refuses to reduce Indians to static antagonists or fodder for a Euro-American imagination. Drawing on works such as Henry David Thoreau's Walden, William Apess' A Son of the Forest, and little known works such as colonial Indian conversion narratives, he explores the ways in which these texts reflect and shape the intercultural world from which they arose. In doing so, Bellin reaches surprising conclusions: that Walden addresses economic clashes and partnerships between Indians and whites; that William Bartram's Travels encodes competing and interpenetrating systems of Indian and white landholding; that Catherine Sedgwick's Hope Leslie enacts the antebellum drama of Indian conversion; that James Fenimore Cooper and Henry Wadsworth Longfellow struggled with Indian authors such as George Copway and David Cusick for physical, ideological, and literary control of the nation. The Demon of the Continent proves Indians to be actors in the dynamic processes in which America and its literature are inescapably embedded. Shifting the focus from textual images to the sites of material, ideological, linguistic, and aesthetic interaction between peoples, Bellin reenvisions American literature as the product of contact, conflict, accommodation, and interchange. Joshua David Bellin is a member of the faculty of La Roche College. 2000 | 280 pages | 6 x 9 ISBN 978-0-8122-3570-8 | Cloth | $59.95s | GBP39.00 ISBN 978-0-8122-1748-3 | Paper | $27.50s | GBP18.0 0 World Rights | Literature, Native American Studies, Cultural Studies Short copy: American literature has been deeply shaped by the presence of American Indians.
Sklep: Libristo.pl 209,99 zł
Książki Obcojęzyczne>Angielskie>Literature & literary studies>Literature: history & criticism>Literary studies: general
Offers A Look At Italy From The Late Eighteenth To The Early Twentieth Centuries Focusing On A Literary Tradition. This Book Moves From A Reframing Of Literature From The First Half Of The Nineteenth Century - Including Readings Of Works By Byron, De Stael, Barrett Browning, And Others - To An Examination Of Henry James's Engagement With Europe.
Sklep: Gigant.pl 117,67 zł
Książki / Literatura obcojęzyczna
Source: Wikipedia. Pages: 99. Chapters: The Wachowskis, James Parry, Jay Leno, Denis Leary, Steven Wright, Glenn Branca, Norman Lear, David Cross, Shane Hurlbut, Henry Winkler, Spalding Gray, Brandon Lee, Passion Pit, Spencer Tunick, Paul Dini, Jack Gantos, Alex Tse, Maria Menounos, Gina Gershon, Bonnie Comley, Morgan Page, Eric Hutchinson, Doris Haddock, Jennifer Coolidge, Jason Scott Sadofsky, Veronica Belmont, Julie Banderas, Cecilia Tan, Natasha Gregson Wagner, Andrea Martin, Hussein Ibish, Seth Grahame-Smith, Louise Wightman, Bill Burr, Victoria Snelgrove, Ken Fallin, Nicole duFresne, Timothy Hahn, Janaka Stucky, William Kowalski, Joely Fisher, Tamara Czartoryska, Sam Doumit, Mike Joy, E. W. Kenyon, Mary Starrett, Adam Green, Gene Wood, Ned Nickerson, Steve Berthiaume, Elaine Noble, Lance Norris, Danny Ledonne, Leo Grillo, Sarah Borges, Mary P. Burrill, Mario Cantone, Jessie Ward, Leslie Marshall, Vin Di Bona, Bobbi Brown, Michael Nouri, Carl Schmehl, Pearl Aday, Bill Schulz, Paul Kreppel, Jonathan Aaron, Olen Steinhauer, Laura Kightlinger, Wayne Larrivee, John Sencio, Lisa Hammer, Dan Levy, Steve Sweeney, Joanna Going, Michael McCusker, Denise Duhamel, Laurie Faria Stolarz, Lisi Harrison, Gene Lavanchy, Sam Presti, Louise Closser Hale, Kevin Bright, Dan Finnerty, Erik Mona, Thomas Lux, Richard Dysart, Katherine G. Langley, Princess Noor Hamzah, Charles Wesley Emerson, Frank Fixaris, John Frink, Anthony Clark, Max Mutchnick, Kathleen Rooney, Justin Kredible, Jerry Parisella, Tim Burton, Princess Yasmine bint Asem, Amir Mokri, Richard Arlook, Doug Herzog, Jeremy Kasten, Eddie Brill, Ed Harding, Suzan Johnson Cook, Brett Winterble, Morton Dean, Jon Prescott, Alice Moore Hubbard, Kurt Long, Harris Wittels, Peter O'Brian, Holly Karrol Clark, Matt Spiegel, Greg Dickerson, Andrew Glassman, Jaclyn Friedman, Dave Blass, Al Jaffe, Billy Costa, Todd J. Greenwald, Eddie Palladino, Scott Von Doviak, Jay Bienstock, Joel A. Greenberg, Lauren Sherman, Michael Mendenhall. Excerpt: Denis Colin Leary (born August 18, 1957) is an Irish American actor, comedian, singer, writer, and director. He is known for his biting comedic style and his chain smoking. Leary is the star and co-creator of the television show Rescue Me, which began its sixth season in June 2010. He is also the inaugural winner of the Triple J Hottest 100 in 1993 with the song "Asshole". Leary was born in Worcester, Massachusetts, the son of Irish Catholic immigrants. His mother, Nora, was a maid, and his late father, John Leary, was an auto mechanic. As both of his parents are from Killarney, County Kerry, Ireland, Leary holds both Irish and American citizenship. Through marriage, Leary is a third cousin of talk show host Conan O'Brien, and has jokingly said on Late Night with Conan O'Brien that "all Irish people are related." He graduated from Saint Peter-Marian High School, in Worcester. Leary is a graduate of Emerson College, in Boston, where he was classmates with fellow comic Mario Cantone, who remains his close friend. Comedian Steven Wright and actress Gina Gershon also attended Emerson at the same time as Leary. At the school, he and Jodi Haffner co-founded the Emerson Comedy Workshop, a troupe that continues on-campus to this day. After graduating with the Emerson Class of 1979, he took a job at the school teaching comedy writing classes and maintained the job for five years. Leary was honored with an honorary doctorate and spoke briefly at his alma mater's undergraduate comm...
Sklep: Libristo.pl 52,77 zł
Książki / Literatura obcojęzyczna
Since the late 1990s, Private Eye's "What You Didn't Miss" column has trained a vigilant lens on some of the great literary reputations of our age. Highlights of this bumper selection include Martin Amis exploring the sexual revolution of the 1960s, A.S. Byatt rewriting the Norse myths and the late Anthony Powell reflecting on his death. There are verse contributions from such distinguished contemporary poets as Seamus Heaney, Clive James and Sir Andrew Motion and a host of biographical subjects ranging from Hugh Trevor-Roper to the Bloomsbury Group. Edited and introduced by D.J. Taylor, "What You Didn't Miss Part 94" doubles up as both an hilarious collection of literary lampoons and an alternative history of modern English Literature.
Sklep: Libristo.pl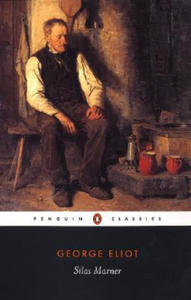 31,57 zł
Książki / Literatura obcojęzyczna
George Eliot's tale of a solitary miser gradually redeemed by the joy of fatherhood, "Silas Marner" is edited with an introduction and notes by David Carroll in "Penguin Classics". Wrongly accused of theft and exiled from a religious community many years before, the embittered weaver Silas Marner lives alone in Raveloe, living only for work and his precious hoard of money. But when his money is stolen and an orphaned child finds her way into his house, Silas is given the chance to transform his life. His fate, and that of Eppie, the little girl he adopts, is entwined with Godfrey Cass, son of the village Squire, who, like Silas, is trapped by his past. "Silas Marner", George Eliot's favourite of her novels, combines humour, rich symbolism and pointed social criticism to create an unsentimental but affectionate portrait of rural life. This text uses the Cabinet edition, revised by George Eliot in 1878. David Carroll's introduction is complemented by the original "Penguin Classics" edition introduction by Q.D. Leavis. Mary Ann Evans (1819-80) began her literary career as a translator, and later editor, of the Westminster Review. In 1857, she published "Scenes of Clerical Life", the first of eight novels she would publish under the name of 'George Eliot', including "The Mill on the Floss", "Middlemarch", and "Daniel Deronda". If you enjoyed "Silas Marner", you might like Nathaniel Hawthorne's "The Scarlet Letter", also available in "Penguin Classics". "I think "Silas Marner" holds a higher place than any of the author's works. It is more nearly a masterpiece; it has more of that simple, rounded, consummate aspect...which marks a classical work". (Henry James).
Sklep: Libristo.pl 493,62 zł
Książki / Literatura obcojęzyczna
This study takes as its point of departure an essential premise: that the widespread phenomenon of expatriation in American modernism is less a flight from the homeland than a dialectical return to it, but one which renders uncanny all tropes of familiarity and immediacy which 'fatherlands' and 'mother tongues' are traditionally seen as providing. In this framework, similarly totalising notions of cultural authenticity are seen to govern both exoticist mystification and 'nativist' obsessions with the purity of the 'mother tongue.' At the same time, cosmopolitanism, translation, and multilingualism become often eroticised tropes of violation of this model, and in consequence, simultaneously courted and abhorred, in a movement which, if crystallised in expatriate modernism, continued to make its presence felt beyond. Beginning with the late work of Henry James, this book goes on to examine at length Ezra Pound and Gertrude Stein, to conclude with the uncanny regionalism of mid-century San Francisco Renaissance poet Jack Spicer, and the deterritorialised aesthetic of Spicer's peer, John Ashbery.Through an emphasis on modernism as a space of generalized interference, the practice and trope of translation emerges as central to all of the writers concerned, while the book remains in constant dialogue with key recent works on transnationalism, transatlanticism, and modernism.
Sklep: Libristo.pl
112,24 zł
Książki / Literatura obcojęzyczna
This is a study on the premise that expatriation in American modernism is less a flight from the homeland than a dialectical return to it. Beginning with the late work of Henry James, this book goes on to examine at length Ezra Pound and Gertrude Stein, to conclude with the uncanny regionalism of mid-century San Francisco Renaissance poet Jack Spicer, and the deterritorialised aesthetic of Spicer's peer, John Ashbery. Through an emphasis on modernism as a space of generalised interference, the practice and trope of translation emerges as central to all of the writers concerned, while the book remains in constant dialogue with key recent works on transnationalism, transatlanticism and modernism.
Sklep: Libristo.pl 177,61 zł
Książki / Literatura obcojęzyczna
Originally published in 1913, this book of English prose for school children forms part of a two-volume series: the first volume contains selections for preparatory and elementary schools; the second volume contains selections for secondary and high schools. Both texts cover a broad variety of literary styles, moving chronologically from the late-medieval period through to the nineteenth century, explanatory notes being provided where necessary. The selections were arranged by Percy Lubbock (1879
Sklep: Libristo.pl
Sklepy zlokalizowane w miastach: Warszawa, Kraków, Łódź, Wrocław, Poznań, Gdańsk, Szczecin, Bydgoszcz, Lublin, Katowice
Szukaj w sklepach lub całym serwisie
2. Szukaj na wszystkich stronach serwisu
t1=0.096, t2=0, t3=0, t4=0, t=0.097