krainaksiazek the literature of the anglo saxons 20106822
- znaleziono 10 produkty w 3 sklepach 58,35 zł
Książki
Sklep: KrainaKsiazek.pl 84,99 zł
Książki Obcojęzyczne>Nieprzypisane
0x0060276f00000000
Sklep: Gigant.pl 46,99 zł
Książki Obcojęzyczne>Nieprzypisane
0x0036888d00000000
Sklep: Gigant.pl 56,15 zł
Książki / Literatura obcojęzyczna
'Here lies our leader all cut down, the valiant man in the dust.' The elegiac words of the Battle of Maldon, an epic poem written to celebrate the bravery of an English army defeated by Viking raiders in 991, emerge from a diverse literature - including Beowulf and Bede's Ecclesiastical History - produced by the people known as the Anglo-Saxons: Germanic tribes who migrated to Britain from Lower Saxony and Denmark in the early fifth century CE. The era once known as the 'Dark Ages' was marked by stunning cultural advances, and Henrietta Leyser here offers a fresh analysis of exciting recent discoveries made in the archaeology and art of the Anglo-Saxon world. Arguing that the desperate struggle (led by Alfred the Great) against the Vikings helped define a distinctively English sensibility, the author explores relations with the indigenous British, the Anglo-Saxon conversion to Christianity, the ascendancy of Mercia and the rise of Wessex. This vivid history evokes both the emergent kingdoms of Alfred and Offa and the golden treasures of Sutton Hoo. It will appeal to students of early medieval history and to all those who wish to understand how England was born.
Sklep: Libristo.pl 253,98 zł
Książki / Literatura obcojęzyczna
In addition to its unshakeable position on academic History curricula, Anglo-Saxon England remains popular with the general public. However, despite numerous specialist volumes on the political and economic history of the period, there are no books currently on the market which offer an overview of Anglo-Saxon daily life. This book fills that gap, covering a great range of common life experiences of individuals in England, AD c. 450-c.1066, including domestic and family life, work and leisure, education, clothing and housing, food, religion, magic and superstition, health and sickness, warfare, crime and punishment, ethnic and national identity, the creation of kingship, slavery, urban life, and political life for men, women and children. Archaeological evidence gives a dramatic picture of social organization in Anglo-Saxon towns, and sources such as wills provide insight into the way families were structured and organized. Evidence in the law codes and literature shows how Anglo-Saxons experienced childhood, youth, marriage, adulthood, parenthood and old age; how they were educated and engaged in trades, and what they did in their leisure time. Archaeological and documentary evidence, including pictorial representations in sculpture and manuscripts, give a vivid picture of Anglo-Saxon food and dress, and also of the military and governmental forces of Anglo-Saxon England. Religion was an important part of daily life, and so was crime, justice, punishment and slavery. Indeed, the struggle to survive meant that health and sickness were crucial everyday concerns. All these aspects of daily life are examined in Sally Crawford's book, creating a rich picture of ordinary, but complex, life in Anglo-Saxon England.
Sklep: Libristo.pl 243,18 zł
Książki / Literatura obcojęzyczna
Heathen gods are hard to find in Old English literature. Most Anglo-Saxon writers had no interest in them, and scholars today prefer to concentrate on the Christian civilization for which the Anglo-Saxons were so famous. Richard North offers an interesting view of Anglo-Saxon and Scandinavian paganism and mythology in the pre-Viking and Viking age. He discusses the pre-Christian gods of Bede's history of the Anglo-Saxon conversion with reference to an orgiastic figure known as Ingui, whom Bede called 'god of this age'. Using expert knowledge of comparative literary material from Old Norse-Icelandic and other Old Germanic languages, North reconstructs the slender Old English evidence in a highly imaginative treatment of poems such as Deor and The Dream of the Rood. Other gods such as Woden are considered with reference to Odin and his family in Old Norse-Icelandic mythology. In conclusion, it is argued that the cult of Ingui was defeated only when the ideology of the god Woden was sponsored by the Anglo-Saxon church. The book will interest students interested in Old English, Old Norse-Icelandic and Germanic literatures, Anglo-Saxon history and archaeology.
Sklep: Libristo.pl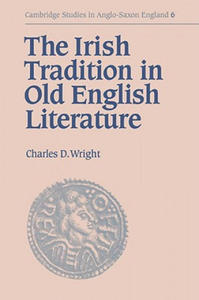 226,85 zł
Książki / Literatura obcojęzyczna
Irish monks and missionaries played a crucial role in the conversion of the pagan Anglo-Saxons and in the formation of Christian culture in England, but the nature and extent of Irish influence on Old English poetry has remained largely undefined. Charles Wright identifies the characteristic features of Irish Christian literature which influenced Anglo-Saxon vernacular authors. Professor Wright traces the Irish background of the distinctive contents of Vercelli Homily IX and its remarkable exemplum, 'The Devil's Account of the Next World', and traces the dissemination of related stylistic and thematic material elsewhere in Old English literature, including other anonymous homilies such as Beowulf and the Solomon and Saturn texts. As a full-length study of Irish influence on Old English religious literature, the book will appeal to scholars in Old English literature, Anglo-Saxon studies, and Old and Middle Irish literature.
Sklep: Libristo.pl 138,98 zł
Książki / Literatura obcojęzyczna
It would be difficult to overestimate the importance of the Bible in the medieval world. For the Anglo-Saxons, literary culture emerged from sustained and intensive biblical study. Further, at least to judge from the Old English texts which survive, the Old Testament was the primary influence, both in terms of content and modes of interpretation. Though the Old Testament was only partially translated into Old English, recent studies have shown how completely interconnected Anglo-Latin and Old English literary traditions are. Old English Literature and the Old Testament considers the importance of the Old Testament from a variety of disciplinary perspectives, from comparative to intertextual and historical. Though the essays focus on individual works, authors, or trends, including the Interrogationes Sigewulfi, Genesis A, and Daniel, each ultimately speaks to the vernacular corpus as a whole, suggesting approaches and methodologies for further study.
Sklep: Libristo.pl 281,94 zł
Książki / Literatura obcojęzyczna
Any scholar determined to provide the academic community with a comprehensive reading of the Anglo-Saxon Chronicles has set themselves a Herculean task. The Chronicles are a recording of historical events in England from the beginning of the Christian Era to 1154. The inspiration to compile and often translate to the vernacular brief entries from church annals, and then progressively longer historical accounts, poems and genealogies, is thought to come from Alfred, King of West Saxons (848-99) as part of his drive to revive learning and literature in England. After Alfred's death, scribes carried on amassing prose narratives, poems and genealogies, as well as transcribing the existing entries. Such a massive historical project leaves us now with a set of documents so complex that a planned edition is likely to consist of over 20 volumes. In this remarkable study Thomas Bredehoft asks: what was the cultural force of such a singular document? Who might have been reading it, who was steering its formation at various periods, and to what end? What modern scholars have been too willing to dismiss as a scattershot collection of unrelated annals, is, Bredehoft convincingly argues, a powerful and consciously driven tool to forge, through linking literature and history, a patriotic Anglo Saxon national identity.
Sklep: Libristo.pl 268,01 zł
Książki / Literatura obcojęzyczna
Introduction to the original delineations, topographical, historical, and descriptive, intituled the Beauties of England and Wales comprising observations on the history and antiquities of the Britons the Romans in Britain the Anglo-Saxons the Anglo-Da This book, "Introduction to the original delineations, topographical, historical, and descriptive, intituled the Beauties of England and Wales", by J.N. Brewer, is a replication of a book originally published before 1818. It has been restored by human beings, page by page, so that you may enjoy it in a form as close to the original as possible. This book was created using print-on-demand technology. Thank you for supporting classic literature.
Sklep: Libristo.pl
Sklepy zlokalizowane w miastach: Warszawa, Kraków, Łódź, Wrocław, Poznań, Gdańsk, Szczecin, Bydgoszcz, Lublin, Katowice
Szukaj w sklepach lub całym serwisie
2. Szukaj na wszystkich stronach serwisu
t1=0.037, t2=0, t3=0, t4=0, t=0.038