krainaksiazek the little black wedding dress 20096784
- znaleziono 6 produktów w 2 sklepach 43,19 zł
Książki / Literatura obcojęzyczna
In this absolutely unique treasure trove of fashion, family memoir and literature, Justine Picardie tells a sequence of stories that reveal the fabric of the past, and how a family has fashioned itself through the clothes that they have worn: from her mother's black wedding dress to her first party frock, a translucent winged fairy outfit that provided an early lesson in what we uncover, and what we cover up. She also tells of her encounters with fashion designers -- Karl Lagerfeld and Donatella Versace, among others; conversations with supermodels, and her search for Charlotte Bronte's ring. My Mother's Wedding Dress unravels why we care so much about clothes - the white satin and feathers and little black dresses with which we armour ourselves; the material of our lives. Above all, it is Justine Picardie's inimitable voice and thought-provoking quest for answers to her own past that make this book so special. 'An enticing combination of autobiography, biography, memoir, discourse, interviews, fashion notes, and dreams...a sparky and original book' Daily Mail 'Highly stylish and unusual, a selection of swatches that works as a whole' Sunday Telegraph
Sklep: Libristo.pl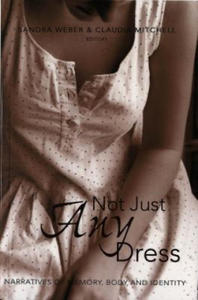 150,18 zł
Książki / Literatura obcojęzyczna
If dresses could talk, what stories might they tell? This compelling collection of short stories, essays, and poems features dress as the structural grounding for autobiographical accounts from women's lives in Western society. Often personal in nature, these
Sklep: Libristo.pl 82,49 zł
Muzyka>Muzyka świata
1. Grass Grown In The Pine Forest 2. In The Garden, In The Garden, And In The Grapes 3. We're Starting A Curved Dance 4. Let's Dress The Bush In Green Maples 5. Hey You Peter And Ivan Too, Half Of Summer's Gone 6. Picking Berries In The Forest 7. Rattled And Thundered, But Still No Rain 8. Our Master, Wish Us Good Luck 9. Old Pastoral Melodies 10. Don't Go Barabash To Our Street 11. We Walked And Played 12. Mother Look At My Place 13. Good Evening Girls, We Came To You 14. The Mother Unplaited Her Daughter Last Saturday 15. My Dear Daughter 16. Thought Of Three Samara Brothers 17. Black Raven, Black Raven Flying High 18. Little Orphan 19. Oh I'll Shout, Oh I'll Hail My Home 20. Raven Cawing On The Birch Tree 21. Listen Kind People To What I Want To Tell 22. A Wreath Of Guzul Melodies 23. Three Separate Ways In The Field 24. By The River, By The Fordway 25. Don't You Fly Jackdaw So Low Above The Water 26. The Wife Beat His Husband 27. Oh You Red Arrowwood 28. To The Lek, To The Lek, My Chickens 29. Polka Tatianka 30. Arkan 1 Grass Grown In The Pine Forest (carol To A Lad) 1.40 Folklore Ensemble Of The Village Of Krivonosovka, Seredino-Budsk District, Sumy Region, Left-bank Polesye 2 In The Garden, In The Garden, And In The Grapes 1.44 (winter Song Of Praise To A Girl Before Carol-singing) Folklore Ensemble Of The Village Of Rukshin, Khotin District, Chernovtsy Region, North Bessarabia 3 We're Starting A Curved Dance (springtime Round Dance) 1.35 Folklore Ensemble Of The Village Of Stena, Tomashpol District, Vinnitsa Region, Podolie 4 Let's Dress The Bush In Green Maples (Trinity Day Shrub Song) 2.46 Domenica Tchekun, The Village Of Starye Koni, Zarechensk District, Rovno Region, Volhynian Polesye 5 Hey You Peter And Ivan Too, Half Of Summer's Gone (St. Peter's Day Song) 2.41 Folklore Ensemble Of The Village Of Zasulie, Lubny District, Poltava Region, Poltava Land 6 Picking Berries In The Forest (summer Berry-picking Song) 2.33 Folklore Ensemble Of The Village Of Vovchitsy, Zarechensk District, Rovno Region, Volhynian Polesye 7 Rattled And Thundered, But Still No Rain (summer Song To Call Rain) 1.11 Folklore Ensemble Of The Village Of Krivonosovka, Seredina-Buda District, Sumy Region, Left-bank Polesye 8 Our Master, Wish Us Good Luck (harvest Season Tunes) 1.41 Folklore Ensemble Of The Village Of Bludshe, Kozelets District, Tchernigov Region, South Of Tchernigov Region, Transition Area 9 Old Pastoral Melodies (instrumental Tunes, Pishchavka) 2.55 Mikhail Gritsik (pishchavka), The Village Of Lipkovets, Khust District, Zakarpatie Region, Carpatho-Ukraine 10 Don't Go Barabash To Our Street (comic Charming Song) 1.41 Folklore Ensemble Of The Village Of Gruzke, Makarov District, Kiev Region, Kiev Polesye 11 We Walked And Played (wedding Tune) 1.08 Folklore Ensemble Of The Village Of Saltykova Devitsa, Kulikovka District, Tchernigov Region, South Of Tchernigov Region, Transition Area 12 Mother Look At My Place (wedding Farewell Song) 2.09 Folklore Ensemble Of The Village Of Sasinovka, Piryatin District, Poltava Region, Poltava Land 13 Good Evening Girls, We Came To You (wedding Ritual Song (ladkanka) And Chants (kolomiykas)) 3.35 Folklore Ensemble Of The Village Of Sukhodol, Rozhnyatov District, Ivano-Frankovsk Region, Guzul Land 14 The Mother Unplaited Her Daughter Last Saturday (wedding Farewell Song) 1.25 Folklore Ensemble Of The Village Of Stena, Tomashpol District, Vinnitsa Region, Podolie 15 My Dear Daughter (lamentation For A Daughter) 2.10 Olga Ivanovna Zasyadko (vocal), The Urban Community Of Kamenka, Tcherkassk Region, Middle Podneprovie 16 Thought Of Three Samara Brothers (duma Accompanied By Kobza) 7.58 Yegor Kharitonovich Movchan (vocal, Kobza), The Urban Community Of Bolshaya Pisarevka, Sumy Region, Tradition Of Kharkov Kobza School 17 Black Raven, Black Raven Flying High (ballad) 2.15 Ivan Grigorievich Demenyuk (vocal), The Village Of Krasnostavtsy, Snyatin District, Ivano-Frankovsk Region, Pokutie 18 Little Orphan (lyre Psalm) 4.05 Pyotr Demianovich Tchimersky (vocal, Lyre) - Kiev, Central Ukraine (Right- And Left-bank Ukraine) 19 Oh I'll Shout, Oh I'll Hail My Home From My Slavery (farm Labourer's Song) 4.21 Folklore Ensemble Of The Village Of Borovkovka, Verkhnedneprovsk Region, Dnepropetrovsk Region, Middle Podneprovie 20 Raven Cawing On The Birch Tree (recruit's Song) 2.19 Folklore Ensemble Of The Village Of Tchumaki, Petropavlovka District, Dnepropetrovsk Region, Slobozhania 21 Listen Kind People To What I Want To Tell (tale Song About Dovbush) 2.39 (historical Chronic Song Accompanied By Fiddle) Roman Petrovich Kumlik (vocal), The Village Of Verkhovina, Ivano-Frankovsk Region, Guzul Land 22 A Wreath Of Guzul Melodies (instrumental Tunes - Drymbas, Cimpoi) 2.52 Ensemble Of Drymba Players, The Village Of Rechka, Kosov District, Ivano-Frankovsk Region, Guzul Land 23 Three Separate Ways In The Field (lyrical Song) 2.20 Folklore Ensemble Of The Village Of Alexandrovka, Dolina District, Kirovograd Region, Middle Podneprovie 24 By The River, By The Fordway (lyrical Song) 2.37 Folklore Ensemble Of The Village Of Kryachkivka, Piryatin District, Poltava Region, Poltava Land 25 Don't You Fly Jackdaw So Low Above The Water (lyrical Song) 1.50 Folklore Ensemble Of The Village Of Kryachkivka, Piryatin District, Poltava Region, Poltava Land 26 The Wife Beat His Husband 2.22 (comic Song, Cant Manner. The Recording Begins With The Second Verse) Folklore Ensemble Of The Village Of Kryachkivka, Piryatin District, Poltava Region, Poltava Land 27 Oh You Red Arrowwood (lyrical Song) 2.58 Vocal Trio Of The Village Of Luginy, Luginy District, Zhitomir Region, Central Polesye 28 To The Lek, To The Lek, My Chickens (comic Song) 1.41 Folklore Ensemble Of The Village Of Rukshin, Khotin District, Tchernovtsy Region, North Bessarabia 29 Polka Tatianka 1.10 Instrumental Ensemble Of The Village Of Barish, Buchach District, Ternopol Region, West Polesie; 30 Arkan (or Dance Arkan). Dance Music (instrumental Capellas) 1.14 Instrumental Ensemble Of The Village Of Zamagoriv, Verkhovina District, Ivano-Frankovsk Region, Guzul Land Recordings From 1961 - 1989
Sklep: Gigant.pl 29,67 zł
Książki / Literatura obcojęzyczna
Rachel Gibson meets spine-tingling suspense in this fabulous romantic thriller from debut Little Black Dress author, Laurie Brown After the collapse of her wedding-planning business, Caroline Tucker returns to her childhood New Mexico home, hoping to leave recent troubles behind her. But then she agrees to help organise her cousin's wedding, and it's not long before her frustration levels with the hellish Barbara reach breaking point. Driving through a local beauty spot the morning of the wedding, Caroline is shocked to discover the tangled pink mess of Barbara's car, and even more so when she's arrested for her murder. Suddenly she finds herself face-to-face with Sheriff Travis Beaumont, the ruggedly handsome cop who also happens to be her ex-husband. Caroline had hoped she'd never see Travis again; now she'll have to find a way of working closely with him to have any chance of proving her innocence...
Sklep: Libristo.pl 74,35 zł
Książki / Literatura obcojęzyczna
No item of clothing has endured for longer than the dress. Yet the last century alone has seen the most radical changes of style - hemlines swinging from ankle to thigh; outlines alternating between the body-hugging and the bell - and our fascination with the 'frock' has not gone away. From Gres' draping to Dior's New Look, from Mary Quant's mini to Hussein Chalayan's mechanical marvels, this book looks at the dress in twentieth century fashion. Thematic chapters - Changes, Feminine, Seduction, Must-haves, Fantasy, Classical and Art - set out the inspirations and implications for each new change alongside the stunning photography. It is more than eighty years since Coco Chanel invented the little black dress, but every woman still has one in her wardrobe today. It's decades since women discovered trousers and separates, but every woman dreams of wearing a glorious, glamorous gown at least once, whether it's on a Hollywood red carpet, or just on her wedding day. Fabulous Frocks is a book to fire a fashionista's imagination.
Sklep: Libristo.pl 97,49 zł
Muzyka>Jazz
1. Woody Herman - At The Woodchoppers Ball 2. Benny Carter - Patience & Fortitude 3. Fats Waller - Handful Of Keys 4. Tommy Dorsey - Weary Blues 5. Teddy Wilson - Just A Mood 6. Jimmy Lunceford - Harlem Shout 7. Art Tatum - I've Got My Love To Keep Me Warm 8. Gene Kurpa - I Hear Music 9. Louis Armstrong - Wolverine Blues 10. Ben Webster - Woke Up Clipped 11. Charly Barnet - Southern Fried 12. Bobby Hacket - Poor Butterfly 13. Fletcher Henderson - Stampede 14. Barney Bigard - Sugar 15. Benny Goodman - Camel Hop 16. Roy Eldridge - Jump Through The Window 17. Coleman Hawkins - Honeysuckle Rose 18. Count Basie - One O'clock Jump 19. Benny Goodman - Who? 20. Glenn Miller - Runnin Wild 101. Artie Shaw - Roaslie 102. John Kirby - Sweet Georgia Brown 103. Louis Jordan - Choo-choo Ch'boogie 104. Lester Young - Just You, Just Me 105. Harry James - When We're Alone 106. Lionel Hampton - High Society 107. Erroll Garner - Lover 108. Duke Ellington - Take The ''a'' Train 109. Slam Stewart - Play Fiddle Play 110. Django Reinhardt - After You've Gone 111. Charly Christian - Flying Home 112. Rex Stewart - Cherry 113. Count Basie - Swingin' In The Blues 114. Charly Shavers - You're Driving Me Crazy 115. Coleman Hawkins - Crazy Rhythm 116. Woody Herman - Golden Wedding 117. Johnny Hodges - Rabbit's Blues 118. Lionel Hampton - Vibe Boogie 119. Buck Clayton - Way Down Yonder In New Orleans 120. Benny Goodman - Life Goes To Party 201. Duke Ellington - Don't Get Around Much Any More 202. Ben Webster - Blue Skies 203. Edmond Hall - It Had To Be You 204. Roy Eldridge - The Gasser 205. Fletcher Henderson - Back In Your Own Backyard 206. Billy Kyle - Havin' A Ball 207. Venuti Lang - Dinah 208. Charly Barnet - Cherokee 209. Louis Armstrong - Satchel Mouth Swing 210. Artie Shaw - Yesterdays 211. Tommy Dorsey - Royal Garden Blues 212. Teddy Wilson - Jumpin' For Joy 213. Benny Carter - New Street Swing 214. Fats Waller - The Minor Drags 215. Benny Goodman - China Boy 216. Bobby Hacket - Doin' The New Low-down 217. Coleman Hawkins - When Day Is Gone 218. Johnny Hodges - Something To Pay Your Foot To 219. Rex Stewart - Solid Rock 220. Lionel Hampton - It Don't Mean A Thing (If It Ai 301. Cozy Cole - The Beat 302. Jonah Jones - Lust For Licks 303. Charly Shavers - The Bottle's Empty 304. Lester Young - Indiana 305. John Kirby - It Feels Good 306. Harry James - Texas Chatter 307. Benny Carter - Gin And Jive 308. Benny Goodman - Ti-pi-tin 309. Ben Webster - Kat's Fur 310. Erroll Garner - When You're Smiling 311. Charly Christian - Seven Come Eleven 312. Louis Armstrong - Swing That Music 313. Duke Ellington - Cotton Tail 314. Buck Clayton - Countless Blues 315. Fats Waller - Honeysuckle Rose 316. Tommy Dorsey - The Sheik Of Araby 317. Louis Jordan - It's So Easy 318. Jimmy Lunceford - Le Jazz Hot 319. Barney Bigard - Someday Sweatheart 320. Gene Krupa - Hamtramck 401. Count Basie - Topsy 402. Coleman Hawkins - How Long, How Long Blues 403. Lionel Hampton - One Sweet Letter From You 404. Venuti-lang - The Wild Dog 405. Glenn Miller - I Want To Be Happy 406. Edmond Hall - A Shanty In Old Shanty Town 407. Fletcher Henderson - Rose Room 408. Teddy Wilson - Liza 409. Slam Stewart - Haw Haw 410. Artie Shaw - Lady Be Good 411. Benny Goodman - Make Believe 412. Bobby Hacket - That's How Dreams Should End 413. Art Tatum - What Will I Tell My Heart 414. Woody Herman - Four Of Five Times 415. Roy Eldridge - Fiesta In Brass 416. Louis Armstrong - Flat Foot Floogie 417. John Kirby - Front And Center 418. Rex Stewart - Bugle Call Rag 419. Erroll Garner - Poor Butterfly 420. Tommy Dorsey - Yes, Indeed 501. Benny Carter - There's A Small Hotel 502. Ben Webster - Sleep 503. Harry Hames - Sweet Georgia Brown 504. Teddy Wilson - 71 505. Duke Ellington - Concerto For Cootie (Do Nothin' 506. Lester Young - Jump Lester Jump 507. Django Reinhardt - I Can't Give You Anything But 508. Fats Waller - Sugar Blues 509. Charly Barnet - Flying Home 510. Coleman Hawkins - I Only Have Eyes For You 511. Lionel Hampton - Ribs And Hot Sauce 512. Johnny Hodges - Blue Fantasia 513. Charly Shavers - I'm In The Market For You 514. Glenn Miller - Rug Cutter's Swing 515. Fletcher Henderson - Liza 516. Barney Bigard - Tea For Two 517. Bobby Hacket - Ain't Misbehavin' 518. Benny Goodman - I Can't Give You Anything But Lo 519. Woody Herman - Blues Downstair 520. Count Basie - Twelfth Street Rag 601. Lionel Hampton - Rockin' In Rhythm Part 1 & 2 602. Buck Clayton - Them There Eyes 603. Res Stewart - The Little Goose 604. Fats Waller - I Ain't Got Nobody (And Nobody Car 605. Benny Goodman - Dinah 606. Tommy Dorsey - Well Git It 607. Roy Eldridge - St.louis Blues 608. Fletcher Henderson - Christopher Columbus 609. Edmond Hall - It's Been So Long 610. Ben Webster - Cadillac Slim 611. Gene Krupa - Full Dress Hop 612. Django Reinhardt - Limehouse Blues 613. Johnny Hodges - Good Queen Bess 614. Duke Ellington - Merry-go-round 615. John Kirby - Coquette 616. Erroll Garner - I'm In The Mood For Love 617. Lionel Hampton - Singin' The Blues (Till My Dadd 618. Jimmie Lunceford - The Lonesome Road 619. Lester Young - D.b.blues 620. Woody Herman - Yardbird Shuffle 701. Artie Shaw - Begin The Beguine 702. Teddy Wilson - The Way You Look Tonight 703. Harry James - Two O'clock Jump 704. Louis Armstrong - Leap Frog 705. Slam Stewart - Haw Haw 706. Cozy Cole - Comes The Don 707. Glenn Miller - Bugle Call Rag 708. Coleman Hawkins - Crazy Rhythm 709. Tommy Dorsey - Opus One 710. Bobby Hacket - Bugle Call Rag 711. Charly Christian - Soft Winds 712. Benny Carter - Black Bottom 713. Lester Young - Somebody Loves Me 714. Rex Stewart - Tain't Like That 715. Venuti-lang - Sweet Sue, Just You 716. Lionel Hampton - I've Found A New Baby 717. Benny Goodman - Exactly Like You 718. Benny Goodman - If Dreams Come True 719. Charly Barnet - Pompton Turnpike 720. Jimmie Lunceford - Ain't She Sweet 801. Earl ''fatha'' Hines - Grand Terrace Shuffle 802. Coleman Hawkins - Wrap You Troubles In Dreams 803. Don Byas - Please Don't Talk About Me When I'm G 804. Ben Webster - Honeysuckle Rose 805. Earl ''fatha'' Hines - Rosetta 806. Louis Armstrong - Rockin' Chair 807. Charly Christian - Gone With ,,what'' Wind 808. Coleman Hawkins - April In Paris 809. Charly Shavers - Dizzy's Dilemma 810. Benny Goodman - Pick-a Rip Part 1 & 2 811. John Kirby - Blues Skies 812. Erroll Garner - How High The Moon 813. Lester Young - Jammin' With Lester 814. Duke Ellington - Conga Brava 815. Artie Shaw - Diga Diga Doo 816. Django Reinhardt - Blue Light Blues 817. Don Byas - I'm Beginning To See The Light 818. Roy Eldridge - Fish Market 819. Lionel Hampton - Ring Dem Bells 820. Glenn Miller - King Porter Stomp 901. Count Basie - Jive At Five 902. Don Byas - They Say It's Wonderful 903. Coleman Hawkins - How Strange 904. Earl ''fatha'' Hines - Piano Man 905. Benny Goodman - Goody Goody 906. Harry James - Little White Lies 907. Erroll Garner - Indiana 908. Coleman Hawkins - Angel Face 909. Buck Clayton - I Know That You Know 910. Benny Carter - I'm In The Mood For Swing 911. Fats Waller - Sweet Sue, Just You 912. Lionel Hampton - Pinetop's Boogie Woogie 913. Johnny Hodges - Jeep's Blues 914. Charly Barnet - Skyliner 915. Bobby Hacket - Clarinet Marmelade 916. Edmond Hall - I Can't Believe That You're In Lov 917. Glenn Miller - When That Man Is Dead & Gone 918. Tommy Dorsey - On The Sunny Side Of The Street 919. Teddy Wilson - Sailin' 920. Count Basie - Basie Strides Again
Sklep: Gigant.pl
Sklepy zlokalizowane w miastach: Warszawa, Kraków, Łódź, Wrocław, Poznań, Gdańsk, Szczecin, Bydgoszcz, Lublin, Katowice
Szukaj w sklepach lub całym serwisie
2. Szukaj na wszystkich stronach serwisu
t1=0.055, t2=0, t3=0, t4=0, t=0.055