krainaksiazek the major couponing reference pocket guide 20116182
- znaleziono 13 produktów w 2 sklepach 190,65 zł
Medycyna > English Division
The potential capacity of the biphosphonates to intervene in osseous remodeling was recognized more than 30 years ago. The biphosphonates inhibit osteoclastic activity. In spite of advances in early detection, surgey, chemo-and radiotherapy, metastatic bone disease is still a major and in many cases intractable clinical problem. The biphosphonates are now the most effective agents in the management of bone metastases - as shown by trials in patients with breast and prostate cancer, and in multiple myeloma. Bone pain, new ostelytic events and pathologic fractures are decreased and complications associated with these events are avoided. Existing osteolytic lesions may even be reversed. New fields of indications of biphosphonates are shown to be in the adjuvant therapy of breast cancer and in stage 1 multiple myeloma to prevent skeletal destruction and also to inhibit tumor growth. Over the past few years the biphosphonates have proved their value also in many other conditions such as Paget's disease of bone, osseous disorders with an osteoclastic component leading to osteopenia/osteoporosis, in congenial, endocrine and metabolic disorders. Perhaps, for the future and for the next millennium the most widespread and extensive use to these anti-osteoclastic component leading to osteopenia/osteoporosis, in congenial, endocrine and metabolic disorders. Perhaps, for the future and for the next millennium the most widespread and extensive use to these anti-osteoclastic agents will be in these disorders, and particularly in so-called primary osteoporosis which evenually effects anyone who lives long enough, causing widespread morbidity with drastic economic consequences both individually and nationally. The authors' aim is to provide an office and desk companion - comprehensive, concise, practical for easy reference - an up-to-date guide for prevention and therapy of skeletal complications whenever and wherever they occur in general and specialized medical practice.
Sklep: Ksiazki-medyczne.eu 333,44 zł
Książki / Literatura obcojęzyczna
Kaplan & Sadock's Pocket Handbook of Psychiatric Drug Treatment is the essential drug reference guide that offers recently updated data and discussion on all current major psychiatric drugs and trends in clinical use, organized for quick, efficient use. Whether you're a psychiatrist, resident or fellow, medical student, nurse, social worker or other healthcare professional seeking a current psychiatric drug pocket guide, this handy softcover reference will serve as the perfect information aid. Features: DSM-5; drug information and interactions are presented throughout the book in the text and; drug photo 'gallery' shows images of the drugs, generic and brand; tabular lists of toxic and lethal doses of each drug, with overdose symptoms and emergency management; informed commentary by authors providing invaluable insight on current therapy trends affecting each; classification system based on pharmacologic activity and mechanism of; updated chapter on nutritional supplements and herbal; and new chapter on weight-loss drugs and the issue of obesity as it occurs in conjunction with psychiatric disorders.
Sklep: Libristo.pl 301,29 zł
Książki / Literatura obcojęzyczna
Put the authority of Goodman & Gilman's in the palm of your hand!§5 STAR DOODY'S REVIEW! §"...the most authoritative and trusted source of pharmacological information, has now spawned a portable pocket drug guide....This manual extracts the essential core drug information from the eleventh edition of the parent book, referring the reader to the online version of the parent book for historical aspects, many chemical and clinical details, and additional figures and references. This makes G & G a very useful book. This will be of use to individuals in training or practice in the fields of pharmacy, medicine, nursing, or allied health disciplines where knowledge of drug actions are important....Each chapter provides the core essential information provided in the parent book in a very readable format. Readers can use this easy to handle and read manual for essential information along with the online version of the parent book as a reference for more in-depth specific information on drugs."-- Doody's Review Service (of earlier edition) § NOW IN FULL COLOR!§The Goodman & Gilman Manual of Pharmacology and Therapeutics offers the renowned content of Goodman & Gilman's Pharmacological Basis of Therapeutics, Eleventh Edition , condensed into an ultra-handy, streamlined reference.§More than just a pocket drug guide, this indispensable resource offers:§A carry-along source of essential fundamental information, with all the authority of Goodman & Gilman's Pharmacological Basis of Therapeutics, Eleventh Edition §The benefits of the world's leading pharmacology text in a convenient, portable format §Comprehensive, yet streamlined and clinically relevant coverage of the pharmacological basis of therapeutics§High-yield overview of pharmacokinetics, pharmacodynamics, and the foundations of pharmacology §Expert insights into the properties, mechanisms, and uses of all the major drug classes§Considerations of vital patient-specific issues
Sklep: Libristo.pl 145,45 zł
Książki / Literatura obcojęzyczna
This pocket reference and revision guide is a must for all medical students and junior doctors preparing for major exams in clinical medicine or needing a rapid reminder of essential facts during a clinical attachment. Now thoroughly updated, this new edition combines the first editions of Rapid Medicine and Rapid Differential Diagnosis and contains reference to over 200 common medical conditions and diseases and 350 signs and symptoms encountered on a daily basis on the wards, in clinics and in exams. This concise, no-nonsense reference is presented in an A-Z format for easy access to information, and includes a thematic index with conditions sorted by speciality making it an ideal companion in any clinical situation.
Sklep: Libristo.pl 301,29 zł
Książki / Literatura obcojęzyczna
The Oxford Handbook of Psychiatry 3e and Drugs in Psychiatry 2e are brought together in this great value pack. Fully revised and updated for the new edition, the Oxford Handbook of Psychiatry provides the most up-to-date information clinically relevant to the doctor on the ground. Using a presentation-based format it provides detailed advice on clinical decision making after diagnosis. This handbook is an indispensable companion for any professional working in psychiatric medicine. Covering all major psychiatric conditions and sub-specialties, this handbook provides practical and comprehensive guidelines and in-depth coverage of psychiatric assessment, psychopathology, evidence-based practice, therapeutic issues, and transcultural psychiatry. Fully up-to-date with the latest revisions of the DSM-IV and the ICD10, it is indexed alphabetically by classification codes and acute presentations for quick access. It reflects the recent major changes to psychiatric training and examination as well as the latest drug information. Reviewed by experienced clinicians, and revised by Specialist Trainees, this handbook not only gives expert advice for psychiatry professionals, but is also directly relevant to trainees in psychiatry. For the third edition, new information includes guidance on Adult ADHD, information on new drugs of abuse (e,g, GBL, GHB, mephodrone), and clinical decision-making in the prison setting. With such broad coverage and depth of guidance, this is the must-have pocket guide for all professionals and trainees working in psychiatry. Drugs in Psychiatry is the updated second edition of the practical pocketbook summarizing essential information on all the major drugs currently used in clinical psychiatric practice. Beginning with a brief discussion on drugs in psychiatry, the text moves on to consider the principles of psychopharmacology, which form the foundation of the sound, scientifically based use of drugs in psychiatry. Details are then given, in turn, of the main non-depot antipsychotic drugs, antipsychotic depot injections, antimanic drugs, tricyclic and related antidepressant drugs, monoamine-oxidase inhibitors, selective serotonin re-uptake inhibitors, and other antidepressants. This practical pocketbook is an essential companion for all medical staff involved in psychopharmacology, both for learning and quick reference.
Sklep: Libristo.pl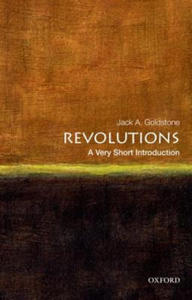 39,08 zł
Książki / Literatura obcojęzyczna
From 1789 in France to 2011 in Cairo, revolutions have shaken the world. In their pursuit of social justice, revolutionaries have taken on the assembled might of monarchies, empires, and dictatorships. They have often, though not always, sparked cataclysmic violence, and have at times won miraculous victories, though at other times suffered devastating defeat. This Very Short Introduction illuminates the revolutionaries, their strategies, their successes and failures, and the ways in which revolutions continue to dominate world events and the popular imagination. Starting with the city-states of ancient Greece and Rome, Jack Goldstone traces the development of revolutions through the Renaissance and Reformation, the Enlightenment and liberal constitutional revolutions such as in America, and their opposite-the communist revolutions of the 20th century. He shows how revolutions overturned dictators in Nicaragua and Iran and brought the collapse of communism in the Soviet Union and Eastern Europe, and examines the new wave of non-violent "colour" revolutions-the Philippines' Yellow Revolution, Ukraine's Orange Revolution-and the Arab Uprisings of 2011-12 that rocked the Middle East. Goldstone also sheds light on the major theories of revolution, exploring the causes of revolutionary waves, the role of revolutionary leaders, the strategies and processes of revolutionary change, and the intersection between revolutions and shifting patterns of global power. Finally, the author examines the reasons for diverse revolutionary outcomes, from democracy to civil war and authoritarian rule, and the likely future of revolution in years to come. About the Series: Oxford's Very Short Introductions series offers concise and original introductions to a wide range of subjects-from Islam to Sociology, Politics to Classics, Literary Theory to History, and Archaeology to the Bible. Not simply a textbook of definitions, each volume in this series provides trenchant and provocative-yet always balanced and complete-discussions of the central issues in a given discipline or field. Every Very Short Introduction gives a readable evolution of the subject in question, demonstrating how the subject has developed and how it has influenced society. Eventually, the series will encompass every major academic discipline, offering all students an accessible and abundant reference library. Whatever the area of study that one deems important or appealing, whatever the topic that fascinates the general reader, the Very Short Introductions series has a handy and affordable guide that will likely prove indispensable. ABOUT THE SERIES: The Very Short Introductions series from Oxford University Press contains hundreds of titles in almost every subject area. These pocket-sized books are the perfect way to get ahead in a new subject quickly. Our expert authors combine facts, analysis, perspective, new ideas, and enthusiasm to make interesting and challenging topics highly readable.
Sklep: Libristo.pl 171,34 zł
Książki / Literatura obcojęzyczna
"The Oxford Handbook of Pre-hospital Care" provides the reader with authoritative, evidence-based advice on the assessment and management of pre-hospital care emergencies. It is designed to provide information for all immediate care practitioners including doctors, paramedics, emergency care practitioners, nurses and voluntary aid society members. The Oxford Handbook format and its pocket size make its content readily accessible and it can be carried easily in jackets or other personal protective clothing. Each section defines the important clinical features of the named condition and includes boxes containing essential advice. The treatment section incorporates national and international guidelines and protocols where available and reflects contemporary best practice. The topics include scene safety, personal protective equipment, basic and advanced life support, head injuries, chest injuries, abdominal and pelvic injuries, spinal injuries, musculoskeletal injuries, medical emergencies, mass gathering incidents, major incidents, burns and related problems. The authors have broad experience in pre-hospital care including civilian and military practice in various fields including medical emergencies, road traffic collisions, entrapments, ballistic trauma and major incidents. This is the essential quick-reference guide to pre-hospital medicine!
Sklep: Libristo.pl 83,77 zł
Książki / Literatura obcojęzyczna
A guide to over 800 museums, art galleries, churches and palaces in 33 countries. Practical information provided includes: opening hours, addresses, telephone and fax numbers, Internet and email. It features: a star rating system to highlight unmissable masterpieces; foreign language vocabulary; A-Z index of over 600 major artists and sculptors; and a glossary of art terms. Guidebook, directory, reference work: this pocket companion to the art of the Western world is aimed at all art-lovers. Helen Langdon not only takes us to the world's greatest museums, but also introduces a vast selection of lesser known galleries, churches, palaces and villas. She points us to the outstanding paintings and sculptures, and draws attention to the strengths of each collection. Arranged alphabetically by country, with introductory essays on each country's art and biographical index of over 600 major painters and sculptors, the book covers the whole range of Western art from the Early Renaissance to the present day. The new generation of art galleries, from Tate Modern to the Guggenheim Bilbao, is fully discussed, while special attention is given to particular treasures, such as the Venetian scuole, Titians in the Prado, or Pre-Raphaelite paintings in England. Among more that 200 colour illustrations are many unexpected pictures, tempting the reader to seek out less familiar collections.
Sklep: Libristo.pl 49,31 zł
Książki / Literatura obcojęzyczna
Opera is one of the world's most dramatic art forms. It inspires such dedication among its followers that many will travel the globe for a chance to watch their favourite operas performed in world-famous venues. This handy reference guide from Classic FM covers the major milestones and composers in the history of opera, featuring some of the greatest works ever written, to help you discover the extraordinary world of opera. Some of classical music's most famous works are found in opera, and from film soundtracks to football stadiums, it reaches a vast worldwide audience. Packed full of essential information, this pocket-sized handbook explores the key styles in the genre, from the Baroque era to the modern masters, the greatest composers, voices and venues, as well as recommending essential operas to see and tracks to download. Classic FM's Handy Guides are a fun and informative set of introductions to standout subjects within classical music, each of which can be read and digested in one sitting: a perfect collectible series whether you're new to the world of classical music or an aficionado.
Sklep: Libristo.pl 545,91 zł
Medycyna > English Division
In this groundbreaking book, leading experts detail the cellular and molecular cascades that cause selective degeneration of neuronal populations, and illuminate those genetic and environmental factors that are critical to the facilitation or suppression of the neuropathologic processes. Working from studies of human patients, as well as from cell culture and animal models, the authors demonstrate a heretofore unrecognized convergence of the causative pathogenetic mechanisms for clinically distinct neurological disorders. At center stage are the biochemical and molecular cascades that will ultimately lead to neuronal death - cascades involving oxyradical production, aberrant regulation of cellular ion homeostasis, activation of specific proteases, and activation of a stereotyped sequence of events involving mitochondial dysfunction. Individual chapters examine how these mechanisms - along with genetic and environmental factors - operate in Alzheimer's and Parkinson's diseases, Down's syndrome, amyotropic lateral sclerosis, ischemic stroke, spinal cord injury, and Duchenne muscular dystrophy. "...a timely collection of 12 papers authored by 26 experts...mechanisms combined with specific molecular genetic and environmental factors are responsible for the development of the diseases that are covered in a concise...manner in subsequent chapters...The chapter on "Trinucleotide Repeat Disorders" provides fascinating reading...The 12 chapters are balanced in length, are all well referenced, and provide a state of the art summary for those who are only tangentially involved in studying these disorders or treating patients suffering from any of them. On the other hand, for those whose main interest lies in research related to any of these diseases, it is a refreshing, well-written, and well-edited overview of a field that evolves and changes at unprecedented speed...With the help of well-known experts in the relevant fields, several basic pieces of the puzzle are provided that with the appropriate intellectual efforts can be sewn together. The result is the emergence of an overall view, the "Big Picture."...the overall value of the book is undeniable, and it is beyond doubt that it will serve as a major reference source for neurologists, neuropathologists, and residents training in the respective fields." - Modern Pathology "A wide range of conditions and illnesses are covered, including ALS, muscular dystrophy, Parkinson's, Huntington's, Alzheimer's, Down's, stroke, and spinal cord trauma. Whole articles are devoted to neurogenetic mechanisms, oxidative processes, excitotoxicity, and apoptosis. From the viewpoint of a general clinical neurologist, the best feature of this book is that it is, for the most part, an understandable summary and update of the neuroscience that was not yet discovered a few years ago. The illustrations are of good quality...This book is good for a clinician because it broadens one's horizons and gives the clinician a better ability to help patients understand their problems. It would be good for a researcher or a graduate student because it summarizes what is being done in many fields." -Doody's Health Sciences Book Review Journal "This handy pocket guide will be useful for many residents and clinicians, especially in those specialties that treat Alzheimer's disease. It is a worthy addition to departmental and hospital libraries and, predictably, will be used quite frequently." - The Canadian Journal of Neurological Sciences
Sklep: Ksiazki-medyczne.eu 140,17 zł
Książki / Literatura obcojęzyczna
This pocket reference and revision guide is a must for all medical students and junior doctors preparing for major exams in obstetrics and gynaecology or needing a rapid reminder during a clinical attachment. Now thoroughly updated, this second edition has been re-ordered into three sections - covering obstetrics, gynaecology, and procedures - to provide a more systematic and ordered approach to learning that takes into consideration the natural division within the specialty. Covering all key topics in Obstetrics and Gynaecology, this succinct account of the core and common conditions found in clinical settings and exams is the ideal refresher covering just the basic, relevant facts.
Sklep: Libristo.pl 422,33 zł
Książki / Literatura obcojęzyczna
This volume in the Essentials in Cytopathology book series will focus on the cytopathology of lymph nodes. It will address the topic of fine needle aspiration of lymph nodes and fulfill the need for an easy-to-use and authoritative synopsis of lymph node cytopathology. The book with adopt an algorithmic diagnostic approach, starting from the cytomorphologic pattern of the lymph node aspirate. The focus will be on the appropriate and effective use of ancillary studies (immunohistochemistry, flow cytometry, fluorescence in situ hybridization and molecular techniques) and integration of their results into the final diagnosis.§The book will present the cytopathologic features and differential diagnoses for the major cytologic patterns in lymph node fine needle aspiration. The entities typically falling within each of these patterns will be discussed with illustration of the spectrum of cytologic features, differential diagnoses and pitfalls.§The book will cover the full spectrum of benign and malignant primary conditions of the lymph nodes, with emphasis on common disorders. Discussion of metastatic conditions will be restricted to those that are relevant to the differential diagnosis of primary lymphoid disorders.§This book is designed as an easy to use resource that fits into the lab coat pocket, ideal for portability and quick reference. It is heavily illustrated and contains useful algorithms that guide the reader through the differential diagnosis of common and uncommon entities encountered in lymph node aspirates. The accompanying text follows an easy to use pattern-based outline. A useful resource for every pathologist, cytopathologist, fellow and trainee.
Sklep: Libristo.pl 187,01 zł
Książki / Literatura obcojęzyczna
Make sure you can identify the many different types of surgical instruments! "Surgical Instruments: A Pocket Guide, 4th Edition" is a quick 'go-to' source for information on over 160 of the most commonly used surgical instruments. Each two-page spread features full-color photos of an instrument and its tip (if applicable), and then describes how it is used, its common variations, and any alternative names. Written by Maryann Papanier Wells, this compact, durable reference is easy to keep with you at all times. With instruments alphabetized within each major instrument class, locating specific information has never been easier.
Sklep: Libristo.pl
Sklepy zlokalizowane w miastach: Warszawa, Kraków, Łódź, Wrocław, Poznań, Gdańsk, Szczecin, Bydgoszcz, Lublin, Katowice
Szukaj w sklepach lub całym serwisie
2. Szukaj na wszystkich stronach serwisu
t1=0.066, t2=0, t3=0, t4=0.023, t=0.066