krainaksiazek the many faces of love in paintings and poetry 20170066
- znaleziono 4 produkty w 2 sklepach 54,10 zł
Powieści i opowiadania
Orlando Figes
Sklep: Albertus.pl 129,70 zł
CAFÉ SELECT Poets Choice Publishing
Książki / Literatura obcojęzyczna
"Truth, a dominatrix/asserting love is all..." W.M. Rivera writes in "Prelude," one of the opening poems in the book you are holding. Truth can be pleasurable, and painful all at the same time, like love and sex. This exploration of truth and love as double edged sword runs through Cafe Select. Rivera's poems are lusty gems, there's a fighting spirit, and a wise one at work in these poems, sometimes wrestling with itself, other times wrestling with the great spiritual chink in our armor, other people and their influence upon us. Rivera kinks it up in Cafe , and I'm not just talking about sado-masochistic sex, or a lusty young couple in heat, the lines of these poems screw into each other creating a dense tough lyricism that is coupled with gritty reality: these 'sperm on the wing.' Most won't make it. Some end up in luxuriating in Rimbaud's bathtub boat on a pond in Tuileries Gardens. Some labor growing pains on death-row's dry concrete. In suburbia most land on fertile ground. Even the run-amucks multiply in manicured cracks. Rivera's describing dandelions seeding into air in "Manicured Cracks," how most won't make it, that the seeds of the weed, the most iconic of spring youth images, faces a fate like all of us. They might live on to flower again, or they won't. As human counterparts, many of us will die along the way, and often the worst of us, the weeds, thrive. What I like is the music in Rivera's poems. The alliterative urge, the hard consonant sounds, very much like later Seamus Heaney, acting like sharp edges to confine and crib the lines and feet. Poetry and art are created by privilege, and these poems are unabashed at their modernist raiment made possible by a privileged life. Paris is both the geographical and figurative heart of the book. Paris, the literal city, and Paris the epitome of cul- ture. Rivera is at home on both fronts, and relies on music to drive his poetry for- ward; the imagery, well that's extra sauce for the pudding, and whether he's referring to the city of lights, to art in a gallery, or to ancient Occidental poem, it doesn't matter. For Rivera their origins are the same. The urge to create, to be re- born.
Sklep: Libristo.pl 124,94 zł
Książki / Literatura obcojęzyczna
Unabashedly local and particular, these poems bring alive the sights, sounds, and people of Minneapolis and Saint Paul--the ""twin cities"" of Minnesota. In addition, they aim to think and feel their way through one of the most painful episodes in the history of the local church, the revelations of cover-up surrounding the sexual abuse of children by priests. The poet's words present one mode of healing in a difficult hour, some nourishment as a community moves forward into a new day. ""Zach Czaia lays this first collection of poems as one would psalms on the altar of the world. Like a tattoo artist, he etches fine ink cuts onto our thinned skin, leaving memories that cannot be erased. Czaia takes us from classroom to church seamlessly in an American voice, in a Catholic voice, tracking both his personal history and pointing us from what we know to what we sanctify. His 'Father X' poems join a genre of indictment against those--named, nameless, and name withheld--who abuse sacred trust, leaving scars on human dignity and on the body of Christ. Have faith in these poems. They have a destination. Follow the bright notes of the trumpet. You will not be disappointed."" --Rose Marie Berger, poetry editor, Sojourners magazine ""In Saint Paul Lives Here (In Minnesota) Zach Czaia offers readers a collection of marvels and the miraculous. In these poems, St. Paul ponders bicycles, the tongue of Blake's tiger 'drips oil/for our benedictions,' and the ferryman, Charon, reflects on the generations that have passed through his boat. Dante and Beatrice make appearances in a book that celebrates the lush beauty of the Catholic Mass at the same time as it excoriates, as did the prophets, the corruption of religious authorities. Czaia honestly faces the pitiless sexual abuse scandals of the Church in poems that probe the nature and possibility of forgiveness and peace. The poet's Jonah, who wants 'a bigger, badder God,' would be well-pleased with these brave and beautiful poems of faith, anger, sin, and love. As one poem ends, 'May I return tenfold/what he has given me.' You will be blessed tenfold by reading this book."" --Anya Krugovoy Silver, poet, author of I Watched You Disappear and The 93rd Name of God ""Beautifully made in an impressive wide range of forms, Zach Czaia's poems deliver the complex thoughtful interior of a young man with tough honesty. Emerging from a deep religious faith, they accomplish the difficult task of not being limited by a specific faith. They speak to everyone who grapples with the joys and hurts, ecstasies and betrayals, to be had living as part of a family, school, romance, church, and city. Czaia speaks directly, a companion on the journey: 'I want a baby's heart and skin but not his tears,' shines with tenderness, vulnerability and truth. And again: 'I move from ease to unease/ easily within the hour, many times."" And again, understood from Dante: 'You know you are a little bit different today, but so are they different each day.' The wealth of poets' work that walks side by side with the language and wisdom of the Holy Bible will bring the delight of recognition of the universal and timeless to lovers of poetry as well as those new to it--whoever seeks a clear view of our daily travels."" --Rosemary Winslow, poet, author of Green Bodies ""Saint Paul Lives Here (In Minnesota) is unusual for a first book in its range of subject matter as well as its emotional range. The book is also ambitious in the best sense of that word; it is not afraid to take on the ways in which the world can betray us. It is timely in its concerns and timeless in its longings for love, for beauty, for forgiveness and, most of all, for grace. Zach Czaia finds that grace through the act of writing poems and in language itself. The poet says about one of the characters in a poem: 'That is the way with
Sklep: Libristo.pl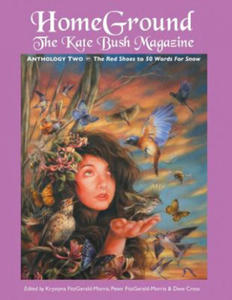 184,70 zł
Homeground INGRAM INTERNATIONAL
Książki / Literatura obcojęzyczna
HOMEGROUND: THE KATE BUSH MAGAZINE: ANTHOLOGY TWO: 'THE RED SHOES' TO '50 WORDS FOR SNOW' HomeGround is a magazine devoted to Kate Bush (born in 1958), a British pop star best-known for hits such as 'Wuthering Heights', 'Wow', 'Hounds of Love' and 'Running Up That Hill'. This book is pure heaven for music fans. The HomeGround magazine anthology includes material inspired by all periods of Kate Bush's musical progression. It is a book about the reaction to her work and how her unique music has touched the lives of so many people. This is a unique book, a labour of love for hundreds of music fans who have contributed to HomeGround over its thirty-year existence. The book includes an enormous amount of information about Kate Bush, accounts of every release, album, single, pop promo and appearance, as well as memories and accounts of music fandom (such as conventions, meetings, hikes, stage door encounters and video parties). It also includes material on many other pop acts and events. It features poetry, stories, letters, reviews, interviews, memoirs, cartoons, drawings, paintings and photographs. This is the second book of a two volume set, totalling over 1200 pages. The second volume covers Kate Bush's career from 'The Red Shoes' album to '50 Words For Snow' album (from the early 1990s to the present day). The first book runs from the origins of Bush's career to the album 'The Sensual World'. The first issue of HomeGround appeared in 1982, four years after Kate Bush's dramatic debut with 'Wuthering Heights'. Starting with an ancient manual typewriter, and a pot of glue paste, the editors mounted articles on recycled backing sheets and added hand-drawn artwork to fill the gaps. The first issue was photocopied, the pages hand-stapled together and twenty-five copies were given away to fans they knew. Only later did they discover the magic of word processing, and desktop publishing. From those beginnings HomeGround became a cornerstone of the 'Kate-speaking world', the editors going on to organise four official fan events at which Kate Bush and members of her family and band appeared, arrange at Bush's request a team of fans to be extras in two of her videos and organise informal fan gatherings at Glastonbury and Top Withens, the storm-blown ruin on Haworth Moor. Years before the internet, HomeGround became a place where fans could discuss Bush's music, and a place where they could publish creative writing and artwork that music inspired. www.crmoon.com. Buy direct from Crescent Moon (at crmoon.com): we are cheaper than online sellers (including Amazon), and more of your money goes to the people who produced these amazing books. We also have offers on buying both books together. Fully illustrated with hundreds of images, including rare photographs and original artwork. Includes a timeline of Kate Bush's career, index, and a who's who. ISBN 9781861714817. 568pp. Volume One of HomeGround, covering Kate Bush's early career, is also available: ISBN 9781861714794 (Pbk) and 9781861714800 (Hbk). Also available in hardback: ISBN 9781861714824. Katebushnews.com - the website of HomeGround, the international Kate Bush magazine.
Sklep: Libristo.pl
Sklepy zlokalizowane w miastach: Warszawa, Kraków, Łódź, Wrocław, Poznań, Gdańsk, Szczecin, Bydgoszcz, Lublin, Katowice
Szukaj w sklepach lub całym serwisie
2. Szukaj na wszystkich stronach serwisu
t1=0.052, t2=0, t3=0, t4=0.021, t=0.052