krainaksiazek the most interesting man alive 20115881
- znaleziono 4 produkty w 1 sklepie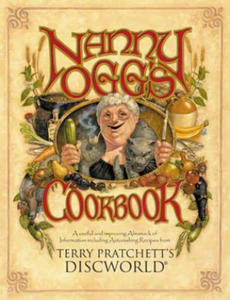 54,39 zł
Książki / Literatura obcojęzyczna
'They say that the way to a man's heart is through his stomach which just goes to show they're as confused about anatomy as they gen'rally are about everything else, unless they're talking about instructions on how to stab him, in which case a better way is up and under the ribcage. Anyway, we do not live in a perfect world and it is foresighted and useful for a young woman to become proficient in those arts which will keep a weak-willed man from straying. Learning to cook is also useful.' Nanny Ogg, one of Discworld's most famous witches, is passing on some of her huge collection of tasty and above all interesting recipes, since everyone else is doing it. But in addition to the delights of the Strawberry Wobbler and Nobby's Mum's Distressed Pudding, Mrs Ogg imparts her thoughts on life, death, etiquette ('If you go to other people's funerals they'll be sure to come to yours'), courtship, children and weddings, all in a refined style that should not offend the most delicate of sensibilities. Well, not much. Most of the recipes have been tried out on people who are still alive. Nanny Ogg Gratefully Ackowledges the Assistance in this Literary Argosy of: Mr Terry Pratchett, Mr Stephen Briggs, Mlle Tina Hannan and Master Paul Kidby.
Sklep: Libristo.pl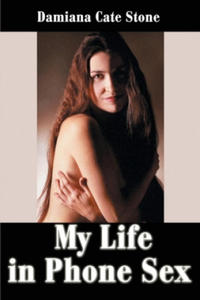 48,04 zł
Książki / Literatura obcojęzyczna
Her customers know her as Luxe, but her lovers call her Ian, and she is one very passionate, very interesting woman! My Life In Phone Sex guides you through Ian's adventures in phone sex and in her life. Walk with her through her relentless search for personal fulfillment as she buries past sexual trauma beneath her sexual addiction in striving for a secure existence. This book reveals the most personal thoughts and activities of a sexual celebrity who seems to be nothing other than every man's fantasy...vibrantly alive, and in the flesh. This tender story of a beautiful woman, and how she really feels about sex and love will move you long after you read the final chapter. It will change how you feel about phone sex, and about love.
Sklep: Libristo.pl 87,93 zł
Książki / Literatura obcojęzyczna
"A volume for a lifetime" is how The New Yorker described the first of Donald Culross Peatie's two books about American trees published in the 1950s. In this one-volume edition, modern readers are introduced to one of the best nature writers of the last century. As we read Peattie's eloquent and entertaining accounts of American trees, we catch glimpses of our country's history and past daily life that no textbook could ever illuminate so vividly. Here you'll learn about everything from how a species was discovered to the part it played in our country's history. Pioneers often stabled an animal in the hollow heart of an old sycamore, and the whole family might live there until they could build a log cabin. The tuliptree, the tallest native hardwood, is easier to work than most softwood trees; Daniel Boone carved a sixty-foot canoe from one tree to carry his family from Kentucky into Spanish territory. In the days before the Revolution, the British and the colonists waged an undeclared war over New England's white pines, which made the best tall masts for fighting ships. It's fascinating to learn about the commercial uses of various woods -- for paper, fine furniture, fence posts, matchsticks, house framing, airplane wings, and dozens of other preplastic uses. But we cannot read this book without the occasional lump in our throats. The American elm was still alive when Peattie wrote, but as we read his account today we can see what caused its demise. Audubon's portrait of a pair of loving passenger pigeons in an American beech is considered by many to be his greatest painting. It certainly touched the poet in Donald Culross Peattie as he depicted the extinction of the passenger pigeon when the beech forest was destroyed. A Natural History of North American Trees gives us a picture of life in America from its earliest days to the middle of the last century. The information is always interesting, though often heartbreaking. While Peattie looks for the better side of man's nature, he reports sorrowfully on the greed and waste that have doomed so much of America's virgin forest.
Sklep: Libristo.pl 82,07 zł
Książki / Literatura obcojęzyczna
Scales Dog provides a selection of Hutchison's work from Deep-Tap Tree (1978) to his most recent collection Carbon Atom (2006). The earliest poem "Mr Scales Walks His Dog" was written in Canada in 1970, following the poet's arrival there from Scotland in 1966. At the time Michael Ondaatje said :"I love that poem" - and Lawrence Ferlinghetti, hearing the piece at a public reading in British Columbia, announced as soon as he came to the mike: "I dug that dog!" Deep-Tap Tree was written during the seventies while Hutchison was living and working on Vancouver Island. Of that first book, the distinguished critic Richard Ellmann wrote: "Mr Hutchison is his own man, individual in temperament, pungent and accurate in expression. His work is compounded of wit and mystery, and delights his readers even as it teases them into self-recognition". Ellmann's comments suggest that the appeal of Hutchison's poems is both direct and indirect: being not only satirical and intelligent but also mysterious and moving. Another American reviewer found that variety a cause for celebration: "In a time of too much plain and too often poverty-stricken verse, Hutchison's poetry looks and sounds bravely alive, colourful and crafted". Underlining this positive reception across the Atlantic, the poet Robert Creeley said: "Sandy Hutchison's poems read brightly, with a fine economy and precision. There is humor and warmth, an ear for clear edges of sound, and a pace that can hold all together". These responses were echoed in the UK when The Moon Calf and the pamphlets Epitaph for a Butcher and Sparks in the Dark were published after Hutchison's return to Scotland in 1984. Gavin Ewart found the work: "Sharp, dark, funny - and with more vigour than almost all those usually singled out for praise." Writing in Lines Review the poet George Bruce declared: "There is no questioning [his] verve, inventiveness and versifying skills. There's been nothing quite like this since Sidney Goodsir Smith's Under the Eildon Tree. Hutchison's poems ...are in the same witty, brio tradition". Singling out "An Ounce of Wit to a Pound of Clergy" - which is the opening poem in the collection Carbon Atom, and was published as a pamphlet by Gael Turnbull - Ian Hamilton Finlay said: "The Hutchison piece is fascinating to me ...really good, energetic, knotty, interesting". Gael Turnbull added his own praise when invited to comment on on early draft of Scales Dog by writing: "There are a dozen or so poems in the collection which register for me as having a totally unique quality, a momentum and richness, an energy and an edge, quite unlike anything I know written by anyone else". Recently, Hutchison's work has sparked a response from a broader audience, and he is recognised by contemporary writers as a poet whose work has cut its own channels gradually, and is steadily gaining in reputation. Scales Dog is a book which ranges widely with invention and delight. It is distinctively Scottish in some respects - but the appeal is international. It has depth and humour to carry its readers all the way through.
Sklep: Libristo.pl
Sklepy zlokalizowane w miastach: Warszawa, Kraków, Łódź, Wrocław, Poznań, Gdańsk, Szczecin, Bydgoszcz, Lublin, Katowice
Szukaj w sklepach lub całym serwisie
2. Szukaj na wszystkich stronach serwisu
t1=0.042, t2=0, t3=0, t4=0, t=0.042