krainaksiazek the new england scotch irish a social history 20043384
- znaleziono 7 produktów w 2 sklepach 104,99 zł
Książki Obcojęzyczne>Angielskie>Humanities>History>Regional & national history>European history>British & Irish historyKsiążki Obcoj...
This Book Is A Comprehensive Introductory Guide To Late Medieval Gentry Culture, Including Chapters On Gentility, Chivalry, Politics, Education And Recreation, Literacy, Literature, Cultural Networks, Religion, Music And The Visual Arts. It Surveys Existing Work In The Fieldand Presents New Research By Medievalists From A Range Of Disciplines.
Sklep: Gigant.pl
89,99 zł
Książki Obcojęzyczne>Angielskie>Society & social sciences>Politics & government>Political structure & processes>DemocracyKsiążki Obcoję...
Using The Cabinet Papers From The National Archives, Former Foreign Secretary David Owen Has Written A New History Of The Pivotal British War Cabinet Meetings Of May 1940.
Sklep: Gigant.pl 109,99 zł
Książki Obcojęzyczne>Angielskie>Humanities>History>Regional & national history>European history>British & Irish historyKsiążki Obcoj...
Including Contributions From Key Early Modern Historians, This Book Uses And Critiques The Notion Of The Public Sphere To Produce A New Account Of England In The Post-reformation Period From The 1530s To The Early Eighteenth Century. Makes A Substantive Contribution To The Historiography Of Early Modern England.
Sklep: Gigant.pl 67,58 zł
Książki / Literatura obcojęzyczna
This book is a biography by Theodore Roosevelt about the English 'Lord Protector', Oliver Cromwell. Within this text, Roosevelt explains how Cromwell's rise to power was the first modern struggle for social, religious, and political freedom. Firstly he analyses the increasingly incompetent and tyrannical actions of the Stuart kings. Then, Roosevelt explores the Long Parliament and how Charles I's despotism forced the Members of Parliament to revolt. He then studies Charles's executed and, Finally, Roosevelt examines Cromwell's capacity as a soldier and leader in the Scotch and Irish campaigns. This biography examines a fascinating character who was pivotal in period of English history that has influenced the development of England as a world power. Roosevelt writes with a passion and wit alien to the work of many current historians, making this book an enjoyable must-read for students of history. This book is republished with a new biography of the author.
Sklep: Libristo.pl 155,02 zł
Genealogy Books LLC, Reference Series
Książki / Literatura obcojęzyczna
Source: Wikipedia. Pages: 158. Chapters: Census, Family name, Ahnentafel, Family tree, Family of Barack Obama, Genealogical DNA test, London Metropolitan Archives, Krupski, Cloud, New England Historic Genealogical Society, Descent from antiquity, Most recent common ancestor, Cousin, Marriage licence, Birth certificate, Almanach de Gotha, Dominickers, Pozzo Ardizzi, International Tracing Service, Consanguinity, Parish register, Civil registry, Genealogical numbering systems, Royal descent, One-name study, Heraldic visitation, JewishGen, Death certificate, Pedigree collapse, Debrett's, Mid-Continent Public Library, One-place study, GEDCOM data validation, Herbert family, Ancient planter, Belnap Family Organization, Giedroyc, Whakapapa, Allen County Public Library, Annuario della Nobiltŕ Italiana, Armenian surnames, General Register Office for England and Wales, The Complete Peerage, A Translation Guide to 19th-Century Polish-Language Civil-Registration Documents, Sackett, Orphan Train, Maithili Karna Kayasthak Panjik Sarvekshan, General Register Office for Scotland, Non-paternity event, Stone rubbing, Family Records Centre, Descent from Adam and Eve, Council of Irish Genealogical Organisations, Jure uxoris, Boyd's Marriage Index, Birth registration in Ancient Rome, Family register, Social Security Death Index, Identical ancestors point, Familypedia, Burke's Landed Gentry, Who Do You Think You Are Live?, We-Sorts, United States Heraldic Registry, Thomas Milton Tinney, Sr., List of United Kingdom censuses, Cluster genealogy, The Compendium of American Genealogy, Sudanese Encyclopedia of Tribes and Genealogies, Census Enumerators' Books, Eurasian Adam, Daitch-Mokotoff Soundex, Ancestry Magazine, California Birth Index, Genealogy software, Tangipahoa African American Heritage Museum, Death Master File, Academic genealogy, Vital record, Pamyatnaya Knizhka, Floruit, Horn Papers, Painted photography backdrops, The Book of the Burkes, Genealogia Paulistana, Monumental inscription, Aois-dŕna, The New York Researcher, Rule of 1/1000 common ancestry, Bure kinship, Doctoral advisor, Your Family Tree Magazine, East Yorkshire Family History Society, Jure matris, Scam genealogical book, Everton genealogy collection, Mug book, Kaich, List of genealogy publications, Pallot's Marriage Index, Nomen nescio, World Orders of Knighthood and Merit, Cadet, Degree of relationship, Stamp Duties Act 1783, Kaity, Offspring, The New York Genealogical and Biographical Record, Uncle, Vital statistics, Top ancestor, RootsTech, Circa, Aunt, Genealogy tourism, Fantasy genealogy, Sister-in-law, Jaga, Brother-in-law, Genealogia Sponhemica, National Hall of Records, Centraal Bureau voor Genealogie, Great Migration Study Project, Nonconformist register, Cracroft's Peerage, Nederland's Patriciaat, Antecedent, Genealogiae scriptoris Fusniacensis, Matilda of Brabant, Countess of Holland, Svenska släktkalendern, Nederland's Adelsboek, Adelskalender, Tarombo. Excerpt: A family name (in Western contexts often referred to as a last name) is a type of surname and part of a person's name indicating the family to which the person belongs. The use of family names is widespread in cultures around the world. Each culture has its own rules as to how these names are applied and used. In many cultures (notably Euro-American, Middle Eastern, South Asian, and African) the family name is normally the last part of a person's name. In other cultures, the family name comes first. The latter is ofte...
Sklep: Libristo.pl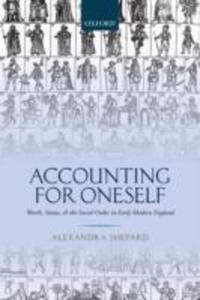 459,99 zł
Książki Obcojęzyczne>Angielskie>Humanities>History>Earliest times to present day>Early modern history: c 1450/1500 to c 1700Książki Obc...
A Fundamentally New Account Of The Social Order In Early Modern England: The First Study To Fully Incorporate Women, To Offer Comprehensive Coverage Of The Range Of Social Groups From The Gentry To The Labouring Poor And Across The Life-cycle, And To Represent Regional Variation.
Sklep: Gigant.pl 115,62 zł
Książki / Literatura obcojęzyczna
The English breakfast is one of the best-loved national meals in the world, an edible symbol of England and Englishness. But how did breakfast attain this distinction, what can a national meal tell us about the nation that eats it, what are the links between social and culinary change, and is there more to the English breakfast than bacon and eggs? This biography of the English breakfast shows how the renowned meal came into being over many centuries, reaching its height in the Victorian and Edwardian eras when splendid breakfasts were served from silver dishes in grand country houses across the land. Following this historical analysis are three authentic and complete cookbooks devoted entirely to breakfasts from the heyday of this best of all meals, with some 500 recipes by three celebrated culinary figures of the Victorian age - an elite hostess, a thrifty housekeeper, and a pukka colonial colonel - before the narrative continues up to the present. The epilogue, new to this paperback edition, covers 'the devolved breakfast' (Scottish, Welsh and Irish); the renaissance of the full breakfast during financial crises and the working class 'caff'. Mixing anthropology, cultural biography, the invention of tradition and the study of cookbooks as social documents, The English Breakfast is a truly unique work of food history.
Sklep: Libristo.pl
Sklepy zlokalizowane w miastach: Warszawa, Kraków, Łódź, Wrocław, Poznań, Gdańsk, Szczecin, Bydgoszcz, Lublin, Katowice
Szukaj w sklepach lub całym serwisie
2. Szukaj na wszystkich stronach serwisu
t1=0.046, t2=0, t3=0, t4=0, t=0.046