krainaksiazek the new meaning of educational change 20130222
- znaleziono 7 produktów w 1 sklepie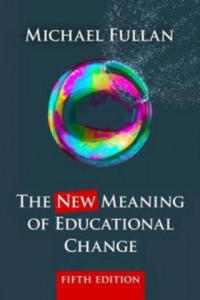 214,75 zł
Książki / Literatura obcojęzyczna
Sklep: Libristo.pl 56,77 zł
Książki / Literatura obcojęzyczna
Excerpt from The Federal Government and Education an Examination of the Federalization Movement, in the Light of the Educational Demands, of a Democracy The era in which society now finds itself is conspicuously one of stress. Out of the vortex of a world-wide war which threatened to undermine the very structure of society and to render desolate and void the accumulated treasures of the race, there has developed in the minds of men a critical attitude, a spirit of challenge, and of keen penetrating inquiry into the foundations of the existing social economy. No institution has escaped the test; the school, the church, the state, the home, - all have been placed on trial, and all are being weighed in the balance of public opinion. Out of the babel of confusion that exists on all sides, discrepant voices are heard. On one side it is the voice of the conservative, firm in the conviction that the present order is inherently sound, and that its ills can be assuaged by the wise and benevolent administration of constructive reform. On the other side lifts the voice of the extreme reformer feverishly proclaiming the doctrine of radical change and insistently defending the thesis that revolution, not evolution, is the sesame to a more benign and equitable order. Society, then, is in flux. It is becoming extremely self-conscious and critical. Novel interpretations of life and its meaning, new evaluations of society and its institutions are being offered in abundance. That modern society has accomplished marvels in the harnessing of the forces of nature and the building of an imposing material civilization, there is none to gainsay. That it has secured like triumphs in the domain of the spirit, there are few to admit. Shibboleths are the fashion of the hour. Democracy is a word to be conjured with. Americanization is being misunderstood and exploited; in many quarters it assumes a sinister guise and is regarded with suspicion. Education is hailed as a panacea; legislation receives a disproportionate valuation, and progress is not uncommonly identified with change. The problems of the hour are at once manifold and complex. Their relations are well-nigh limitless, their difficulties well-nigh inexhaustible. About the Publisher Forgotten Books publishes hundreds of thousands of rare and classic books. Find more at www.forgottenbooks.com This book is a reproduction of an important historical work. Forgotten Books uses state-of-the-art technology to digitally reconstruct the work, preserving the original format whilst repairing imperfections present in the aged copy. In rare cases, an imperfection in the original, such as a blemish or missing page, may be replicated in our edition. We do, however, repair the vast majority of imperfections successfully; any imperfections that remain are intentionally left to preserve the state of such historical works.
Sklep: Libristo.pl 159,97 zł
Książki / Literatura obcojęzyczna
With practical insights, powerful observations, and critical analysis, this collection makes the widely discussed topic of school change accessible to all readers. Editor Michael Fullan, author of "The New Meaning of Educational Change", brings together articles and essays that explore the theories, leadership, and implementation strategies behind the never-ending journey of educational reform. Contributors address the problems that have led to the school change movement and offer solutions and proposals for reform. The articles provide not only practical implementation examples involving schools and communities, but also a look at the essential role hope and emotion play in the change process. Each essay provides fresh insights, such as the importance of establishing collaborative work cultures and the need for professional learning communities, that, when taken as a whole, introduce a new mindset for understanding change. "The Challenge of School Change: A Collection of Articles" sheds new light on educational reform and offers important ideas about how change happens and how it is sustained. Fullan's collection confronts a complex issue with clarity and thoughtfulness and reminds teachers, administrators, principals, and parents that if they are up to the challenge, successful change efforts are possible in any school environment.
Sklep: Libristo.pl 197,78 zł
Książki / Literatura obcojęzyczna
Author's Preface to the English Edition 2010 In this book I am presenting a new kind of management for a new kind of world. It is my concept of right and good management for functioning organizations in functioning societies of exceeding complexity. The need for such a concept arises because conventional management - by which, basically, I mean the US-type management theory and practice now applied worldwide - has come to its very limits as it is unable to deal with the consequences of its own success. The result of its tremendous achievements is a world of inextricably interrelated dynamic systems which are incomprehensibly complex. This has largely been ignored by the dominating US management approach because it was never designed for such conditions. It now fails exactly for this reason, thereby causing the present crisis. I have actually been predicting this for years in many of my publications, including the German version of this book which was first published in 2005. The fact that success almost inevitably breeds its own failure is often overlooked, although it is well known in many fields and in particular in those that accept complexity explicitly as their research subject such as biology or ecology. Albert Einstein already remarked that one cannot solve problems with the same methods which produced them. Failure to manage complexity as the major cause of the worldcrisis What, at present, a majority - at least in the West - considers to be a mere financial crisis can probably be much better understood if it is looked at from an altogether different perspective: the failure to understand and manage complexity. Business and society seem to be undergoing one of the most fundamental transformations in history. Only on the surface, and only if perceived in conventional categories, do present changes appear to be financial and economic in nature. What is happening might better be understood as an Old World dying because a New World is being born. There will hardly be any bridges back to the old state of affairs. Perhaps the most practical premise to navigate by is that whatever can change will change. If so, we are witnessing no less than the almost complete collapse of the formerly so efficient US management approach, which was developed mainly in the context of business administration and taught in business schools as the ultimate wisdom with regard to the running of corporations in a world where its premises applied to an ever lesser degree. Its realities have already been changing for quite some time but this went largely unnoticed because most people tend to see only the old familiar patterns in the new realities. We are experiencing in particular the failure of the US-type of corporate governance and the kind of top management which is dominated almost exclusively by financial variables only. We see the collapse of the shareholder value approach, which due to its short term profit orientation is largely ignoring the customer and is hostile to future-oriented investing and innovating, thereby systematically misdirecting the allocation of societal resources. The failure of the US-approach is, among other aspects, the consequence of mistaking financial investment for real investment, thereby undermining the former strengths of the US-economy, of confusing mountains of bad debts with sustainable wealth, and of failing to distinguish between healthy and pathological growth. Ironically, what collapsed first was the financial system which appeared to be the most highly developed and sophisticated system ever designed. It was believed to be free of systemic risk by most experts and run by the world's most excellent executives educated in what were thought to be the best universities and business schools worldwide. However, complex systems have properties and laws of their own. Their driving forces - if systematically ignored - make them inevitably go out of control. Such systems are incomputable and unpredictable in principle and incomprehensible to the conventionally educated mind. They are non-linear, self-dynamic and continuously self-changing and self-restructuring in unforeseeable ways. They are largely self-organizing and self-regulating. Nevertheless, they can be - up to a degree - controlled and regulated albeit only by a fundamentally different kind of thinking, a new approach for managing complexity and by applying the right methods and tools which are the subject of this book and its companion volumes. Reliable Functioning by Wholistic Management Systems Economic and financial measures on the macro level alone will hardly cure the crisis. What it takes on the level of societal institutions is a new way of functioning which is described in my six volume series Management: Mastering Complexity in which I present my Malik Wholistic General Management Systems. This first volume contains an overview of the system as a whole whereas the other five volumes will describe the constitutive parts of the system. The second volume "Corporate Policy and Governance: How Organizations Self-Organize", was published in 2008 in German and will be available in English soon. The third volume on strategy is still due in 2010. The remaining three volumes will be dedicated to the new structure for functioning complex organizations, their appropriate culture and the kind of executives who have to be able to understand and master complexity. Together these six volumes will contain the essence of the most comprehensive General Management System worldwide. To the best of my knowledge my Wholistic General Management Systems are globally the only ones explicitly designed to ensure reliable functioning under conditions of exceedingly high and dynamic complexity. For this reason and because my Management Systems are universally applicable conventional business administration plays a limited role in my book. For practical reasons, however, I am going to illustrate the application of my systems mainly in the context of the business enterprise. Familiar concepts and terms are left unchanged wherever possible in order to avoid confusion for the practitioner whereas their meaning and most contents are new and different. The important new knowledge for mastering complex systems does not come from economics or business administration but from what I call the Complexity Sciences, i.e. Systemics, Bionics and Cybernetics, which can also be called the Sciences of Functioning. For the term "Functioning" I often use the synonym "Right and Good Management" as opposed to wrong and bad management. By this I want to point to the need to understand management as a true profession with its own standards of craftsmanship as indicated in the subtitle of this book. If the institutions of today's and more so of tomorrow's societies are supposed to function, management needs to liberate itself from fashions and fads and has to become a profession of the same status as for example the profession of the surgeon, the aircraft pilot or the lawyer all of which have as a matter of course their standards of professionalism. The foundation for a profession of effective management for functioning institutions is to be found in my earlier book Managing Performing Living. My General Management Systems - with the support of the experts of my own organization - have been developed, tested and implemented in numerous cases over more than 30 years in all sorts of institutions in business and non-business areas mostly in Europe and particularly in the German speaking world including their worldwide subsidiaries. What works in the complexities of these areas will almost certainly work worldwide. Having discussed the structure, functioning principles and effects of my systems with tens of thousands of executives of all levels I have strong arguments that there is only one kind of management that works effectively, namely Right and Good Management as I present it in my books, and that it is - contrary to mainstream thinking - universally valid and culturally invariant. Fashionable arbitrariness which so often characterizes management should not be given any place in what is one of the most important social functions. In most respects my Wholistic Management Systems for Functioning are the opposite of what is taught in most business schools. That they will have to change fundamentally as a consequence of the global crisis is hesitatingly becoming apparent to some - among them also a few leading ivy league schools. But it might be a long and hard way for them to recover from the fallacies of their own teachings and partly from the application of wrong management to themselves. At the same time, however, if they manage to change radically and fast it is one of the greatest opportunities for them to show effective leadership in the service of a functioning society in times of great change. Fredmund Malik St. Gallen, January 2010 Introduction "The very first step toward success in any occupation is to become interested in it." Sir William Osler (1849 - 1919), physician Our increasingly complex world cannot function without management, and it can hardly function without precise management. This is true for all kinds of societal institutions, be it commercial enterprises or other organizations. The purpose of this book is to help their managers and employees fulfill their demanding occupational tasks in a professional manner. In the midst of a jumble of doctrines, ideologies, and true innovations, this book will provide the overview required to distinguish right from wrong and useful from useless. These distinctions are indispensable for meeting both individual and shared responsibilities at each stage of a professional career. They are also crucial for successful and productive interaction. This book is a compact compendium for right and good management - for general management - in that it provides the necessary overview of what it entails. In the following volumes of this series, each of the elements of right and good management will be described in greater detail, including both theoretical content and recommended implementation approaches. Interested readers will be able to familiarize themselves with the tools and practices of the craft, along with numerous practical examples. As such, the present book is a prelude to a practical, comprehensive guide to what the management craft and managerial professionalism must entail. Sound general management is not about doing something new, modern, or fashionable. What matters is that it is right, that it works, and that it helps practitioners fulfill their tasks to the best of their abilities. The subject of this book - and of the rest of my publications - is not the "management thinking of today". Rather, all my books are practical guides to effectiveness. They point out my personal opinions on different matters, which are often not in sync with mainstream thinking. Management. The Essence of the Craft continues, enlarges upon, and complements my book Managing Performing Living. While the latter deals with the conduct and actions of the individual manager, the present book goes much further in that it deals with the institution as a whole - with system-oriented general management. The book contains a series of propositions which, compared to mainstream thinking, may be regarded as provocative, unusual, and frequently even wrong - at least initially. In this book, and the books to follow, I am putting my arguments forward for discussion. Central Propositions 1.Management is society's most important function. The functioning of society depends on management. Only management turns resources into results. 2.Management can largely be acquired by learning. It is a profession and a craft. It follows the same rules of professionalism that are known and have proven useful in other professions. Talents are useful but not essential. 3.The only kind of management a person needs to learn is right and good management. Right and good management is universal, invariant, and independent of culture. It is equally valid for all kinds of organizations and all countries. There is no need for international, multicultural, or global management. All effective institutions function in the same way. They employ the same functional principles. 4.Apparent differences are not related to management but to the nature of the different tasks to be fulfilled in different organizations. 5.Not everyone can manage just any organization. This is not due to management skills but to the difference in operational tasks. 6.All managers in all organizations and across all hierarchy levels need the same kind of management skills. Not all, however, need them in the same degree of comprehensiveness and detail. Disregarding this principle leads to a lack of orientation and direction, which, in turn, means the end of communication and function. 7.In my view, most of the management ideas prevailing over the past fifteen years or so are false, misleading, and harmful. This is true in particular for anything related to the doctrine of shareholder value and its consequences - such as value-increasing strategies and a way of thinking that focuses predominantly on financial aspects. The stakeholder approach is equally wrong. 8.The economic difficulties of our time, which I believe will inevitably deepen, are largely due to factors other than political errors. They are results of misguided management, of faulty and poor management. As a result, the question as to what right and good management is gains all the more importance. A Word on the Terms Used In management - as opposed to other, more advanced and mature disciplines of learning - there is no such thing as uniform or common parlance. Quite to the contrary: most authors attempt to impress readers by inventing their own terms and slogans. This is a roadblock to progress and to acquiring management skills. For this book, I essentially draw on the terms used in the St. Gallen Management Model, the first and so far only wholistic, system-driven management model, as well as on the linguistic usage of Peter F. Drucker, the doyen of management theory. As far as cybernetics and system sciences are concerned, I draw on the terms used by Stafford Beer, the originator of management cybernetics, and my own book Strategie des Managements komplexer Systeme ["Strategy for the Management of Complex Systems"]. 1.The terms "company", "organization", and "institution" are largely used in the same sense. Certain variances in meaning relate to the degree of generality, or the special limitation to a segment of society. The most general terms are "institution" and "organization". They refer to all organizations existing in a society, no matter what kind or legal form. The term "company", in essence, belongs to the business sector. Whenever no specific pointers are provided, it will be clear from the context what I mean when using each of these terms. The term most frequently used in this book is "company" and other terms related to it, such as "corporate policy". The statements made will generally be applicable to all kinds of institutions. Depending on the field of usage, the terms might need to be adapted somewhat, as in "educational policy" or "health policy". 2.The term "management" itself can be understood in several ways: Firstly, as a function that exists in any kind of organization and is indispensable for its functioning. This is the so-called functional dimension of management. It is neither linked to specific persons nor to organizational elements. This function is not perceptible to our senses. It is incorporated in certain actions taken by individuals and in this way its impact is perceived. Secondly, the term "management" can be understood to be the sum of the legal and/or organizational authorities in an institution. Examples include the executive board of a private company, the executive committee of a public company, a national government, or a university's board of directors. This is referred to as the institutional dimension, and it also includes expanded boards of managers, group management, management circles, or partners' conferences. As far as mandatory and/or higher-level authorities are concerned, the respective responsibilities, rights, obligations, and accountabilities are governed by laws, articles of incorporation, or statutes. Those of other organizational entities are determined by common sense and habits. Thirdly, management can be understood to include the persons that belong to the institutional authorities mentioned. This is the personal dimension of management. In particular the terms "top management" and "top manager" frequently carry that meaning. 3.I use the term "management" in the same meaning as its German equivalent "Führung". Both terms mean the same. In all my German-language publications, I use the two terms synonymously. By contrast, the terms "management" and "leadership" do not mean the same. 4.In the chapter on structure, the term "organization" carries two different meanings: the first, as mentioned above, is what we refer to when we speak of an institution being an organization; the second is what we mean when we speak of an institution having an organization. Which one of the two meanings applies should be clear from the particular context.
Sklep: Libristo.pl 118,72 zł
Książki / Literatura obcojęzyczna
'The book is an excellent read as it provides both ideas and suggestions to empower leaders in the education system. Increasingly, more and more academics write for each other and not for the practitioners who lead our schools, so this is a refreshing book. In an era of some anti-leadership books it is refreshing to read ideas that build bridges to practitioners in order to improve schools. The book is an outstanding contribution to the resource base for leaders in schools and the wider education system' - Professor Brent Davies, International Journal of Education Management 'Michael Fullan's books - and this is no exception - are for educational policy makers, practitioners and researchers what J K Rowling's Harry Potter books are for children and parents. This is one of the best and most useful' - Tim Brighouse 'Michael Fullan has produced another powerful and inspirational book. He has the wonderful knack of continually positioning himself a couple of steps ahead of the fields.By so doing, he is able to challenge and lead thinking and thereby accelerate productive new developments' - David Hopkins, Royal Holloway University of London 'An ambitious and provocative journey into the complexities and possibilities that arise when leadership and sustainability join' - Roland S Barth, Lessons Learned (Corwin Press 2003) 'No one has contributed more to our understanding of leadership and change than Michael Fullan. Leadership & Sustainability continues that tradition - a brilliant analysis of a timely topic' - Thomas J Sergiovanni, Lillian Radford Professor of Education, Trinity University, San Antonio, Texas 'Efforts at education reform have taken us down a variety of paths, and Michael Fullan has consistently noted the importance of leadership to large-scale reform. In his latest book, Leadership & Sustainability, Fullan makes a solid case that such reform is a complex process involving many variables. Key among these variables is the relationship between leadership and sustainability' - Vincent L Ferrandino, Executive Director, National Association of Elementary School Principals.Alexandria, Vancouver 'With knowledgeable savvy from both individual leadership and system transformation, and a knack for writing in "plain-speak," Michael Fullan helps us understand that it will be "leadership" (not leaders) that pave the way for great sustainability. His attempt to link abstract concepts to concrete examples of what it looks like in practice was successful' - Theodore B Creighton, Director, Center for Research and Doctoral Studies, Sam Houston State University, Executive Director, National Council of Professors of Education Administration 'Michael Fullan has gone beyond his past research that described the change process so insightfully to a new and exciting exploration of how systems thinking and the "long lever of leadership" can bring about deep and lasting reforms in schools and schooling. This brand of leadership for sustainability, as described by Fullan, results in the "deep learning" that enables schools to respond successfully to the revolution in expectations they now face.This new work will both inform and inspire educators to become the "new theoreticians" whose impact will be felt in their schools every day' - David T Conley, Associate Professor, Educational Leadership and Policy, Director, Center for Educational Policy Research, College of Education, University of Oregon, Eugene, Oregon 'Leadership & Sustainability is a critical breakthrough. Michael Fullan has utilized findings from some of the best research and observations in education over the past fifteen years to brilliantly illuminate the challenges of creating schools capable of continuous organic change and improvement' - James P Comer, Maurice Falk Professor of Child Psychiatry, Yale Child Study Center, Yale University, New Haven, Connecticut Leadership & Sustainability will examine how the opportunity for new leadership can be leveraged to focus on sustainability of reform, and will identify barriers and strategies for moving in new directions. This book will define the meaning of "sustainability" and the large scale it plays in reform. It explains the myriad facets of continuous improvement and the key characteristics of the dynamics in sustainability.This book explores the two-way street relationship between individual leadership and system transformation. It will explain how each must feed on each other in order for the relationship to succeed.
Sklep: Libristo.pl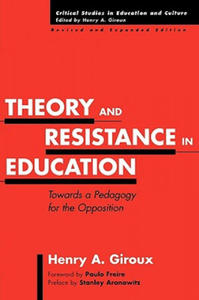 207,04 zł
Książki / Literatura obcojęzyczna
At the beginning of the new millennium, educators, parents, and others should reevaluate what it means for adults and young people to grow up in a world that has been radically altered by a hyper capitalism that monopolizes the educational force of culture as it ruthlessly eliminates those public spheres not governed by the logic of the market. Giroux provides new theoretical and political tools for addressing how pedagogy, knowledge, resistance, and power can be analyzed within and across a variety of cultural spheres, including but not limited to the schools. A new introduction adds much to the well received first edition. The time for radical social change has never been so urgent, since the fate of an entire generation of young people, if not democracy itself, is at stake. Giroux argues that challenge gives new meaning to the importance of resistance, the relevance of pedagogy, and the significance of political agency.
Sklep: Libristo.pl 503,59 zł
Książki / Literatura obcojęzyczna
The developing interest in spirituality in the Western world over the last decade has created opportunities for spirituality to be raised from the forgotten dimension of children s lives to a status that has enabled it to be included in educational dialogue. With the emergence of interest in spirituality a slow but significant change has begun to take place. The monopoly that religion once had on spirituality is no longer present. For teachers in classrooms, the evolving understanding of spirituality and the development of new language to describe it, presents a challenge to nurture their own spirituality in order that they might nurture the spiritual lives of children. Teachers are becoming increasingly aware of the need to provide a balanced education for children that includes the spiritual dimension. This book discusses many of the issues related to spirituality in the classroom such as: relationships especially the teacher-child relationship, the classroom climate, values and beliefs, identity, the search for meaning and spirituality and the curriculum.
Sklep: Libristo.pl
Sklepy zlokalizowane w miastach: Warszawa, Kraków, Łódź, Wrocław, Poznań, Gdańsk, Szczecin, Bydgoszcz, Lublin, Katowice
Szukaj w sklepach lub całym serwisie
2. Szukaj na wszystkich stronach serwisu
t1=0.033, t2=0, t3=0, t4=0, t=0.033