krainaksiazek the oxford dictionary of architecture 20052068
- znaleziono 8 produktów w 3 sklepach 57,99 zł
Książki Obcojęzyczne>Angielskie>The arts>ArchitectureKsiążki Obcojęzyczne>Angielskie>Reference, information & interdisciplinary sub.&gt...
With Over 6,000 Entries From Aalto To Zwinger, This Is The Most Authoritative Dictionary Of Architectural History Available. Beautifully Illustrated And Extensively Revised And Expanded, It Is An Invaluable Work Of Reference For Students Of Architecture, Landscape Architecture, Professional Architects, And Art Historians.
Sklep: Gigant.pl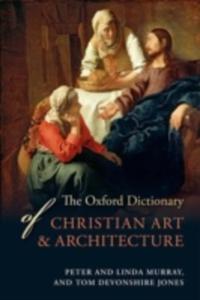 72,49 zł
Książki Obcojęzyczne>Angielskie>Reference, information & interdisciplinary sub.>Encyclopaedias & reference works>Reference worksKsiążki Ob...
0x00d5685d00000000
Sklep: Gigant.pl 319,99 zł
Książki Obcojęzyczne>Angielskie>The arts>Architecture>Landscape art & architectureKsiążki Obcojęzyczne>Angielskie>Reference, informa...
0x00ecde5a00000000
Sklep: Gigant.pl 3909,79 zł
Książki / Literatura obcojęzyczna
The Oxford Dictionary of the Middle Ages is a major new reference resource for all key aspects of European history, society, religion, and culture from 500 to 1500. Since neighbouring areas of Asia and North Africa impinged on and helped shape the civilization of the West, relevant aspects of the Byzantine Empire, the Islamic dynasties, and Asiatic peoples such as the Avars and the Mongols are included. It is designed both for medievalists, who need a detailed and reliable reference tool for their own research and teaching, and for non-specialists, who need an accessible guide to the study of the Middle Ages. All entries are written with both audiences in mind. Over 800 scholars, guided by an international advisory board of five and an international editorial board of 26, have written the over 5,000 entries, and these entries have been lavishly supplemented by more than 500 illustrations and 50 maps. Each entry contains a brief bibliography. Distinguishing this research resource are its balanced coverage of both the whole geographical extent of the European Middle Ages and sixteen major topics centrally important to the study of the period. Ten members of the editorial board have ensured ample coverage of geographical regions: France, Germany and Austria, Spain and Portugal, Italy, Sicily, and Latin Greece, the Low Countries, England, Scotland, Ireland, and Wales, Scandinavia and Iceland, and Central and Eastern Europe. In addition sixteen members of the board have ensured similar coverage of major international topics: art and architecture, archaeology, science, medicine, technology, law, ecclesiastical history, intellectual history, philosophy, social and economic history, Romance, Germanic, and Slavic languages and literatures, Islam, Judaica, medieval Latin, and music and liturgy. There are also separate and substantial entries on women and children in each of the geographical areas represented and in Jewish and Islamic society.
Sklep: Libristo.pl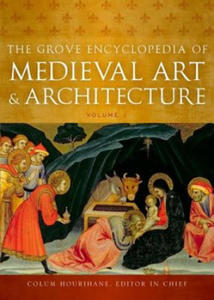 4446,67 zł
Książki / Literatura obcojęzyczna
The Grove Encyclopedia of Medieval Art and Architecture (GEMAA) offers unparalleled coverage of all aspects of art and architecture from Medieval Western Europe, from the 6th century to the early 16th century. Drawing upon the expansive scholarship in the celebrated Grove Dictionary of Art and adding hundreds of new entries on topics not previously covered, as well as fully updated and expanded entries and bibliographies, GEMAA offers students, researchers, and the general public a§reliable, up-to-date, and convenient resource covering this field of major importance in the development of Western history and international art and architecture. GEMAA is lavishly illustrated with more than 460 halftones and 170 color plates.
Sklep: Libristo.pl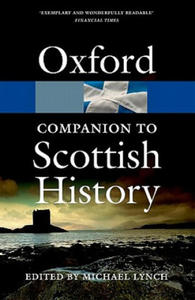 74,91 zł
Książki / Literatura obcojęzyczna
The Oxford Companion to Scottish History interprets history broadly, including archaeology, architecture, climate, culture, folk belief, geology, and the langauages of Scotland. It covers more than 20 centuries of history, including immigrants, migrants, and emigrants. It extends from Orkney and Shetland to Galloway, the Western Isles to the Borders. It deals extensively with Scots abroad, from Canada to Russia to New Zealand. It includes entries on historical figures from Columba, Macbeth, and William Wallace to James (Paraffin) Young. It covers Burns Clubs, curling, and shinty. It ranges from clans to Clearances and Covenanters. Over 500,000 words in length, and written by more than 70 distinguished contributors, it aims to explain as well as describe. It is more than a historical dictionary or an encyclopedia. Multi-authored entries analyse key themes such as kingship, national identity, women and society, urban and rural life, the economy, housing, living standards, and religious belief across the centruies in an authoritative but approachable way. The Oxford Companion to Scottish History has a broader range of topics and approaches, and a more authoritative list of contributors than any of its competitors. It also stands alone in providing analysis of issues such as national identity and living standards.
Sklep: Libristo.pl 40,80 zł
Literatura faktu
'Only with the greatest of simplifications, for the sake of convenience, can we say Africa. In reality, except as a geographical term, Africa doesn't exist'. Ryszard Kapuscinski has been writing about the people of Africa throughout his career. In a study that avoids the official routes, palaces and big politics, he sets out to create an account of post-colonial Africa seen at once as a whole and as a location that wholly defies generalised explanations. It is both a sustained meditation on the mosaic of peoples and practises we call 'Africa', and an impassioned attempt to come to terms with humanity itself as it struggles to escape from foreign domination, from the intoxications of freedom, from war and from politics as theft. The Beginning: Collision, Ghana 1958 More than anything, one is struck by the light. Light everywhere. Brightness everywhere. Everywhere, the sun. Just yesterday, an autumnal London was drenched in rain. The airplane drenched in rain. A cold, wind, darkness. But here, from the morning
Sklep: Albertus.pl 142,48 zł
1884 works Books LLC, Reference Series
Książki / Literatura obcojęzyczna
Source: Wikipedia. Pages: 139. Chapters: 1884 architecture, 1884 books, 1884 compositions, 1884 musicals, 1884 operas, 1884 paintings, 1884 plays, 1884 poems, 1884 short stories, 1884 songs, 1884 treaties, Oxford English Dictionary, Princess Ida, Bathers at Asničres, Pierrot lunaire, Treaty of Huż, St Matthew's Church, Silverhill, Mazeppa, Manon, Seacliff Lunatic Asylum, Casa Rosada, Berlin Conference, Argentine Federal Police, Concert Fantasia, Monsoon Palace, All Saints Church, Highbrook, Las Virgenes Cristianas Expuestas al Populacho, Le Villi, Miraflores Palace, The Wild Duck, Portrait of Madame X, Winchester Mystery House, Brompton Oratory, West-Park Presbyterian Church, City and Town Hall (Rochelle, Illinois), Walt Whitman House, Detroit River Light, Gorham Manufacturing Company, Empire, Leicester Square, The Foundations of Arithmetic, Allegheny County Courthouse, Music Building, The Origin of the Family, Private Property and the State, Sigurd, Symphony No. 1, Southport, Chief Plenty Coups State Park and Home, St Mary's Church, Pulford, Life on the Lagoons, Circus World Museum, Wrexham Road Farm, Eccleston, Clarissa Cook Home for the Friendless, Stari dvor, St Nicholas' Church, Wrea Green, Former Marine Police Headquarters Compound, Mold of the Earth, Church of St. Paul the Apostle, Symphony No. 2, Carroll County Courthouse, Pitt Rivers Museum, 1884 in poetry, The Author of Beltraffio, A Little Tour in France, Christian Specht Building, Church of the Sacred Heart of Jesus, The Sisters, Saint George Maronite Cathedral, Désirée, The Way of a Pilgrim, Hungarian State Opera House, Orchestral Suite No. 3, Czárdás, Gasparone, Winton Place Methodist Episcopal Church, Presidency Building, Marr Residence, Getting Married, A War Song, Capital and Interest, Grand Opera House (Macon, Georgia), Thomas Moran House, Thompson Home, Russia-Korea Treaty of 1884, Grand Temple de Lyon, Logan Utah Temple, Chicago Opera House, Wigfair Hall, Budapest Keleti pályaudvar, Dante and Beatrice, St Columba's Church, London, Italy-Korea Treaty of 1884, Cyclorama Building, Naval War College Museum, William Enston Home, Lapham-Patterson House, Davenport Water Co. Pumping Station No. 2, The Body Snatcher, Bourda, 1884 in literature, Herefordshire Pomona, Martin Luther, The Necklace, Harada House, National Gallery for Foreign Art, Samuel J. Tilden House, Saint Paul's Episcopal Church (Lee's Summit, Missouri), Austin Hall, Frritt-Flacc, Massachusetts Bicycle Club, Spoliarium, Cedar Cove, Martin and Kibby Blocks, Manchester Law Library, The Bride of Messina, Prince Street Synagogue, Winslow Homer Studio, Taiping Markets, Adonis, Craney Island Light, Herkimer County Historical Society, Der Trompeter von Säkkingen, The Jarrett House, Auckland Savings Bank Building, First Baptist Church (Lynchburg, Virginia), St. Thomas' Episcopal Church Complex (Mamaroneck, New York), Dr. Christopher S. Best House and Office, Emmanuel Church of the Evangelical Association of Binghamton, Marion County Courthouse, Metropolitan Baptist Church, St. Patrick's Parochial Residence-Convent and School, Nell Gwynne, Willa Cather House, Lovely Lane Methodist Church, Williams Bridge, James A. Garfield Monument, Singsĺs Church, Building at 317 S. 3rd St., St. Paul's Episcopal Church (Evanston, Wyoming), London Convention, House at 103 Roslyn Avenue, Mount Zion Baptist Church (Charlottesville, Virginia), Lorraine Park Cemetery Gate Lodge, North Dakota Governor's Residence, Barncastle, McKim Observat...
Sklep: Libristo.pl
Sklepy zlokalizowane w miastach: Warszawa, Kraków, Łódź, Wrocław, Poznań, Gdańsk, Szczecin, Bydgoszcz, Lublin, Katowice
Szukaj w sklepach lub całym serwisie
2. Szukaj na wszystkich stronach serwisu
t1=0.025, t2=0, t3=0, t4=0.022, t=0.025