krainaksiazek the real history of ireland warts and all 20090069
- znaleziono 8 produktów w 1 sklepie 91,24 zł
Książki / Literatura obcojęzyczna
All cultures haves stories of the First People, the "Old Ones," our prehistoric forebears who survived the Great Flood and initiated the first sacred traditions. From the squat "gods" of Mexico and Peru to the fairy kingdom of Europe to the blond pygmies of Madagascar, on every continent of the world they are remembered as masters of stone carving, agriculture, navigation, writing and shamanic healing-and as a "hobbit" people, no taller than 3 1/2 feet in height yet perfectly proportioned. Linking the high civilisations of the Pleistocene to the Golden Age of the Great Little People, Susan Martinez reveals how this lost race was forced from their original home on the island of Pan (known in myth as Mu or Lemuria) during the Great Flood of global legend. Following the mother language of Pan, Martinez uncovers the original unity of humankind in the common roots of key words and holy symbols, including the scarlet biretta of Catholic cardinals and shows how the Small Sacred Workers influenced the primitive tribes that they encountered in the post-flood diaspora, leading to the rise of civilisation. Examining the North American mound-culture sites, including the diminutive adult remains found there, she explains that these stately mounds were not burial sites but the sanctuaries and homes of the Little People. Drawing on the intriguing worldwide evidence of pygmy tunnels, dwarf villages, elf arrows and tiny coffins, Martinez reveals the Little People as the real missing link of prehistory, later sanctified and remembered as gods rather than the mortals they were. * Traces the common roots of key words and holy symbols, including the scarlet biretta of Catholic cardinals, back to the Little People * Explains how the mounds of North America and Ireland were not burial sites but the homes of the Little People * Includes the Tuatha De Danaan, the Hindu Sri Vede, the dwarf gods of Mexico and Peru, the Menehune of Hawaii, the Nunnehi of the Cherokee as well as African Pygmies and the Semang of Malaysia
Sklep: Libristo.pl 81,26 zł
Książki / Literatura obcojęzyczna
"TRAVELS WITH ERNEST" by Ryan Keith TRAVELS WITH ERNEST tells the story of a ride around the northern part of Ireland on a Vespa named Ernest. The author seeks to experience at first hand the changes in Ireland as the population adjusts to the tangible prospect of a lasting peace. He does this with a mix of serious deliberation, and a sense of fun - and a toolkit. It was clearly an historical moment in time: after the Peace Talks, there appeared at last to be a real chance of finding an alternative to the years of strife between republican Nationalists and loyalist Unionists. The author felt a need to meet the Ulstermen face-to-face, and to confront his own prejudices with an open mind. There is another attraction: his choice of route around Ireland's shoreline follows the sites of shipwrecks from the Spanish Armada which lie dotted along the Irish coast. He finds there is something magical in a sense of place, of being physically at the site of great events, a shadowy excitement which brings a greater understanding of history. On Ulster's empty roads, the ideal link between these stopovers is a venerable Vespa, little changed in design since the first Vespa appeared in 1946, and still going strong. In modern Ireland, pubs, restaurants, and visitor centres make travel comparatively easy, even for a wild-looking, portly figure on a motor scooter; and the people of Northern Ireland prove to be just as Irish as those found in the rest of the island. Most of those he meets are characters in their own right: they speak their minds, and they tell their stories with an honesty that is both engaging and admirable. But violence has still not disappeared from the landscape, and there are reminders of this in the news broadcasts which punctuate his travels. Above all, it is the Irish people on both sides of the border who captivate the author. Often it is Ernest, which brings about an opening to a conversation, and then there is no holding back. The people he meets in bars, B & Bs, and in the street or in the countryside, all have a story to tell, and the author is a more-than-willing listener. This is a personal view of a complex but essentially human dilemma, and it gives insight to a story that is largely misunderstood. If - as some say - the latest developments are not the final solution to the problems of Northern Ireland, they may at least prove to be the beginning of a solution. Ryan Keith
Sklep: Libristo.pl 51,64 zł
Książki / Literatura obcojęzyczna
On the Road meets Down Under in this really rough guide to the adventures of an enthusiastic hitchhiker and his reluctant girlfriend on their quest for the real Australia. Hitching lifts with the desert's dodgiest drivers and taking breaks in the roughest roadhouses, this is Tom Parry's witty, warts-and-all tale of hitchhiking 8,000 miles across - and around - the Australian outback with his thumb, his backpack and his French girlfriend, Katia. As the couple hitch their way around the near empty highways, they encounter as wide a cross-section of Aussie society as you could ever hope to meet. In cattle stations, Aboriginal communities, remote waterholes, caravan parks, hippy communes and roadhouses, they see a country that remains as extraordinary today as it was for the first nineteenth century settlers. Loosely following the routes carved out by the legendary explorers who first traversed the great continent, the couple get to grips with the country's fascinating history. Set against a backdrop of the real Australia - not 'as seen on TV'- "Thumbs Up Australia" is full of wonderful anecdotes and endearing tales of some of the country's most idiosyncratic characters, from the grizzled Aboriginal elder with his tales of dreamtime, to an amphetamine-swallowing road train driver. And at the end of their journey, it is ironically Katia who suggests thumbing a lift to the airport!
Sklep: Libristo.pl 35,01 zł
Książki / Literatura obcojęzyczna
On April 29, 1968, the North Vietnamese Army is spotted less than four miles from the U.S. Marines' Dong Ha Combat Base. Intense fighting develops in nearby Dai Do as the 2d Battalion, 4th Marines, known as "the Magnificent Bastards," struggles to eject NVA forces from this strategic position. Yet the BLT 2/4Marines defy the brutal onslaught. Pressing forward, America's finest warriors rout the NVA from their fortress-hamlets-often in deadly hand-to-hand combat.At the end of two weeks of desperate, grinding battles, the Marines and the infantry battalion supporting them are torn to shreds. But against all odds, they beat back their savage adversary. "The Magnificent Bastards "captures that gripping conflict in all its horror, hell, and heroism. "Superb . . . among the best writing on the Vietnam War . . . Nolan has skillfully woven operational records and oral history into a fascinating narrative that puts the reader in the thick of the action."-Jon T. Hoffman, author of "Chesty" "Real and gripping . . . combat with all the warts on."-Lieutenant General Victor H. Krulak, USMC (Ret.)
Sklep: Libristo.pl 83,80 zł
Książki / Literatura obcojęzyczna
In Civil War, Peter Ackroyd continues his dazzling account of England's history, beginning with the progress south of the Scottish king, James VI, who on the death of Elizabeth I became the first Stuart king of England, and ends with the deposition and flight into exile of his grandson, James II. The Stuart dynasty brought together the two nations of England and Scotland into one realm, albeit a realm still marked by political divisions that echo to this day. More importantly, perhaps, the Stuart era was marked by the cruel depredations of civil war, and the killing of a king. Ackroyd paints a vivid portrait of James I and his heirs. Shrewd and opinionated, the new King was eloquent on matters as diverse as theology, witchcraft and the abuses of tobacco, but his attitude to the English parliament sowed the seeds of the division that would split the country in the reign of his hapless heir, Charles I. Ackroyd offers a brilliant - warts and all - portrayal of Charles's nemesis Oliver Cromwell, Parliament's great military leader and England's only dictator, who began his career as a political liberator but ended it as much of a despot as 'that man of blood', the king he executed. England's turbulent seventeenth century is vividly laid out before us, but so too is the cultural and social life of the period, notable for its extraordinarily rich literature, including Shakespeare's late masterpieces, Jacobean tragedy, the poetry of John Donne and Milton and Thomas Hobbes' great philosophical treatise, Leviathan. Civil War also gives us a very real sense of the lives of ordinary English men and women, lived out against a backdrop of constant disruption and uncertainty.
Sklep: Libristo.pl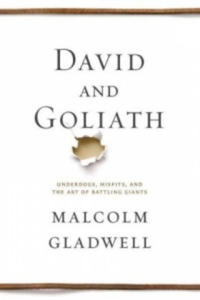 40,71 zł
Książki / Literatura obcojęzyczna
Malcolm Gladwell, the no1 bestselling author of The Tipping Point, Blink, Outliers, and What the Dog Saw, offers his most provocative - and dazzling - -book yet.§Three thousand years ago on a battlefield in ancient Palestine , a shepherd boy felled a mighty warrior with nothing more than a stone and a sling, and ever since then the names of David and Goliath have stood for battles between underdogs and giants. David's victory was improbable and miraculous. He shouldn't have won. §Or should he have? §In David and Goliath , Malcolm Gladwell challenges how we think about obstacles and disadvantages, offering a new interpretation of what it means to be discriminated against, or cope with a disability, or lose a parent, or attend a mediocre school, or suffer from any number of other apparent setbacks.§Gladwell begins with the real story of what happened between the giant and the shepherd boy those many years ago. From there, David and Goliath examines Northern Ireland's Troubles, the minds of cancer researchers and civil rights leaders, murder and the high costs of revenge, and the dynamics of successful and unsuccessful classrooms - all to demonstrate how much of what is beautiful and important in the world arises from what looks like suffering and adversity. §In the tradition of Gladwell's previous bestsellers - The Tipping Point , Blink , Outliers and What the Dog Saw - David and Goliath draws upon history, psychology, and powerful storytelling to reshape the way we think of the world around us.
Sklep: Libristo.pl 84,75 zł
Książki / Literatura obcojęzyczna
Following on from 101 Places Not To Visit-the tour guide that told you where not to go on vacation-comes a guide on how not to spend your free time. 101 Sports Not To Try is written with exactly the same deadpan wit as its predecessor and details a range of wacky sports from around the world that will have you arrested or in hospital, or both. Covering a huge variety of events and activities from wife-carrying to the luge, it lists the likelihood of death or injury for each sport, the history, cost, rewards and the bizarre clothing you might be obliged to wear. The list combines conventional sports such as lacrosse, cricket and baseball, with local classics, such as the Pamplona bull run, the sack-of-coal race in Skipton or Gloucestershire cheese rolling. You can play elephant polo or camel polo (with a headless goat as a ball), or simply wrestle the camel. You can choose to toss dwarves, cabers or mobile phones; get your head round impossible rules in the Eton Wall Game or Henry VIII's favourite, real tennis. In Ireland you can try bog snorkelling, in Holland dyke jumping, in Belgium songbird listening, in Canada log-rolling and in Florida crab racing. 101 Sports Not To Try gives you all the reasons you need not to join in.
Sklep: Libristo.pl 240,77 zł
Książki / Literatura obcojęzyczna
This book, written by a senior marketer with over thirty years experience of using marketing techniques and concepts, sets out to describe, contextualize and rate them. Its prime emphasis is on understanding their status so that they can be used to direct the use of shareholder funds effectively. Its conclusion is that seasoned professionals must use their judgement about when and how to use them, but they also need to understand them in depth if they are going to make well-rounded, effective investment decisions. Above all it asks: "how useful and relevant is this concept? Will it improve decision making? Does the damn thing have any credibility and does it work?" "This book combines a rigorous review of a wide range of marketing concepts with many practical examples and case studies. It can be read or dipped into both by seasoned professionals and by those just embarking on their marketing career." Sir Paul Judge, President, Chartered Institute of Marketing "Laurie Young casts an experienced and skeptical eye on many cherished marketing concepts and techniques. He provides an antidote to the tendency to adopt them without understanding their limitations and possibilities." Professor George Day, The Wharton School, Chairman of the American Marketing Association "Laurie Young has produced nothing less than the A-Z of marketing. He has journeyed far and wide mapping out hundreds of business, marketing and communications models to produce an extremely useful industry atlas. Certainly it will find a well-thumbed home on my bookshelf." Hamish Pringle, Director General, Institute of Practitioners in Advertising "This book is much needed by marketing. Its value is in challenging concepts, some of which have been the accepted norm for a long time. But as this book shows, some of these may no longer be relevant and appropriate for marketers in today's consumer environment." Mike Johnston, CEO, Dairy Council of Northern Ireland and former Chairman of the Chartered Institute of Marketing "Senior marketers, like those who make up the membership of the Marketing Society, hone the methods and techniques they favour as their career develops. Laurie Young clearly did that and an experienced voice shines through this critique. It is heartening to find that so many concepts have a long history of producing real value for businesses but alarming to find so many of the theorists' favourites to be so groundless." Hugh Burkitt, CEO, The Marketing Society
Sklep: Libristo.pl
Sklepy zlokalizowane w miastach: Warszawa, Kraków, Łódź, Wrocław, Poznań, Gdańsk, Szczecin, Bydgoszcz, Lublin, Katowice
Szukaj w sklepach lub całym serwisie
2. Szukaj na wszystkich stronach serwisu
t1=0.04, t2=0, t3=0, t4=0, t=0.04