krainaksiazek the simple things in life a coloring book with recipes 20041436
- znaleziono 10 produkty w 2 sklepach
96,40 zł
Książki / Literatura obcojęzyczna
If you're ready to take your baking skills up a notch, we're here to help. With this book as your guide, you'll become more confident in the kitchen as well as seriously up your baking game, while having tons of fun along the way. Bake Good Things shows new bakers how to create delicious oven-baked treats easily. Leave your kitchen fears behind as you're walked through practical baking techniques and learn to make recipes you'll enjoy both making and eating, like chocolate chip cookies, blueberry-cornmeal muffins, biscuit breakfast sandwiches, banana cream pie, red velvet cupcakes, meat lovers' pizza, and many more. Gone are the days of boxed cake mixes and store-bought dough--this book will show you just how easy and enjoyable baking from scratch can be. Each chapter features a single baking technique accompanied by step-by-step directions and photos, so it's easy to learn. You'll master the art of baking cookies and bars; muffins and quickbreads; biscuits, scones, and cobblers; pies; cakes and cupcakes; and yeast breads and pizzas. The lessons also detail any tools needed, reveal secrets to success, demystify confusing terms, and outline essential dos and don'ts. Think of this book as a personal baking class, working your way through each lesson and the subsequent recipes, to gain more confidence as you go. After reading the technique primers, move on to try the easy, modern recipes that are equally suited for everyday snacks and treats or to share with friends and family. Each of the 60 recipes includes bonus information such as how to frost and decorate sweets, tips for buying the right ingredients, and how to hack everyday kitchen items to stand in for fancy baking tools you don't have laying around. No matter the occasion, whether you're baking a birthday cake for a friend or just want to enjoy some homemade muffins for breakfast, this book will guide you through real-life cooking situations. Whether you're a baking novice who wants to learn the basics, or you're looking for a new collection of great recipes to hone your skills, this cookbook will teach you how a few simple ingredients and a hot oven can create magic. Flip through the pages, preheat your oven, toss on an apron, and get baking! Anybody can learn to bake good things.
Sklep: Libristo.pl 54,88 zł
Książki / Literatura obcojęzyczna
Relax and restore with Zen Doodle coloring pages!Some days you just need a break. A break from the stresses of everyday life. From the million little tasks and responsibilities that crowd your to-do list. A break from the world around you and its 24-hour news cycle. You know what you need? You need "Me Time."Remember when you were a child and you got deeply, intensely focused on coloring in your coloring books? Well, relive that feeling again with this coloring book for adults. This book is built of lovely Zentangle-inspired art, and coloring in these inspiring and unique designs will definitely help you relax and meditate. You'll clear your mind, you'll have fun, and you might even have a pretty piece of art to frame when you're finished!More than 100 Zen Doodle illustrations selected from some of our bestselling titles, including "Zentangle Untangled," "Zen Doodle" and "Creative Tangle"Illustration themes include geometrics, organic shapes, animals, florals, letterforms, and moreCan be colored with colored pencils, artists' markers, watercolor pencils, crayons, pastels or even watercolors Enjoy the simple things!
Sklep: Libristo.pl 99,98 zł
Książki / Literatura obcojęzyczna
"The Vintage Tea Party helps you plan not only stunning recipes for all sorts of delicious treats but also gives you countless styling tips for the perfect occasion." - Glamour Magazine (SA) "Bring out the bone china for this book from vintage guru Angel Adoree..." - The Independent Angel Adoree cordially invites you to accompany her on a journey to create your perfect vintage tea party! The Vintage Patisserie is a haven of all things glamour, vintage and retro. Run by Angel Adoree, the outstanding character you may have seen on Dragon's Den, the Vintage Patisserie is a vintage hosting company offering bespoke tea parties from a bygone era. For that reason, there's nowhere better to get simple, elegant advice for hosting your very own Vintage Tea Party at home than from Angel and The Vintage Tea Party Book. As well as providing sumptuous elegant recipes to cover every time of the day, Angel's The Vintage Tea Party Book covers the full breadth of those little touches that make the perfect vintage party: Invitations, attire, decorations, props and more. The book is broken into: BRUNCH What do you mean, morning is no time for a party?! High Breakfast is the height of civilization and, here, I share my most refined brunch dishes, for a morning tea party fit for a Queen. Don your headscarf and on with the preparations! AFTERNOON Is your pinkie finger raised at the ready? There's nothing more British than Afternoon Tea. This chapter is a treasure trove of tea-time delights, from classics to decadent treats, and I show how to make a Union Flag for the ultimate traditional tea party. EVENING The evening tea party is all about glamour, giggles and good friends. On these pages, I share my most impressive recipes, for maximum impact on the eye and taste buds, to give the special people in your life the treat they deserve. STYLE You've organized the perfect vintage do, now it's time for the perfect vintage hairdo, and the perfect vintage dress, and for getting your make-up - and your man - looking just stunning. You'll be the most glamorous hostess in town! Angel Adoree was the outstanding character of this year s Dragon s Den. She received GBP100k investment from Deborah Meaden and Theo Paphitis for developing her website and for buying a shop/property in Soho for her business - Vintage Patisserie. Vintage Patisserie is a vintage hosting company that provide tea parties which are fabulously retro, delivering everything from music, makeovers and - of course - a customised menu of tea party treats that elevate any function into a swanky soiree. The Vintage Tea Party Book embraces the style and class of the trendy London Vintage scene and illustrates how to beautifully recreate the tasty treats and classic styles at home. With a unique mixture of recipes and feature spreads with accessible tips on hairstyling, makeup methods and where to collect vintage china -- The Vintage Tea Party Book has it all!
Sklep: Libristo.pl 130,00 zł
WYDAWNICTWA ALBUMOWE > Architektura > Miejska
ISBN: 9788492463916 Autor: Santos Quartino Daniela     Rok wydania: 2009-06-01 Ilość stron: 215 Oprawa: twarda Format: 236 x 305 mm Kitchens in country homes bring together all the things which are appealing about life in a natural setting. Their layout is evidence of first-hand contact with the products of the earth. This book is an indispensable reference tool for designing these kitchens, dominated by noble materials which today live side by side with all the commodities of modern life. In the pages of this book, the reader will find an endless source of inspiration with photos of interior designs and even simple recipes for traditional Italian food.
Sklep: Multistore24.pl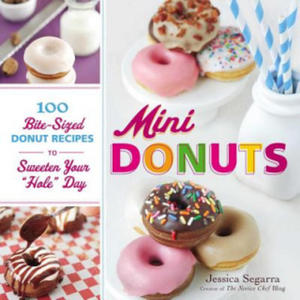 83,21 zł
Mini Donuts Adams Media Corporation
Książki / Literatura obcojęzyczna
"If you're a fan of donuts, you must get a copy of this cookbook. A copy of this cookbook along with a mini donut pan would make the perfect holiday gift for a relative, a friend, or yourself. The recipes are simple to make and fun to eat." --A Well-Seasoned Life blog "Almost all of the recipes in the book can be made with a mini donut maker appliance...a darling holiday gift." --Recipe Girl blog "Can you imagine if you just tried one donut recipe every week? How awesome would your days be? I love, love, love this cookbook." --Writing, Wishing blog "The recipes are all clearly written and easy to understand. The ingredients all seem to be things you will either have in your cabinet already or are able to get in your grocery store. There are a lot of color photos in this cookbook. This cookbook would be great for folks that enjoy donuts, baking and entertaining." --From Val's Kitchen blog "If you have kids or grand kids they will go crazy for these little treats. In the book you will find cocktail inspired, fruity nibbles, candy-aisle donuts and more." --Family Fresh Cooking "Many of you probably know of Jessica from The Novice Chef. To say she is talented seems like an understatement. And her new book Mini Donuts: 100 Bite-Sized Donut Recipes just shows you how right I am. Not only did she come up with all the recipes, but she photographed them too! Every picture is perfect, and droolworthy, and that is no small task." --Dinners, Dishes, and Desserts blog "The donuts were moist, light, and delicious! Can't wait to try more recipes!" --Make Ahead Meals for Busy Moms blog "It's cheerful, bright and just down right fun. Adorable and delectable." --Half Baked - The Cake Blog
Sklep: Libristo.pl 120,18 zł
Książki / Literatura obcojęzyczna
Oh, how Jo Pratt's life has changed over the last few years! Gone are the days of spending a day or two preparing for elaborate dinner parties, using ingredients she hunted down in back-street markets and fancy deli shops. That was all pre-children - now things are very different. She's a busy mum who has to juggle work, children and all the associated chaos. She lives in a madhouse! Bestselling author Jo has devised a cookbook full of delicious and healthy food that addresses one of the most challenging problems experienced by busy parents: finding time to cook meals for their family. The recipes are simple, easy to shop for and quick to make, with shortcuts and prepare-ahead tips. But there's much more to the book than this - there are also Lifesaver mini-recipes that give you staples for your freezer and store cupboard, and Leftovers mini-recipes too, to show you how to be clever and get more value out of time spent in the kitchen. There are three chapters - 'Monday to Friday Survival', 'Busy Weekends' and 'Cling onto your Social Life'. These chapters feature recipes for every meal and eventuality, including weekday kids' teatime recipes that will go down a storm, dinners that will wow your friends, and Sunday lunches to make the most of those precious moments of relaxation with your family.
Sklep: Libristo.pl 64,81 zł
Książki / Literatura obcojęzyczna
More than 1000 valuable tips that anyone can afford, to bring a little Goddess magic into your life. 'A divine guide to all the good things in life...with delicious recipes, fashion advice, top travel destinations and inspirational ideas, any goddess would be mad not to keep a copy by her bed.' Express Following on from the amazing success of style bible The Goddess Guide, The Goddess Experience reveals hundreds of experiences, large and small, for all budgets, to enable all of us to unleash our inner goddess. From dressing tables to dim-sum, trainers to tea, pod hotels to pop-up stores, Gisele brings us the people, places and things to make you smile...* Dicsover how to create luxury in your own home * Explore Gisele's secret address book for all the top places in some of the world's hottest cities * Create scrumptious dishes at home from simple and delicious recipes * Go shopping for the perfect wardrobe basics and pick up Gisele's top tips on how to care for bags and shoes * Read exclusive interviews with Vivienne Westwood, Paul Smith and Lauren Laverne * Join Gisele on the hunt for the perfect cake and cuppa Whatever kind of Goddess you are, you're sure to find inspiration on every page of this beautifully packaged, sumptuously designed book, guaranteed to bring Goddess magic into every life.
Sklep: Libristo.pl 49,99 zł
Książki / Literatura obcojęzyczna
"Everyday Witchcraft" is a practical comprehensive guide book of enchantment for the modern woman! A 'how to bring Magic into your life' book comprising of easy spells and simple instruction on inviting magic into your world on a daily basis. Alison Davies wants to show how it can be used to improve all areas of life and increase self esteem. Most importantly she wants to show how simple witchcraft is and how we can use everyday ingredients, things that anybody would have in their cupboards or gardens to bring about positive change. It is a fun and enjoyable read, touching on such subjects as how to get in touch with your inner goddess, how to enhance your love life, how to create the future you want, types of spells and recipes for success. Contents: PART 1: MAGIC AND WITCHCRAFT; 1. Magical Beginnings; 2. Preparation for witchcraft; 3. Casting Spells; 4. A house witch's store cupboard; 5. Enchanting associates; PART 2: 6. Spells for love, relationships and sex; 7. Spells for money, good fortune and success; 8. Spells for work and career; 9. Spells for home and family; 10. Spells for health and well-being; 11. Spells for power, psychic development and protection; 12. Spells on the move; 13. Spells for sleeping and dreaming; 14. Magic and entertainment; Bibliography and further reading.
Sklep: Libristo.pl 102,59 zł
Książki / Literatura obcojęzyczna
Melinda Messenger shares her favourite family recipes for simple and delicious food that everyone can enjoy. Cooking for a family throws up so many problems and dilemmas: making sure your children eat enough fruit and vegetables, eating together as a family, meal planning, avoiding processed foods, feeding hungry children when you're pressed for time. But cooking and eating should also be about having fun, sharing food experiences and yes, sometimes it's about treating yourself to the things you like best. Melinda takes a straightforward approach to cooking for a family - if you can get your children involved in cooking and eating from an early age then you are giving them a great start in life. Passionate about good food and healthy ingredients, Melinda also knows that cooking dishes that are quick and easy to prepare - and that your children will actually enjoy - is essential. With over 100 recipes and plenty of lovely photographs of Melinda and her family relaxing, eating and cooking at home, this book is a must for any busy parent.
Sklep: Libristo.pl 123,60 zł
Książki / Literatura obcojęzyczna
'The dream is to bring really good food at a good price to as many people as possible. It makes LEON sound like a new religion. If so, it's one that can count our judges as among its growing congregation of worshippers.' - Observer Food Monthly Awards The first Leon restaurant, in London's Carnaby Street, opened its doors in July 2004. For its founders - henry Dimbleby, John Vincent and Allegra McEvedy - the aim was to change the face of fast food, by bringing fresh, wholesome cooking to the high street. Six months later, Leon was named the Best New Restaurant in Great Britain at the Observer Food Monthly Awards. The menu is based around bold flavours, using simply-cooked fresh, local, natural ingredients with an emphasis on seasonal dishes; it also reflects how our eating habits change as the daylight house get longer and shorter. Leon Naturally Fast Food is again a book of two halves. The first half is Fast Food, which contains recipes for every occasion that take a maximum of 20 minutes to prepare: from a work day breakfast and children's meals to simple suppers and party food. The second half is Slow Fast Food which contains things that can be made in advance when you have time, to enjoy when you don't have time. There is plenty in both halves for both the experienced cook and the culinary adventurer in search of inspiration. LEON's food message is a simple and honest one - cook and eat with the best ingredients available and don't forget the naughty bits that are so necessary for a fully-rounded life.
Sklep: Libristo.pl
Sklepy zlokalizowane w miastach: Warszawa, Kraków, Łódź, Wrocław, Poznań, Gdańsk, Szczecin, Bydgoszcz, Lublin, Katowice
Szukaj w sklepach lub całym serwisie
2. Szukaj na wszystkich stronach serwisu
t1=0.092, t2=0, t3=0, t4=0.023, t=0.092