krainaksiazek the tale of the teller of tales 20111204
- znaleziono 8 produktów w 1 sklepie 74,91 zł
Książki / Literatura obcojęzyczna
A unique collection of cards for interpretation and inspiration, using enchanting fairy tales Fairy Tale Fortune Cards, based on the LeNormand fortune-telling cards, make a unique link between the card symbols and their appearance in fairy tales. Each symbol helps you connect with your inner knowing, so interpreting them feels natural. Simply follow one of the six layouts that are clearly described in the book. Then look up the meaning, and your questions about the past, present and future will be answered. The card symbols were created by the most famous fortune-teller in France, the "parlour sibyl" and publisher Madame Adelaide LeNormand (1772 - 1843), who was reader to Josephine, consort of Napoleon. In the accompanying book is an insightful interpretation for each card on its own and in combination with other cards in the pack. For more inspiration, there is a traditional fairy tale for every card, taking the card symbol as the fairy tale's "magical object", which further illuminates its meaning in a reading. The striking illustrations on the cards and fascinating and enchanting fairy tales make this a unique and appealing collection.
Sklep: Libristo.pl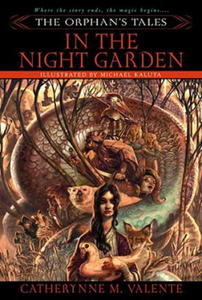 77,35 zł
Książki / Literatura obcojęzyczna
A Book of Wonders for Grown-Up Readers Every once in a great while a book comes along that reminds us of the magic spell that stories can cast over us-to dazzle, entertain, and enlighten. Welcome to the Arabian Nights for our time-a lush and fantastical epic guaranteed to spirit you away from the very first page.... Secreted away in a garden, a lonely girl spins stories to warm a curious prince: peculiar feats and unspeakable fates that loop through each other and back again to meet in the tapestry of her voice. Inked on her eyelids, each twisting, tattooed tale is a piece in the puzzle of the girl's own hidden history. And what tales she tells! Tales of shape-shifting witches and wild horsewomen, heron kings and beast princesses, snake gods, dog monks, and living stars-each story more strange and fantastic than the one that came before. From ill-tempered "mermaid" to fastidious Beast, nothing is ever quite what it seems in these ever-shifting tales-even, and especially, their teller. Adorned with illustrations by the legendary Michael Kaluta, Valente's enchanting lyrical fantasy offers a breathtaking reinvention of the untold myths and dark fairy tales that shape our dreams. And just when you think you've come to the end, you realize the adventure has only begun....
Sklep: Libristo.pl 41,52 zł
Książki / Literatura obcojęzyczna
He was born with a defect he could not change. He was different and could never be like other boys, other men, other people. His disfigurement eventually drove him from his family, from the village and out into the world as a troubadour, a teller-of-tales
Sklep: Libristo.pl 98,84 zł
Książki / Literatura obcojęzyczna
The next elegant edition in the Knickerbocker Classic series is The Complete Sherlock Holmes comprised of 4 full-length novels and 56 short stories featuring the world's most famous pipe-smoking detective. Written by Sir Arthur Conan Doyle between the years 1867 and 1927, the legendary Sherlock Holmes employed his mastery of deductive reasoning and expert sleuthing to solve an arraying of complex and harrowing cases. From his home - 221B Baker Street in London - the legendary Sherlock Holmes (accompanied by his loyal companion and chronicler, Dr. Watson) baffled policemen and became famous worldwide for his remarkable observations and even more eccentric habits. For Sherlock Holmes fans worldwide, this stunning gift edition has a full cloth binding, foil blocking on the spine, ribbon marker, and is packaged neatly in an elegant slipcase. Featuring a foreword from renowned Holmes scholar, Daniel Stashower, (author of A Teller of Tales: The Life of Arthur Conan Doyle and Sherlock Holmes in America), The Complete Sherlock Holmes contains every known Sherlock Holmes tale ever written. From Holmes' first appearance in "A Study in Scarlet" (1887) and The Hound of the Baskervilles (1901-1902), through the collection of stories in the The Case-Book of Sherlock Holmes, this deluxe edition boasts the entire Holmes catalogue.
Sklep: Libristo.pl 137,60 zł
Book of Tahkemoni The Littman Library of Jewish Civilization
Książki / Literatura obcojęzyczna
The Book of Tahkemoni (The Book of Wisdom or the Heroic) is widely regarded as the crowning jewel of Hebrew maqama literature-rhymed prose interspersed with verse. In its fifty unlinked episodes we repeatedly encounter the somewhat roguish protagonist, Hever the Kenite, often disguised and assuming many and varied roles-teacher, beggar, adventurer, debater, magician, and so on. Whether preaching, spinning history or fantasy, or working a crowd, Hever the Kenite is ever a consummate story-teller and wordsmith enlightening or astounding his listeners. The author, generally considered to be the last major Hebrew poet of Spain, displays great scope, moving from prayers to tales of battlefield carnage, from philosophic reflection to droll satire targeting the pompous, the ignorant, and the mean. The whole is conveyed in a sensuous interweave of rhyme and rhythm, of literal and figurative speech, and copious biblical citations manipulated to serve unusual ends. David Simha Segal's translation captures the drama, wit, and satire of the original in a contemporary English that displays vigour and a sense of fun. Detailed annotations, printed on the same page as the text, identify the numerous allusions. Analyses of each chapter bring the reader more deeply into the text, illuminating plays on words, adroit uses of the frame tale, adaptations of Arabic and Hebrew literary conventions, and other subtleties of the original. A substantial Afterword sums up major features discussed in the analyses, especially the authorial game of hide-and-seek in the characters of the protagonist and the narrator.
Sklep: Libristo.pl 39,90 zł
Książki / Literatura obcojęzyczna
Forget everything you've heard about Hollywood. What Just Happened: Bitter Hollywood Tales from the Front Line is the real deal. In Art Linson's true and uproarious tale of what it is to make movies, we get to explore, at close range, finicky directors, clueless executives, shameless marketers, famous actors, battered screenwriters, and hapless producers crossing paths in such calamitous ways that it's a miracle these films get made at all. Whether he's trying to persuade an executive that Gwyneth Paltrow has enough chin to carry the lead in a movie, forcing an enraged Alec Baldwin to shave off his mountain-man beard, discussing ankle hair loss with Dustin Hoffman, or sitting through an excruciating reading of a David Mamet script as Robert DeNiro toys with the notion of heading up the cast, Linson gives us a brutally honest, funny, and comprehensive tour through the horrors of Hollywood, from script to screen. If you love the movies or not, you won't be able to resist the stories behind them. You also won't be able to resist Linson, a born story-teller whose wicked sense of humor leaves nobody safe-not even himself.
Sklep: Libristo.pl 65,46 zł
Książki / Literatura obcojęzyczna
Excerpt from Marshfield the Observer: And the Death-Dance, Studies of Character and Action If there happen, among my readers, to be any who recollect an early book of mine, "La Bella and Others," they may possibly recall one particular tale in that collection, "The Baron's Quarry," in which a certain Marshfield figures as teller of the story and as Choros in the development of its action. The same personage plays a similar part in most of the present tales. His was a curious, or at least a very unusual personality. I say was, for although I have no positive proof of his disappearance from this world, it is already a very long time since I have seen or heard anything of him. Among the many classes into which it would be possible to divide intellectual characteristics, there are two very broad ones, especially antithetical. There are the men whose main energies tend ever towards action and creation; towards doing and producing. About the Publisher Forgotten Books publishes hundreds of thousands of rare and classic books. Find more at www.forgottenbooks.com This book is a reproduction of an important historical work. Forgotten Books uses state-of-the-art technology to digitally reconstruct the work, preserving the original format whilst repairing imperfections present in the aged copy. In rare cases, an imperfection in the original, such as a blemish or missing page, may be replicated in our edition. We do, however, repair the vast majority of imperfections successfully; any imperfections that remain are intentionally left to preserve the state of such historical works.
Sklep: Libristo.pl 45,43 zł
Książki / Literatura obcojęzyczna
Charlotte-Rose de la Force, exiled from the court of the Sun King Louis XIV, has always been a great teller of tales. Selena Leonelli, once the exquisite muse of the great Venetian artist Titian, is terrified of time. Margherita, trapped in a doorless tower and burdened by tangles of her red-gold hair, must find a way to escape. Three women, three lives, three stories, braided together in a compelling tale of desire, obsession and the redemptive power of love.
Sklep: Libristo.pl
Sklepy zlokalizowane w miastach: Warszawa, Kraków, Łódź, Wrocław, Poznań, Gdańsk, Szczecin, Bydgoszcz, Lublin, Katowice
Szukaj w sklepach lub całym serwisie
2. Szukaj na wszystkich stronach serwisu
t1=0.038, t2=0, t3=0, t4=0, t=0.039