krainaksiazek the toughest prison of all 20054499
- znaleziono 7 produktów w 1 sklepie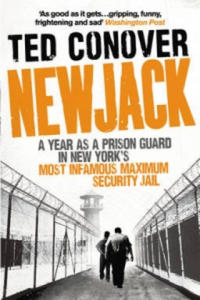 50,62 zł
Książki / Literatura obcojęzyczna
After he was denied access to report on Sing Sing, one of America's most notorious high security jails, journalist Ted Conover applied to become a prison guard. As a rookie officer, or 'newjack', Conover spent a year in the unpredictable, intimidating and often violent world of America's penal system. Unarmed and outnumbered, prison officers at one of America's toughest maximum security jails supervise 1,800 inmates, most of whom have been convicted of violent felonies: murder, manslaughter, and rape. Prisoners conceal makeshift weapons to settle gang rivalries or old grudges, and officers are often attacked or caught in the crossfire. When violence flares up in the galleries or yard an officer's day can go from mundane to terrifying in a heartbeat. Conover is an acclaimed journalist, known for immersing himself completely in a situation in order to write about it. With remarkable insight, "Newjack" takes the reader as close to experiencing life in an American prison as any of us would ever want to get. It's a thrillingly told account of how the gruelling world of the prison system brutalizes all who enter it - prison guards and prisoners alike.
Sklep: Libristo.pl 50,62 zł
Książki / Literatura obcojęzyczna
Robert Jeffrey, author of the bestselling "Barlinnie Story" and other true crime books, now tells the remarkable story of the infamous Peterhead Prison in Scotland's far north-east. Built in the 1880s as part of an ambitious humanitarian plan to use convict labour to construct a 'harbour of refuge' on the town's wild, storm-battered coast, it became what some call Scotland's gulag. A cold and brutal place, it has held down the years some of Scotland's most violent criminals and most infamous prisoners, convicted of the most heinous of crimes. In the early days, convicts were controlled by men as hard as their charges. The wardens carried swords and were quick to use them if necessary. And when convict labour was used to build the harbour, they worked with rifles trained on them at all times. Peterhead's wardens were clearly not to be crossed. Throughout the history of the prison, riots and breakouts have made headlines, with the SAS involved in restoring order at one point. Peterhead also had the reputation of being so secure that escape was impossible, with the notable exception of Johnny Ramensky, the safeblower turned war hero who went back to his criminal ways and spent more than forty years of his life in prison, many of them in Peterhead. He became the first inmate to escape and repeated the exercise four more times, often for his own satisfaction and amusement, each time being recaptured after a short taste of freedom. "Peterhead - Scotland's Toughest Prison" tells the remarkable inside story of a truly grim institution with a fearsome reputation.
Sklep: Libristo.pl 35,39 zł
Książki / Literatura obcojęzyczna
Tracy Mackness has always had a flair for business - if not all of it legal. She started work as a youngster on her dad's fruit and veg stall in Romford Market in the 1970s, preferring grafting to going to school, but by the time she was a teenager she'd fallen in with a fast crowd and spent much of the next 15 years ducking and diving, and partying. The 1980s was a time of conspicuous excess, and Tracy took bigger and bigger risks - whilst sporting bigger and bigger hair - fraternising with gangsters, gypsies and the Essex criminal underworld. From Essex country clubs to Magaluf, Tracy was there, living it large. It was only when she was sent down for 10 years for conspiracy to supply cannabis, after being caught with 'a lorry load of puff' at a motorway service station off the M25, that she was able to turn her life around. Despite being banged up with some of the UK's toughest female prisoners, she proved to be a model inmate, and found her forte working on the prison farm. Never shy of hard work, Tracy left prison with numerous qualifications in pig husbandry and set up her own business, The Giggly Pig, which has become a huge success selling sausages at farmers' markets and festivals up and down the country. With her shrewd business acumen and bubbly personality, Tracy has come through the bad times with a hugely entertaining story to tell and a new life to live.
Sklep: Libristo.pl 112,39 zł
Książki / Literatura obcojęzyczna
"Full" is the true, poignant story of one woman's spiritual journey as she recovers from anorexia, eases the emotional pain of her hunger through yoga and Buddhism, and finally becomes full. In this inspiring and captivating memoir, Kimber Simpkins captures vividly--with piercing insight, raw emotion, and often humor--the all-consuming hunger she felt on a daily basis as a result of an eating disorder. Sick of dieting and hating her body, Simpkins decides to get to the bottom of her unhappy relationship with her body. That's when she discovers the healing power of yoga and Buddhism. Along the way, Simpkins realizes her hunger isn't simply physical, but that it comes from a place deep inside her. Through the wise teachings of yoga and meditation, Simpkins discovers she doesn't have to live in a prison of self-dissatisfaction. In fact, by understanding the root of her pain and learning to love herself in body, mind, and spirit, Simpkins is able to truly set herself free. As she wrestles with her inner demons of hunger and perfectionism and learns how self-acceptance can soften even her toughest inner critic, Simpkins takes us along on her voyage of self-discovery. At its core, this book is a journey to find true self-fulfillment that will inspire readers in their own search to create a full and meaningful life.
Sklep: Libristo.pl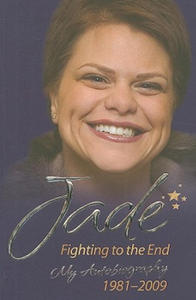 40,47 zł
Książki / Literatura obcojęzyczna
The moment Jade Goody stepped into the Big Brother house in 2002, her life changed forever. As soon as she opened her mouth on national TV, Jade secured her place as the unofficial winner of the third series of Big Brother and became the most famous reality TV star in the UK. The glitz and glamour of Jade's sudden fame was a far cry from the real-life drama of the estate where she made her start. Brought up in a run-down part of Bermondsey, South London, caring for her disabled mum and with her dad in and out of prison, she had experienced more by the time she started secondary school than most people do in their whole lifetime. But Jade always lived her life with incredible spirit - and that is what endeared her to millions of people during her time on Big Brother. Behind the bubbly exterior, though, there was a tough and fiercely determined lady. Jade was always the first to admit that she had made mistakes - and there were many trials and tribulations along the way. But when she was diagnosed with cervical cancer in 2008, she faced the toughest battle of her life, in the full glare of the national media. Jade fought with dignity and unbelievable strength of character, never giving up hope and always striving to do the best she could for her beloved boys, Bobby and Freddy. In this, the second instalment of her autobiography, Jade spares no detail as she reveals all about her time in therapy, her tempestuous relationship with the love of her life, Jack Tweed (who she married in February 2009) and the trauma of her cancer diagnosis. Funny, moving and disarmingly honest, Fighting to the End truly is a fitting tribute to one of Britain's best loved celebrities.
Sklep: Libristo.pl 35,39 zł
Książki / Literatura obcojęzyczna
From surviving a horrific terrorist attack in Northern Ireland, to the violence of the Gulf War and an assault course of harrowing experiences in Iraq, Bosnia and Columbia, Major Bill Shaw, MBE had seen it all. But Bill's strength and courage was tested to its absolute limits when he was arrested for a crime he did not commit. Posted in Afghanistan after two years in Iraq, Bill was responsible for the safety of four hundred men in a full-scale danger zone in one of the most dangerous countries in the world. Bill had long accepted that each day could be his last. But he never expected to find his own life at risk under a corrupt legal system. Thrown into prison and forced to share a cramped, vermin-infested cell, Bill had no idea when, or even if, he would see his family again. This is the incredible true story of a brave soldier who survived some of the toughest war zones in the world only to face the nightmare of being wrongfully imprisoned a very long way from home. Gritty and gripping, this powerful military memoir is an eye-opening account of life on the frontline.
Sklep: Libristo.pl 40,47 zł
Książki / Literatura obcojęzyczna
Boobela and Worm are off on their toughest mission yet. First they must fly by balloon to the Dabushta Jungle, and then they must venture deep into the forest to free Boobela's parents from their jungle prison. Boobela will need all the skills she learnt on her other adventures to succeed. But with a little help from friends, and plenty of courage, Boobela is sure to save the day. Sam Childs warm and wonderful colour illustrations bring Boobela's adventures to life in these heart-warming tales for young readers.
Sklep: Libristo.pl
Sklepy zlokalizowane w miastach: Warszawa, Kraków, Łódź, Wrocław, Poznań, Gdańsk, Szczecin, Bydgoszcz, Lublin, Katowice
Szukaj w sklepach lub całym serwisie
2. Szukaj na wszystkich stronach serwisu
t1=0.028, t2=0, t3=0, t4=0, t=0.028