krainaksiazek the toughest prison of all 20054499
- znaleziono 6 produktów w 1 sklepie 99,33 zł
Książki / Literatura obcojęzyczna
On 18 November 2013 former Labour MP and Minister for Europe Denis MacShane pleaded guilty to false accounting at the Old Bailey, and on 23 December he was jailed for six months. He was the latest MP to be given a stern sentence to serve as example in the post expenses scandal climate. Arriving at Belmarsh on Christmas Eve, all his books and writing materials were confiscated and he was locked away in a solitary cell for up to 23 hours a day. With hours of nothing to fill and without books to read, he begged or borrowed paper and pens to while away the time writing. He began taking notes on what he heard and saw around him and recording the lives of prisoners serving longer sentences. In Belmarsh and, later, Brixton he experienced warmth, friendship, and solidarity from fellow prisoners and discovered a sense of right and wrong and a willingness to admit mistakes that he had never noticed in the Tea Room of the House of Commons. This diary is a compelling account of those extraordinary experiences. Weaved into it are the author's reflections on why he ended his political career in one of Europe's toughest prisons and why MPs do not enjoy the public confidence that the dedication of so many of them merit. His main purpose, however, is to reveal what life as a prisoner in Britain is really like. He comes to the conclusion that, with prisoner numbers rising all the time, with judges routinely sending many more people to jail than their continental counterparts, and with a political lack of interest in tackling the endemic problems, the English prison system simply does not work. If this journal nudges a rethink on prison policy and the reasons why so many are sent without reason and at pointless cost into prison, it will have served its purpose.
Sklep: Libristo.pl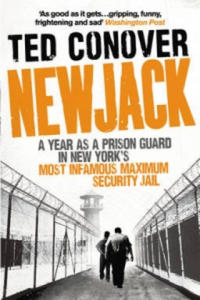 49,67 zł
Książki / Literatura obcojęzyczna
After he was denied access to report on Sing Sing, one of America's most notorious high security jails, journalist Ted Conover applied to become a prison guard. As a rookie officer, or 'newjack', Conover spent a year in the unpredictable, intimidating and often violent world of America's penal system. Unarmed and outnumbered, prison officers at one of America's toughest maximum security jails supervise 1,800 inmates, most of whom have been convicted of violent felonies: murder, manslaughter, and rape. Prisoners conceal makeshift weapons to settle gang rivalries or old grudges, and officers are often attacked or caught in the crossfire. When violence flares up in the galleries or yard an officer's day can go from mundane to terrifying in a heartbeat. Conover is an acclaimed journalist, known for immersing himself completely in a situation in order to write about it. With remarkable insight, "Newjack" takes the reader as close to experiencing life in an American prison as any of us would ever want to get. It's a thrillingly told account of how the gruelling world of the prison system brutalizes all who enter it - prison guards and prisoners alike.
Sklep: Libristo.pl 49,67 zł
Książki / Literatura obcojęzyczna
Robert Jeffrey, author of the bestselling "Barlinnie Story" and other true crime books, now tells the remarkable story of the infamous Peterhead Prison in Scotland's far north-east. Built in the 1880s as part of an ambitious humanitarian plan to use convict labour to construct a 'harbour of refuge' on the town's wild, storm-battered coast, it became what some call Scotland's gulag. A cold and brutal place, it has held down the years some of Scotland's most violent criminals and most infamous prisoners, convicted of the most heinous of crimes. In the early days, convicts were controlled by men as hard as their charges. The wardens carried swords and were quick to use them if necessary. And when convict labour was used to build the harbour, they worked with rifles trained on them at all times. Peterhead's wardens were clearly not to be crossed. Throughout the history of the prison, riots and breakouts have made headlines, with the SAS involved in restoring order at one point. Peterhead also had the reputation of being so secure that escape was impossible, with the notable exception of Johnny Ramensky, the safeblower turned war hero who went back to his criminal ways and spent more than forty years of his life in prison, many of them in Peterhead. He became the first inmate to escape and repeated the exercise four more times, often for his own satisfaction and amusement, each time being recaptured after a short taste of freedom. "Peterhead - Scotland's Toughest Prison" tells the remarkable inside story of a truly grim institution with a fearsome reputation.
Sklep: Libristo.pl 34,70 zł
The Escape Grand Central Publishing
Książki / Literatura obcojęzyczna
David Baldacci is one of the world's most popular, widely-read storytellers.§§In his blockbuster thrillers Zero Day and The Forgotten , readers met John Puller. A combat veteran and special agent with the U.S. Army, Puller is the man they call to investigate the toughest crimes facing the nation.§§But all his training, all his experience, all his skills will not prepare him for his newest case, one that will force him to hunt down the most formidable and brilliant prey he has ever tracked: his own brother.§§THE ESCAPE§§It's a prison unlike any other. Military discipline rules. Its security systems are unmatched. None of its prisoners dream of escaping. They know it's impossible.§§Until now.§§John Puller's older brother, Robert, was convicted of treason and national security crimes. His inexplicable escape from prison makes him the most wanted criminal in the country. Some in the government believe that John Puller represents their best chance at capturing Robert alive, and so Puller takes on the burden of bringing his brother in to face justice.§§But Puller quickly discovers that there are others pursuing his brother, who only see Robert as a traitor and are unconcerned if he survives. Puller is in turn pushed into an uneasy, fraught partnership with another agent, who may have an agenda of her own.§§They dig more deeply into the case together, and Puller finds that not only are her allegiances unclear, but that there are troubling details about his brother's conviction....and that someone is out there who doesn't want the truth to ever come to light. As the nation-wide manhunt for Robert grows more urgent, Puller's masterful skills as an investigator and strength as a fighter may not be enough to save his brother-or himself.
Sklep: Libristo.pl 45,21 zł
Książki / Literatura obcojęzyczna
From David Baldacci--the modern master of the thriller and No.1 worldwide bestselling novelist-comes a new hero: a lone Army Special Agent taking on the toughest crimes facing the nation.§§And Zero Day is where it all begins....§§John Puller is a combat veteran and the best military investigator in the U.S. Army's Criminal Investigation Division. His father was an Army fighting legend, and his brother is serving a life sentence for treason in a federal military prison. Puller has an indomitable spirit and an unstoppable drive to find the truth.§§Now, Puller is called out on a case in a remote, rural area in West Virginia coal country far from any military outpost. Someone has stumbled onto a brutal crime scene, a family slaughtered. The local homicide detective, a headstrong woman with personal demons of her own, joins forces with Puller in the investigation. As Puller digs through deception after deception, he realizes that absolutely nothing he's seen in this small town, and no one in it, are what they seem. Facing a potential conspiracy that reaches far beyond the hills of West Virginia, he is one man on the hunt for justice against an overwhelming force.§§David Baldacci is one of the world's favorite storytellers. His books are published in over 45 languages and in more than 80 countries, with over 110 million copies in print. David Baldacci is also the cofounder, along with his wife, of the Wish You Well Foundation, a nonprofit organization dedicated to supporting literacy efforts across America. Still a resident of his native Virginia, he invites you to visit him at www.DavidBaldacci.com and his foundation at www.WishYouWellFoundation.org, and to look into its program to spread books across America at www.FeedingBodyandMind.com.§§
Sklep: Libristo.pl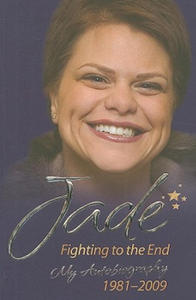 39,80 zł
Książki / Literatura obcojęzyczna
The moment Jade Goody stepped into the Big Brother house in 2002, her life changed forever. As soon as she opened her mouth on national TV, Jade secured her place as the unofficial winner of the third series of Big Brother and became the most famous reality TV star in the UK. The glitz and glamour of Jade's sudden fame was a far cry from the real-life drama of the estate where she made her start. Brought up in a run-down part of Bermondsey, South London, caring for her disabled mum and with her dad in and out of prison, she had experienced more by the time she started secondary school than most people do in their whole lifetime. But Jade always lived her life with incredible spirit - and that is what endeared her to millions of people during her time on Big Brother. Behind the bubbly exterior, though, there was a tough and fiercely determined lady. Jade was always the first to admit that she had made mistakes - and there were many trials and tribulations along the way. But when she was diagnosed with cervical cancer in 2008, she faced the toughest battle of her life, in the full glare of the national media. Jade fought with dignity and unbelievable strength of character, never giving up hope and always striving to do the best she could for her beloved boys, Bobby and Freddy. In this, the second instalment of her autobiography, Jade spares no detail as she reveals all about her time in therapy, her tempestuous relationship with the love of her life, Jack Tweed (who she married in February 2009) and the trauma of her cancer diagnosis. Funny, moving and disarmingly honest, Fighting to the End truly is a fitting tribute to one of Britain's best loved celebrities.
Sklep: Libristo.pl
Sklepy zlokalizowane w miastach: Warszawa, Kraków, Łódź, Wrocław, Poznań, Gdańsk, Szczecin, Bydgoszcz, Lublin, Katowice
Szukaj w sklepach lub całym serwisie
2. Szukaj na wszystkich stronach serwisu
t1=0.046, t2=0, t3=0, t4=0, t=0.046