krainaksiazek the view from here stories about chicago neighborhoods 20096699
- znaleziono 6 produktów w 1 sklepie 68,86 zł
Książki / Literatura obcojęzyczna
Chicago goes by many nicknames -- the City on the Lake, the Windy City, the Third Coast, the City of Big Shoulders, the Second City. But for the people who call it home, perhaps the most fitting sobriquet is the City of Neighborhoods, hundreds of them altogether, each containing their own defining character, physical boundaries, and identity. Representing almost two dozen students of fiction, nonfiction, and poetry, this second annual CCLaP "city all-star" anthology takes you on a tour of many of these neighborhoods, from the north side's Rogers Park to the west side's Austin, to Bronzeville on the south side and beyond. With an introduction by famed local author Patricia Ann McNair, the voices in this collection are as different as the neighborhoods they represent, and in them you'll get a snapshot of what the next generation of Chicago writers have to say about their hometown, whether born here or adopted into the city.
Sklep: Libristo.pl 124,39 zł
Książki / Literatura obcojęzyczna
Nagai Kafu is one of the greatest modern Japanese writers, but until now his classic collection, American Stories, based on his sojourn from Japan to Washington State, Michigan, and New York City in the early years of the twentieth century, has never been available in English. Here, with a detailed and insightful introduction, is an elegant translation of Kafu's perceptive and lyrical account. Like de Tocqueville a century before, Kafu casts a fresh, keen eye on vibrant and varied America -- world fairs, concert halls, and college campuses; saloons, the immigrant underclass, and red-light districts. Many of his vignettes involve encounters with fellow Japanese or Chinese immigrants, some of whom are poorly paid laborers facing daily discrimination. The stories paint a broad landscape of the challenges of American life for the poor, the foreign born, and the disaffected, peopled with crisp individual portraits that reveal the daily disappointments and occasional euphorias of modern life. Translator Mitsuko Iriye's introduction provides important cultural and biographical background about Kafu's upbringing in rapidly modernizing Japan, as well as literary context for this collection. In the first story, "Night Talk in a Cabin," three young men sailing from Japan to Seattle each reveal how poor prospects, shattered confidence, or a broken heart has driven him to seek a better life abroad. In "Atop the Hill," the narrator meets a fellow Japanese expatriate at a small midwestern religious college, who slowly reveals his complex reasons for leaving behind his wife in Japan. Caught between the pleasures of America's cities and the stoicism of its small towns, he wonders if he can ever return home. Kafu plays with the contradictions and complexities of early twentieth-century America, revealing the tawdry, poor, and mundane underside of New York's glamour in "Ladies of the Night" while celebrating the ingenuity, cosmopolitanism, and freedom of the American city in "Two Days in Chicago." At once sensitive and witty, elegant and gritty, these stories provide a nuanced outsider's view of the United States and a perfect entrance into modern Japanese literature.
Sklep: Libristo.pl 128,99 zł
Książki / Literatura obcojęzyczna
"I am no helmeted, begoggled hero of the skies; picture me bookish, bespectacled, unable to hold even a teacup without rattling it. As a pilot, I am merely an amateur, and I know it...I shouldn't be talking. But I can't help talking. For you take the air: the thin, substanceless air that can be made to bear a man; you take America; and you take an airplane, which of all the works of man is the nearest to a living being-you take those things and mix them up, and they will act as a drug which will knock all proper reticence right out of you. And so, here I go talking..."-from America from the Air In 1927, Charles Lindbergh made his historic solo flight across the Atlantic; Amelia Earhart became the first woman to do so in 1932. And so was born the golden age of flying. Aviators became the era's new heroes and the airplane its icon. In early 1930s Chicago, a German-born graduate student became fascinated by the airplane and its usefulness as a great geographic and sociological tool. Wolfgang Langewiesche sold his car and used his meager salary to pay for flying lessons at 25 cents a minute. With the same passion America had taken to the road a decade earlier, Langewiesche took to the air. He eagerly inhaled the landscape and breathed observations about the country, writing a series of books that describe the heady excitement and freedom of flight and the stunning views of his adopted country from an entirely new vantage point-the sky. This new edited volume revives the writings from two of his now out-of-print books. America from the Air draws from Langewiesche's classic account of his early experiences as a pilot, I'll Take the High Road (first published in 1939 and praised by the New York Times as "a stirring and revealing story, told with sensitiveness and lucidity and with the warmth of a modest personal charm"), and selections from his 1951 memoir, A Flier's World, to create a distinctive book that provides a pioneering look at the American landscape as seen from the cockpit of a light plane. Langewiesche's photographs from his cross-country flights circa 1939 evoke the era. Wolfgang Langewiesche is revered among pilots for his 1944 flying primer, Stick and Rudder, currently in its seventieth printing. Considered the bible of aviation, it tells us the "how" of flying; America from the Air tells us the "why." Here his descriptions of the country offer unique perspectives on New England, the Midwest, and the Atlantic Coast from Virginia to Key West, at a time before the country was paved over by multilane expressways, suburban tract housing, and strip malls. His bird's-eye view of America takes in small farms, deserted seashores, busy railway lines, and cities in which skyscrapers were still engineering marvels. With the keen eye of a surveyor and an uncommon talent for conveying the physical sensation of flying, he describes landscape in all its beauty and detail as it rolls out beneath him, unveiling its mysteries. Langewiesche is revealed here as an infectiously enthusiastic aviator and an unrivaled observer of the American landscape. In a new foreword, Langewiesche's son, writer William Langewiesche, describes his father's love of the view from above. Hokanson and Kratz's introduction and biography update the reader, incorporating stories gleaned from recent interviews with the author.
Sklep: Libristo.pl 267,49 zł
Inside Outside SAGE Publications India Pvt Ltd
Książki / Literatura obcojęzyczna
Poverty in rural India: Is this a permanent condition? Are villagers immobilized by a rigid caste system, limited resources and economic exploitation? This book is about villagers who have done remarkable things with their lives - people who have broken the constraints of poverty and inequality to become innovative and mobile. It is written partly by one villager who found a career doing research on social change. Inside - Outside narrates stories of grassroots change and innovation. These stories are discussed from the combined view of an insider (Baviskar), who grew up in a village in western India, and an outsider (Attwood), who came to study social change in the same region. Telling life stories from people who taught and surprised them, they challenge common stereotypes about Indian villagers - stereotypes of passivity, fatalism, and stagnation. Baviskar's life and experience of change in his home village exemplify grassroots initiative and innovation. He was born as the son of an impoverished farmer in a drought-stricken village in western Maharashtra. Ability, hard work, and some dramatic twists of fate enabled him to attend college and then complete a doctorate in India's premier sociology department. In contrast to Baviskar, Attwood is a complete outsider, having grown up in a suburb near Chicago, in the US heartland. He stumbled into anthropology and spent several years in India, doing fieldwork in the region where Baviskar grew up. The two met in 1969; they became friends and began four decades of collaborative research. Here they tell the stories of villagers who changed their own lives and who also, in many cases, changed the lives of others. These stories describe rapid innovation and institution-building in the countryside, challenging an array of common stereotypes about village life in India. Seeking explanations for change, it helps to look at village life from many angles. Inside and outside views are complementary and provide a more complete picture.
Sklep: Libristo.pl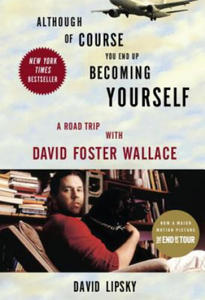 78,85 zł
Książki / Literatura obcojęzyczna
SOON TO BE A MAJOR MOTION PICTURE STARRING JASON SEGAL AND JESSE EISENBERG - FEATURING AUTHOR, DAVID LIPSKY AS A MAIN CHARACTER§An indelible portrait of David Foster Wallace, by turns funny and inspiring, based on a five-day trip with award-winning writer David Lipsky during Wallace's Infinite Jest tour §In David Lipsky's view, David Foster Wallace was the best young writer in America. Wallace's pieces for Harper's magazine in the '90s were, according to Lipsky, "like hearing for the first time the brain voice of everybody I knew: Here was how we all talked, experienced, thought. It was like smelling the damp in the air, seeing the first flash from a storm a mile away. You knew something gigantic was coming."§Then Rolling Stone sent Lipsky to join Wallace on the last leg of his book tour for Infinite Jest , the novel that made him internationally famous. They lose to each other at chess. They get iced-in at an airport. They dash to Chicago to catch a make-up flight. They endure a terrible reader's escort in Minneapolis. Wallace does a reading, a signing, an NPR appearance. Wallace gives in and imbibes titanic amounts of hotel television (what he calls an "orgy of spectation"). They fly back to Illinois, drive home, walk Wallace's dogs. Amid these everyday events, Wallace tells Lipsky remarkable things - everything he can about his life, how he feels, what he thinks, what terrifies and fascinates and confounds him - in the writing voice Lipsky had come to love. Lipsky took notes, stopped envying him, and came to feel about him - that grateful, awake feeling - the same way he felt about Infinite Jest . Then Lipsky heads to the airport, and Wallace goes to a dance at a Baptist church.§A biography in five days, Although Of Course You End Up Becoming Yourself is David Foster Wallace as few experienced this great American writer. Told in his own words, here is Wallace's own story, and his astonishing, humane, alert way of looking at the world; here are stories of being a young writer - of being young generally - trying to knit together your ideas of who you should be and who other people expect you to be, and of being young in March of 1996. And of what it was like to be with and - as he tells it - what it was like to become David Foster Wallace.§"If you can think of times in your life that you've treated people with extraordinary decency and love, and pure uninterested concern, just because they were valuable as human beings. The ability to do that with ourselves. To treat ourselves the way we would treat a really good, precious friend. Or a tiny child of ours that we absolutely loved more than life itself. And I think it's probably possible to achieve that. I think part of the job we're here for is to learn how to do it. I know that sounds a little pious."§- David Foster Wallace§
Sklep: Libristo.pl 109,31 zł
Książki / Literatura obcojęzyczna
"The greatest American dramatist of our age" (Evening Standard) The twenty-three essays and three interviews collected here give us Arthur Miller's views on the theatre including such topics as the origins of modern drama, the nature of tragedy, what makes plays endure, the theatre in Russia and at home - on Broadway and at New York's Lincoln Center. Above all, they give eloquent expression of his belief in "the theatre as a serious business, one that makes or should make man more human, which is to say, less alone."In reading this definitive collection of the playwright's pieces, covering some thirty years, and subjects ranging from Willy Loman's fall to AFTER THE FALL, from Ibsen to O'Neill, from the commercial hit-flop approach to subsidised theatre, you are exhileratingly aware of a social critic, as well as playwright, who knows what he's about." (Studs Terkel, Chicago Tribune) "Arthur Miller understands that serious writing is a social act as well as an aesthetic one, that political involvement comes with the territory. A writer's work and his actions should be of the same cloth, after all. HIs plays and his conscience are a cold burning force." (Edward Albee) Arthur Miller was born in New York City in 1915. After graduating from the University of Michigan, he began work with the Federal Theatre Project. His first Broadway hit was All My Sons, closely followed by Death of a Salesman, The Crucible, A View from the Bridge and The Price. His works of fiction include the novella Plain Girl and a collection of short stories, I Don't Need You Any More. His non-fiction includes In Russia, Chinese Encounters, 'Salesman' in Beijing and his autobiography, Timebends. Widely acknowledged as one of the greatest playwrights of the twentieth century, Miller died in 2005.
Sklep: Libristo.pl
Sklepy zlokalizowane w miastach: Warszawa, Kraków, Łódź, Wrocław, Poznań, Gdańsk, Szczecin, Bydgoszcz, Lublin, Katowice
Szukaj w sklepach lub całym serwisie
2. Szukaj na wszystkich stronach serwisu
t1=0.025, t2=0, t3=0, t4=0, t=0.025