krainaksiazek the vikings the story of a people 20044908
- znaleziono 9 produktów w 1 sklepie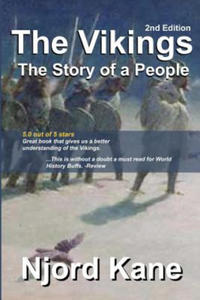 92,82 zł
Vikings Lightning Source UK Ltd
Książki / Literatura obcojęzyczna
The story of the Norse is a Viking adventure in history. The Norse saga began with the first ancient tribes of Norsemen during the Early Nordic Stone Age. The beginning of the Nordic Ax Culture when primitive Norsemen created their first battle axes from stone. The evolution of an innovative and progressive culture that groomed legendary warriors whose voices still roar out today. Take a journey into the Age of Viking Expansion where Ragnar Lothbrok, Rollo, Erik the Red, and many other famous Vikings take you on a ride into the very Halls of Valhalla. Very interesting and worth the read to anyone interested in the Vikings or Norse history. Explore knowledge and technology specific to a culture that was shaped by a people able to reach great distances beyond their homelands and seas. A battle ferocious people with shields, armor, and weaponry that was unmatched by their opponents. A whole new world of understanding about the ancient vikings has been opened up by new archaeological discoveries and studies. New findings that lead to new questions. Could some of the mythological tales about giants in the Norse Sagas have had some truth behind them? Researchers have found proof of giants and humans interacting together in our own DNA! There are also many shared technologies between the Ancient Norse, Asians, the Inuit and other North American aborigines. Viking explorers have long interacted and traded with many people and cultures afar. Were ancient Norse already in contact with early Native Americans? Were these the people they referred to as "Skraelings?" Were they Proto-Inuits known by the ancients as Thule People? See for yourself with new information about the Norse that was once lost in time.
Sklep: Libristo.pl 49,97 zł
Książki / Literatura obcojęzyczna
Red Kite Books' "Discovering" series offers a refreshing take on history: 32-page non-fiction books with a rhyming fictional story line along the bottom of each spread. Children learn from the informative main text and then engage with the subject through the story line, the spectacular illustrations and - in trade editions - the free flag or other component. In "Discovering Vikings", we go on a thrilling journey of discovery through history to find out who the Vikings were, where and how they lived, fought and died, and how they ventured forth on amazing voyages of exploration and colonisation, some as far as America! The rhyme at the bottom of each spread tells the story of Eadred, the Viking leader who takes his people to settle in far-off Greenland. Trade edition includes a free Viking helmet.
Sklep: Libristo.pl 41,24 zł
Książki / Literatura obcojęzyczna
Excerpt: ...short reign of Edward the Martyr, whose murder at Corfe Castle brought about the fall of Dunstan and the enthronement of Ethelred. Ethelred was but ten years old on his coronation at Kingston. Little is told of the early years of his reign, and nothing to the young king's credit. Already the great fleet raised by Edgar had disappeared, and the vikings of the north had begun once more to pillage the coasts. There were other troubles, too. London was burnt to the ground, a great murrain of cattle happened for the first time in the English nation, and a terrible plague carried off many thousands of the people. For some unknown reason Ethelred laid siege to Rochester, and, failing to take the town, ravaged the lands of the bishopric. And now, with the coming of Olaf Triggvison, a new danger was threatening. Olaf was the first of the vikings to attempt anything like a planned invasion on a large scale, and his partial success was the signal for a yet greater descent of the northmen, which had for its object the conquest of the whole kingdom. It was Olaf Triggvison who, if he failed in his own attempt, at least pointed out the way by which King Sweyn of Denmark and his greater son Canute at length gained possession of the throne of England and infused the nation with the blood which now flows in the veins of every true born Briton. The ocean loving vikings of the north were the ancestors of the English speaking people of today. Our love of the sea and of ships, the roving spirit that has led us to make great colonies in distant lands, our skill in battle, our love of manly sports, even perhaps our physical strength and endurance -- all these traits have come to us from our forefathers of Scandinavia. Nor must it be forgotten that the Normans, who conquered England just five and seventy years after the landing of Olaf, were themselves the sons of the vikings. Rolf the Ganger was a famous warrior in the service of King Harald Fairhair. Exiled by Harald...
Sklep: Libristo.pl 57,89 zł
Książki / Literatura obcojęzyczna
The story of what happened to the Norse people who inhabited the West Settlement of Greenland is one that is shrouded in mystery. Based on a true story, this historical epic provides a new explanation as to what befell the Norse people in Greenland. Faced with a harsh climate and unknown lands, the people of West Greenland one day disappeared. Their empty homes were discovered by Christians who claimed that the natives had killed them. But is this true, or is it one of history's greatest cover ups? Author A. S. Lyons weaves together a tale of intrigue and deception which offers an alternative explanation to the tragedy that befell the Norse people of Greenland's West Settlement. In this fictional narrative A. S. Lyons presents us with a picture of a proud Norse people struggling against some of the most vicious and unscrupulous villains since Game of Thrones. The Last Norse of West Greenland presents the reader with a new saga for Vikings facing a new and dangerous world, where old Norse ways come into harsh and brutal conflict with the new power of the Church, Inuit, and even with the far flung shores of exotic Vinland.
Sklep: Libristo.pl 89,91 zł
Odin's Saga Strategic Book Publishing
Książki / Literatura obcojęzyczna
Set in the adventurous and epic world of Vikings, Odin's Saga tells the story of a legendary hero and his brave quest to create a nation. The Viking homeland of Heimdal is attacked and almost conquered. Odin, their first King and founder, tells the old King Halvtan, in a dream, that in two generations they will be attacked by hordes of tribesmen. Torleif becomes king when Halvtan dies. To rouse his people, Torleif tells them Odin's Saga. The reader, too, experiences the inspiring story: Odin, the 14 year old survivor of a Tsunami, wanders inland and finds a group of people in need of his help. Odin kills his robbers, avoids enemies, then rescues and marries princess Varna. Varna has his son. Odin frees a whole village of women and children who make him King of their nation. Travelling west, a few good men join them, but many women are without a man. Their Council decides that Odin must take concubines in order to have children for their future nation. As they travel over mountains, seas, and vast flatlands, will Odin and his people be able to reach their Promised Land of Heimdal? Can Odin survive an attack by local tribesmen? About the Author: Odd Haugan is a retired engineer who has worked throughout Europe as an independent consultant in the area of Electrical and Electronic Engineering and Telecommunications. He grew up in Norway and currently resides in Druskininkai, Lithuania. Mr. Haugan next book is Tor's Saga, the sequel to Odin's Saga. Publisher's website: http://sbpra.com/OddHaugan
Sklep: Libristo.pl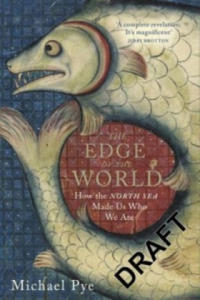 49,48 zł
Książki / Literatura obcojęzyczna
Michael Pye's The Edge of the World is an epic adventure: from the Vikings to the Enlightenment, from barbaric outpost to global centre, it tells the amazing story of northern Europe's transformation by sea. "An utterly beguiling journey into the dark ages of the north sea. A complete revelation...Pye writes like a dream. Magnificent." (Jerry Brotton, author of A History of the World in Twelve Maps). This is a story of saints and spies, of fishermen and pirates, traders and marauders - and of how their wild and daring journeys across the North Sea built the world we know. When the Roman Empire retreated, northern Europe was a barbarian outpost at the very edge of everything. A thousand years later, it was the heart of global empires and the home of science, art, enlightenment and money. We owe this transformation to the tides and storms of the North Sea. The water was dangerous, but it was far easier than struggling over land; so it was the sea that brought people together. Boats carried food and raw materials, but also new ideas and information. The seafarers raided, ruined and killed, but they also settled and coupled. With them they brought new tastes and technologies - books, clothes, manners, paintings and machines. In this dazzling historical adventure, we return to a time that is largely forgotten and watch as the modern world is born. We see the spread of money and how it paved the way for science. We see how plague terrorised even the rich and transformed daily life for the poor. We watch as the climate changed and coastlines shifted, people adapted and towns flourished. We see the arrival of the first politicians, artists, lawyers: citizens. From Viking raiders to Mongol hordes, Frisian fishermen to Hanseatic hustlers, travelling as far west as America and as far east as Byzantium, we see how the life and traffic of the seas changed everything. Drawing on an astonishing breadth of learning and packed with human stories and revelations, this is the epic drama of how we came to be who we are. "A closely-researched and fascinating characterisation of the richness of life and the underestimated interconnections of the peoples all around the medieval and early modern North Sea. A real page-turner." (Chris Wickham, author of The Inheritance of Rome: A History of Europe from 400 to 1000). "Elegant writing and extraordinary scholarship...Miraculous." (Hugh Aldersey-Williams, author of Periodic Tales and Anatomies). "Splendid. A heady mix of social, economic, and intellectual history, written in an engaging style. It offers a counterpoint to the many studies of the Mediterranean, arguing for the importance of the North Sea. Exciting, fun, and informative." (Michael Prestwich, Professor of History, Durham University). Michael Pye has written eleven previous books, translated into eleven languages, including two British bestsellers and two New York Times Notable Books of the Year. He took a First and various prizes in Modern History at Oxford, and was then for many years a highly successful journalist, columnist and broadcaster in London and New York. He now lives between London and rural Portugal.
Sklep: Libristo.pl 99,94 zł
Książki / Literatura obcojęzyczna
"It is better to stand and fight. If you run, you'll only die tired." - Viking saying. Beginning in 789 CE, the Vikings raided monasteries, sacked settlements and invaded the Atlantic coast of Europe and the British Isles. They looted and enslaved their enemies, terrorising all whom they encountered. But that is only part of their story. Sailing their famous longboats, they discovered Iceland and America (both by accident) and also sailed up the Seine to Paris (which they sacked). They settled from Newfoundland to Russia, founded Dublin and fought battles as far afield as the Caspian Sea. A thousand years after their demise, traces of the Vikings can be found as far apart as Canada and Turkey. They traded walruses with Inuits, brought Russian furs to Western Europe and took European slaves to Constantinople. Their graves contain Arab silver, Byzantine silks and Frankish weapons and artefacts. Arranged thematically, The Viking Warrior examines the Norsemen through their origins, society, raiding culture, weapons and war tactics, exploration, trade, settlements and kingdoms. Illustrated with more than 200 colour and black-and-white photographs, maps and artworks, The Viking Warrior is an expertly written account of a people who have long captured the popular imagination.
Sklep: Libristo.pl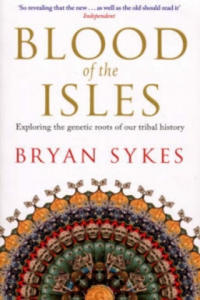 49,48 zł
Książki / Literatura obcojęzyczna
Bryan Sykes, the world's first genetic archaeologist, takes us on a journey around the family tree of Britain and Ireland, to reveal how our tribal history still colours the country today. In 54BC, Julius Caesar launched the first Roman invasion of Britain. His was the first detailed account of the Celtic tribes that inhabited the Isles. But where had they come from and how long had they been there? When the Romans eventually left five hundred years later, they were succeeded by invasions of Anglo-Saxons, Vikings and Normans. Did these successive invasions obliterate the genetic legacy of the Celts, or have very little effect? After two decades tracing the genetic origins of peoples from all over the world, Bryan Sykes has now turned the spotlight on his own back yard. In a major research programme, the first of its kind, he set out to test the DNA of over 10,000 volunteers from across Britain and Ireland with the specific aim of answering this very question: what is our modern genetic make-up and what does it tell us of our tribal past? Are the modern people of the Isles a delicious genetic cocktail? Or did the invaders keep mostly to themselves forming separate genetic layers within the Isles? As his findings came in, Bryan Sykes discovered that the genetic evidence revealed often very different stories to the conventional accounts coming from history and archaeology. "Blood of the Isles" reveals the nature of our genetic make-up as never before and what this says about our attitudes to ourselves, each other, and to our past. It is a gripping story that will fascinate and surprise with its conclusions.
Sklep: Libristo.pl 12,29 zł
Książki / Literatura obcojęzyczna
When Dan and Una stage a performance of A Midsummer Night's Dream in a fairy ring, they are astonished by the appearance of Puck in person. He explains that he is the last of the People of the Hills, who started as gods before descending into this world. Puck leads the two children in a series of extraordinary historical adventures in which they meet, Romans and Crusaders, Saxons and Vikings. Kipling's charming songs and verses, including the famous Smuggler's Song are placed between each thrilling story. The book is beautifully illustrated by H.R. Millar.
Sklep: Libristo.pl
Sklepy zlokalizowane w miastach: Warszawa, Kraków, Łódź, Wrocław, Poznań, Gdańsk, Szczecin, Bydgoszcz, Lublin, Katowice
Szukaj w sklepach lub całym serwisie
2. Szukaj na wszystkich stronach serwisu
t1=0.031, t2=0, t3=0, t4=0, t=0.031