krainaksiazek the young lieutenant or the adventures of an army officer 20092725
- znaleziono 10 produkty w 1 sklepie 159,42 zł
Książki / Literatura obcojęzyczna
The gripping memoirs of a cavalry officer of the First Empire This is the story of a remarkable French cavalryman of the Napoleonic era, Denis Charles Parquin, an officer of the Chasseurs a Cheval. Memoirs of soldiers of Napoleon's army are always exciting, but few exist in English translation. Those that have been translated such as the recollections of Coignet, Barres, Bourgogne and Marbot have become famous and provide a valuable resource of first hand information. Parquin joined the 20th regiment of the horse chasseurs in 1806 and served with it until 1813 rising in rank to lieutenant. He fought at Saalfeld, Jena, Eylau, Wagram, in the Iberian Peninsula at Ciudad Rodrigo and at Salamanca, gathering wounds as well as regimental promotions. In 1813, Parquin agreed to take a reduction in rank to join the elite Chasseurs a Cheval of the Imperial Guard, where he became the emperor's escort on the march and in the field. Napoleon personally awarded Parquin the cross of the Legion of Honour during a review in the same year. In the final battles of the First Empire Parquin fought at Leipzig, Hanau-where he was wounded-and during the battle for France in 1814, that led to the emperor's abdication and the restoration of the Bourbon monarchy. There is some evidence that Parquin took part in the Battle of Waterloo-probably as a cuirassier. He remained in the cavalry under the royalist regime, but was eventually ruined by his involvement in Bonapartist conspiracies. This book concentrates on his life at its most exciting as he served as a 'beau sabreur' in the service of his beloved emperor. Included here are numerous illustrations (taken from the edition of these memoirs published as 'Napoleon's Victories') that illuminate the narrative and add to the book's reading enjoyment and value as a reference source and collectors' edition. Leonaur editions are newly typeset and are not facsimiles; each title is available in softcover and hardback with dustjacket; our hardbacks are cloth bound and feature gold foil lettering on their spines and fabric head and tail bands.
Sklep: Libristo.pl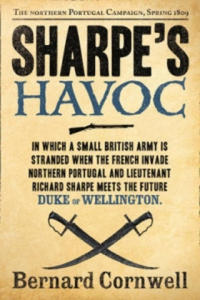 44,46 zł
Książki / Literatura obcojęzyczna
A small British army is stranded when the French invade northern Portugal and Lieutenant Richard Sharpe meets the future Duke of Wellington. Sharpe is stranded behind enemy lines, but he has Patrick Harper, his riflemen and he has the assistance of a young, idealistic Portuguese officer. When he is joined by the future Duke of Wellington they immediately mount a counter-attack and Sharpe, having been the hunted, becomes the hunter once more. Amidst the wreckage of a defeated army, in the storm lashed hills of the Portuguese frontier, Sharpe takes his revenge. Soldier, hero, rogue - Sharpe is the man you always want on your side. Born in poverty, he joined the army to escape jail and climbed the ranks by sheer brutal courage. He knows no other family than the regiment of the 95th Rifles whose green jacket he proudly wears.
Sklep: Libristo.pl 49,99 zł
Książki / Literatura obcojęzyczna
As a young man Winston Churchill set out to become a hero, to make a name for himself in the public eye as a soldier and so make possible a life of politics and statesmanship. There were many chances to fail and many close calls in the face of sword, spear and bullet along the way. Yet Churchill survived and succeeded - an early measure of his courage and stubborn will that the world would come to know so well in the Second World War. This is the first full-length, fully-researched biography of Churchill's colourful military career. Using an unrivalled range of sources, and with previously unpublished photographs, and detailed maps by Sir Martin Gilbert, it brings vividly to life Churchill's motives, abilities, experiences, successes and failures, and his unswerving sense of destiny as an officer in the British Army. The result is a story to echo the man himself - rich in action, courage, charismatic self-belief, patriotism and humour. Making extensive use of the contemporary accounts of Churchill and his fellow soldiers and archival documents from three continents, illustrated with many maps and previously unpublished photographs, Douglas S. Russell vividly brings to life the military career of the vigorous young officer of hussars who later became the greatest Briton of the twentieth century. From Sandhurst to the mountainous North-West Frontier of India, to the charge of the 21st Lancers at Omdurman, from the South African veldt to the deadly trench warfare of the Great War, the author - whom Sir Martin Gilbert calls 'a keen portraitist' - tells the gripping story of Churchill's army life with careful attention to historical detail and all the drama that the real life adventures of his subject deserve. (Hardback ISBN: 185753564X)
Sklep: Libristo.pl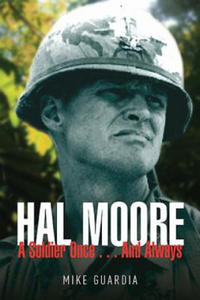 153,07 zł
Książki / Literatura obcojęzyczna
Hal Moore, one of the most admired American combat leaders of the last 50 years, has until now been best known to the public for being portrayed by Mel Gibson in the movie "We Were Soldiers." In this first-ever, fully illustrated biography, we finally learn the full story of one of America's true military heroes.A 1945 graduate of West Point, Moore's first combats occurred during the Korean War, where he fought in the battles of Old Baldy, T-Bone, and Pork Chop Hill. At the beginning of the Vietnam War, Moore commanded the 1st Battalion of the 7th Cavalry in the first full-fledged battle between U.S. and North Vietnamese regulars. Drastically outnumbered and nearly overrun, Moore led from the front, and though losing 79 soldiers, accounted for 1,200 of the enemy before the Communists withdrew. This Battle of Ia Drang pioneered the use of "air mobile infantry"-delivering troops into battle via helicopter-which became the staple of U.S. operations for the remainder of the war. He later wrote of his experiences in the best-selling book, We Were Soldiers Once...and Young.Following his tour in Vietnam, he assumed command of the 7th Infantry Division, forward-stationed in South Korea, and in 1971, he took command of the Army Training Center at Fort Ord, California. In this capacity, he oversaw the US Army's transition from a conscript-based to an all-volunteer force. He retired as a Lieutenant General in 1977.At this writing, Hal Moore is 90 years old and living quietly in Auburn, Alabama. He graciously allowed the author interviews and granted full access to his files and collection of letters, documents, and never-before-published photographs. Mike Guardia, currently an officer in the U.S. 1st Armored Division is also author of two highly acclaimed biographies, American Guerrilla, about the life of the true founder of Special Forces, Russell Volckmann, and Shadow Commander, about the career of Donald Blackburm.
Sklep: Libristo.pl 117,08 zł
Książki / Literatura obcojęzyczna
Source: Wikipedia. Pages: 101. Chapters: Michael Ventris, T. E. Lawrence, Desmond Llewelyn, Mary Hansen, Dennis Brain, Mike Hawthorn, Eddie Cochran, Mike Hailwood, Marc Bolan, Horace Smith-Dorrien, Julia Lennon, James Wyatt, Cozy Powell, Reg Armstrong, Cornelius Cardew, Geoffrey Perkins, John Edward Mack, Leslie Orme Wilson, David Ormsby-Gore, 5th Baron Harlech, Dai Rees, Joe Tandy, David Penhaligon, Bill Boaks, Richard Farrell, W. G. Sebald, Rodney Robert Porter, Michael Maidens, Ian Stuart Donaldson, Richard Fort, Lance Todd, Anne McLaren, Ray Jones, Ted McDonald, Margaret Mee, Robert George Gammage, Hugo Yarnold, George Street, Donald Michie, Basil Dearden, Wilfred Fienburgh, Edith Atkins, Monica Coghlan, Jimmy Davis, Ted Fenton, Bonar Colleano, Francis Haffey Brooke-Smith, Frank Adams, Tom Cooper, Peter Houseman, Gavin Brown, Gus Dudgeon, Duster Bennett, Mike Edwards, Collie Smith, Jack Lambert, Reginald Northway, Turk Farrell, Michael Millett, Henry Edward Colville, Michael Stern, John Netley, Norman Vaughan, Walbanke Ashby Pritt, Dudley Pope, Martin Aldridge, Gary Mason, Alan Nicholls, John Bridger, Alexander Cadell, Walter Southey, Edward Courtney Boyle, Sir Alfred Bird, 1st Baronet, Ralph Hunt, William Luard, Ernie Collett, Mike Dickin, Aaron Flahavan, Jack Iddon, Alfred Dobbs, Bob Cryer, Richard Edmunds, Roger Mynors, Simon Patterson, Peter Barrett, Mark Philo, John Wooldridge, John Henry Jones, Kemistry, Martin Gilks, Marcel Varnel, Dave Wiggett, David Myers, Hugh Neil, Barry Mannakee, Percy Fairclough, Frederic Seebohm, Baron Seebohm, Death of Sam Riddall, Harry Spencer (cricketer, born 1901), Cecil Leonard Knox, Raleigh Ashlin Skelton, Sidney Dye, Charlotte Long, Dallas Page, Tara Browne, Harry Bamford, Eddie Smart, John Nicholson, Johnny Kidd, James Lowe, Howard New, Bridget Driscoll, Martin Lamble, Roy Evans, Russell Kerr, Harold Whitfield, Francis Ernest Jackson, Spencer Gollan, David Ogle, Dean Horrix, Edward Drax Free, Brian Purcell, Shiva, Arthur Blackburne Poynton, Ralph Ince, Trish Williamson, Frank Wayman, Brian Runnett, Selwyn Fremantle, Thomas Henry Swain, Brian Stonebridge, Sir John Dyke Acland, 16th Baronet, Edgar Backhouse, Victoria O'Keefe, Ben Enoch, Peter Whitbread, Pete de Freitas, Emily Robin, Mary Stewart, Jason McRoy, Omar Mohamed Omar, Ronald Rhodes, Donald Eccles. Excerpt: Lieutenant Colonel Thomas Edward Lawrence, CB, DSO (16 August 1888 - 19 May 1935), known professionally as T. E. Lawrence, was a British Army officer renowned especially for his liaison role during the Arab Revolt against Ottoman Turkish rule of 1916-18. The extraordinary breadth and variety of his activities and associations, and his ability to describe them vividly in writing, earned him international fame as Lawrence of Arabia, a title popularised by the 1962 film based on his First World War activities. Lawrence was born illegitimately in Tremadog, Wales in August 1888 to Sir Thomas Chapman and Sarah Junner, a governess, who was herself illegitimate. Chapman left his wife to live with Sarah Junner, and they called themselves Mr and Mrs Lawrence. In the summer of 1896 the Lawrences moved to Oxford, where from 1907 to 1910 young Lawrence studied history at Jesus College, graduating with First Class Honours. He became a practising archaeologist in the Middle East, working with David George Hogarth and Leonard Woolley on various excavations. In January 1914, following the outbreak of the First World War, Lawrence was co-opted by the ...
Sklep: Libristo.pl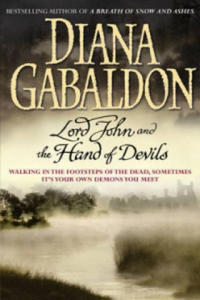 39,90 zł
Książki / Literatura obcojęzyczna
A keepsake collection of Lord John Grey's shorter adventures and a spectacular addition to any Gabaldon fan's library, "Lord John and the Hand of the Devils" brings these three unique novellas together for the first time. Lord John and the Hellfire Club marks the first appearance of Lord John outside the "Outlander" novels (and chronologically precedes the novel "Lord John and the Private Matter"). A young diplomat is killed in the street as he begs Lord John for help. Witnessing the murder, Grey vows to avenge the young man, as the trail leads to the notorious Hellfire Club and the dark caves beneath Medmenham Abbey.In "Lord John and the Succubus", Grey's assignment as liaison to a Hanoverian regiment in Germany finds him caught between two threats: the advancing French and Austrian army, and the menace of a mysterious 'night-hag,' who spreads fear and death among the troops. Acknowledging that he is unlikely to fall victim to a succubus, Lord John is obliged to contend with the marauding night-hag before the enemy arrives. This tale with a touch of the supernatural bridges the action between Gabaldon's two full-length Lord John tales. Finally, in "Lord John and the Haunted Soldier", Lord John is called to the Arsenal at Woolwich to answer a Royal Commission of Enquiry's questions regarding a cannon that exploded during the battle of Krefeld (a central action in Lord John and the Brotherhood of the Blade). Accusations ensue, and Lord John finds himself knee-deep in a morass of gunpowder, treason, and plot - haunted by a dead lieutenant, and followed by a man with no face.
Sklep: Libristo.pl 54,88 zł
Książki / Literatura obcojęzyczna
A brilliant new translation of a perennial favorite of Russian Literature The first major Russian novel, A Hero of Our Time was both lauded and reviled upon publication. Its dissipated hero, twenty-five-year-old Pechorin, is a beautiful and magnetic but nihilistic young army officer, bored by life and indifferent to his many sexual conquests. Chronicling his unforgettable adventures in the Caucasus involving brigands, smugglers, soldiers, rivals, and lovers, this classic tale of alienation influenced Tolstoy, Dostoyevsky, and Chekhov in Lermontov's own century, and finds its modern-day counterparts in Anthony Burgess's A Clockwork Orange, the novels of Chuck Palahniuk, and the films and plays of Neil LaBute.
Sklep: Libristo.pl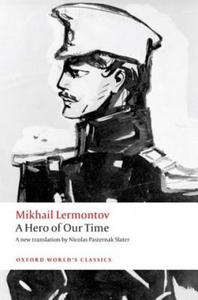 44,94 zł
Książki / Literatura obcojęzyczna
'After all that - how, you might wonder, could one not become a fatalist?' Lermontov's hero, Pechorin, is a young army officer posted to the Caucasus, where his adventures - amorous and reckless - do nothing to alleviate his boredom and cynicism. World-weary and self-destructive, Pechorin is alienated from those around him yet he is full of passion and romantic ardour, sensitive as well as arrogant. His complex, contradictory character dominates A Hero of Our Time, the first great Russian novel, in which the intricate narrative unfolds episodically, transporting the reader from the breathtaking terrain of the Caucasus to the genteel surroundings of spa resorts. Told in an engaging yet pointedly ironic style, the story expresses Lermontov's own estrangement from the stifling conventions of bourgeois society and the oppression of Russian autocracy, but it also captures a longing for freedom through acts of love and bravery. This new edition also includes Pushkin's Journey to Arzrum, in which Pushkin describes his own experiences of Russia's military campaigns in the Caucasus and which provides a fascinating counterpoint to Lermontov's novel. ABOUT THE SERIES: For over 100 years Oxford World's Classics has made available the widest range of literature from around the globe. Each affordable volume reflects Oxford's commitment to scholarship, providing the most accurate text plus a wealth of other valuable features, including expert introductions by leading authorities, helpful notes to clarify the text, up-to-date bibliographies for further study, and much more.
Sklep: Libristo.pl 49,99 zł
Książki / Literatura obcojęzyczna
Waterloo, 1815 - As the war against Bonaparte rages to its bloody end upon the field of Waterloo, a young officer goes about his duty in the ranks of Wellington's army. He is Cornet Matthew Hervey of the 6th Light Dragoons - a soldier, gentleman and man or honour, who suddenly finds himself allotted a hero's role ...Momentous times call for momentous acts: as the Napoleonic Wars escalate, Cornet Hervey faces decisions, both military and romantic, which will change the course of his life, and possibly the outcome of Waterloo..."I have never read a more enthralling account of a battle ...This is the first in a series of Matthew Hervey adventures. The next can't come soon enough for me" - "Daily Mail".
Sklep: Libristo.pl 69,21 zł
Książki / Literatura obcojęzyczna
Santiago, Chile, at the height of Pinochet's reign of terror in the late twentieth century. Julieta, the Juliet of this 'Romeo and Juliet' story and the daughter of a senior government official, is to be married to the army officer of her father's choice. She attempts to escape with the boy she loves to the Peruvian Andes, but her father's tentacles reach across South America and even as far as England. The young lovers are caught up in a series of gripping adventures and narrow escapes. They are helped by a courageous priest, whose mission is to save opponents of Pinochet from the prisons, torture chambers and executions of the military regime. The Snake and the Condor is more than a retelling of one of the great love stories of world literature. It also studies the cruel effects of colonization, forced conversion and economic exploitation on non-European civilizations. It evokes the fear, suspicion and uncertainty on which tyranny and dictatorship thrive.
Sklep: Libristo.pl
Sklepy zlokalizowane w miastach: Warszawa, Kraków, Łódź, Wrocław, Poznań, Gdańsk, Szczecin, Bydgoszcz, Lublin, Katowice
Szukaj w sklepach lub całym serwisie
2. Szukaj na wszystkich stronach serwisu
t1=0.072, t2=0, t3=0, t4=0, t=0.072