krainaksiazek three minute stories 20094511
- znaleziono 12 produktów w 3 sklepach
73,25 zł
Książki / Literatura obcojęzyczna
As a companion to her award-winning story collection Three Minute Tales, Margaret Read MacDonald has compiled another delightful collection of entertaining stories from around the world to read or tell on any occasion.
Sklep: Libristo.pl 249,72 zł
Książki / Literatura obcojęzyczna
Reynolds Price's long and distinguished career has been remarkable both for his virtuosity and for the variety of forms he has embraced -- novels, stories, poems, essays, translations and plays. Now one of America's most respected and accomplished men of letters brings his formidable talents to bear on the long story, a form of novelistic scope and poetic intensity. In the three stories that comprise "The Foreseeable Future, " we encounter some of Price's most arresting and moving characters, set against large vistas, namely the future, its banquet of promises and terrifying consequences. For Kayes Paschal in "The Fare to the Moon" this means leaving the black woman he loves -- and for whom he has already left his wife and son -- as he is called off to World War II ("Forget about Hitler and the wide Pacific, I could die this minute in full possession of all I hoped to find in life, whoever I hurt"). In the title story, for Whit Wade -- returning severely wounded from that same war and "dead" a long year afterwards -- it will mean unearthing his life again, and all its possibilities, among his family and the people he loves. And for Dean Walker -- loyal father and son, football coach and troubled young husband, the protagonist of "Back Before Day" -- the most important hours of his life till now will occur one hectic night before dawn breaks on a day that will be unlike any other in the knowledge and promise it brings. Generous, wise, rich with the details of very human lives, "The Foreseeable Future" is proof again of Reynolds Price's mastery and vision.
Sklep: Libristo.pl 106,27 zł
60-Minute CEO Bibliomotion, Incorporated
Książki / Literatura obcojęzyczna
Looking toward the C-suite? Take heed. Author and serial CEO Dick Cross pulls back the curtain on this top leadership role, explaining in his new book that being a successful leader, running a business, and doing it extraordinarily well isn't a full-time job. In 60-Minute CEO: The Fast Track to Top Leadership, Cross makes the case that the single greatest determinant of business success revolves around the job at the top. Cross suggests that the most important, and often overlooked, duty for a CEO is thinking about how to improve his or her business and how to be a leader. Cross also reveals that a mediocre leader can be transformed into an exemplary one simply by refining two key things: thinking and character. In Cross's trademark conversational style, he conveys why strategy and execution, while important, should take a back seat to authenticity and responsibility, and that the essential elements of the CEO role can be accomplished in several 60-minute sessions every week. Executives may fill their time with other tasks, but leading and running a company requires explicit skills different from those needed for any other corporate position. The good news is that those skills are easy to learn, fun to do, and not time-consuming. In an entertaining style, Cross offers executives the fast track to the top leadership position. And while 60 minutes may seem like a quick fix, as Cross sees it, three 60-minute sessions a week devoted solely to considering your business and your role as leader are crucial to business and leadership success. In 60-Minute CEO, Dick Cross brings over 25 years of experience of transforming companies in various stages of underperformance into industry powerhouses. Cross combines his knowledge and experience with the stories and lessons of preeminent leaders and thinkers including General George Patton and Seattle Seahawks quarterback Russell Wilson.
Sklep: Libristo.pl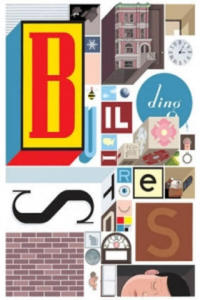 184,16 zł
Książki / Literatura obcojęzyczna
In Chris Ware's own words, '"Building Stories" follows the inhabitants of a three-flat Chicago apartment house: a thirty-year-old woman who has yet to find someone with whom to spend the rest of her life; a couple who wonder if they can bear each other's company for another minute; and finally an elderly woman who never married and is the building's landlady...' The scope, the ambition, the artistry and emotional heft of this project are beyond anything even Chris Ware has achieved before.
Sklep: Libristo.pl 164,99 zł
Książki Obcojęzyczne>Angielskie>Fiction & related items>Graphic novels
Follows The Inhabitants Of A Three-flat Chicago Apartment House: A Thirty-year-old Woman Who Has Yet To Find Someone With Whom To Spend The Rest Of Her Life; A Couple Who Wonder If They Can Bear Each Other's Company For Another Minute; And Finally An Elderly Woman Who Never Married And Is The Building's Landlady.
Sklep: Gigant.pl 36,60 zł
Powieści i opowiadania
'When people ask me what I do for a crust and I tell them that I'm a novelist, they immediately assume that my life is a non-stop carousel of limos, television appearances, hair-dos, devoted fans, stalkers and all the glitzy paraphernalia of being a public figure. It's time to set the record straight. I write alone, in a darkened bedroom, wearing my PJs, eating bananas, my laptop on a pillow in front of me ...' Her novels are adored by millions around the world
Sklep: Albertus.pl 15,71 zł
Książki / Literatura obcojęzyczna
SHELBY, LOLA AND CAT. THREE WOMEN. THREE DAZZLING CAREERS. THREE IMMINENT DIVORCES. HOLLYWOOD DIVORCES takes you behind the scenes of the Hollywood divorce wars with stories ripped from the headlines. Sex, scandal, drugs and power - HOLLYWOOD DIVORCES covers every decadent minute. SHELBY, LOLA and CAT. Three unforgettable, strong women making their way along the treacherous trails of divorce and coming out on top. Three beautiful and sexy women, determined to get things done their way, and succeeding against all odds.
Sklep: Libristo.pl 34,94 zł
Książki / Literatura obcojęzyczna
A New York Times and USA TODAY bestseller! Edited by 1 New York Times bestselling author David Baldacci and including stories by Michael Connelly, Lee Child, Jeffery Deaver, and more, this one-of-a-kind anthology pulls together the most beloved characters from the best and most popular thriller series today. Worlds collide!§§In an unprecedented collaboration, twenty-three of the world's bestselling and critically acclaimed thriller writers have paired their series characters - such as Harry Bosch, Jack Reacher, and Lincoln Rhyme - in an eleven-story anthology curated by the International Thriller Writers (ITW). All of the contributors to FaceOff are ITW members and the stories feature these dynamic duos:§§- Patrick Kenzie vs. Harry Bosch in "Red Eye," by Dennis Lehane and Michael Connelly§- John Rebus vs. Roy Grace in "In the Nick of Time," by Ian Rankin and Peter James§- Slappy the Ventriloquist Dummy vs. Aloysius Pendergast in "Gaslighted," by R.L. Stine, Douglas Preston, and Lincoln Child§- Malachai Samuels vs. D.D. Warren in "The Laughing Buddha," by M.J. Rose and Lisa Gardner§- Paul Madriani vs. Alexandra Cooper in "Surfing the Panther," by Steve Martini and Linda Fairstein§- Lincoln Rhyme vs. Lucas Davenport in "Rhymes With Prey," by Jeffery Deaver and John Sandford§- Michael Quinn vs. Repairman Jack in "Infernal Night," by Heather Graham and F. Paul Wilson§- Sean Reilly vs. Glen Garber in "Pit Stop," by Raymond Khoury and Linwood Barclay§- Wyatt Hunt vs. Joe Trona in "Silent Hunt," by John Lescroart and T. Jefferson Parker§- Cotton Malone vs. Gray Pierce in "The Devil's Bones," by Steve Berry and James Rollins§- Jack Reacher vs. Nick Heller in "Good and Valuable Consideration," by Lee Child and Joseph Finder§§So sit back and prepare for a rollicking ride as your favorite characters go head-to-head with some worthy opponents in FaceOff - it's a thrill-a-minute read.
Sklep: Libristo.pl 34,99 zł
Muzyka>Pop
1. Bill Withers - Lovely Day 2. Earth Wind & Fire - Let's Groove 3. Luther Vandross - Never Too Much 4. Marvin Gaye - My Love Is Waiting 5. Gladys Knight & The Pips - Bourgie Bourgie 6. Evelyn Champagne King - Love Come Down 7. Aretha Franklin - Who's Zoomin' Who? 8. The Three Degrees - Givin' Up Givin' In 9. Pointer Sisters - Automatic 10. Esther Phillips - Home Is Where The Hatred Is 11. Nina Simone - Funkier Than A Mosquito's Tweeter 12. James Brown - Living In America 13. Odyssey - Native New Yorker 14. Heatwave - The Groove Line 15. O'jays - Darlin' Darlin' Baby (Sweet,tender,love 16. Billy Griffin - Hold Me Tighter In The Rain 17. Isley Brothers - Harvest For The World 18. Billy Paul - Bring The Family Back 19. Archie Bell And The Drells - Don't Let Love Get 20. The Bad Boys - Black Olives 101. Gladys Knight & The Pips - Taste Of Bitter Love 102. Lisa Lisa & The Cult Jam Ft.full Force - I Wonde 103. Evelyn Champagne King - I'm In Love 104. Cheryl Lynn - Encore 105. Esther Phillips - From A Whisper To A Scream 106. Aretha Franklin - Jump To It 107. Bill Withers - Use Me 108. Average White Band - Walk On By 109. Heatwave - Too Hot To Handle 110. Pointer Sisters - Dare Me 111. Barbara Lynn - I'm A Good Woman 112. Amii Stewart - Friends 113. Aquarian Dream - Phoenix 114. People's Choice - Do It Anyway You Wanna 115. Brick - Dazz 116. Chocolate Milk - Action Speaks Louder Than Words 117. Billy Paul - Your Song 118. Haywoode - Roses 119. Shuggie Otis - Strawberry Letter 23 120. Jean Carn - Don't Let It Go To Your Head 201. Earth Wind & Fire - Let Me Talk 202. Full Force - Alice I Want You Just For Me 203. Wild Cherry - Play That Funky Music 204. Hall & Oates - Maneater 205. Isley Brothers - That Lady Part 1 206. O'jays - For The Love Of Money 207. The Three Degrees - Get Your Love Back 208. The Honey Cone - Stick Up 209. George Duke - Brazilian Love Affair 210. Harold Melvin & The Bluenotes - Wake Up Everybod 211. Billy Griffin - Serious 212. Sly & The Family Stone - Everyday People 213. George Clinton & The P-funk All-stars - Summer S 214. Haywoode - A Time Like This 215. Mtume - Juicy Fruit 216. Herbie Hancock - Rockit 217. Tom Browne - 218. The Jimmy Castor Bunch - It's Just Begun 219. The Main Ingredient - Happiness Is Just Around T 220. Freda Payne - The Unhooked Generatio 301. Luther Vandross - Give Me The Reason 302. Marvin Gaye - Sanctified Lady 303. James Brown Ft.full Force - I'm Real 304. Sly & The Family Stone - M'lady 305. Average White Band - For You, For Love 306. The Delfonics - Didn't I (Blow Your Mind This Ti 307. The Emotions - I Don't Wanna Lose Your Love 308. Odyssey - Inside Out 309. The Main Ingredient - Just Don't Want To Be Lone 310. Cheryl Lynn - Got To Be Real 311. Shuggie Otis - Inspiration Information 312. Trammps - Sixty Minute Man 313. Mfsb - Mysteries Of The World 314. People's Choice - Jam Jam Jam (All Night Long) 315. Tom Browne - Thighs High (Grip Your Hips And Mov 316. Lonnie Liston Smith - Quiet Moments 317. William Devaughn - Be Thankful For What You Got 318. Philip Bailey - Walking On The Chinese Wall 319. The Philadelphia International Allstars - Let's 320. The Chakachas - Stories 401. George Duke & Stanley Clarke - Sweet Baby 402. Hall & Oates - I Can't Go For That (No Can Do) 403. Johnny Chingas - Phone Home 404. The Limit - Say Yeah 405. Ray Parker Jr. - Girls Are More Fun 406. Locksmith - Unlock The Funk 407. The Brecker Brothers - East River 408. Lonnie Liston Smith - A Garden Of Peace 409. Chocolate Milk - Say Won't Cha 410. Roy Head - She's About A Mover 411. Surface - The First Time 412. Chairmen Of The Board - Finders Keepers 413. Mfsb - Sexy 414. Raydio Ft.ray Parker Jr. - Is This A Love Thing 415. Surface - Happy 416. Raydio - Jack And Jill 417. The Jimmy Castor Bunch - Troglodyte (Cave Man) 418. Titanic - Sultana 419. Windy City Orchestra - Windy City Theme 420. Showstoppers - Ain't Nothing But A Houseparty
Sklep: Gigant.pl 92,64 zł
Książki / Literatura obcojęzyczna
Can a story be both a shrug and a prayer? Can it punch you in the arm because, hey, it is only "joking," and the next minute fall at your feet, cling to your knees, beg you to listen? Sure. The stories in "Making Light of Tragedy" are arrogant and uncertain. (This is not a contradiction.) They make no apologies for poor taste, or the occasional rhyme, but they do make a few demands. These include: Let there be light. Let there be no more epigraphs. Let the ski jumper take off. Let him never ever land. Let us cut limbs, when necessary. And the word count too. Let this be true. Let one person speak the truth. Let Peter Mansbridge be the ghost of Christmas future. In this first collection by Journey Prize-winner Jessica Grant, you'll find twenty-three bite-sized stories, with guest appearances by Holt Renfrew's daughter, Chantal HA(c)bert, Napoleon, the Management, the Senior Climatologist, the Dean of Humanity, Jon Bon Jovi, Virginia Woolf and God.
Sklep: Libristo.pl 146,98 zł
Squeezed YALE UNIVERSITY PRESS
Książki / Literatura obcojęzyczna
Close to three quarters of U.S. households buy orange juice. Its popularity crosses class, cultural, racial, and regional divides. Why do so many of us drink orange juice? How did it turn from a luxury into a staple in just a few years? More important, how is it that we don't know the real reasons behind OJ's popularity or understand the processes by which the juice is produced? In this enlightening book, Alissa Hamilton explores the hidden history of orange juice. She looks at the early forces that propelled orange juice to prominence, including a surplus of oranges that plagued Florida during most of the twentieth century and the army's need to provide vitamin C to troops overseas during World War II. She tells the stories of the FDA's decision in the early 1960s to standardize orange juice, and the juice equivalent of the cola wars that followed between Coca-Cola (which owns Minute Maid) and Pepsi (which owns Tropicana). Of particular interest to OJ drinkers will be the revelation that most orange juice comes from Brazil, not Florida, and that even 'not from concentrate' orange juice is heated, stripped of flavour, stored for up to a year, and then reflavoured before it is packaged and sold. The book concludes with a thought-provoking discussion of why consumers have the right to know how their food is produced.
Sklep: Libristo.pl 66,99 zł
Książki Obcojęzyczne>Angielskie>The arts>Music>Music: styles & genres>Rock & Pop musicKsiążki Obcojęzyczne>Angielskie>Biography &...
Once Regarded As A Joke, Their Music Little More Than An Adrenaline Rush Of One Minute, Five Second Noise, The Ramones Have Come To Be Regarded As Having Influenced Almost Every Star-struck Guitarist Who Knew Just Three Chords And Wanted To Write A Song.
Sklep: Gigant.pl
Sklepy zlokalizowane w miastach: Warszawa, Kraków, Łódź, Wrocław, Poznań, Gdańsk, Szczecin, Bydgoszcz, Lublin, Katowice
Szukaj w sklepach lub całym serwisie
2. Szukaj na wszystkich stronach serwisu
t1=0.077, t2=0, t3=0, t4=0, t=0.077