krainaksiazek time management how to get your life back increase productivity and get more work done stress free 20121168
- znaleziono 14 produktów w 3 sklepach 72,30 zł
Książki / Literatura obcojęzyczna
"The Secrets of Productivity and Success..." Successful people, regardless of the type of success they've achieved, share one thing in common with each other... Successful people get things done. While most people are talking about what they're going to do (or what they've done in the past), successful people are making things happen-right now. And if you're looking to be successful, you need to know how to do the same thing. This book will help you. By learning to work smarter rather than harder, you can instantly double (or even triple) your productivity and put yourself on the fast track to success. No more unfinished projects, no more talk without action, and no more procrastination. "How You Can Reach Every Goal You Set For Yourself...Faster Than You Ever Thought Possible!" The "secret" is simple... Learn how to be self-disciplined, how to get organized, and how to get the most done in the shortest time possible. This is what will instantly transform your life, skyrocket your productivity, and allow you to make the money you deserve. Through this collection of writings by self-development expert Steve Pavlina, you'll be able to master all of these things...and more. Inside this book, you'll learn: . 33 rules to triple your productivity . The secret steps to setting goals you'll actually achieve! . 7 rules for maximizing your creative output . How you can get your life organized (and stay organized)! . The 5 pillars of self-discipline necessary for success . How to eliminate distractions that are holding you back! Everybody has 24 hours in each day. It's how you use this time that will make a difference in your life. It's time for you to embrace a new way of achieving your goals and experience the success you deserve. If you're ready to unlock the real secrets to productivity...get this book!
Sklep: Libristo.pl 87,93 zł
Książki / Literatura obcojęzyczna
Where does your day go? Do you feel as though you never have time to breathe in between all those things that need to get done? Swamped with the ever-increasing demands of work and motherhood? If so, then this is the book for you! Original, practical and funny, "Time Management for Manic Mums" will give you the tools and techniques you need to get the most from being a mum. As a mother of three, wife and respected businesswoman, Allison Mitchell has been there, done it and worn the T-shirt. Her secrets really are worth sharing. She shows you how to: find time to read her book; gain control of your life; get more done in less time; reconnect with the dreams you had before children; and, value your time and increase your self-worth. Offering simple, fast and easy solutions, Allison's programme can really help you bring balance to your home and become a calmer and more organized parent. And with only seven chapters to read, in just seven weeks you can learn all you need in as little as 10 minutes a day.
Sklep: Libristo.pl 46,08 zł
Książki / Literatura obcojęzyczna
More than any other practice in your career, your ability to manage time will determine your success or failure. It's a simple equation. The better you use your time, the more you will accomplish, and the greater your rewards will be.§§ This pocket-sized guide reveals 21 proven time management techniques you can use immediately to gain two or more productive hours every day. Featuring the strategies that business expert Brian Tracy has identified as the most effective and that he himself employs, this handy volume reveals how you can:§§ - Handle endless interruptions, meetings, emails, and phone calls§ - Identify your key result areas§ - Allocate enough time for top priority responsibilities§ - Batch similar tasks to preserve focus and make the most of each minute§ - Overcome procrastination§ - Determine what to delegate and what to eliminate§ - Utilize Program Evaluation and Review Techniques to work back ward from the future...and ensure your most important goals are met§ - And more§§ Filled with Brian Tracy's trademark wisdom, this book will help you get more done, in less time...and with much less stress.§
Sklep: Libristo.pl 96,73 zł
Książki / Literatura obcojęzyczna
Are you tired of spinning your financial wheels?§Do you really want to know what it feels like to not worry about money?§Has the difficulty of managing your financial life led you to just accept things as they are and hope they'll just "work out" in the end?§If you answered "yes" to any of these questions, then it's time to make a change--and the knowledge you need to become a debt-free millionaire is literally in your hands right now.§The desire to get out of debt can sometimes be smothered by the shear volume of information, and misinformation, available. To overcome such obstacles, what you need is one place to find the right answers, right away. That's why author Anthony Manganiello--founder and creator of DebtFREE.com and President and CEO of Centricity, Inc.--has created The Debt-Free Millionaire.§Since 1995, Manganiello has helped hundreds of thousands of people get out of debt, and now, he'll show you how to do the same. Throughout these pages, he skillfully outlines a plan that will allow you to eliminate debt, develop better credit, and retire comfortably. You'll learn everything from how to perform a Cash-FLOW Analysis(TM)--a straightforward approach to assessing your financial standing--to putting your plan into action. Along the way, Manganiello reveals how debt and credit should fit into your financial life and addresses how to employ specific strategies that will lead you to accumulate wealth instead of what you're most likely doing now, consuming it.§No matter what your current financial situation, the five simple steps comprising this plan will put you in a better position to prosper in the years ahead. You'll also find that as you progress through the Debt-Free Millionaire Plan, you'll be fairly well insulated from the economic ups and downs experienced by others who are stumbling through life without a plan.§After reading this book, when you think of what a millionaire is, you'll realize that the only difference between you and becoming a millionaire is a matter of time and distance. The strategies outlined here will help you close that gap as quickly as possibly. A timely book containing the tools to get out of debt and improve overall credit§The current economic climate has become increasingly volatile for the average American. As bankruptcy and foreclosure rates increase, more and more people are finding themselves with bad credit. The Debt-Free Millionaire offers a plan for anyone who has had difficulty managing credit. This book is based on cash flow analysis, a unique program offered by author Tony Manganiello. The book explains the basics of budgeting (cash flow) along with credit basics including credit score, credit history, and outstanding loans. Using this knowledge as a base, it will show people how they can take charge of their credit to insure a lifetime of debt-free money management and financial success. Some of the topics touched upon by Manganiello include: cash-flow analysis, credit counseling, bankruptcy, debt settlement, the Fair Credit Reporting Act, credit reports, and consumer credit rights in all states. With this book as their guide, readers will develop a better understanding of credit and use that knowledge to create a permanent solution to their debt problems.§Tony Manganiello (Dubuque, IA) is President and CEO of DebtFREE.com, Debt-FREE & Prosperous Living, Inc., and Tower Financial Corporation. He is regarded as one of the foremost experts on the impact debt-elimination services can have on a consumer's credit. Currently, he serves as a member of the Advisory Board of the United States Organization for Bankruptcy Alternatives and attends meeting with government officials providing testimony regarding the needs consumers face in today's economically challenging times. Praise for The Debt-Free Millionaire§"The Debt-Free Millionaire is a clarion call for a generation that was brought up on spending tomorrow's money today. As someone who spent time in the financial services industry, I can unequivocally state that Anthony's pragmatic and refreshingly contrarian approach to the real secrets of cash-flow management--and leveraging the credit system--are a breath of fresh air in a smog-choked world of misinformation and confusing financial advice.I can think of a million reasons to read it."§--Michael DiFrisco President, BrandXcellence§"Read this book. Do what it says. Start living the dream. If you're ready totake charge of your financial future, this is the place to start."§--Keith J. Cunningham Keys to the Vault & Business School for Entrepreneurs§"The Debt-Free Millionaire offers unique insights, little known strategies and easy-to-understand practical tools to first manage then eliminate debt. It is amust read for both consumers and financial professionals to better explain the often complex world of debt management. More like getting sensible advice from a good friend than a technical financial advisor."§--Roy Balfour President of Ro-Mart Inc.§"Tony has produced a clear and straightforward guide to debt, and how to eliminate it, that is as timely as it is needed. Anyone who follows the program in this book will be glad they did."§--Jeffrey K. Meek Former Vice President-Recovery Operations, WaMu Card Services§"Great for readers of all ages and in all financial stages. This isn't one of those get-rich-quick schemes. This book provides a foundation for a paradigm shift in your thinking process and allows for you to see how toachieve the seemingly unachievable. I was hooked from the beginning!"§--Jenna Keehnen Executive Director, www.USOBA.org
Sklep: Libristo.pl 119,85 zł
Książki / Literatura obcojęzyczna
A new edition, packed with even more clever tricks and methods that make everyday life easier Lifehackers redefine personal productivity with creative and clever methods for making life easier and more enjoyable. This new edition of a perennial bestseller boasts new and exciting tips, tricks, and methods that strike a perfect balance between current technology and common sense solutions for getting things done. Exploring the many ways technology has changed since the previous edition, this new edition has been updated to reflect the latest and greatest in technological and personal productivity. The new "hacks" run the gamut of working with the latest Windows and Mac operating systems for both Windows and Apple, getting more done with smartphones and their operating systems, and dealing with the evolution of the web. Even the most tried-and-true hacks have been updated to reflect the contemporary tech world and the tools it provides us. Hacks include: Hack 1: Empty Your Inbox (and Keep It Empty). Hack 2: Decrease Your Response Time. Hack 3: Craft Effective Messages. Hack 4: Highlight Messages Sent Directly to You. Hack 5: Use Disposable Email Addresses. Hack 6: Master Message Search. Hack 7: Future-Proof Your Email Address. Hack 8: Consolidate Multiple Email Addresses with Gmail. Hack 9: Script and Automate Repetitive Replies. Hack 10: Filter Low-Priority Messages. Hack 11: Organize Your Documents Folder. Hack 12: Instantly Retrieve Files Stored on Your Computer. Hack 13: Overhaul Your Filing Cabinet. Hack 14: Instantly Recall Any Number of Different Passwords. Hack 15: Securely Track Your Passwords. Hack 16: Tag Your Bookmarks. Hack 17: Organize Your Digital Photos. Hack 18: Corral Media Across Folders and Drives. Hack 19: Create Saved Search Folders. Hack 20: Create a Password-Protected Disk on Your PC. Hack 21: Create a Password-Protected Disk on Your Mac. Hack 22: Encrypt Your Entire Windows Operating System. Hack 23: Set Up 2-Step Verification for Your Google Account. Hack 24: Design Your Own Planner. Hack 25: Make Your To-Do List Doable. Hack 26: Set Up a Morning Dash. Hack 27: Map Your Time. Hack 28: Quick-Log Your Workday. Hack 29: Dash Through Tasks with a Timer. Hack 30: Form New Habits with Jerry Seinfeld's Chain. Hack 31: Control Your Workday. Hack 32: Turn Tasks into Game Play. Hack 33: Send Reminders to Your Future Self. Hack 34: Take Great Notes. Hack 35: Organize Your Life with Remember the Milk. Hack 36: Organize Your Life in Text Files. Hack 37: Set Up a Ubiquitous Note-Taking Inbox Across Devices. Hack 38: Off-Load Your Online Reading to a Distraction-Free Environment. Hack 39: Limit Visits to Time-Wasting Websites. Hack 40: Permanently Block Time-Wasting Websites. Hack 41: Reduce Email Interruptions. Hack 42: Split Your Work Among Multiple Desktops. Hack 43: Build a No-Fly Zone. Hack 44: Set Up Communication Quiet Hours. Hack 45: Clear Your Desktop. Hack 46: Make Your House a Usable Home. Hack 47: Sentence Stuff to Death Row. Hack 48: Drown Out Distracting Sounds with Pink Noise. Hack 49: Search the Web in Three Keystrokes. Hack 50: Command Your Windows PC from the Keyboard. Hack 51: Command Your Mac from the Keyboard. Hack 52: Reduce Repetitive Typing with Texter for Windows. Hack 53: Reduce Repetitive Typing with TextExpander for Mac. Hack 54: Automatically Fill in Repetitive Web Forms. Hack 55: Batch-Resize Photos. Hack 56: Bypass Free Site Registration with BugMeNot. Hack 57: Speed Up Web Pages on a Slow Internet Connection. Hack 58: Securely Save Website Passwords. Hack 59: Become a Scheduling Black Belt with Google Calendar. Hack 60: Set Up an Automated, Bulletproof File Back Up Solution. Hack 61: Automatically Back Up Your Files to an External Hard Drive (Mac). Hack 62: Automatically Clean Up Your PC. Hack 63: Automatically Clean Up Your Mac. Hack 64: Automatically Reboot and Launch Applications. Hack 65: Make Google Search Results Automatically Come to You. Hack 66: Automatically Download Music, Movies, and More. Hack 67: Access Your Most Important Files Anywhere with Dropbox. Hack 68: Manage Your Documents in a Web-Based Office Suite. Hack 69: Carry Your Life on a Flash Drive. Hack 70: Create a Virtual Private Network (VPN) with Hamachi. Hack 71: Run a Home Web Server. Hack 72: Run Full-Fledged Webapps from Your Home Computer. Hack 73: Build Your Personal Wikipedia. Hack 74: Remotely Control Your Home Computer. Hack 75: Give Your Home Computer a Web Address. Hack 76: Optimize Your Laptop. Hack 77: Speed Up Your Touchscreen Typing. Hack 78: Break Down the Barrier Between Your Computer and Mobile Phone. Hack 79: Remote Control Your Computer with Your Phone. Hack 80: Automate Android Functions with Tasker. Hack 81: Set Up One Phone Number to Rule Them All. Hack 82: Augment Reality with Your Phone. Hack 83: Remember Where You've Been Using Location Awareness. Hack 84: Command Your Phone with Your Voice. Hack 85: Use Your Camera Phone as a Scanner. Hack 86: Make Your "Dumbphone" Smarter via Text Message. Hack 87: Connect Your Computer to the Internet via Mobile Phone by "Tethering". Hack 88: Develop Your (Digital) Photographic Memory. Hack 89: Send and Receive Money on Your Mobile Phone with PayPal. Hack 90: Google Like a Pro. Hack 91: Subscribe to Websites with RSS. Hack 92: Quickly Search Within Specific Websites from the Address Bar. Hack 93: Extend Your Web Browser. Hack 94: Supercharge Your Firefox Downloads with DownThemAll! Hack 95: Get 10 Useful Bookmarklets. Hack 96: Find Reusable Media Online. Hack 97: Get Your Data on a Map. Hack 98: Set Multiple Sites as Your Home Page. Hack 99: Access Unavailable Websites via Google. Hack 100: Have a Say in What Google Says About You. Hack 101: Clear Your Web Browsing Tracks. Hack 102: Rescue Your PC from Malware. Hack 103: Protect Your PC from Malware. Hack 104: Clean Up Your Startup. Hack 105: Undo System Configuration Changes. Hack 106: Truly Delete Data from Your Hard Drive. Hack 107: Compare and Merge Files and Folders with WinMerge. Hack 108: Firewall Your Windows PC. Hack 109: Firewall Your Mac. Hack 110: Speed Up Windows with a Thumb Drive. Hack 111: Free Up Hard-Drive Space. Hack 112: Resurrect Deleted Files. Hack 113: Hot Image Your PC for Instant Restoration. Hack 114: Hot Image Your Mac for Instant Restoration. Hack 115: Recover Files from an Unbootable PC. Hack 116: Share Windows Files. Hack 117: Share Mac Files. Hack 118: Keep Your Web Browser in Sync Across Computers. Hack 119: Share a Single Printer Between Computers. Hack 120: Optimize Your Dual Monitors. Hack 121: Control Multiple Computers with a Single Keyboard and Mouse. Technology is supposed to make our lives easier by helping us work more efficiently. Lifehacker: The Guide to Working Smarter, Faster, and Better, Third Edition is your guide to making that happen!
Sklep: Libristo.pl 183,85 zł
Książki / Literatura obcojęzyczna
"This is the book for people who never get past page two of a management book-it is as close as the genre comes to being a compulsive page turner. Its main thesis is built on at least three big ideas that are individually persuasive and cumulatively compelling. They naturally fit into an alignment tool that is applied to the range of day-to-day and exceptional challenges all enterprises face, including the Holy Grail of transformational change." -Donald Macrae, general counsel and chief knowledge officer, Department for Environment, Food and Rural Affairs, England "Having been in the business of cultural transformation and alignment for many years, I've carefully looked for a thoughtful strategy and an intentional approach to bringing about healthy and thriving cultures. Can Two Rights Make a Wrong? is simply the best-it is the most thoughtful and practical work I've seen in this growing and critical area. This is a must buy!" -Dr. Ron Jenson, Future Achievement International, international author, speaker, and consulting and executive coach "Can Two Rights Make a Wrong? is a superb account of how to manage the 'soft side' of mergers and acquisitions, but it has great value for managing many other new business practices as well, such as Open Innovation. It provides a powerful, practical method to identify conflicts, develop alignment, and achieve effective coordination between two parties that would be tremendously helpful in a variety of collaborative contexts, such as alliances, research partnerships, or joint ventures. Moulton Reger and her colleagues at IBM should be congratulated for a thoughtful, insightful book." -Henry Chesbrough, professor at University of California Berkeley's Haas School of Business, author of Open Innovation "Numbers are neat and clean. Human beings are often messy and complex. If everyone in your organization knew what to do and when, how, where, and-most importantly-why to do it, how would your organizational culture be defined? The authors of Can Two Rights Make a Wrong? have introduced new ways to proactively address culture and, most importantly, tie it to bottom-line benefits." -James H. Amos, Jr., chairman emeritus, MBE/The UPS Store "This book is a must read for leaders hoping to change their organization's culture as well as those attempting to merge firms with uniquely different cultures. Moulton Reger's insights are grounded in theory and real-world experience. In this unique book, culture change is a complex concept broken down into bite-sized pieces and presented in a way that any leadership team can embrace at its own pace." -Merrill J. Oster, author of Vision Driven Leadership, founder Oster Communications, Inc. "Here at last is a business book that takes culture seriously and isn't intimidated by it. The method described can be used with practically any type of business problem in any industry, and the book does an excellent job of drawing on research and theory while keeping the focus practical. The three elements of Outcome Narratives, Right vs. Right, and Business Practices are significant ideas in their own right-each is a unique insight. All three ideas have been around in various guises for several years, but have not been as well crystallized or as focused on complex business problems as they are in this book. The authors' achievement is extraordinary and goes a long way toward making the juicy idea of culture something to be built on and worked with." -Peter Vaill, professor, Antioch University "The Achilles heel for any major organizational change is that organization's culture. In every change, consultants talk about culture, but few provide specific sequential steps designed to actually do anything about it. This book provides such steps, and provides them in ways that makes sense. 'Makes sense' is the key because the steps provided can be easily adapted to virtually any organization, large or small." -George Falldine, Air Force civil servant, Air Force Materiel Command "Sara Moulton Reger is one of the premier organizational design consultants in the country, and this book reflects her in-depth knowledge of and experience with the subject matter. This book is essential reading for those striving to achieve greater results from ongoing change initiatives. Can Two Rights Make a Wrong? contains a broad range of concepts, examples, and specific steps culled from Moulton Reger's direct experience. Such a complete presentation of strategic and tactical advice makes Can Two Rights Make a Wrong? a mandatory addition to every manager's bookshelf." -Steven Bragg, CPA, author of twenty-eight business books, CFO of Premier Data Services "This is a serious book that gives intelligent guidance to anyone who leads an organization and takes creating and managing culture seriously. The section on Outcome Narratives is the best 'how to' on casting a unifying vision that I have seen. If you're a leader and take your role in creating and managing corporate culture seriously, then you should read this book." -Regi Campbell, principal, Seedsower Investments, author of About my Father's Business "I don't read most 'culture change' books-waste of time. This book is different. Can Two Rights Make a Wrong? combines both soft and hard approaches, with a continuous focus on how-to and results. Buy it. But, more importantly, read it." -Jack Grayson, founder and chairman, American Productivity and Quality Center (APQC) "We used Right vs. Right to help integrate an important acquisition-one that brought many differences we needed to carefully leverage to achieve IBM's business objectives. I found it to be a powerful technique for quickly reconciling strategic views of the business model and different operating preferences. Now, a few months later, we have the business results-and employee satisfaction-to prove Right vs. Right works." -Jim Corgel, general manager, Small and Medium Business Services, IBM "Leaders wouldn't think about doing a major project without a plan and a project manager, but how many consider the cultural implications? This book fills a key void because it clarifies the topic of culture so that it is easier to understand, and includes examples for applying the framework to many types of situations, including business-to-business alliances and crossgeography teams." -Cindy Berger, vice president, American Express "There is no question that the biggest hurdle to achieving a successful merger is culture. Market opportunities may be staggering and synergies may seem perfect, but, without a cultural match, odds are the merged company will struggle. Can Two Rights Make a Wrong? can help you avoid the problems. Even if you are not contemplating a merger, Moulton Reger's deep insight provides an excellent management primer and interesting historical perspective. A worthwhile read." -John R. Patrick, author of Net Attitude, president of Attitude LLC "This is an excellent book that provides a pragmatic approach to identifying and alleviating cultural issues created when two groups of people must work together. Effectively blending business cultures is a key requirement for successful outsourcing, and most companies lack the tools necessary to do this. Companies looking to reduce outsourcing risk should follow IBM's Tangible Culture approach." -Lance Travis, vice president, Outsourcing Strategies, AMR Research "This book will help leaders and cultural-change practitioners take a practical, well-architected approach to creating the culture they need to support their strategies. Thanks, IBM, for sharing what you have learned from your own transformation." -Valerie Norton, vice president, Talent Management and Organizational Effectiveness, Merck & Co., Inc. "Based on IBM's own experience with organizational transformation and mergers, this book belongs on the reading list of any executive contemplating major changes to their business." - Peter Richerson, professor, University of California Davis - "Finally, a book that goes beyond just declaring 'it's the culture change' and gets to a real recount of why and how to move on that need. This is a practical approach for senior leaders in large corporations and government to address the most pressing issues in modern business life!" -Kenneth I. Percell, executive director, Warner Robins Air Logistic Center "I like the way the authors move the idea of organization culture from intangible (values) to tangible and practical. They offer that culture can be viewed and changed by examining and discussing what people do. Using the techniques described in Can Two Rights Make a Wrong? will demystify culture clash." -Lynda Aiman-Smith, Ph.D., North Carolina State University "A must read for leaders charged with planning and executing major change initiatives involving a single organization or multiple organizations. The book is original, thoughtful, thorough, and pragmatic. The elements of Can Two Rights Make a Wrong? and their interrelationships that work to drive successful change are particularly beneficial. The authors demonstrate a hands-on grasp of this important subject and the related literature. The material is presented in a concise, easy-to-understand format, with lots of tables, charts, and illustrations to help guide the reader." -Stephen W. Brown, Edward M. Carson chair in services marketing, professor and executive director, Center for Services Leadership, W. P. Carey School of Business, Arizona State University "Many have observed that mergers and acquisitions will fail to achieve their goals without proper attention to human and cultural factors, but few have shown us the way to manage these factors in any meaningful way. This book takes up that challenge and delivers a real solution by identifying business practices as the crucial element of 'culture' that can make or break a merger or acquisition, and by providing a hands-on methodology for managing and aligning differences across cultures." -Marietta Baba, dean of the College of Social Science, professor of Anthropology, Michigan State University "Sara Moulton Reger's application of Business Practices, Right-vs. Right, and Outcome Narratives to business transformation spoke directly to my own business experience. I found the book's comprehensive approach very appealing. It brought together the story of a historic merger; a review of traditional approaches to culture transformation in business organizations; the powerful new techniques of Outcome Narratives, Right vs. Right, and Business Practices Alignment; and useful examples of the way to apply these techniques." -Dwight E. Collins, Ph.D., adjunct professor, Presidio School of Management, sustainable business and supply chain optimization consultant, president, Collins Family Foundation "We know unsuccessful mergers and acquisitions are often the result of underestimating the people and the cultural issues. Derived from experience, here is practical help in improving your chances of being one of the success stories." -David Hope, human resources director, Norwich Union Insurance "This is state-of the-art. This practical approach is extremely useful for anyone involved in integrating two large organizations, especially professional organizations. I found the book Can Two Rights Make a Wrong? fascinating-excellently describing the preparation and process that is required in integrating culturally different organizations." -Fred WI Lachotzki, professor of business policy, Nyenrode University, coauthor of Beyond Control: Managing Strategic Alignment through Corporate Dialogue Nowadays, nearly every business leader recognizes the crucial importance of culture. But, in many organizations, attempts to handle culture issues remain "squishy," unfocused, and unlikely to bring any value or results. Now, IBM's leading experts reveal the way to make culture tangible to everyone involved-and how to effectively deal with a variety of culture challenges. Can Two Rights Make a Wrong? leverages the lessons learned during IBM's $3.5 billion acquisition of PricewaterhouseCoopers Consulting: insight that IBM has crystallized into a powerful methodology for transforming business culture. The authors introduce "Business Practices," an actionable surrogate for "culture" that business people can identify with, gauge, and act upon. Then, one step at a time, you'll learn how to apply IBM's practical culture transformation techniques in your unique environment. You'll discover common patterns that lead to culture clashes so you can resolve or, better yet, prevent them. You'll learn to clarify your expectations so people really "get" it-and do it. You'll gain the way to measure culture change progress in terms everyone can understand and buy into. Whether you're involved with M&As, joint ventures, major transformation, internal restructuring, or any other initiative where culture is important, this book can help you take culture from a worrisome risk to a competitive advantage. *Business Practices: the unseen hand that propels action Uncover what makes your organization unique *Right vs. Right: What to do when good options conflict Understand and manage the source of culture clash *Outcome Narratives: Get to the right place, the right way Clarify your desired future, clear the obstacles, measure progress, and deliver results Successful culture change requires the same discipline you bring to the rest of your business. It demands a strong methodology that helps you clarify your goals and expectations, identify and overcome obstacles, measure progress...and get results. This book delivers that methodology. IBM's powerful, proprietary Tangible Culture approach will help you make culture visible and measurable- so you can replace "feel good" culture work with focused, actionable plans for change. Use IBM's techniques to surface, understand, and reconcile differences among groups that must work together, so you can launch alliances more successfully...drive more value from acquisitions...enhance cross-silo and global operations...choose the right strategies...and make real transformation happen. Whatever your goals, culture is central to your success. With this book, you can finally address culture-systemically, proactively, and effectively. Leverage IBM's Breakthrough Methodology for Driving Effective Culture Change * Drive real culture change, survive the effort, and reap genuine results * Overcome culture challenges and risks * Successfully execute on M&As, business alliances, transformation and internal restructuring * Use downloadable templates to customize IBM's techniques for your environment * Learn what IBM learned from its $3.5 billion acquisition of PricewaterhouseCoopers Consulting Foreword xxi Preface xxiii Acknowledgments xxv About the Author xxvii Contributing Authors xxix Section I: The Basics 1 Chapter 1: Introduction-An Overview of Tangible Culture 3 Chapter 2: We Can't Do This the Traditional Way-IBM's Acquisition of PricewaterhouseCoopers Consulting 17 Chapter 3: Traditional Approaches to Culture Transformation-How Others Have Dealt with the Challenge 33 Chapter 4: How to Get to the Right Place the Right Way-Outcome Narratives 49 Chapter 5: The Good Thing That Can Cause Big Trouble-Right vs. Right 67 Chapter 6: The Unseen Hand That Propels Organizational Action-Business Practices 85 Chapter 7: Putting It All Together-The Business Practices Alignment Method 103 Section II: The Application 119 Chapter 8: Mergers and Acquisitions- Managing the Common Sources of Culture Clash 121 Chapter 9: Alliances-Finding Ways to Leverage Your Collective Capabilities 143 Chapter 10: Major Restructuring-Gaining Sustained Value from Your Reorganization 163 Chapter 11: Major Transformation-Addressing Your Plan's Hidden Barrier 181 Chapter 12: Key Decisions and Everyday Business-Extending Tangible CultureInto the Operational Parts of Your Business 203 Section III: The Projects 225 Chapter 13: The Co-operators-Using Business Practices to Clarify Expectations 227 Chapter 14: Sales Pipeline-Using Right vs. Right to Differentiate Issues 241 Epilogue 251 Appendix: About the Contributors 255 Index 268
Sklep: Libristo.pl 1049,99 zł
Muzyka>Pop
1. Ring-a-ding-ding 2. Let's Fall In Love 3. Be Careful, It's My Heart 4. A Foggy Day 5. A Fine Romance 6. In The Still Of The Night 7. The Coffee Song 8. When I Take My Sugar To Tea 9. Let's Face The Music & Dance 10. You'd Be So Easy To Love 11. You & The Night & The Music 12. I've Got My Love To Keep Me Warm 101. Falling In Love With Love 102. The Curse Of An Aching Heart 103. Don't Cry Joe 104. Please Don't Talk About Me When I'm Gone 105. Love Walked In 106. Granada 107. I Never Knew 108. Don't Be That Way 109. Moonlight On The Ganges 110. It's A Wonderful World 111. Have You Met Miss Jones? 112. You're Nobody 'Til Somebody Loves You 201. I'm Getting Sentimental Over You 202. Imagination 203. There Are Such Things 204. East Of The Sun 205. Daybreak 206. Without A Song 207. I'll Be Seeing You 208. Take Me 209. It's Always You 210. Polka Dots & Moonbeams 211. It Started All Over Again 212. The One I Love (Belongs To Somebody Else) 213. I'm Getting Sentimental Over You (Reprise) 301. I Hadn't Anyone Till You 302. Night & Day 303. Misty 304. Stardust 305. Come Rain Or Come Shine 306. It Might As Well Be Spring 307. Prisoner Of Love 308. That's All 309. All Or Nothing At All 310. Yesterdays 401. Goody Goody 402. They Can't Take That Away From Me 403. At Long Last Love 404. I'm Beginning To See The Light 405. Don'cha Go 'Way Mad 406. I Get A Kick Out Of You 407. Tangerine 408. Love Is Just Around The Corner 409. Ain't She Sweet 410. Serenade In Blue 411. I Love You 412. Pick Yourself Up 501. The Very Thought Of You 502. We'll Gather Lilacs In The Spring 503. If I Had You 504. Now Is The Hour 505. The Gypsy 506. Roses Of Picardy 507. A Nightingale Sang In Berkeley Square 508. A Garden In The Rain 509. London By Night 510. We'll Meet Again 511. I'll Follow My Secret Heart 601. All Alone 602. The Girl Next Door 603. Are You Lonesome Tonight? 604. Charmaine 605. What'll I Do? 606. When I Lost You 607. Oh, How I Miss You Tonight 608. Indescreet 609. Remember 610. Together 611. The Song Is Ended (But The Medlody Lingers On) 701. Pennies From Heaven 702. Please Be Kind 703. (Love Is) The Tender Trap 704. Looking At The World Through Rose Colored Glasses 705. My Kind Of Girl 706. I Only Have Eyes For You 707. Nice Work If You Can Get It 708. Learnin' The Blues 709. I'm Gonna Sit Right Down (And Write Myself A Lette 710. I Won't Dance 801. I Have Dreamed 802. My Heart Stood Still 803. Lost In The Stars 804. Ol' Man River 805. You'll Never Walk Alone 806. Bewitched, Bothered & Bewildered 807. This Nearly Was Mine 808. Soliloquy 901. I've Got You Under My Skin 902. In The Wee Small Hours Of The Morning 903. The Second Time Around 904. Nancy 905. Witchcraft 906. Young At Heart 907. All The Way 908. (How Little It Matters) How Little We Know 909. Pocketful Of Miracles 910. Oh! What It Seemed To Be 911. Call Me Irresponsible 912. Put Your Dreams Away (For Another Day) 1001. Days Of Wine & Roses 1002. Moon River 1003. The Way You Look Tonight 1004. Three Coins In The Fountain 1005. In The Cool, Cool, Cool Of The Evening 1006. Secret Love 1007. Swinging On A Star 1008. It Might As Well Be Spring 1009. The Continental 1010. Love Is A Many-splendored Thing 1011. All The Way 1101. America I Hear You Singing 1102. This Is A Great Country 1103. The House I Live In 1104. Hills Of Home 1105. This Land Is Your Land 1106. Give Me Your Tired, Your Poor 1107. You're A Lucky Fellow, Mr. Smith 1108. A Home In The Meadow 1109. Early American 1110. You Never Had It So Good 1111. Let Us Break Bread Together 1112. Stars & Stripes Forever 1201. Fly Me To The Moon 1202. I Wish You Love 1203. I Believe In You 1204. More (Theme From Mondo Cane) 1205. I Can't Stop Loving You 1206. Hello, Dolly! 1207. I Wanna Be Around 1208. The Best Is Yet To Come 1209. The Good Life 1210. Wives & Lovers 1301. Emily 1302. Here's To The Losers 1303. Dear Heart 1304. Come Blow Your Horn 1305. Love Isn't Just For The Young 1306. I Can't Believe I'm Losing You 1307. Pass Me By 1308. Softly, As I Leave You 1309. Then Suddenly Love 1310. Available 1311. Talk To Me Baby 1312. The Look Of Love 1401. Tell Her (You Love Her Each Day) 1402. Any Time At All 1403. Stay With Me 1404. I Like To Lead When I Dance 1405. You Brought A New Kind Of Love To Me 1406. My Kind Of Town 1407. When Somebody Loves You 1408. Somewhere In Your Heart 1409. I've Never Been In Love Before 1410. When I'm Not Near The Girl I Love 1411. Luck Be A Lady 1501. The September Of My Years 1502. How Old Am I? 1503. Don't Wait Too Long 1504. It Gets Lonely Early 1505. This Is All I Ask 1506. Last Night When We Were Young 1507. The Man In The Looking Glass 1508. It Was A Very Good Year 1509. When The Wind Was Green 1510. Hello, Young Lovers 1511. I See It Now 1512. Once Upon A Time 1513. September Song 1601. Ev'rybody Has The Right To Be Wrong (At Least Once 1602. Golden Moment 1603. Luck Be A Lady 1604. Lost In The Stars 1605. Hello, Dolly! 1606. I'll Only Miss Her When I Think Of Her 1607. They Can't Take That Away From Me 1608. Yesterdays 1609. Nice Work If You Can Get It 1610. Have You Met Miss Jones? 1611. Without A Song 1701. Put Your Dreams Away (For Another Day) 1702. All Or Nothing 1703. I'll Never Smile Again 1704. There Are Such Things 1705. I'll Be Seeing You 1706. The One I Love (Belongs To Somebody Else) 1707. Polka Dots & Moonbeams 1708. Night & Day 1709. Oh! What It Seemed To Be 1710. Soliloquy 1711. Nancy (With The Laughing Face) 1712. The House I Live In 1713. From Here To Eternity 1801. Come Fly With Me 1802. (How Little It Matters) How Little We Know 1803. Learnin' The Blues 1804. In The Wee Small Hours Of The Morning 1805. Young At Heart 1806. Witchcraft 1807. All The Way 1808. Love & Marriage 1809. I've Got You Under My Skin 1810. Ring-a-ding Ding 1811. The Second Time Around 1812. The Summit 1813. The Oldest Established (Permanent Floating Crap Ga 1814. Luck Be A Lady 1815. Call Me Irresponsible 1816. Fly Me To The Moon 1817. Softly, As I Leave You 1818. My Kind Of Town 1819. The September Of My Years 1901. Strangers In The Night 1902. Summer Wind 1903. All Or Nothing At All 1904. Call Me 1905. You?re Driving Me Crazy! 1906. On A Clear Day (You Can See Forever) 1907. My Baby Just Cares For Me 1908. Downtown 1909. Yes Sir, That?s My Baby 1910. The Most Beautiful Girl In The World 2001. Moonlight Becomes You 2002. Moon Song 2003. Moonlight Serenade 2004. Reaching For The Moon 2005. I Wished On The Moon 2006. Oh, You Crazy Moon 2007. The Moon Got In My Eyes 2008. Moonlight Mood 2009. Moon Love 2010. The Moon Was Yellow (And The Night Was Young) 2101. That's Life 2102. I Will Wait For You 2103. Somewhere My Love (Lara's Theme) 2104. Sand & Sea 2105. What Now My Love 2106. Winchester Cathedral 2107. Give Her Love 2108. Tell Her (You Love Her Each Day) 2109. The Impossible Dream (The Quest) 2110. You're Gonna Hear From Me 2201. The Girl From Ipanema 2202. Dindi 2203. Change Partners 2204. Quiet Nights Of Quiet Stars (Corcovado) 2205. Meditation (Meditacno.o) 2206. If You Never Come To Me (Inutil Paisagen) 2207. How Insensitive (Insensatez) 2208. I Concentrate On You 2209. Baubles, Bangles & Beads 2210. Once I Loved (O Amor En Paz) 2301. The World We Knew (Over & Over) 2302. Somethin' Stupid 2303. This Is My Love 2304. Born Free 2305. Don't Sleep In The Subway 2306. This Town 2307. This Is My Song 2308. You Are There 2309. Drinking Again 2310. Some Enchanted Evening 2401. Follow Me 2402. Sunny 2403. All I Need Is The Girl 2404. Indian Summer 2405. I Like The Sunrise 2406. Yellow Days 2407. Poor Butterfly 2408. Come Back To Me 2501. I Wouldn't Trade Christmas 2502. It's Such A Lonely Time Of Year 2503. Some Children See Him 2504. O Bambino (One Cold & Blessed Winter) 2505. The Bells Of Christmas (Greensleeves) 2506. Whatever Happened To Christmas? 2507. Santa Claus Is Coming To Town 2508. Kids 2509. The Christmas Waltz 2510. The Twelve Days Of Christmas 2601. Rain In My Heart 2602. Both Sides Now 2603. Little Green Apples 2604. Pretty Colors 2605. Cycles 2606. Wandering 2607. By The Time I Get To Phoenix 2608. Moody River 2609. My Way Of Life 2610. Gentle On My Mind 2701. Watch What Happens 2702. Didn't We 2703. Hallelujah, I Love Her So 2704. Yesterday 2705. All My Tomorrows 2706. My Way 2707. A Day In The Life Of A Fool 2708. For Once In My Life 2709. If You Go Away 2710. Mrs. Robinson 2801. A Man Alone 2802. Night 2803. I've Been To Town 2804. From Promise To Promise 2805. The Single Man 2806. The Beautiful Strangers 2807. Lonesome Cities 2808. Love's Been Good To Me 2809. Empty Is 2810. Out Beyond The Window 2811. Some Traveling Music 2812. A Man Alone (Reprise) 2901. Watertown 2902. Goodbye (She Quietly Says) 2903. For A While 2904. Michael & Peter 2905. I Would Be In Love (Anyway) 2906. Elizabeth 2907. What A Funny Girl (You Used To Be) 2908. What's Now Is Now 2909. She Says 2910. The Train 3001. Drinking Water (Agua De Beber) 3002. Someone To Light Up My Life 3003. Triste 3004. Don't Ever Go Away (Por Causa De Voce) 3005. This Happy Madness (Estrada Branca) 3006. Wave 3007. One Note Samba 3008. I Will Drink The Wine 3009. (They Long To Be) Close To You 3010. Sunrise In The Morning 3011. Bein' Green 3012. My Sweet Lady 3013. Leaving On A Jet Plane 3014. Lady Day 3101. You Will Be My Music 3102. You're So Right (For What's Wrong In My Life) 3103. Winners 3104. Nobody Wins 3105. Send In The Clowns 3106. Dream Away 3107. Let Me Try Again (Laisse Moi Le Temps) 3108. There Used To Be A Ballpark 3109. Noah 3201. You Turned My World Around 3202. Sweet Caroline 3203. The Summer Knows 3204. I'm Gonna Make It All The Way 3205. Tie A Yellow Ribbon 'Round The Ole Oak Tree 3206. Satisfy Me One More Time 3207. If 3208. You Are The Sunshine Of My Life 3209. What Are You Doing The Rest Of Your Life? 3210. Bad, Bad Leroy Brown 3301. The Song Is You 3302. But Not For Me 3303. I Had The Craziest Dream 3304. It Had To Be You 3305. Let's Face The Music & Dance 3306. Street Of Dreams 3307. My Shining Hour 3308. All Of You 3309. More Than You Know 3310. They All Laughed 3311. You & Me (We Wanted It All) 3312. Just The Way You Are 3313. Something 3314. Macarthur Park 3315. Theme From New York, New York 3316. Summer Me, Winter Me 3317. Song Sung Blue 3318. For The Good Times 3319. Love Me Tender 3320. That's What God Looks Like To Me 3401. What Time Does The Next Miracle Leave? 3402. World War None! 3403. The Future 3404. The Future (Continued): I've Been There 3405. The Future (Continued): Song Without Words 3406. Before The Music Ends (Finale) 3501. Good Thing Going (Going Gone) 3502. Hey Look, No Cryin' 3503. Thanks For The Memory 3504. A Long Night 3505. Bang Bang (My Baby Shot Me Down) 3506. Monday Morning Quarterback 3507. South - To A Warmer Place 3508. I Loved Her 3509. Medley: The Gal That Got Away/it Never Entered My 3601. L.a. Is My Lady 3602. The Best Of Everything 3603. How Do You Keep The Music Playing? 3604. Teach Me Tonight 3605. It's All Right With Me 3606. Mack The Knife 3607. Until The Real Thing Comes Along 3608. Stormy Weather 3609. If I Should Lose You 3610. A Hundred Years From Today 3611. After You've Gone 3701. I've Got You Under My Skin 3702. Without A Song 3703. Don't Worry 'Bout Me 3704. I Get A Kick Out Of You 3705. Nancy With The Laughing Face 3706. My Kind Of Town 3707. Medley 3708. Come Fly With Me 3709. The Lady Is A Tramp 3710. I've Got The World On A String 3711. Witchcraft 3712. You Make Me Feel So Young 3713. Angel Eyes 3714. Put Your Dreams Away 3715. Fly Me To The Moon 3716. The Most Beautiful Girl In The World 3717. Moonlight In Vermont 3718. You're Nobody 'Til Somebody Loves You 3719. Bang Bang (My Baby Shot Me Down) 3720. On Broadway 3721. Yes Sir, That's My Baby 3722. Medley 1 3723. Medley 2 3724. Luck Be A Lady 3725. That's Life 3726. Granada 3727. My Kind Of Town 3728. Angel Eyes 3729. Put Your Dreams Away 3730. Day In, Day Out 3731. Get Me To The Church On Time 3732. What Now My Love? 3733. Ol' Man River 3734. All I Need Is The Girl 3735. Body & Soul 3736. It's All Right With Me 3737. Medley 3738. Quiet Nights Of Quiet Stars 3739. Change Partners 3740. I Concentrate On You 3741. The Girl From Ipanema 3742. The Song Is You/ They Can't Take That Away From Me 3743. Stompin' At The Savoy 3744. At Long Last Love 3745. Don't Be That Way 3746. The Lady Is A Tramp 3747. Angel Eyes 3748. Put Your Dreams Away Ekskluzywny, Limitowany Boks Zawierający Albumy Studyjne Franka Sinatry Nagrane Dla Wytwórni Reprise. Współpraca Z Wytwórnią Zapewniła Sinatrze Wolność Artystyczną, Która Zaowocowała Płytami Należącymi Do Najwybitniejszych Osiągnięć Artystycznych Wokalisty. W Efektownie Wydanym Zestawie Znalazły Się Klasyczne Albumy Nagrane W Latach 1962-1984, M.in. "Swing Along With Me", "Sinatra '65", "September Of My Years", "Strangers In The Night" Oraz Płyty Nagrane W Duetach Z Antonio Carlosem Jobimem ("Sinatra Jobim") Oraz Countem Basie ("Sinatra Basie"). Nagrania Zostały Na Nowo Zremasterowane. Na Dołączonym DVD Zamieszczono Występy Telewizyjne Franka Sinatry Z Lat 60-tych Z Cyklu "A Man And His Music" (w Tym Unikatowe Duety Z Ellą Fitzgerald, Antonio Carlosem Jobimem Oraz Nancy Sinatrą). Frank Sinatra - The Reprise Years Boxed Set Lista Płyt: Ring A Ding Ding Swing Along With Me I Remember Tommy Sinatra & Strings Sinatra And Swingin Brass Great Songs From Great Britain All Alone Sinatra Basie Concert Sinatra Sinatra's Sinatra Days Of Wine And Roses, Moon River And Other Academy Award Winners America I Hear You Singing It Might As Well Be Swing Softly, As I Leave You Sinatra '65 September Of My Years My Kind Of Broadway A Man And His Music (2CD) Strangers In The Night Moonlight Sinatra That's Life Sinatra Jobim The World We Knew Francis A. & Edward K. The Sinatra Family Wish You A Merry Christmas Cycles My Way A Man Alone Watertown Sinatra And Company Ol' Blue Eyes Is Back Some Nice Things I've Missed Trilogy: Past, Present & Future (2CD) She Shot Me Down LA Is My Lady DVD: A Man And His Music - Trilogy Czas Trwania: 2 H 37 Min Format: 1 X DVD-9 Format Audio: PCM Uncompressed Stereo Region: 0 (Worldwide) Menu: Język Angielski
Sklep: Gigant.pl 36,60 zł
Biznes
Our world is changing. Globalization is not working. It is hurting those it was meant to help. And now, the tide is turning
Sklep: Albertus.pl 40,80 zł
Biznes
His previous book revealed the shocking truth about globalization. Now, Joseph Stiglitz blows the whistle on the devastation wrought by the free market mantra in the nineties
Sklep: Albertus.pl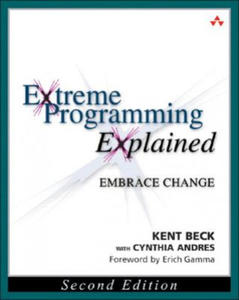 147,21 zł
Książki / Literatura obcojęzyczna
"In this second edition of Extreme Programming Explained, Kent Beck organizes and presents five years' worth of experiences, growth, and change revolving around XP. If you are seriously interested in understanding how you and your team can start down the path of improvement with XP, you must read this book." -Francesco Cirillo, Chief Executive Officer, XPLabs S.R.L. "The first edition of this book told us what XP was-it changed the way many of us think about software development. This second edition takes it farther and gives us a lot more of the 'why' of XP, the motivations and the principles behind the practices. This is great stuff. Armed with the 'what' and the 'why,' we can now all set out to confidently work on the 'how': how to run our projects better, and how to get agile techniques adopted in our organizations." -Dave Thomas, The Pragmatic Programmers LLC "This book is dynamite! It was revolutionary when it first appeared a few years ago, and this new edition is equally profound. For those who insist on cookbook checklists, there's an excellent chapter on 'primary practices,' but I urge you to begin by truly contemplating the meaning of the opening sentence in the first chapter of Kent Beck's book: 'XP is about social change.' You should do whatever it takes to ensure that every IT professional and every IT manager-all the way up to the CIO-has a copy of Extreme Programming Explained on his or her desk." -Ed Yourdon, author and consultant "XP is a powerful set of concepts for simplifying the process of software design, development, and testing. It is about minimalism and incrementalism, which are especially useful principles when tackling complex problems that require a balance of creativity and discipline." -Michael A. Cusumano, Professor, MIT Sloan School of Management, and author of The Business of Software"Extreme Programming Explained is the work of a talented and passionate craftsman. Kent Beck has brought together a compelling collection of ideas about programming and management that deserves your full attention. My only beef is that our profession has gotten to a point where such common-sense ideas are labeled 'extreme.'..." -Lou Mazzucchelli, Fellow, Cutter Business Technology Council"If your organization is ready for a change in the way it develops software, there's the slow incremental approach, fixing things one by one, or the fast track, jumping feet first into Extreme Programming. Do not be frightened by the name, it is not that extreme at all. It is mostly good old recipes and common sense, nicely integrated together, getting rid of all the fat that has accumulated over the years." -Philippe Kruchten, UBC, Vancouver, British Columbia"Sometimes revolutionaries get left behind as the movement they started takes on a life of its own. In this book, Kent Beck shows that he remains ahead of the curve, leading XP to its next level. Incorporating five years of feedback, this book takes a fresh look at what it takes to develop better software in less time and for less money. There are no silver bullets here, just a set of practical principles that, when used wisely, can lead to dramatic improvements in software development productivity." -Mary Poppendieck, author of Lean Software Development: An Agile Toolkit "Kent Beck has revised his classic book based on five more years of applying and teaching XP. He shows how the path to XP is both easy and hard: It can be started with fewer practices, and yet it challenges teams to go farther than ever." -William Wake, independent consultant "With new insights, wisdom from experience, and clearer explanations of the art of Extreme Programming, this edition of Beck's classic will help many realize the dream of outstanding software development." -Joshua Kerievsky, author of Refactoring to Patterns and Founder, Industrial Logic, Inc."XP has changed the way our industry thinks about software development. Its brilliant simplicity, focused execution, and insistence on fact-based planning over speculation have set a new standard for software delivery." -David Trowbridge, Architect, Microsoft Corporation Accountability. Transparency. Responsibility. These are not words that are often applied to software development. In this completely revised introduction to Extreme Programming (XP), Kent Beck describes how to improve your software development by integrating these highly desirable concepts into your daily development process. The first edition of Extreme Programming Explained is a classic. It won awards for its then-radical ideas for improving small-team development, such as having developers write automated tests for their own code and having the whole team plan weekly. Much has changed in five years. This completely rewritten second edition expands the scope of XP to teams of any size by suggesting a program of continuous improvement based on: * Five core values consistent with excellence in software development * Eleven principles for putting those values into action * Thirteen primary and eleven corollary practices to help you push development past its current business and technical limitations Whether you have a small team that is already closely aligned with your customers or a large team in a gigantic or multinational organization, you will find in these pages a wealth of ideas to challenge, inspire, and encourage you and your team members to substantially improve your software development. You will discover how to: * Involve the whole team-XP style * Increase technical collaboration through pair programming and continuous integration * Reduce defects through developer testing * Align business and technical decisions through weekly and quarterly planning * Improve teamwork by setting up an informative, shared workspace You will also find many other concrete ideas for improvement, all based on a philosophy that emphasizes simultaneously increasing the humanity and effectiveness of software development. Every team can improve. Every team can begin improving today. Improvement is possible-beyond what we can currently imagine. Extreme Programming Explained, Second Edition, offers ideas to fuel your improvement for years to come.
Sklep: Libristo.pl 79,79 zł
Książki / Literatura obcojęzyczna
Once the secret fitness weapon of professional dancers, athletes, and movie stars, Pilates is sweeping the country with a vengeance. And if even half of what its many fans claim is true, then it's easy to see why. Combining elements of yoga, dance, gymnastics, and boxing, along with many original movements, Pilates exercises build muscle tone, improve flexibility and balance, lengthen the spine, increase body awareness, and repair past injuries. Most people who've done it, even for a short time, say they feel stronger and more energized, centered and physically confident than ever before. They also like having the flat tummies, tight buns, and long lean thighs of a dancer. Pilates For Dummies lets you get on board with the Pilates method , without the high cost of private instruction. Packed with step-by-step exercises, photos, and illustrations, it helps you develop your own Pilates fitness program to do at home or in the gym. Top Pilates trainer Ellie Herman shows you how to use eight basic Pi lates principles to get the most out of your mat-based routines and: - Look and feel better than ever - Get stronger, more flexible, in control and less prone to injury - Target and tone problem areas - Get movie star abs, buns, thighs and arms - Repair chronic stress and sports injuries Calmly, clearly, and with quirky good humor, Ellie explores the origins and basic philosophy of the Pilates method, and helps you set realistic fitness goals and custom-tailor a program. She also covers: - Basic, intermediate , and advanced mat exercises - Using Pilates exercise equipment and accessories - Targeting specific areas including the stomach, back, thighs, and chest - Pilates for the pregnant and recently pregnant body - Using Pilates to heal injuries, reform posture - Ten simple ways to incorporate Pilates into your everyday life - Combining Pilates with other forms of exercise, including yoga, swimming, aerobics, and more Why let the rich and famous have all the fun? Your complete, friendly, step-by-step guide, Pilates For Dummies shows how Pilates can offer a fitness program for the rest of us.
Sklep: Libristo.pl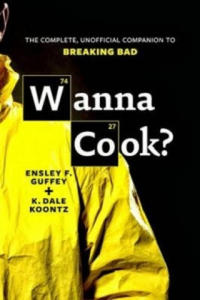 69,86 zł
Książki / Literatura obcojęzyczna
"I am not in danger ...I am the danger." With those words, Breaking Bad's Walter White solidified himself as TV's greatest antihero. Wanna Cook? explores the most critically lauded series on television with analyses of the individual episodes and ongoing storylines. From details like stark settings, intricate camerawork, and jarring music to the larger themes, including the roles of violence, place, self-change, legal ethics, and fan reactions, this companion book is perfect for those diehards who have watched the Emmy Award - winning series multiple times as well as for new viewers. Wanna Cook? elucidates without spoiling, and illuminates without nit-picking. A must have for any fan's collection. Excerpt. (c) Reprinted by permission. All rights reserved. From Wanna Cook's Episode Guide 1.01 Pilot/Breaking Bad Original air date: January 20, 2008 Written and directed by: Vince Gilligan "I prefer to see [chemistry] as the study of change ...that's all of life, right? It's the constant, it's the cycle. It's solution - dissolution, just over and over and over. It is growth, then decay, then - transformation! It is fascinating, really." - Walter White We meet Walter White, Jesse Pinkman, and Walt's family. Walt is poleaxed by some tragic news. With nothing to lose, Walt decides to try to make one big score, and damn the consequences. For that, however, he needs the help of Jesse Pinkman, a former student of Walt's turned loser meth cook and drug dealer. From the moment you see those khakis float down out of a perfectly blue desert sky, you know that you're watching a show like nothing else on television. The hard beauty and stillness of the American Southwest is shattered by a wildly careening RV driven by a pasty white guy with a developing paunch wearing only a gas mask and tighty-whities. What the hell? Like all pilots, this one is primarily exposition, but unlike most, the exposition is beautifully handled as the simple background of Walter's life. The use of a long flashback as the body of the episode works well, in no small part due to Bryan Cranston's brilliant performance in the opening, which gives us a Walter White so obviously, desperately out of his element that we immediately wonder how this guy wound up pantsless in the desert and apparently determined to commit suicide-by-cop. After the opening credits, the audience is taken on an intimate tour of Walt's life. Again, Cranston sells it perfectly. The viewer is presented with a middle-aged man facing the back half of his life from the perspective of an early brilliance and promise that has somehow imploded into a barely-making-ends-meet existence as a high school chemistry teacher. He has to work a lousy second job to support his pregnant wife and disabled teenage son and still can't afford to buy a hot water heater. Executive producer and series creator Vince Gilligan, along with the cast and crew (Gilligan & Co.), take the audience through this day in the life of Walt, and it's just one little humiliation after another. The only time Walt's eyes sparkle in the first half of the episode is when he is giving his introductory lecture to his chemistry class. Here Walt transcends his lower-middle-class life in an almost poetic outpouring of passion for this incredible science. Of course, even that brief joy is crushed by the arrogant insolence of the archetypal high school jackass who stays just far enough inside the line that Walt can't do a damn thing about him. So this is Walt and his life, as sad sack as you can get, with no real prospects of improvement, a brother-in-law who thinks he's a wuss, and a wife who doesn't even pay attention during birthday sex. Until everything changes. The sociologist and criminologist Lonnie Athens would likely classify Walt's cancer diagnosis as the beginning of a "dramatic self change," brought on by something so traumatic that a person's self - the very thoughts, ideas, and ways of understanding and interacting with the world - is shattered, or "fragmented," and in order to survive, the person must begin to replace that old self, those old ideas, with an entirely new worldview. (Athens and his theories are discussed much more fully in the previous essay, but since we warned you not to read that if you don't want to risk spoilage, the basic - and spoiler-free - parts are mentioned here.) Breaking Bad gives us this fragmentation beautifully. Note how from the viewer's perspective Walt is upside down as he is moved into the MRI machine, a motif smoothly repeated in the next scene with Walt's reflection in the top of the doctor's desk. Most discombobulating of all, however, is the consultation with the doctor. At first totally voiceless behind the tinnitus-like ambient soundtrack and faceless except for his chin and lips, the doctor and the news he is imparting are made unreal, out of place, and alien. As for Walt, in an exquisite touch of emotional realism, all he can focus on is the mustard stain on the doctor's lab coat. How many of us, confronted with such tragic news, have likewise found our attention focused, randomly, illogically, on some similar mundanity of life? It is from this shattered self that Walt begins to operate and things that would have been completely out of the question for pre-cancer Walt are now actual possibilities - things like finding a big score before he dies by making and selling pure crystal meth. Remember that Walt is a truly brilliant chemist, and knows full well what crystal meth is and what it does to people who use it. He may not know exactly what he's getting into, but he knows what he is doing. Enter Jesse Pinkman (Aaron Paul, best known previously for his role on Big Love), a skinny white-boy gangster wannabe, who under the name "Cap'n Cook" makes a living cooking and selling meth. He's also an ex-student of Walt's, and after being recognized by his former teacher during a drug bust, Walt has all the leverage he needs to coerce Jesse into helping him. Why does he need him? Because, as Walt says, "you know the business, and I know the chemistry." Symbolizing just how far beyond his old life Walt is moving, he and Jesse park their battered RV/meth lab in the desert outside of Albuquerque, far from the city and any signs of human life. All that is there is a rough dirt road and a "cow house" in the distance. The desert is a place without memory, a place outside of things, where secrets can be kept, and meth can be cooked. This is where Walt lives now. It is in this desert space that Walt becomes a killer, albeit in self defense. Ironically, the one thing that Walt views as holding the keys to the secret of life - chemistry - becomes the means to end lives. Walt, a father, teacher, and an integral part of an extended family - in other words, an agent of life and growth - has now become a meth cook, using chemical weapons to kill his enemies. Walter White has become an agent of death. The transformation is just beginning, but already Skyler (Anna Gunn, previously known for her roles on The Practice and Deadwood) is having some trouble recognizing her husband: "Walt? Is that you?" LAB NOTES Highlight: Jesse to Walt: "Man, some straight like you - giant stick up his ass all of a sudden at age what? Sixty? He's just going to break bad?" Did You Notice: This episode has the first (but not the last!) appearance of Walt's excuse that he's doing everything for his family. There's an award on the wall in Walt's house commemorating his contributions to work that was awarded the Nobel Prize back in 1985. The man's not a slouch when it comes to chemistry, so what's happened since then? At Walt's surprise birthday party, Walt is very awkward when he handles Hank's gun. Speaking of Hank (Dean Norris, whose other roles were in the TV series Medium, and the movies Total Recall, and Little Miss Sunshine), he waits until the school bus has left the neighborhood before ordering his team into the meth lab, showing what a good and careful cop he is. Maybe it's just us, but J.P. Wynne High School (where Walt teaches chemistry) seems to have the most well-equipped high school chemistry lab in the country. As Walt receives his diagnosis, the doctor's voice and all other sounds are drowned out by a kind of numbing ringing, signifying a kind of psychic overload that prevents Walt from being fully engaged with the external world. This effect will be used again several times throughout the series. Walt literally launders his money to dry it out, foreshadowing what's to come. Shooting Up: Thanks to John Toll, who served as cinematographer for the first season of Breaking Bad, the show has one of the most distinctive opening shots ever. Just watch those empty khaki pants flutter across a clear sky. Breaking Bad loves certain camera angles and this section is where we'll point out some of the shots that make the show stand out. Look at that taped non-confession Walt makes for his family when he thinks the cops are coming for him. We're used to watching recordings of characters - shows are filmed (or taped), but here, we're watching him recording himself on tape. Who's the real Walt? Title: Many pilot episodes share the name with the title of the show and Breaking Bad's pilot is no exception. Vince Gilligan, who grew up in Farmville, Virginia, has stated that "breaking bad" is a Southernism for going off the straight and narrow. When you bend a stick until it breaks, the stick usually breaks cleanly. But sometimes, sticks (and men) break bad. You can wind up in the hospital with a splinter in your eye, or you can wind up in Walter White's world. Either way, it's no kind of good. Interesting Facts: Show creator Vince Gilligan's early educational experience was at J. P. Wynne Campus School in Farmville, Virginia. He recycled the name for the high school in Breaking Bad. SPECIAL INGREDIENTS What Is Crystal Meth, Anyway? While there is some evidence that methamphetamine can be found naturally in several species of acacia plants, commercial meth making involves chemistry, not agriculture. The history of the drug dates back to 1893 when Japanese chemist Nagai Nagayoshi first synthesized the substance from ephedrine. The name "methamphetamine...
Sklep: Libristo.pl 78,98 zł
Książki / Literatura obcojęzyczna
Bedrock investing principles for profiting in today s shaky markets §If you wanted to create the next earth-shattering consumer product, Steve Jobs would be an ideal role model to follow. If you planned to become a great golfer, you might look to Arnold Palmer or Jack Nicklaus. §So, if your goals were to outperform other investors and achieve your life s financial goals, what should you do? §Think, act and invest like the best investor out there: Warren Buffett . While you can t invest exactly like he does, Think, Act, and Invest Like Warren Buffett provides a solid, sensible investing approach based on Buffett s advice regarding investment strategies. §When it comes to investing, Director of Research for the BAM Alliance and CBS News blogger Larry Swedroe has pretty much seen it all and he s come to the conclusion that simple is better, that adopting basic investing principles always increases an investor s chance of success and that Buffett is the perfect model for such investing. §In Think, Act, and Invest Like Warren Buffett , Swedroe provides the foundational knowledge you need to:§Develop a financial plan to help you make rational decisions on a consistent basis§Determine the level of risk that s right for you and allocate your assets accordingly§Create a strong portfolio that will weather any economic storm§Manage your portfolio rebalance periodically to maintain proper risk levels §The beauty of the Buffett approach is its profound simplicity: follow the basics, keep your cool, and have a sense of humor. §The market volatility of recent years has ushered in armies of economists, forecasters and other so-called experts whose job it is to explain how everything works. Somehow, they have managed to muddy the waters even more.§The truth is, investing is easier than you think even in today s economy. Complex problems can have simple solutions, Swedroe writes. Think, Act, and Invest Like Warren Buffett helps you go back to the basics so you can leap in front of the investing pack. §Praise for Think, Act, and Invest Like Warren Buffett: §You could not spend a more profitable hour than reading Larry Swedroe s wise and lucid investment guide. § Burton Malkiel, author, A Random Walk Down Wall Street §If you've been wondering why you've had such a hard time investing well, Playing the Winner's Game will diagnose your ills and treat them in just ninety short, delightful pages. § William Bernstein, author, A Splendid Exchange and The Investor s Manifesto §Follow the investment strategy advocated by Larry Swedroe, and free yourself to spend your time on life's treasures like your family and friends! § William Reichenstein, professor, Baylor University §As someone who teaches a college investments course, I would not have thought it possible to do what Swedroe has done in such a short concise book. § Edward R. Wolfe, professor of finance, Western Kentucky University §It's amazing. Larry Swedroe managed to pen a magnificent book not only chock full of actionable advice, but one that's fun to read. Get a copy and treat yourself to a better financial future. § Harold Evensky, president, Evensky & Katz § Larry Swedroe is the undisputed expert in helping investors manage portfolios the smart way. His new book, Playing the Winner s Game , combines all facets of wealth management in an inspiring and powerful manner. § Bill Schultheis, author, The New Coffeehouse Investor §
Sklep: Libristo.pl 135,81 zł
Książki / Literatura obcojęzyczna
Source: Wikipedia. Pages: 117. Chapters: Janet Jackson albums, Janet Jackson concert tours, Janet Jackson songs, Songs written by Janet Jackson, Control, Super Bowl XXXVIII halftime show controversy, Janet Jackson's Rhythm Nation 1814, The Velvet Rope, All for You, Discipline, Scream/Childhood, 20 Y.O., Damita Jo, List of awards and nominations received by Janet Jackson, We Are the World 25 for Haiti, The Velvet Rope World Tour, Janet Jackson discography, Number Ones, Rhythm Nation World Tour, All for You Tour, Janet World Tour, Design of a Decade 1986/1996, Number Ones: Up Close and Personal, Feedback, Together Again, Rock Witchu Tour, Son of a Gun, Got 'til It's Gone, Runaway, That's the Way Love Goes, Just a Little While, Call on Me, All Nite, If, Someone to Call My Lover, Make Me, Miss You Much, The Best Things in Life Are Free, Doesn't Really Matter, What Have You Done for Me Lately, Go Deep, Joe Jackson, I Get Lonely, Love Will Never Do, Black Cat, Janet Remixed, Janet Jackson as gay icon, Control: The Remixes, When I Think of You, Whoops Now/What'll I Do, Alright, Nasty, You Want This, Come Back to Me, So Excited, Let's Wait Awhile, Any Time, Any Place, Escapade, Dream Street, Twenty Foreplay, Because of Love, The Pleasure Principle, I Want You, Every Time, Feel It Boy, Rock with U, What's It Gonna Be?!, State of the World, Throb, Luv Me, Luv Me, Diamonds, Come On Get Up, Ask for More, Funny How Time Flies, Girlfriend/Boyfriend, Janet Megamix 04, Can't B Good, Tonight's the Night, Nothing, R&B Junkie, James DeBarge, Making Love in the Rain, Don't Stand Another Chance, Grammy nominations for Janet Jackson, MTV Video Music Award nominations for Janet Jackson, Fast Girls, Two to the Power of Love, Enjoy, Don't Worry, Say You Do, Young Love, Go Too Far, Come Give Your Love to Me, Start Anew, René Elizondo, Jr., American Music Award nominations for Janet Jackson, Love and My Best Friend, Don't Mess Up This Good Thing, Feel Special. Excerpt: Janet Damita Jo Jackson (born May 16, 1966) is an American recording artist and actress. Known for a series of sonically innovative, socially conscious and sexually provocative records, as well as elaborate stage shows, television and film roles, she has been a prominent figure in popular culture for over 25 years. She is ranked by Forbes magazine as one of the richest women in entertainment. The youngest child of the Jackson family, she began her career with the variety television series The Jacksons in 1976 and went on to appear in other television shows throughout the 1970s and early 1980s, including Good Times and Fame. After signing a recording contract with A&M in 1982, she became a pop icon following the release of her third studio album Control (1986). Her collaborations with record producers Jimmy Jam and Terry Lewis incorporated elements of rhythm and blues, funk, disco, rap, and industrial beats, which led to crossover appeal in popular music. In addition to receiving recognition for the innovation in her records, choreography, music videos, and prominence on radio airplay and MTV, she was acknowledged as a role model for her socially conscious lyrics. In 1991, she signed the first of two record-breaking, multi-million dollar contracts with Virgin Records, establishing her as one of the highest paid artists in the industry. Her debut album under the label, Janet (1993), saw her develop a public image as a sex symbol as she began to explore sexuality in her work. That sam...
Sklep: Libristo.pl
Sklepy zlokalizowane w miastach: Warszawa, Kraków, Łódź, Wrocław, Poznań, Gdańsk, Szczecin, Bydgoszcz, Lublin, Katowice
Szukaj w sklepach lub całym serwisie
2. Szukaj na wszystkich stronach serwisu
t1=0.15, t2=0, t3=0, t4=0.016, t=0.151