krainaksiazek time management how to get your life back increase productivity and get more work done stress free 20121168
- znaleziono 12 produktów w 3 sklepach 11,15 zł
Książki & Multimedia > Książki
Opis - Pierwsze na świecie świadectwo ofiary zbrodni honorowej. Miała siedemnaście lat i zakochała się: zhańbiła rodzinę. Więc rodzina wydała na nią wyrok śmierci... Pokochała go pierwszą miłością. Myślała, że się z nią ożeni. Ale ukochany zniknął, a ona odkryła, że jest w ciąży. A w jej świecie to najcięższa zbrodnia... W zapomnianej przez Boga wiosce w Cisjordanii kobiety są warte mniej niż zwierzęta domowe. Tu mężczyzna jest panem życia i śmierci żony, córki, siostry. Brat może bezkarnie zabić siostrę, matka - córkę, kolejną bezużyteczną dziewczynkę, jaka się urodzi. Tu kobiecie odbiera się godność, a nawet życie zgodnie z odwiecznym obyczajem i uświęconą tradycją. A śmierć jest karą dla dziewczyny, która zhańbi rodzinę. Tak jak Souad. Wyrok wydaje jej ojciec. Szwagier dokonuje egzekucji. Oblewa Souad benzyną i podpala... SOUAD przeżyła - cudem, ale rodzina usiłowała zabić ją nawet w szpitalu. Na zawsze jednak pozostanie straszliwie okaleczona - na ciele i duszy. I wciąż musi się ukrywać; dopóki żyje, jej rodzinę okrywa hańba. Spalona żywcem, opublikowana pod pseudonimem szokująca opowieść o piekle, jakim było jej dzieciństwo i młodość, stała się międzynarodowym bestsellerem. Wydana w 37 w krajach książka przerywa tabu milczenia wobec istniejącej nadal w krajach muzułmańskich barbarzyńskiej tradycji. Nieludzkiego obyczaju, prawa mężczyzn, na mocy którego co najmniej pięć tysięcy kobiet pada co roku ofiarą zbrodni honorowej. Nazwa - Spalona Żywcem Wyd. Kieszonkowe Autor - Souad Oprawa - Miękka Wydawca - Amber Kod ISBN - 9788324159406 Kod EAN - 9788324159406 Wydanie - 1 Rok wydania - 2016 Tłumacz - 31182,maria rostworowska; Format - 110 x 175 x 14 Ilość stron - 224 Podatek VAT - 5% Premiera - 2016-06-23
Sklep: InBook.pl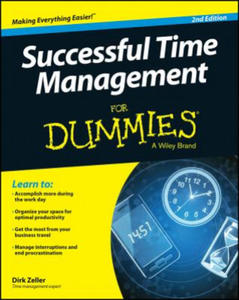 83,58 zł
Książki / Literatura obcojęzyczna
Incorporate effective time management and transform your life If you always feel like there's not enough time in the day to get everything accomplished, Successful Time Management For Dummies is the resource that can help change your workday and your life. Filled with insights into how the most successful people manage distractions, fight procrastination, and optimize their workspace, this guide provides an in-depth look at the specific steps you can use to take back those precious hours and minutes to make more of your workday and your leisure time. Modern life is packed with commitments that take up time and energy. But by more effectively managing time and cutting out unnecessary and unproductive activities, you really can do more with less. In this complete guide to time management, you'll find out how to manage email effectively, cut down on meetings and optimize facetime, use technology wisely, maximize your effectiveness during travel, and much more. Find out how to accomplish more at work and in life, all in less time Organize your professional life and workspace for optimal productivity Learn to put an end to procrastination and successfully handle interruptions Get specific insights into time management in various functions, from administration professionals to executives If you're looking to take back your time and ramp up your productivity, Successful Time Management For Dummies is the resource to help get your there in a hurry.
Sklep: Libristo.pl 45,50 zł
Książki / Literatura obcojęzyczna
More than any other practice in your career, your ability to manage time will determine your success or failure. It's a simple equation. The better you use your time, the more you will accomplish, and the greater your rewards will be.§§ This pocket-sized guide reveals 21 proven time management techniques you can use immediately to gain two or more productive hours every day. Featuring the strategies that business expert Brian Tracy has identified as the most effective and that he himself employs, this handy volume reveals how you can:§§ - Handle endless interruptions, meetings, emails, and phone calls§ - Identify your key result areas§ - Allocate enough time for top priority responsibilities§ - Batch similar tasks to preserve focus and make the most of each minute§ - Overcome procrastination§ - Determine what to delegate and what to eliminate§ - Utilize Program Evaluation and Review Techniques to work back ward from the future...and ensure your most important goals are met§ - And more§§ Filled with Brian Tracy's trademark wisdom, this book will help you get more done, in less time...and with much less stress.§
Sklep: Libristo.pl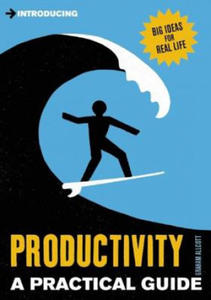 34,78 zł
Książki / Literatura obcojęzyczna
Introducing Productivity - by Graham Allcott of Think Productive, and the author of How to be a Productivity Ninja - reveals, using simple tips, advice and real-life examples, how to get more done and manage your time effectively. Whether you are overwhelmed by your to-do list or just get stressed looking at your full inbox, it will help you to think - and act - more productively. AVOID UNNECESSARY MEETINGS to maximise your time STOP PROCRASTINATING and eradicate stress CLEAR OUT YOUR INBOX and take back control IMPROVE YOUR WORKFLOW and love your job again
Sklep: Libristo.pl 44,18 zł
Książki / Literatura obcojęzyczna
Follow-up to the bestselling Mindfulness: Be Mindful. Livein the Moment.§§Gill Hasson, author of the bestselling Mindfulness isback and this time you can fit her advice in your pocket! Thislittle book is packed with over 100 quick exercises, each dealingwith a different situation, to help you get calm, collected, andbalanced. So whenever you start to feel the stress mounting, reachfor your Mindfulness Pocketbook, find the relevant exerciseand instantly make life better!§§So if you feel like life is moving too fast and you'restruggling to keep up with constant demands and commitments, don'tlet anxiety and worry get the better of you -- integrate thesemindfulness exercises, practices, and reflections into your dailylife and get in control and feel more confident, calm, and present.By progressing through the pocketbook, you will develop mindfulways of thinking and doing that will benefit a wide range ofsituations in your personal, social, and work life.§§Slow down, take a deep breath, and take that step toward aneasier and more manageable life. The Mindfulness Pocketbook willhelp you:§Move in the direction of greater calm, balance, andwellbeing§Increase your insight and awareness§Break free from unhelpful thoughts and thinking patterns, feelmore confident, and have better self-esteem§Be more able to manage other people's demands, stress, anxiety,and worry§§Experts increasingly recognise that developing mindfulnessskills is an effective way to improve performance, reduce stress,enhance emotional intelligence, increase life satisfaction, anddevelop leadership skills. A mindful person consciously bringsawareness to the here-and-now with openness, interest, andreceptiveness. Mindfulness Pocketbook is the take-with-youguide to receptive, constructive thinking.
Sklep: Libristo.pl 119,19 zł
Książki / Literatura obcojęzyczna
A new edition, packed with even more clever tricks and methods that make everyday life easier Lifehackers redefine personal productivity with creative and clever methods for making life easier and more enjoyable. This new edition of a perennial bestseller boasts new and exciting tips, tricks, and methods that strike a perfect balance between current technology and common sense solutions for getting things done. Exploring the many ways technology has changed since the previous edition, this new edition has been updated to reflect the latest and greatest in technological and personal productivity. The new "hacks" run the gamut of working with the latest Windows and Mac operating systems for both Windows and Apple, getting more done with smartphones and their operating systems, and dealing with the evolution of the web. Even the most tried-and-true hacks have been updated to reflect the contemporary tech world and the tools it provides us. Hacks include: Hack 1: Empty Your Inbox (and Keep It Empty). Hack 2: Decrease Your Response Time. Hack 3: Craft Effective Messages. Hack 4: Highlight Messages Sent Directly to You. Hack 5: Use Disposable Email Addresses. Hack 6: Master Message Search. Hack 7: Future-Proof Your Email Address. Hack 8: Consolidate Multiple Email Addresses with Gmail. Hack 9: Script and Automate Repetitive Replies. Hack 10: Filter Low-Priority Messages. Hack 11: Organize Your Documents Folder. Hack 12: Instantly Retrieve Files Stored on Your Computer. Hack 13: Overhaul Your Filing Cabinet. Hack 14: Instantly Recall Any Number of Different Passwords. Hack 15: Securely Track Your Passwords. Hack 16: Tag Your Bookmarks. Hack 17: Organize Your Digital Photos. Hack 18: Corral Media Across Folders and Drives. Hack 19: Create Saved Search Folders. Hack 20: Create a Password-Protected Disk on Your PC. Hack 21: Create a Password-Protected Disk on Your Mac. Hack 22: Encrypt Your Entire Windows Operating System. Hack 23: Set Up 2-Step Verification for Your Google Account. Hack 24: Design Your Own Planner. Hack 25: Make Your To-Do List Doable. Hack 26: Set Up a Morning Dash. Hack 27: Map Your Time. Hack 28: Quick-Log Your Workday. Hack 29: Dash Through Tasks with a Timer. Hack 30: Form New Habits with Jerry Seinfeld's Chain. Hack 31: Control Your Workday. Hack 32: Turn Tasks into Game Play. Hack 33: Send Reminders to Your Future Self. Hack 34: Take Great Notes. Hack 35: Organize Your Life with Remember the Milk. Hack 36: Organize Your Life in Text Files. Hack 37: Set Up a Ubiquitous Note-Taking Inbox Across Devices. Hack 38: Off-Load Your Online Reading to a Distraction-Free Environment. Hack 39: Limit Visits to Time-Wasting Websites. Hack 40: Permanently Block Time-Wasting Websites. Hack 41: Reduce Email Interruptions. Hack 42: Split Your Work Among Multiple Desktops. Hack 43: Build a No-Fly Zone. Hack 44: Set Up Communication Quiet Hours. Hack 45: Clear Your Desktop. Hack 46: Make Your House a Usable Home. Hack 47: Sentence Stuff to Death Row. Hack 48: Drown Out Distracting Sounds with Pink Noise. Hack 49: Search the Web in Three Keystrokes. Hack 50: Command Your Windows PC from the Keyboard. Hack 51: Command Your Mac from the Keyboard. Hack 52: Reduce Repetitive Typing with Texter for Windows. Hack 53: Reduce Repetitive Typing with TextExpander for Mac. Hack 54: Automatically Fill in Repetitive Web Forms. Hack 55: Batch-Resize Photos. Hack 56: Bypass Free Site Registration with BugMeNot. Hack 57: Speed Up Web Pages on a Slow Internet Connection. Hack 58: Securely Save Website Passwords. Hack 59: Become a Scheduling Black Belt with Google Calendar. Hack 60: Set Up an Automated, Bulletproof File Back Up Solution. Hack 61: Automatically Back Up Your Files to an External Hard Drive (Mac). Hack 62: Automatically Clean Up Your PC. Hack 63: Automatically Clean Up Your Mac. Hack 64: Automatically Reboot and Launch Applications. Hack 65: Make Google Search Results Automatically Come to You. Hack 66: Automatically Download Music, Movies, and More. Hack 67: Access Your Most Important Files Anywhere with Dropbox. Hack 68: Manage Your Documents in a Web-Based Office Suite. Hack 69: Carry Your Life on a Flash Drive. Hack 70: Create a Virtual Private Network (VPN) with Hamachi. Hack 71: Run a Home Web Server. Hack 72: Run Full-Fledged Webapps from Your Home Computer. Hack 73: Build Your Personal Wikipedia. Hack 74: Remotely Control Your Home Computer. Hack 75: Give Your Home Computer a Web Address. Hack 76: Optimize Your Laptop. Hack 77: Speed Up Your Touchscreen Typing. Hack 78: Break Down the Barrier Between Your Computer and Mobile Phone. Hack 79: Remote Control Your Computer with Your Phone. Hack 80: Automate Android Functions with Tasker. Hack 81: Set Up One Phone Number to Rule Them All. Hack 82: Augment Reality with Your Phone. Hack 83: Remember Where You've Been Using Location Awareness. Hack 84: Command Your Phone with Your Voice. Hack 85: Use Your Camera Phone as a Scanner. Hack 86: Make Your "Dumbphone" Smarter via Text Message. Hack 87: Connect Your Computer to the Internet via Mobile Phone by "Tethering". Hack 88: Develop Your (Digital) Photographic Memory. Hack 89: Send and Receive Money on Your Mobile Phone with PayPal. Hack 90: Google Like a Pro. Hack 91: Subscribe to Websites with RSS. Hack 92: Quickly Search Within Specific Websites from the Address Bar. Hack 93: Extend Your Web Browser. Hack 94: Supercharge Your Firefox Downloads with DownThemAll! Hack 95: Get 10 Useful Bookmarklets. Hack 96: Find Reusable Media Online. Hack 97: Get Your Data on a Map. Hack 98: Set Multiple Sites as Your Home Page. Hack 99: Access Unavailable Websites via Google. Hack 100: Have a Say in What Google Says About You. Hack 101: Clear Your Web Browsing Tracks. Hack 102: Rescue Your PC from Malware. Hack 103: Protect Your PC from Malware. Hack 104: Clean Up Your Startup. Hack 105: Undo System Configuration Changes. Hack 106: Truly Delete Data from Your Hard Drive. Hack 107: Compare and Merge Files and Folders with WinMerge. Hack 108: Firewall Your Windows PC. Hack 109: Firewall Your Mac. Hack 110: Speed Up Windows with a Thumb Drive. Hack 111: Free Up Hard-Drive Space. Hack 112: Resurrect Deleted Files. Hack 113: Hot Image Your PC for Instant Restoration. Hack 114: Hot Image Your Mac for Instant Restoration. Hack 115: Recover Files from an Unbootable PC. Hack 116: Share Windows Files. Hack 117: Share Mac Files. Hack 118: Keep Your Web Browser in Sync Across Computers. Hack 119: Share a Single Printer Between Computers. Hack 120: Optimize Your Dual Monitors. Hack 121: Control Multiple Computers with a Single Keyboard and Mouse. Technology is supposed to make our lives easier by helping us work more efficiently. Lifehacker: The Guide to Working Smarter, Faster, and Better, Third Edition is your guide to making that happen!
Sklep: Libristo.pl 36,60 zł
Biznes
Our world is changing. Globalization is not working. It is hurting those it was meant to help. And now, the tide is turning
Sklep: Albertus.pl 40,80 zł
Biznes
His previous book revealed the shocking truth about globalization. Now, Joseph Stiglitz blows the whistle on the devastation wrought by the free market mantra in the nineties
Sklep: Albertus.pl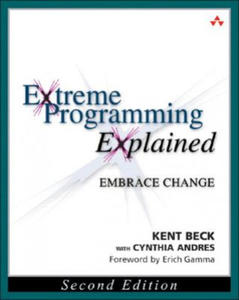 262,61 zł
Książki / Literatura obcojęzyczna
"In this second edition of Extreme Programming Explained, Kent Beck organizes and presents five years' worth of experiences, growth, and change revolving around XP. If you are seriously interested in understanding how you and your team can start down the path of improvement with XP, you must read this book." -Francesco Cirillo, Chief Executive Officer, XPLabs S.R.L. "The first edition of this book told us what XP was-it changed the way many of us think about software development. This second edition takes it farther and gives us a lot more of the 'why' of XP, the motivations and the principles behind the practices. This is great stuff. Armed with the 'what' and the 'why,' we can now all set out to confidently work on the 'how': how to run our projects better, and how to get agile techniques adopted in our organizations." -Dave Thomas, The Pragmatic Programmers LLC "This book is dynamite! It was revolutionary when it first appeared a few years ago, and this new edition is equally profound. For those who insist on cookbook checklists, there's an excellent chapter on 'primary practices,' but I urge you to begin by truly contemplating the meaning of the opening sentence in the first chapter of Kent Beck's book: 'XP is about social change.' You should do whatever it takes to ensure that every IT professional and every IT manager-all the way up to the CIO-has a copy of Extreme Programming Explained on his or her desk." -Ed Yourdon, author and consultant "XP is a powerful set of concepts for simplifying the process of software design, development, and testing. It is about minimalism and incrementalism, which are especially useful principles when tackling complex problems that require a balance of creativity and discipline." -Michael A. Cusumano, Professor, MIT Sloan School of Management, and author of The Business of Software"Extreme Programming Explained is the work of a talented and passionate craftsman. Kent Beck has brought together a compelling collection of ideas about programming and management that deserves your full attention. My only beef is that our profession has gotten to a point where such common-sense ideas are labeled 'extreme.'..." -Lou Mazzucchelli, Fellow, Cutter Business Technology Council"If your organization is ready for a change in the way it develops software, there's the slow incremental approach, fixing things one by one, or the fast track, jumping feet first into Extreme Programming. Do not be frightened by the name, it is not that extreme at all. It is mostly good old recipes and common sense, nicely integrated together, getting rid of all the fat that has accumulated over the years." -Philippe Kruchten, UBC, Vancouver, British Columbia"Sometimes revolutionaries get left behind as the movement they started takes on a life of its own. In this book, Kent Beck shows that he remains ahead of the curve, leading XP to its next level. Incorporating five years of feedback, this book takes a fresh look at what it takes to develop better software in less time and for less money. There are no silver bullets here, just a set of practical principles that, when used wisely, can lead to dramatic improvements in software development productivity." -Mary Poppendieck, author of Lean Software Development: An Agile Toolkit "Kent Beck has revised his classic book based on five more years of applying and teaching XP. He shows how the path to XP is both easy and hard: It can be started with fewer practices, and yet it challenges teams to go farther than ever." -William Wake, independent consultant "With new insights, wisdom from experience, and clearer explanations of the art of Extreme Programming, this edition of Beck's classic will help many realize the dream of outstanding software development." -Joshua Kerievsky, author of Refactoring to Patterns and Founder, Industrial Logic, Inc."XP has changed the way our industry thinks about software development. Its brilliant simplicity, focused execution, and insistence on fact-based planning over speculation have set a new standard for software delivery." -David Trowbridge, Architect, Microsoft Corporation Accountability. Transparency. Responsibility. These are not words that are often applied to software development. In this completely revised introduction to Extreme Programming (XP), Kent Beck describes how to improve your software development by integrating these highly desirable concepts into your daily development process. The first edition of Extreme Programming Explained is a classic. It won awards for its then-radical ideas for improving small-team development, such as having developers write automated tests for their own code and having the whole team plan weekly. Much has changed in five years. This completely rewritten second edition expands the scope of XP to teams of any size by suggesting a program of continuous improvement based on: * Five core values consistent with excellence in software development * Eleven principles for putting those values into action * Thirteen primary and eleven corollary practices to help you push development past its current business and technical limitations Whether you have a small team that is already closely aligned with your customers or a large team in a gigantic or multinational organization, you will find in these pages a wealth of ideas to challenge, inspire, and encourage you and your team members to substantially improve your software development. You will discover how to: * Involve the whole team-XP style * Increase technical collaboration through pair programming and continuous integration * Reduce defects through developer testing * Align business and technical decisions through weekly and quarterly planning * Improve teamwork by setting up an informative, shared workspace You will also find many other concrete ideas for improvement, all based on a philosophy that emphasizes simultaneously increasing the humanity and effectiveness of software development. Every team can improve. Every team can begin improving today. Improvement is possible-beyond what we can currently imagine. Extreme Programming Explained, Second Edition, offers ideas to fuel your improvement for years to come.
Sklep: Libristo.pl 100,56 zł
Książki / Literatura obcojęzyczna
Once the secret fitness weapon of professional dancers, athletes, and movie stars, Pilates is sweeping the country with a vengeance. And if even half of what its many fans claim is true, then it's easy to see why. Combining elements of yoga, dance, gymnastics, and boxing, along with many original movements, Pilates exercises build muscle tone, improve flexibility and balance, lengthen the spine, increase body awareness, and repair past injuries. Most people who've done it, even for a short time, say they feel stronger and more energized, centered and physically confident than ever before. They also like having the flat tummies, tight buns, and long lean thighs of a dancer. Pilates For Dummies lets you get on board with the Pilates method , without the high cost of private instruction. Packed with step-by-step exercises, photos, and illustrations, it helps you develop your own Pilates fitness program to do at home or in the gym. Top Pilates trainer Ellie Herman shows you how to use eight basic Pi lates principles to get the most out of your mat-based routines and: - Look and feel better than ever - Get stronger, more flexible, in control and less prone to injury - Target and tone problem areas - Get movie star abs, buns, thighs and arms - Repair chronic stress and sports injuries Calmly, clearly, and with quirky good humor, Ellie explores the origins and basic philosophy of the Pilates method, and helps you set realistic fitness goals and custom-tailor a program. She also covers: - Basic, intermediate , and advanced mat exercises - Using Pilates exercise equipment and accessories - Targeting specific areas including the stomach, back, thighs, and chest - Pilates for the pregnant and recently pregnant body - Using Pilates to heal injuries, reform posture - Ten simple ways to incorporate Pilates into your everyday life - Combining Pilates with other forms of exercise, including yoga, swimming, aerobics, and more Why let the rich and famous have all the fun? Your complete, friendly, step-by-step guide, Pilates For Dummies shows how Pilates can offer a fitness program for the rest of us.
Sklep: Libristo.pl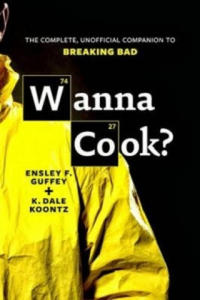 69,57 zł
Książki / Literatura obcojęzyczna
"I am not in danger ...I am the danger." With those words, Breaking Bad's Walter White solidified himself as TV's greatest antihero. Wanna Cook? explores the most critically lauded series on television with analyses of the individual episodes and ongoing storylines. From details like stark settings, intricate camerawork, and jarring music to the larger themes, including the roles of violence, place, self-change, legal ethics, and fan reactions, this companion book is perfect for those diehards who have watched the Emmy Award - winning series multiple times as well as for new viewers. Wanna Cook? elucidates without spoiling, and illuminates without nit-picking. A must have for any fan's collection. Excerpt. (c) Reprinted by permission. All rights reserved. From Wanna Cook's Episode Guide 1.01 Pilot/Breaking Bad Original air date: January 20, 2008 Written and directed by: Vince Gilligan "I prefer to see [chemistry] as the study of change ...that's all of life, right? It's the constant, it's the cycle. It's solution - dissolution, just over and over and over. It is growth, then decay, then - transformation! It is fascinating, really." - Walter White We meet Walter White, Jesse Pinkman, and Walt's family. Walt is poleaxed by some tragic news. With nothing to lose, Walt decides to try to make one big score, and damn the consequences. For that, however, he needs the help of Jesse Pinkman, a former student of Walt's turned loser meth cook and drug dealer. From the moment you see those khakis float down out of a perfectly blue desert sky, you know that you're watching a show like nothing else on television. The hard beauty and stillness of the American Southwest is shattered by a wildly careening RV driven by a pasty white guy with a developing paunch wearing only a gas mask and tighty-whities. What the hell? Like all pilots, this one is primarily exposition, but unlike most, the exposition is beautifully handled as the simple background of Walter's life. The use of a long flashback as the body of the episode works well, in no small part due to Bryan Cranston's brilliant performance in the opening, which gives us a Walter White so obviously, desperately out of his element that we immediately wonder how this guy wound up pantsless in the desert and apparently determined to commit suicide-by-cop. After the opening credits, the audience is taken on an intimate tour of Walt's life. Again, Cranston sells it perfectly. The viewer is presented with a middle-aged man facing the back half of his life from the perspective of an early brilliance and promise that has somehow imploded into a barely-making-ends-meet existence as a high school chemistry teacher. He has to work a lousy second job to support his pregnant wife and disabled teenage son and still can't afford to buy a hot water heater. Executive producer and series creator Vince Gilligan, along with the cast and crew (Gilligan & Co.), take the audience through this day in the life of Walt, and it's just one little humiliation after another. The only time Walt's eyes sparkle in the first half of the episode is when he is giving his introductory lecture to his chemistry class. Here Walt transcends his lower-middle-class life in an almost poetic outpouring of passion for this incredible science. Of course, even that brief joy is crushed by the arrogant insolence of the archetypal high school jackass who stays just far enough inside the line that Walt can't do a damn thing about him. So this is Walt and his life, as sad sack as you can get, with no real prospects of improvement, a brother-in-law who thinks he's a wuss, and a wife who doesn't even pay attention during birthday sex. Until everything changes. The sociologist and criminologist Lonnie Athens would likely classify Walt's cancer diagnosis as the beginning of a "dramatic self change," brought on by something so traumatic that a person's self - the very thoughts, ideas, and ways of understanding and interacting with the world - is shattered, or "fragmented," and in order to survive, the person must begin to replace that old self, those old ideas, with an entirely new worldview. (Athens and his theories are discussed much more fully in the previous essay, but since we warned you not to read that if you don't want to risk spoilage, the basic - and spoiler-free - parts are mentioned here.) Breaking Bad gives us this fragmentation beautifully. Note how from the viewer's perspective Walt is upside down as he is moved into the MRI machine, a motif smoothly repeated in the next scene with Walt's reflection in the top of the doctor's desk. Most discombobulating of all, however, is the consultation with the doctor. At first totally voiceless behind the tinnitus-like ambient soundtrack and faceless except for his chin and lips, the doctor and the news he is imparting are made unreal, out of place, and alien. As for Walt, in an exquisite touch of emotional realism, all he can focus on is the mustard stain on the doctor's lab coat. How many of us, confronted with such tragic news, have likewise found our attention focused, randomly, illogically, on some similar mundanity of life? It is from this shattered self that Walt begins to operate and things that would have been completely out of the question for pre-cancer Walt are now actual possibilities - things like finding a big score before he dies by making and selling pure crystal meth. Remember that Walt is a truly brilliant chemist, and knows full well what crystal meth is and what it does to people who use it. He may not know exactly what he's getting into, but he knows what he is doing. Enter Jesse Pinkman (Aaron Paul, best known previously for his role on Big Love), a skinny white-boy gangster wannabe, who under the name "Cap'n Cook" makes a living cooking and selling meth. He's also an ex-student of Walt's, and after being recognized by his former teacher during a drug bust, Walt has all the leverage he needs to coerce Jesse into helping him. Why does he need him? Because, as Walt says, "you know the business, and I know the chemistry." Symbolizing just how far beyond his old life Walt is moving, he and Jesse park their battered RV/meth lab in the desert outside of Albuquerque, far from the city and any signs of human life. All that is there is a rough dirt road and a "cow house" in the distance. The desert is a place without memory, a place outside of things, where secrets can be kept, and meth can be cooked. This is where Walt lives now. It is in this desert space that Walt becomes a killer, albeit in self defense. Ironically, the one thing that Walt views as holding the keys to the secret of life - chemistry - becomes the means to end lives. Walt, a father, teacher, and an integral part of an extended family - in other words, an agent of life and growth - has now become a meth cook, using chemical weapons to kill his enemies. Walter White has become an agent of death. The transformation is just beginning, but already Skyler (Anna Gunn, previously known for her roles on The Practice and Deadwood) is having some trouble recognizing her husband: "Walt? Is that you?" LAB NOTES Highlight: Jesse to Walt: "Man, some straight like you - giant stick up his ass all of a sudden at age what? Sixty? He's just going to break bad?" Did You Notice: This episode has the first (but not the last!) appearance of Walt's excuse that he's doing everything for his family. There's an award on the wall in Walt's house commemorating his contributions to work that was awarded the Nobel Prize back in 1985. The man's not a slouch when it comes to chemistry, so what's happened since then? At Walt's surprise birthday party, Walt is very awkward when he handles Hank's gun. Speaking of Hank (Dean Norris, whose other roles were in the TV series Medium, and the movies Total Recall, and Little Miss Sunshine), he waits until the school bus has left the neighborhood before ordering his team into the meth lab, showing what a good and careful cop he is. Maybe it's just us, but J.P. Wynne High School (where Walt teaches chemistry) seems to have the most well-equipped high school chemistry lab in the country. As Walt receives his diagnosis, the doctor's voice and all other sounds are drowned out by a kind of numbing ringing, signifying a kind of psychic overload that prevents Walt from being fully engaged with the external world. This effect will be used again several times throughout the series. Walt literally launders his money to dry it out, foreshadowing what's to come. Shooting Up: Thanks to John Toll, who served as cinematographer for the first season of Breaking Bad, the show has one of the most distinctive opening shots ever. Just watch those empty khaki pants flutter across a clear sky. Breaking Bad loves certain camera angles and this section is where we'll point out some of the shots that make the show stand out. Look at that taped non-confession Walt makes for his family when he thinks the cops are coming for him. We're used to watching recordings of characters - shows are filmed (or taped), but here, we're watching him recording himself on tape. Who's the real Walt? Title: Many pilot episodes share the name with the title of the show and Breaking Bad's pilot is no exception. Vince Gilligan, who grew up in Farmville, Virginia, has stated that "breaking bad" is a Southernism for going off the straight and narrow. When you bend a stick until it breaks, the stick usually breaks cleanly. But sometimes, sticks (and men) break bad. You can wind up in the hospital with a splinter in your eye, or you can wind up in Walter White's world. Either way, it's no kind of good. Interesting Facts: Show creator Vince Gilligan's early educational experience was at J. P. Wynne Campus School in Farmville, Virginia. He recycled the name for the high school in Breaking Bad. SPECIAL INGREDIENTS What Is Crystal Meth, Anyway? While there is some evidence that methamphetamine can be found naturally in several species of acacia plants, commercial meth making involves chemistry, not agriculture. The history of the drug dates back to 1893 when Japanese chemist Nagai Nagayoshi first synthesized the substance from ephedrine. The name "methamphetamine...
Sklep: Libristo.pl 78,64 zł
Książki / Literatura obcojęzyczna
Bedrock investing principles for profiting in today s shaky markets §If you wanted to create the next earth-shattering consumer product, Steve Jobs would be an ideal role model to follow. If you planned to become a great golfer, you might look to Arnold Palmer or Jack Nicklaus. §So, if your goals were to outperform other investors and achieve your life s financial goals, what should you do? §Think, act and invest like the best investor out there: Warren Buffett . While you can t invest exactly like he does, Think, Act, and Invest Like Warren Buffett provides a solid, sensible investing approach based on Buffett s advice regarding investment strategies. §When it comes to investing, Director of Research for the BAM Alliance and CBS News blogger Larry Swedroe has pretty much seen it all and he s come to the conclusion that simple is better, that adopting basic investing principles always increases an investor s chance of success and that Buffett is the perfect model for such investing. §In Think, Act, and Invest Like Warren Buffett , Swedroe provides the foundational knowledge you need to:§Develop a financial plan to help you make rational decisions on a consistent basis§Determine the level of risk that s right for you and allocate your assets accordingly§Create a strong portfolio that will weather any economic storm§Manage your portfolio rebalance periodically to maintain proper risk levels §The beauty of the Buffett approach is its profound simplicity: follow the basics, keep your cool, and have a sense of humor. §The market volatility of recent years has ushered in armies of economists, forecasters and other so-called experts whose job it is to explain how everything works. Somehow, they have managed to muddy the waters even more.§The truth is, investing is easier than you think even in today s economy. Complex problems can have simple solutions, Swedroe writes. Think, Act, and Invest Like Warren Buffett helps you go back to the basics so you can leap in front of the investing pack. §Praise for Think, Act, and Invest Like Warren Buffett: §You could not spend a more profitable hour than reading Larry Swedroe s wise and lucid investment guide. § Burton Malkiel, author, A Random Walk Down Wall Street §If you've been wondering why you've had such a hard time investing well, Playing the Winner's Game will diagnose your ills and treat them in just ninety short, delightful pages. § William Bernstein, author, A Splendid Exchange and The Investor s Manifesto §Follow the investment strategy advocated by Larry Swedroe, and free yourself to spend your time on life's treasures like your family and friends! § William Reichenstein, professor, Baylor University §As someone who teaches a college investments course, I would not have thought it possible to do what Swedroe has done in such a short concise book. § Edward R. Wolfe, professor of finance, Western Kentucky University §It's amazing. Larry Swedroe managed to pen a magnificent book not only chock full of actionable advice, but one that's fun to read. Get a copy and treat yourself to a better financial future. § Harold Evensky, president, Evensky & Katz § Larry Swedroe is the undisputed expert in helping investors manage portfolios the smart way. His new book, Playing the Winner s Game , combines all facets of wealth management in an inspiring and powerful manner. § Bill Schultheis, author, The New Coffeehouse Investor §
Sklep: Libristo.pl
Sklepy zlokalizowane w miastach: Warszawa, Kraków, Łódź, Wrocław, Poznań, Gdańsk, Szczecin, Bydgoszcz, Lublin, Katowice
Szukaj w sklepach lub całym serwisie
2. Szukaj na wszystkich stronach serwisu
t1=0.131, t2=0, t3=0, t4=0, t=0.131