krainaksiazek tiny house building 20054572
- znaleziono 14 produktów w 4 sklepach 44,09 zł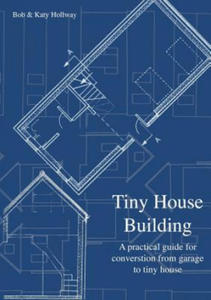 60,61 zł
Książki / Literatura obcojęzyczna
Sklep: Libristo.pl 100,81 zł
Książki / Literatura obcojęzyczna
Tiny House, Large Lifestyle! Tiny homes are popping up across America, captivating people with their novel approach not only to housing, but to life. Once considered little more than a charming oddity, the tiny house movement continues to gain momentum among those who thirst for a simpler, "greener," more meaningful life in the face of society's "more is better" mindset. This book explores the philosophies behind the tiny house lifestyle, helps you determine whether it's a good fit for you, and guides you through the transition to a smaller space. For inspiration, you'll meet tiny house pioneers and hear how they built their dwellings (and their lives) in unconventional, creative and purposeful ways. They'll invite you in, show you around their cozy abodes, and share lessons they learned along the way. Inside you'll find everything you need to design a tiny home of your own: Worksheets and exercises to help you home in on your true needs, define personal goals, and develop a tiny house layout that's just right for you. Practical strategies for cutting through clutter and paring down your possessions. Guidance through the world of building codes and zoning laws. Design tricks for making the most of every square foot, including multi-function features and ways to maximize vertical space. Tours of 11 tiny houses and the unique story behind each. Tiny House Living is about distilling life down to that which you value most...freeing yourself from clutter, mortgages and home maintenance...and, in doing so, making more room in everyday life for the really important things, like relationships, passions and community. Whether you downsize to a 400-square-foot home or simply scale back the amount of stuff you have in your current home, this book shows you how to live well with less.
Sklep: Libristo.pl 74,85 zł
Książki / Literatura obcojęzyczna
This book comes from internationally recognized small living expert Jay Shafer. It contains photos, elevation drawings and door/window schedules for six box bungalows. It includes how-to set of instructions that can be applied to any backyard building project. Good things do come in small packages. Just ask internationally recognized small living expert Jay Shafer. His small buildings have appeared on CNN, Oprah, Fine Homebuilding and This Old House. Ranging in size from 100 to 120 square feet, these tiny backyard buildings can be used as guest cottages, art or writing studios, home offices, craft workshops, vacation retreats, or a full-time residence. Filled with photos, elevation drawings and door/window schedules for six box bungalows, Shafer's book also includes an extensive how-to set of instructions that can be applied to any backyard building project. Though conventionally built, these handsome little buildings have real doors, windows and skylights with interesting and practical details throughout. With extra attention given to energy and space efficiency in their design, these tiny houses can help deliver the relief we all need on the road toward a sustainable world.
Sklep: Libristo.pl 72,49 zł
Książki Obcojęzyczne>Angielskie>Lifestyle, sport & leisure>Home & house maintenance>Home renovation & extensionKsiążki Obcojęzyczne>Ang...
Filled With Photos, Elevation Drawings And Door/window Schedules For Six Box Bungalows, This Book Includes An Extensive How-to Set Of Instructions That Can Be Applied To Any Backyard Building Project. Though Conventionally Built, These Little Buildings Ha
Sklep: Gigant.pl 65,52 zł
Książki / Literatura obcojęzyczna
"All good things come in small packages" is the thinking behind this new crochet book from expert crafts teacher, Catherine Hirst. Meet Ekaterina, Elena and Eva - three sisters who live in the highest onion dome of a very old building in St Petersburg, Russia although they are only two inches tall. They are best friends with the three bears - Mama, Papa and Baby Bear who love to snuggle up at night under their beautifully crocheted blankets. And although they don't know it, they share their house with the Catnip Mouse, who measures a teeny, tiny one inch from the tips of his whiskers to the end of his tail. Working with fine yarn and using the smallest of crochet hooks, here is an adorable collection of 35 projects, from miniature amigurumistyle animals to tiny accessories. Crafts teacher Catherine Hirst has created a menagerie of small-scale pets, a whole host of families, and beautiful accessories. There are crocheted cakes which really do look good enough to eat, plus pretty flowers which can be worn as brooches or hair decorations and cute decorations for the Christmas tree. You'll also learn how to crochet miniature beads so you can make your own jewellery. As well as 35 easy-to-follow patterns, there is a comprehensive basic techniques section which will help beginners to master the art of crochet. This book really does prove that all good things come in small packages!
Sklep: Libristo.pl 3,10 zł
Książki & Multimedia > Książki
Nazwa - Temperówka kum z pojemnikiem fluorescencyjna 210K Fish Wydawca - KUM Kod ISBN - 4064900016314 Kod EAN - 4064900016314 Podatek VAT - 23%
Sklep: InBook.pl 61,99 zł
Książki Obcojęzyczne>Angielskie>Fiction & related items>Modern & contemporary fiction (post c 1945)
On A Tiny Island Off The Coast Of Italy, Amedeo Esposito, A Foundling From Florence, Thinks He Has Found A Place Where, Finally, He Can Belong. Intrigued By A Building The Locals Believe To Be Cursed, Amedeo Restores The Crumbling Walls, Replaces Doors And Sweeps Floors Before Proudly Opening The Bar He Names The 'House At The Edge Of Night'.
Sklep: Gigant.pl 82,49 zł
Muzyka>Rock>Rock & Roll
1. Crudup, Arthur - That's All Right 2. Big Mama Thornton - Hound Dog 3. T-bone Walker - Party Girl 4. Ace, Johnny - Pledging My Love 5. Harris, Wynonie - Good Rockin' Tonight 6. Little Junior's Blue Flames - Mystery Train 7. Gant, Cecil - We're Gonna Rock 8. Moore, Wild Bill - Rock & Roll 9. Brown, Roy - Rockin' At Midnight 10. Preston, Jimmy - Rock The Joint 11. Turner, Big Joe - Shake Rattle & Roll 12. Ray, Laverne - Rock & Roll 13. Tiny Grimes / Hawkins, Screaming Jay - Why Do You 14. Hooker, John Lee - Shake Holler & Run 15. Parker, Jack The Bear - I Need You I Want You 16. T-bone Walker - Teenage Baby 17. Piano Red - Rockin' With Red 18. Bradshaw, Tiny - Train Kept A-rollin' 19. Charles, Ray - I Got A Woman 20. Wright, Billy - Hey Little Girl 21. Milburn, Amos - Let's Rock A While 22. Cooper, Dolly - I Wanna Know (What Cha Doin' Down 23. Fats Domino - The Fat Man 24. Lewis, Smiley - Bee's Boogie 25. Price, Lloyd - Lawdy Miss Clawdy 26. Mcghee, Stick - Drinkin' Wine Spo-dee-o-dee 27. Bartholomew, Dave - Country Girl 28. Williams, Paul - The Hucklebuck 29. Moore, Wild Bill - We're Gonna Rock We're Gonna Ro 101. Dominoes, The - 60 Minute Man 102. Clovers, The - Ting A Ling 103. Cadillacs, The - Gloria 104. Orioles, The - Hold Me! Squeeze Me! 105. Jewels, The - Hearts Of Stone 106. Five Keys, The - Mama (Your Daughter Told A Lie On 107. Rainbows, The - Mary Lee 108. Du-droppers, The - Can't Do Sixty No More 109. Dundees, The - Never 110. Ravens, The - Rock Me All Night Long 111. Drifters, The - Such A Night 112. Rivileers, The - A Thousand Stars 113. Five Keys, The - Ling Ting Tong 114. Penguins, The - Earth Angel 115. Clovers, The - One Mint Julep 116. Teardrops, The - Ooh Baby 117. Drifters, The - Honey Love 118. Lester, Bobby / Moonlights, The - Shoo Doo Be Doo 119. Crows, The - No Help Wanted 120. Clovers, The - Fool Fool Fool 121. Eagles, The - Tryin To Get To You 122. El Dorados, The - My Loving Baby 123. Spaniels, The - Bounce 124. Midnighters, The - Sexy Ways 125. Du-droppers, The - Boot 'Em Up 126. Drifters, The - Bip Bam 127. Swallows, The - Roll Roll Pretty Baby 128. Cardinals, The - She Rocks 129. Clovers, The - Lovey Dovey 201. Williams, Hank - Move It On Over 202. Snow, Hank - I'm Movin' On 203. Hardrock Gunter - Birmingham Bounce 204. Foley, Red - Tennessee Saturday Night 205. Horton, Johnny - Tennessee Jive 206. Gordon, Curtis - Rompin' & Stompin' 207. Adams, Charlie - Tt Boogie 208. Murphy, Chuck - Blue Ribbon Boogie 209. Guthrie, Jack - Oakie Boogie 210. Swan, Jimmy - Juke Joint Mama 211. Shibley, Arkie - Hot Rod Race 212. Dolan, Jimmy - Hot Rod Mama 213. Carlisles - Too Old To Cut The Mustard 214. Raney, Wayne - I Ain't Nothin' But A Tom Cat's Kit 215. Wills, Johnnie Lee - The Band's A-rockin' 216. Freeman, Porky - Slick Chick Boogie 217. Monroe, Bill - White House Blues 218. Moore, Lattie - Juke Joint Johnny 219. Maddox Bros & Rose - Sally Let Your Bangs Hang Dow 220. Garland, Hank & His Sugar Footers - Sugarfoot Rag 221. Smith, Arthur Guitar - Guitar Boogie 222. Atkins, Chet - The Nashville Jump 223. Bryant, Jimmy / Speedy West - Stratosphere 224. Fell, Terry - Don't Drop It 225. Moon Mullican - Good Deal Lucille 226. Hobbs, Bud - Louisiana Swing 227. Travis, Merle - Louisiana Boogie 228. Bonds, Lee - Wild Cattin' Woman 229. Gay, Betsy - Hound Dog 230. Ely, Brother Claude - Working On The Building 301. Brenston, Jackie - Rocket 88 302. Treniers, The - Rockin' Is Our Bizness 303. Midnighters, The - Work With Me Annie 304. Crows, The - Gee 305. Chords, The - Sh-boom 306. Willy & Ruth - Love Me 307. Robins, The - Riot In Cell Block No.9 308. Haley, Bill - Crazy Man Crazy 309. Fats Domino - Please Don't Leave Me 310. Cavallo, Jimmy - Rock The Joint 311. Moore, Merrill E. - The House Of Blue Lights 312. Hardrock Gunter - Gonna Dance All Night 313. Grayzell, Rudy - There's Gonna Be A Ball 314. Presley, Elvis - Blue Moon Of Kentucky 315. Logsdon, Jimmie - My Sweet French Baby 316. Dickerson, Dub - My Gal Gertie 317. Haley, Bill - Real Rock Drive 318. Charlie & Ray - I Love You Madly 319. Haley, Bill - Shake Rattle & Roll 320. Drifters, The - Money Honey 321. Lewis, Smiley - Blue Monday 322. Baker, Laverne - Tweedle Dee 323. Brown, Ruth - Teardrops From My Eyes 324. Paul, Bunny - Such A Night 325. Treniers, The - Rock A Beatin' Boogie 326. Adams, Faye - Shake A Hand 327. Turner, Big Joe - Honey Hush 328. Brown, Ruth - Mama He Treats Your Daughter Mean 329. Presley, Elvis - That's All Right 330. Haley, Bill - Rock Around The Clock
Sklep: Gigant.pl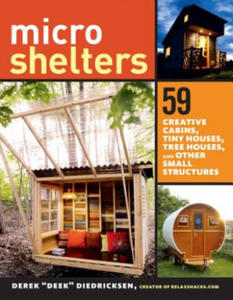 69,95 zł
Książki / Literatura obcojęzyczna
If you dream of living in a tiny house, or creating a getaway in the backwoods or your backyard, you'll love this gorgeous collection of creative and inspiring ideas for tiny houses, cabins, forts, studios, and other microshelters. Created by a wide array of builders and designers around the United States and beyond, these 59 unique and innovative structures show you the limits of what is possible. Each is displayed in full-color photographs accompanied by commentary by the author. In addition, Diedricksen includes six sets of building plans by leading designers to help you get started on a microshelter of your own. You'll also find guidelines on building with recycled and salvaged materials, plus techniques for making your small space comfortable and easy to inhabit.
Sklep: Libristo.pl 47,85 zł
Książki & Multimedia > Książki
Opis - Książka powstała na podstawie projektu badawczego obejmującego wywiady z właścicielami, twórcami i prezesami firm, które w ostatnich dwudziestu latach odniosły spektakularny sukces. Omówiono w niej elementy nowego, efektywnego podejścia do biznesu, które odpowiada współczesnym uwarunkowaniom biznesowym. Analizie poddano kilkanaście polskich firm, z którymi autor miał okazję się zetknąć jako osoba bezpośrednio zaangażowana w zarządzanie (GK Redan SA, questus, questuspoint), jako doradca (mBank, Multibank, Tubądzin, Aflofarm, LOTOS, Stowarzyszenie Wiosna), lub jako analityk biznesowy (RMF FM, Sphinx, Dr Irena Eris, Atlas, Monnari, onet.pl, Kolporter, NK.pl). Propozycja nowego paradygmatu biznesu była także weryfikowana podczas współpracy szkoleniowo-konsultacyjnej z firmami międzynarodowymi, takimi jak Unilever, Abbott, Microsoft czy HP. "Książka Roberta Kozielskiego, choć inspirowana historią mBanku, daleko wykracza poza ten temat, przedstawiając czytelnikowi paradygmaty firmy XXI wieku. Kto nie chce pozostać w tyle, niech ją przeczyta". Prof. dr hab. Andrzej Blikle, A. Blikle "Czterolistna koniczyna, która stanowi symbol nowego paradygmatu w biznesie, jest zarazem drogowskazem dla praktyków. Książka inspiruje do poszukiwania niekonwencjonalnych rozwiązań problemów biznesowych. Liczne przykłady nie tylko ilustrują przyjęte tezy, ale czynią jej lekturę przyjemną, a niekiedy frapującą". Prof. dr hab. Czesław Sikorski, Uniwersytet Łódzki "Teza, że świat się zmienia, jest truizmem. Jednak mało kto zdaje sobie sprawę z tego, jak bardzo i ja k szybko zmienia się świat biznesu. Przecież zawsze organizowano produkcję czy handel. Nic więc, zasadniczo, się nie zmieniło. Książka Roberta Kozielskiego pokazuje, że... zmieniło się niemal wszystko. Nie wiem, czy autor zdoła przekonać czytelników, że dziś sens ma jedynie "pełna, spójna koncepcja prowadzenia biznesu, w której zarządza się nie ludźmi i materiałami, ale wiedzą, rynkami i procesami". (Ludzi trudno jest bowiem przekonać do rewolucji). Mam wszakże nadzieję, że przynajmniej zachęci ich do refleksji". Prof. dr hab. Dariusz Doliński, Szkoła Wyższa Psychologii Społecznej w Warszawie, Wydział Zamiejscowy we Wrocławiu "Książka jest źródłem nieocenionej wiedzy dla każdego ambitnego menedżera, który stara się wyjść poza utarte schematy myślenia i działania. Autor, który oprócz kariery akademickiej ma za sobą wiele doświadczeń biznesowych, prezentuje najważniejsze wyzwania biznesu przyszłości. Nowy paradygmat biznesu jest naszą rzeczywistością. Ci, którzy to zrozumieją i przyjmą jako własny sposób działania, mają szansę na sukces. Książka doskonale to ilustruje". Sławomir Lachowski, twórca mBanku i Multibanku "Od wielu lat poszukujemy odpowiedzi na pytanie, jak odnieść sukces w biznesie. Książka Roberta Kozielskiego wpisuje się w nurt tych poszukiwań. Autor przedstawia w niej oryginalną koncepcję czterolistnej koniczyny, tworzącą nowy paradygmat biznesu. Każdy menedżer, który szuka odpowiedzi na pytanie o źródła sukcesu, powinien przeczytać tę książkę". dr hab. Grzegorz Karasiewicz, prof. Uniwersytetu Warszawskiego Nazwa - Biznes nowych możliwości Autor - Robert Kozielski Oprawa - Twarda Wydawca - Gab Kod ISBN - 9788363391201 Kod EAN - 9788363391201 Rok wydania - 2017 Język - polski Format - 24.6x17.2 Ilość stron - 212 Podatek VAT - 5%
Sklep: InBook.pl 117,42 zł
Książki / Literatura obcojęzyczna
Interior designers are increasingly faced with the challenge of designing within small spaces. This compilation of projects from around the world pays special attention to the particular features of each space, the end result being determined by the pre-existing features and thus creating the optimum living experience. The property's location within the city, the building's architectural characteristics, its structure and the lighting and ventilation conditions are points of departure for the interior designer. 27 homes are presented here, some genuinely tiny while others are more accurately described as spatially constrained. Inventive examples abound, such as the Layer House (split into three levels), the Locher Apartment structured around four tree trunks and Tavola, the Japanese house on stilts. All the houses contribute to exploring the fundamental tools for understanding how architects, designers and owners of small apartments approach a project involving minimal living space.
Sklep: Libristo.pl 83,08 zł
Książki / Literatura obcojęzyczna
In 1756, Anna Amalia, the nineteen-year-old princess of the House of Brunswick was married to Constantine, the young duke of the minor duchy of Saxe-Weimar-Eisenach. She bore Constantine two sons, but only three years after their marriage he died, leaving the young and inexperienced girl as regent. Anna Amalia battled against court intrigues and financial pressures, but succeeded in holding the estates together for her eldest son, Karl August. Through times of famine and distress she succeeded in building a centre of culture and of excellence, encouraging men of letters and learning to her tiny court. In 1775 Wolfgang Goethe joined the circle at Weimar, brought about through his friendship with the young Karl August, Anna's son, recently become the reigning duke. Goethe soon entered into the dowager duchess's literary circle and through their combined efforts, Weimar became a beacon of culture and one of the leading centres of the sentimentalist movement that became renowned throughout Europe as a literary and artistic grouping that emerged in response to the crisis of Enlightenment rationalism. In Weimar it took the form of Sturm und Drang, [storm and stress] which was intimately associated Goethe and Schiller. While a student at Strasbourg, Goethe had made the acquaintance of Johann Gottfried von Herder, another of Anna Amalia's Weimar coterie, famous for his novel Die Leiden des jungen Werthers (1774); [The Sorrows of Young Werther], which epitomized the spirit of the movement, and which made him world famous, inspiring a host of imitators. Through the crisis of wars Anna's circle held together - even through Napoleon's unwelcome entrance to Weimar in 1806. Anna finally bowed to the world in the following year, after reigning supreme as Germany's cultural ambassadress for a period of more than thirty years.
Sklep: Libristo.pl 195,44 zł
Książki / Literatura obcojęzyczna
"An inspiring international collection of innovative residential designs." The 200 houses showcased in this book spotlight the astounding variety seen in new residential architecture. This collection of contemporary homes comes from North America, South America, Europe, Australia/New Zealand, Asia and Africa. Some homes incorporate an intense dedication to cultural traditions, while others are on the edge of new trends. All share the need of providing shelter. The diversity in this global inventory is vast: seaside, energy efficient, hilltop, geometrically shaped, tiny, narrow, inventive extensions, traditional materials, prefab, in-ground, slope-side, elevated, floating. Some of the distinct locations included are Oregon's rugged coastline, Australia's scorching interior, South America's mountainside cities, Finland's wintry forests, Indonesia's steamy beaches, inner city neighborhoods, outlying suburbs and rural locales. A great many of the designs respond to extremely challenging building sites with solutions that are nothing short of brilliant. Concise descriptions of each home include key features, along with floor plans and photographs showing interiors, exteriors and details. Each house is identified by name, location, year built and square footage as well as information on the architect. Profiles of 20 of the world's most creative architectural firms provide depth and background to the portfolio of designs.
Sklep: Libristo.pl
Sklepy zlokalizowane w miastach: Warszawa, Kraków, Łódź, Wrocław, Poznań, Gdańsk, Szczecin, Bydgoszcz, Lublin, Katowice
Szukaj w sklepach lub całym serwisie
2. Szukaj na wszystkich stronach serwisu
t1=0.049, t2=0, t3=0, t4=-0.985, t=0.049