krainaksiazek tracks second edition 20096860
- znaleziono 9 produktów w 1 sklepie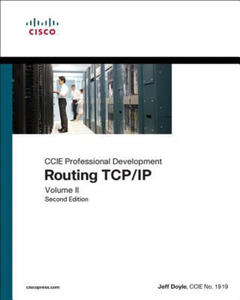 461,81 zł
Książki / Literatura obcojęzyczna
Praised in its first edition for its approachable style and wealth of information, this new edition provides readers a deep understanding of exterior routing protocols, teaches how to implement them using Cisco routers, and brings readers up-to-date on the latest enhancements and advanced IP routing issues. Routing TCP/IP, Volume II, Second Edition covers TCP connections, message states, path attributes, interior routing protocol interoperation, neighbor connections, and much more. The authors present crucial knowledge for every professional who wants to manage routers to support network growth and change. The routing and switching techniques they cover are fundamental to all modern networks, and form the foundation of all CCIE tracks - making this book an outstanding resource for those seeking to earn Cisco's elite CCIE credential. While this book's "practical" aspects focus on Cisco's IOS, the authors illuminate concepts and issues that apply to any routing platform - making this a superb general reference for network professionals in any environment.
Sklep: Libristo.pl 67,09 zł
Książki / Literatura obcojęzyczna
Source: Wikipedia. Commentary (music and lyrics not included). Pages: 32. Chapters: Jethro Tull compilation albums, Jethro Tull live albums, Jethro Tull video albums, Aqualung, Thick as a Brick, A Passion Play, Too Old to Rock 'n' Roll: Too Young to Die!, Heavy Horses, Repeat - The Best of Jethro Tull - Vol II, Living in the Past, This Was, 20 Years of Jethro Tull, The Broadsword and the Beast, Stand Up, The Jethro Tull Christmas Album, Rock Island, The Best of Jethro Tull - The Anniversary Collection, War Child, Nightcap, Minstrel in the Gallery, Crest of a Knave, Stormwatch, Benefit, 25th Anniversary Box Set, Bursting Out, Songs from the Wood, Nothing Is Easy: Live at the Isle of Wight 1970, A Little Light Music, Under Wraps, M.U. - The Best of Jethro Tull, Slipstream, Live at Madison Square Garden 1978, Living with the Past, Roots to Branches, Catfish Rising, Live at the House of Blues, Aqualung Live, J-Tull Dot Com, A New Day Yesterday, 20 Years of Jethro Tull: Highlights, Original Masters, Live at Hammersmith '84, The Very Best of Jethro Tull, Live at Montreux 2003, Jack in the Green: Live in Germany 1970-1993, A Classic Case, Essential, The Best of Acoustic Jethro Tull, Through the Years, In Concert. Excerpt: Aqualung is the fourth studio album by the rock band Jethro Tull, released in 1971. It was their first album with John Evan as a full-time member, their first with new bassist Jeffrey Hammond and last album featuring Clive Bunker on drums. Aqualung has sold over 15 million units worldwide according to Ian Anderson, and is thus Jethro Tull's best selling album. In 2003, the album was ranked number 337 on Rolling Stone magazine's list of the 500 greatest albums of all time. In the Q & Mojo Classic Special Edition Pink Floyd & The Story of Prog Rock, the album came #7 in its list of "40 Cosmic Rock Albums". The album was one of the first to be recorded at the newly opened studios of Island Records in Basing Street, London. Led Zeppelin were mixing their untitled fourth album at the same time. In an interview on the 25th anniversary edition of the album, Tull's bandleader Ian Anderson said that trying to record in their studio was very difficult, due to its "horrible, cold, echoey" feel. There were two recording studios at the location; Led Zeppelin worked in the smaller studio while Tull got the larger, which was the main body of a converted church. The orchestrals were arranged by David Palmer, who had worked with the band since This Was, and would later join as a keyboard player. In a stylistic departure from Jethro Tull's earlier albums, many of Aqualung's songs are primarily acoustic. "Cheap Day Return", "Wond'ring Aloud" and "Slipstream" are short, completely acoustic "bridges," and "Mother Goose" is also mostly acoustic. Anderson claims his main inspirations for writing the album were Roy Harper and Bert Jansch. The first side of the LP, titled Aqualung, contains several character sketches, including the eponymous tramp of the title track, and the schoolgirl prostitute Cross-Eyed Mary, as well as two autobiographical tracks; including "Cheap Day Return," written by Ian Anderson after a visit to his critically ill father. The second side, titled My God, contains t
Sklep: Libristo.pl 229,77 zł
Książki / Literatura obcojęzyczna
Notable anthropologist George Foster defined the first edition as "a very readable introductory text dealing with the sociocultural aspects of health," adding: "[T]he authors do a commendable job...I have profited from reading The Cultural Context of Health, Illness, and Medicine". With engaging examples, minimal jargon, and updated scholarship, the second edition of The Cultural Context of Health, Illness, and Medicine offers a comprehensive guide to the practice of culturally sensitive health care. Readers will see America's biomedically dominated health care system in a new light as the book reveals the changes wrought by increasing cultural diversity, technological innovation, and developments in care delivery. Written by a sociologist and an anthropologist with direct, hands-on experience in the health services, the volume tracks culture's influence on and relationship to health, illness, and health-care delivery via an examination of social structure, medical systems, and the need for-and challenges to-culturally sensitive care. Cultural differences are situated against social-class differences and related health inequities, as well as different needs and challenges throughout the life course. In prescribing caring that is more holistic, culturally sensitive, and cost-effective, the work promotes awareness of pressing issues for health care professionals-and the people they serve.
Sklep: Libristo.pl 185,80 zł
Książki / Literatura obcojęzyczna
Please note that the content of this book primarily consists of articles available from Wikipedia or other free sources online. Giusy Ferreri (born Giuseppa Gaetana Ferreri on 18 April 1979 in Palermo, Italy) is an Italian singer-songwriter. In 2008 Giusy took part at the first Italian edition of the talent show X Factor, in which she came second. Her vocal qualities have been compared to Nina Simone, Bessie Smith, Amy Winehouse and Adele. Between 2008 and 2009, Ferreri sold 900,000 copies of her first EP and debut album. In June 2008 Sony BMG Italy released the debut EP by Ferreri, which includes her first single "Non ti Scordar mai di me" written by Italian pop singer Tiziano Ferro, and five covers of classic songs from the 60s 70s. The single held the number one position of the Italian singles chart for an impressive fifteen consecutive weeks, becoming one of the most successful tracks ever on that chart.
Sklep: Libristo.pl 113,50 zł
Książki / Literatura obcojęzyczna
In recent years, karting has grown significantly as an accessible, affordable introduction to motorsport with the emergence of indoor karting tracks across Europe, and many first-time karters are sufficiently stirred by the experience to want to progress further. Now in its second edition, this comprehensive practical book covers all the fundamentals of kart racing, catering for the complete novice yet sufficiently detailed to benefit those racing at club level.
Sklep: Libristo.pl 145,09 zł
Książki / Literatura obcojęzyczna
Leo Yankevich is one of the leading poets of our time. Journey Late at Night: Poems and Translations is the largest collection of his works to date. The volume begins with 135 original poems which span four decades of creativity and touch upon existential, metaphysical, historical, and political themes, revealing astonishing versatility and great breadth of mind. Reminding us that great poets are also great translators, Yankevich concludes the volume with 18 renditions from German, Russian, and Polish of works by some of Europe's finest 19th and 20th century poets, including Rainer Maria Rilke, Gottfried Benn, Georg Trakl, Mikhail Lermontov, Alexander Blok, and Adam Mickiewicz. "The poems of Leo Yankevich are dour, Slavic, and wine dark. Clear, cultured, and concise, he places his clarity like emphasis in a painting, calling to mind a deep forest where the occasional ray of sun breaks through. Strangely, his pessimism and religious fervor don't conflict, but seem to complement the whole. A formalist and yet a mystic, he knows his forms so well he can play with them, accelerating or lessening his speed to suit the syllables. I believe Leo Yankevich to be one of the best poets of the past hundred years." -Sally Cook "Leo Yankevich looks with a hard eye on time, on God, on man. His voice is rich and deep. His verse is well-measured. No one is spared his hard and level gaze, not even himself." -Michael Curtis "When it comes to politics, Leo Yankevich and I probably disagree in many ways. When it comes to poetry, I'm one of his biggest fans. As demonstrated by this welcome collection, his work is spot on - direct, clear, evocative. And powerful. Many of these poems will stop you in your tracks. His translations are masterful, too. It's great to see this richness brought together in one volume!" -Jared Carter ABOUT THE AUTHOR Leo Yankevich was born into a family of Roman Catholic Irish-Polish immigrants on October 30, 1961. He grew up and attended high school in Farrell, Pennsylvania, a small steel town in the Rust Belt of Middle America. He then studied History and Polish at Alliance College, Cambridge Springs, Penn., receiving a BA in 1984. Later that year he travelled to Poland on a fellowship to study at the centuries-old Jagiellonian University in Krakow. A staunch anticommunist, he played an active role in the dissident movement in that country. He was arrested and beaten badly on a few occasions by the communist security forces. After the fall of the Iron Curtain in 1989, he decided to settle permanently in Poland. Since that time he has lived in Gliwice (Gleiwitz), an industrial city in Upper Silesia. His books include The Unfinished Crusade, The Last Silesian, Tikkun Olam (second edition, Counter-Currens, 2012), The Language of Birds, Grief's Herbs (after Stanislaw Grochowiak), The Gnosis of Gnomes, Epistle from the Dark, and The Golem of Gleiwitz.
Sklep: Libristo.pl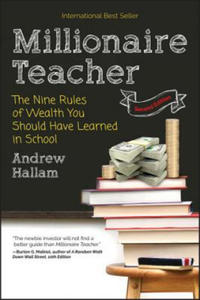 84,03 zł
Książki / Literatura obcojęzyczna
Adopt the investment strategy that turned a school teacher into a millionaire Millionaire Teacher shows you how to achieve financial independence through smart investing -- without being a financial wizard. Author Andrew Hallam was a high school English teacher. He became a debt-free millionaire by following a few simple rules. In this book, he teaches you the financial fundamentals you need to follow in his tracks. You can spend just an hour per year on your investments, never think about the stock market's direction -- and still beat most professional investors. It's not about get-rich-quick schemes or trendy investment products peddled by an ever-widening, self-serving industry; it's about your money and your future. This new second edition features updated discussion on passive investing, studies on dollar cost averaging versus lump sum investing, and a detailed segment on RoboAdvisors for Americans, Canadians, Australians, Singaporeans and British investors. Financial literacy is rarely taught in schools. Were you shortchanged by your education system? This book is your solution, teaching you the ABCs of finance to help you build wealth. * Gain the financial literacy to make smart investment decisions * Learn why you should invest in index funds * Find out how to find the right kind of financial advisor * Avoid scams and flash-in-the-pan trends Millionaire Teacher shows how to build a strong financial future today.
Sklep: Libristo.pl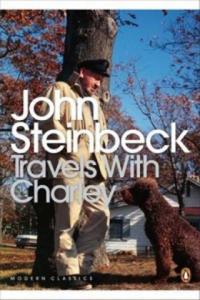 43,15 zł
Książki / Literatura obcojęzyczna
In 1960, John Steinbeck set out to rediscover and document his native land; accompanied only by his dog, he travelled all across the United States in a pick-up truck. This "Penguin Classics" edition of "Travels with Charley" includes an introduction by Jay Parini. When he was almost sixty years old, worried that he might have lost touch with the sights, the sounds and the essence of America's people, Steinbeck took note of his itchy feet and prepared to travel. He was accompanied by his French poodle, Charley, diplomat and watchdog, across the states of America from Maine to California. Moving through the woods and deserts, dirt tracks and highways to large cities and glorious wildernesses, Steinbeck observed - with remarkable honesty and insight, with a humorous and sometimes sceptical eye - America, and the Americans who inhabited it. What he saw was a lonely, generous nation too packed with individuals for single judgements; what he saw made him proud, angry, sympathetic and elated. His vision of how the world was changing still speaks to us prophetically through the decades. John Steinbeck (1902-68), winner of the Pulitzer Prize and the Nobel Prize for literature, is remembered as one of the greatest and best-loved American writers of the twentieth century. During the Second World War Steinbeck served as a war correspondent, his journalism later collected in "Once There Was a War" (1958), and he was awarded the Norwegian Cross of Freedom for his portrayal in "The Moon is Down" (1942) of Resistance efforts in northern Europe. His best-known works include the epics "The Grapes of Wrath" (1939) and "East of Eden" (1952), and his tragic novella "Of Mice and Men" (1937). John Steinbeck's complete works are published in "Penguin Modern Classics". If you enjoyed "Travels with Charley", you might like "Cannery Row", also available in "Penguin Modern Classics". "Pure delight, a pungent potpourri of places and people". ("The New York Times Book Review").
Sklep: Libristo.pl 161,86 zł
Książki / Literatura obcojęzyczna
High Quality Content by WIKIPEDIA articles! End of Innocence is the second official DVD release of the Finnish symphonic power metal quintet Nightwish. The DVD features numerous clips of the band performing livetracks, including a recording of the band performing one of their first songs; "Beauty and the Beast", with bassist Marco Hietala performing the male vocal part. (In the past this part was performed by Tuomas Holopainen or Tony Kakko from Sonata Arctica). However, unlike most music DVDs, the main portion of the disc is dedicated to the End of Innocence Documentary, which involves a long interview with Tuomas Holopainen (Keyboards), Jukka Nevalainen (Drums) and Tapio Wilska (Guest musician and friend of the band, also ex-vocalist of Finntroll), as well as several short clips of the band performing, playing pranks on support bands, recording in the studio and generally having fun. The limited edition also includes a live CD, called Live at Summer Breeze 2002, which included the tracks "End of All Hope", "Dead to the World", "10th Man Down", "Slaying the Dreamer", "Over the Hills and Far Away", "Sleeping Sun", "The Kinslayer" and "Come Cover Me".
Sklep: Libristo.pl
Sklepy zlokalizowane w miastach: Warszawa, Kraków, Łódź, Wrocław, Poznań, Gdańsk, Szczecin, Bydgoszcz, Lublin, Katowice
Szukaj w sklepach lub całym serwisie
2. Szukaj na wszystkich stronach serwisu
t1=0.066, t2=0, t3=0, t4=0, t=0.066