krainaksiazek transforming your body image a journey to loving your body 20053703
- znaleziono 10 produkty w 4 sklepach 86,74 zł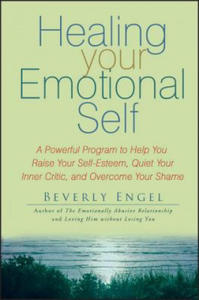 73,52 zł
Książki / Literatura obcojęzyczna
Healing Your Emotional Self "Emotionally abusive parents are indeed toxic parents, and they cause significant damage to their children's self-esteem, self-image, and body image. In this remarkable book, Beverly Engel shares her powerful Mirror Therapy program for helping adult survivors to overcome their shame and self-criticism, become more compassionate and accepting of themselves, and create a more posititve self-image. I strongly recommend it for anyone who was abused or neglected as a child." --Susan Forward, Ph.D., author of Toxic Parents "In this book, Beverly Engel documents the wide range of psychological abuses that so many children experience in growing up. Her case examples and personal accounts are poignant and powerful reminders that as adults, many of us are still limited by the defenses we formed when trying to protect ourselves in the face of the painful circumstances we found ourselves in as children. Engle's insightful questionnaires and exercises provide concrete help in the healing process, and her writing style is lively and engaging. This book is destined to positively affect many lives." --Joyce Catlett, M.A., coauthor of Fear of Intimacy The Emotionally Abusive Relationship "Beverly Engel clearly and with caring offers step-by-step strategies to stop emotional abuse . ..helping both victims and abusers to identify the patterns of this painful and traumatic type of abuse." --Marti Tamm Loring, Ph.D., author of Emotional Abuse Loving Him without Losing You "A powerful and practical guide to relationships that every woman should read." --Barbara De Angelis, Ph.D., author of Are You the One for Me?
Sklep: Libristo.pl 76,00 zł
Książki / Literatura obcojęzyczna
Offering mighty insights on everything from whipping negativity into submission to breaking the bondage of bad self-body image, The Little Vanilla Book gives you the tools you need to awaken the heroine deep inside and open your life to a scintillating new world of self discovery. Within the pages of this loving and bawdy exploration of all things you, former dominatrix Lux Alani uses her personal experiences and research to uncover the surprising truth that some of the primary lessons and practices found in the world of kink aren't just for the kinksters-with the right mindset they're for you too. But wait! If you're nervous that you'll need to buy a paddle and latex catsuit to get your transformation on, don't worry! This isn't about getting into the kink scene or practicing BDSM. Looking at five key aspects of every woman's life: authenticity, confidence, body image, resilience, and fear, The Little Vanilla Book is truly about taking a unique journey to self-love and empowerment-one that shows you how to unchain your courage, reclaim your awesome self, and live your truth with gusto.
Sklep: Libristo.pl 45,80 zł
Nauki humanistyczne
Alain de Botton, best-selling author of How Proust can Change Your Life, has set six of the finest minds in the history of philosophy to work on the problems of everyday life. Here then are Socrates, Epicurus, Seneca, Montaigne, Schopenhauer and Nietzsche on some of the things that bother us all; lack of money, the pain of love, inadequacy, anxiety, the fear of failure and the pressure to conform.
Sklep: Albertus.pl 46,98 zł
Książki / Literatura obcojęzyczna
Straw into Gold Illness, Loss, and Hardship as a Path to Inner Peace Diane LaRae Bodach This book is a journey about being human, about opening to life in whatever form it takes and extending loving kindness to oneself and others no matter what. It tells the story of many who have endured great physical and emotional losses in the form of chronic illness, pain and disability as well as through relationships and identities that, once held dear, are stripped away. Diane LaRae Bodach is brutally honest, yet wholly compassionate, in her self-examination, and in the telling of her spiritual and physical journey through life, including chronic illness, cancer, and impending death. Her experiences and wisdom, her willingness to be with life and self exactly as they are, and to open to all that comes her way -- no matter how difficult -- can benefit us all. Although this book journeys through intense pain and loss, the ultimate teaching is that whoever you are, and no matter what life presents, love, compassion and joy are always possible; suffering is optional. ISBN: 978-1-57733-223-7 Endorsements "A beautifully written, searingly honest, and profoundly moving account of one woman's journey through chronic illness and suffering, and the life lessons she learned." Jim Dreaver, author of End Your Story, Begin Your Life "I had the unique privilege of working closely with Diane during the last year of her life as part of her integrative health care team. Diane was a gifted writer and poet, an out-of-the-box spirit who would come in for her vitamin infusion dressed in a long blue wig with wild sunglasses. She never lost her sense of humor throughout the ravages of dealing with chronic illness and then cancer. In her last month of life, she presided over her 'living' wake, a wild and wonderful dress-up party outdoors, with Diane in her bed on the throne under the spreading oak tree. Her unique talents make her story not only touching, but exquisitely and subtly expressed. During her last days, we took turns reading to her aloud to put the final touches on her editing, with many tears of sadness and joy being shed. This book is a treasure." Elaine Weil, Nurse Practitioner, Amitabha Medical Clinic and Healing Center, Sebastopol, CA "Many years of illness and pain prepared Diane for her last adventure with friends to the Sonoma Coast. Propped up on many pillows and blankets she ate dark chocolate and ripe raspberries while singing 'Give yourself to Love' and experienced the total joy we shared with her so often throughout her dying process." Tom Meyskens, lover of spoken poetry, fellow Love Choir member and friend "Diane fully engaged in her life and her death. She didn't want to miss anything. Though debilitated, weak, and living with chronic pain, she traveled with us to Mexico and went on by herself to another retreat, sending us home with a suitcase of homeopathic drugs and other heavy items. She camped, canoed, and attended musical festivals during her last throws with cancer with a 'little' help from her friends. At her request, we have spread her ashes in beautiful places where the people she loves go and can be with her. She was a great teacher. She shared her joy and her tears, her life and her death with grace, honesty, and openness. Straw into Gold shares Diane's amazing journey and imparts the wisdom of a woman who inspired many with the way she moved beyond illness, hardship, and dying to embrace love and life." Linda Mollenhauer-Meyskens, Life coach and close friend
Sklep: Libristo.pl 303,99 zł
Muzyka>Rhythm & Blues / Soul
1. The Players Association - The Get-down Mellow Sound 2. Angela Bofill - Is This A Dream 3. Kashif - Don't Stop My Love 4. Gary Taylor - Just What I Have In Mind 5. Central Line - Walking Into Sunshine 6. Crown Heights Affair - Think Positive 7. Glenn Jones - Finesse 8. Champaign - Off And On Love 9. Twin Image - Love Lesson 10. Vernon Burch - Do It To Me 11. Enchantment - Somebodyas Loving You 12. Ellie Hope - Lucky 101. Debarge - You Wear It Well 102. Breakwater - Let Love In 103. Midnight Star - Two In Love 104. Fat Larry's Band - Be My Lady 105. Nick Straker Band - We Can Still Be Friends 106. Michael Henderson - You Wouldn+t Have To Work At All 107. Mcb - I'm The One, You're The One 108. Rhyze - Rhyze To The Top 109. Mc Fadden And Whitehead - One More Time 110. Pagoda - Finders Keepers 111. Alfonzo - Don't Stop This Feeling 112. First Circle - In The Name Of Love 201. After Bach - Wanna Fill You Up 202. Young & Company - I Like (What Youare Doing To Me) 203. Jerry Knight - Fire 204. Aurra - Live And Let Live 205. Cashmere - Light Of Love 206. Shakatak With Al Jarreau 207. The Reddings - Back To The Basics (With Our Love) 208. Carl Carlton - Sexy Lady 209. Alvin Fields - Lucky Number Seven 210. Amuzement Park - So Inspired 211. Lillo Thomas - Your Loveas Got A Hold On Me 212. Full Force - Turn You On 301. Alphonse Mouzon - I'm Glad That Youare Here 302. B.t. Express - This Must Be The Night For Love 303. Bloodstone - My Love Grows Stronger 304. Chew - Tell Me You Love Me 305. Chocolate Milk - Who's Getting It Now 306. Leprechaun - Loc It Up 307. Gene Dunlap - Love Dancin' 308. Jr. Tucker - Too Young To Fall In Love 309. Plush - Free And Easy 310. Skool Boyz - I Don't Want Nobody Else (One Woman Man) 311. Controllers - Got A Thang 312. Paul Laurence - Strung Out 401. Carol Douglas - My Simple Heart 402. Muscle Shoals Horns - Don't Bust Yo' Bubbles 403. Bobby Nunn - Sexy Sassy 404. Champaign - Can You Find The Time 405. Band Aka - Joy 406. Clarence Mann - Show Me Girl 407. Lonnie Liston Smith - Never Too Late 408. The Jammers - What Have You Got To Lose 409. The Stone City Band - Ladies Choice 410. Forecast - Happy Days (Hip Hip Hooray) 411. Lew Kirton - Don't Wanna Wait 412. Scott White - Hypnotized 501. The Blackbyrds - Don't Know What To Say 502. The Players Association - We Got The Groove 503. Tom Browne - Let's Dance 504. Alvin Fields - Special Delivery 505. Shine - Don't Stop 506. The Bar-kays - You Made A Change In My Life 507. Kool & The Gang - Let's Go Dancin' (Ooh, La, La, La) Re-mix 508. Lamont Dozier - Shout About It 509. Moses Tyson - Stomp 510. O'jays - Summer Fling 511. 52nd Street - I Can't Let You Go 512. Steven Dante - Love Follows 601. Johnny Guitar Watson - I Miss Your Kiss 602. David Joseph - Joys Of Life 603. Crown Heights Affair - Somebody Tell Me What To Do 604. Marz - Move It , Groove It 605. Harry Ray - Love Is A Game 606. J.m.t. Band - Just Your Love 607. Patrick Boothe - Dance All Night 608. The Chi-lites - Changing For You 609. Sun - Legs (Bring The Wolf Out Of Me) 610. Junior - Stone Lover 611. Rockie Robbins - Goodbyes Don't Last Forever 612. Tease - Tingle 701. The Sylvers - Reach Out 702. Lew Kirton - Just Can't Get Enough 703. Bloodstone - Nite Time Fun 704. Kadenza - Let's Do It 705. Silver Platinum - Dance 706. Juicy - Don't Cha Wanna 707. Rufus With Chaka Khan - Jigsaw 708. Lillo Thomas- Never Give You Up 709. Harold Melvin & The Blue Notes Feat. Sharon Paige - Tonight' 710. Precious Wilson - She Don't Really Wanna Know 711. Sos Band - The Finest (Extended Version) 712. Scott White - Love Emergency 801. The Jones Girls - Let's Celebrate (Sittin' On Top Of The Wor 802. Kc & The Sunshine Band - Party With Your Body 803. Tavares - Keep On 804. Thundder - Moove' Everything You've Got 805. Bill Summers & Summers Heat - Throw It Down, Shake Your Body 806. Goodie - Do Something 807. Con Funk Shun - If You're In Need Of Love 808. Raymun - Do You Feel Like I Feel 809. Billy Ocean - Dance With Me 810. Melba Moore - Underlove 811. Bobby Broom - Find Yourself 812. Luther Vandross - It's Over Now 901. Sho-nuff - It's Alright 902. Vernon Burch - Fun City 903. Gladys Knight & Pips - Baby, Baby Don't Waste My Time 904. Keni Burke - Hang Tight 905. Bobby Nunn - Get It While You Can 906. Denise Lasalle & Satisfaction - I'm Trippin' On You 907. Master Jam - Dancin' All Night 908. Sergio Mendes - Voo Doo 909. Merge - Take It To The Top 910. Billy Griffin - Don't Ask Me To Be Friends 911. T-connection - Anything Goes 912. The Controllers - My Secret Fantasy
Sklep: Gigant.pl 64,46 zł
Książki / Literatura obcojęzyczna
This title takes steps on a journey of 'self' discovery through the stages of: Self-Awareness, Self-Belief, Self-Image, Self-Esteem, Self-Acceptance, Self-Love, Self-Actualisation, Self-Integration, and Self-Renewal, creating your own Self Map along the way. Using a combination of words and images, your Self Map is designed to activate the whole-brain. Once completed it serves both as a conscious reminder about who you choose to become and a subconscious command to make it happen.By regularly meditating on your Self Map you can integrates your low-self ego with your high-Self spirit to become your True-Self; your natural and authentic real self, or to put it simply; be your Self. Because of their simplicity, depth and effectiveness, Self Mapping workshops are attended not only by groups of people who are interested in the interaction of mind/body/spirit, and are perhaps on a spiritual path, but are also in demand with the general public. They are also run as in-house workshops with large multinationals such as Microsoft and Siemens.
Sklep: Libristo.pl 116,72 zł
Książki / Literatura obcojęzyczna
International bestselling author Doreen Virtue is a doctor of psychology and lifelong clairvoyant who has written extensively about angels, psychic development and mind-body-spirit topics. Now three of her most popular books are collected in this single volume: In Angel Therapy, Doreen delivers the angelic realm's messages of comfort and guidance that can help you with troubling emotions such as depression, boredom, confusion and anger; and issues associated with careers, relationships, parenting and much more. Allow the angels' words to heal your thoughts and beliefs, transforming them into empowering and loving viewpoints. In Healing with the Angels, Doreen teaches esoteric and practical methods that can help you work more closely with your angels. You'll read transcripts of Doreen's angel-reading sessions and learn what the angels have to say about life after death, the future of our planet and finding your Divine purpose. Also included is an exploration of the fascinating world of elementals and nature angels, as well as powerful angel affirmations and prayers for healing and manifesting. Archangels & Ascended Masters is a thoroughly researched book in a lively encyclopedia format, listing 77 divinities from Greek, Roman, Egyptian, Asian, Babylonian, Tibetan, Buddhist, Celtic, Theosophical, New Age, Catholic, Cabalistic, Jewish and Christian roots. Doreen carefully studied and wrote about the history of each of the deities, what role they serve today, how they can help us with specific life problems and how to call upon each one. The Essential Doreen Virtue Collection is the perfect read for anyone who is looking to learn more about the angels and spirituality, as well as for those who want to finally have their favorite Doreen books together in one handy volume!
Sklep: Libristo.pl 63,80 zł
Książki / Literatura obcojęzyczna
Steve Biddulph's Raising Boys was a global phenomenon. The first book in a generation to look at boys' specific needs, parents loved its clarity and warm insights into their sons' inner world. But today, things have changed. It's girls that are in trouble. There has been a sudden and universal deterioration in girls' mental health, starting in primary school and devastating the teen years. Steve Biddulph's Raising Girls is both a guidebook and a call-to-arms for parents. The five key stages of girlhood are laid out so that you know exactly what matters at which age, and how to build strength and connectedness into your daughter from infancy onwards. Raising Girls is both fierce and tender in its mission to help girls more at every age. It's a book for parents who love their daughters deeply, whether they are newborns, teenagers, young women - or anywhere in between. Feeling secure, becoming an explorer, getting along with others, finding her soul, and becoming a woman - at last, there is a clear map of girls' minds that accepts no limitations, narrow roles or selling-out of your daughter's potential or uniqueness. All the hazards are signposted - bullying, eating disorders, body image and depression, social media harms and helps - as are concrete and simple measures for both mums and dads to help prevent their daughters from becoming victims. Parenthood is restored to an exciting journey, not one worry after another, as it's so often portrayed. Steve talks to the world's leading voices on girls' needs and makes their ideas clear and simple, adding his own humour and experience through stories that you will never forget. Even the illustrations, by Kimio Kubo, provide unique and moving glimpses into the inner lives of girls. Along with his fellow psychologists worldwide, Steve is angry at the exploitation and harm being done to girls today. With Raising Girls he strives to spark a movement to end the trashing of girlhood; equipping parents to deal with the modern world, and getting the media off the backs of our daughters. Raising Girls is powerful, practical and positive. Your heart, head and hands will be strengthened by its message.
Sklep: Libristo.pl 34,78 zł
Książki / Literatura obcojęzyczna
A collection of seventy-two poems written especially for girls ages twelve and up by the much-honored and beloved poet Naomi Shihab Nye. "A lovely, rich collection that promises to be a lasting companion for young writers."-School Library Journal (starred review) First love, friendship, school, family, community, having a crush, loving your mother and hating your mother, sense of self, body image, hopes and dreams ...these seventy-two poems by Naomi Shihab Nye-written expressly for this collection-will speak to girls of all ages. An honest, insightful, inspirational, and amazing collection. "A wide age range will respond to these deeply felt poems about everyday experiences, which encourage readers to lean eagerly into their lives and delight in its passages."-ALA Booklist (starred review). An introduction by the author is included.
Sklep: Libristo.pl
Sklepy zlokalizowane w miastach: Warszawa, Kraków, Łódź, Wrocław, Poznań, Gdańsk, Szczecin, Bydgoszcz, Lublin, Katowice
Szukaj w sklepach lub całym serwisie
2. Szukaj na wszystkich stronach serwisu
t1=0.05, t2=0, t3=0, t4=0.023, t=0.05