krainaksiazek treatment options for people with parkinson s disease 20093709
- znaleziono 12 produktów w 3 sklepach 95,35 zł
Książki / Literatura obcojęzyczna
All royalties of this book are donated to the Muhammad Ali Parkinson Center www.maprc.com Whether you're a newly diagnosed patient, or are a friend or relative of someone suffering from Parkinson Disease, this book offers help. Completely revised and updated, The Muhammad Ali Parkinson Center 100 Questions & Answers About Parkinson Disease, Second Edition is the only text available to provide both the doctor's and patient's views and gives you authoritative, practical answers to your questions about treatment options, quality of life, and sources of support. Written by an internationally recognized expert on Parkinson Disease, this book is an invaluable resource for anyone coping with the physical and emotional turmoil of this devastating disease.
Sklep: Libristo.pl 555,13 zł
Książki / Literatura obcojęzyczna
Part of the successful Institute of Health Economics (IHE) book series, this handbook and ready reference adopts a unique approach in combining policy recommendations with specific treatment options for Parkinson patients. The first part of the book deals with the clinical medical, social and economical aspects of Parkinson Disease. These ten chapters include the latest diagnosis and treatment options for patients, the economical consequences, social and ethical implications and end-of life issues. The second part of the book essentially covers a large-scale case study on Parkinson in Alberta, Canada, since most of the issues discussed are relevant in all developed countries. With its strong focus on correct diagnosis and early intervention, this is an invaluable guide for clinicians and policymakers dealing with this devastating disease.
Sklep: Libristo.pl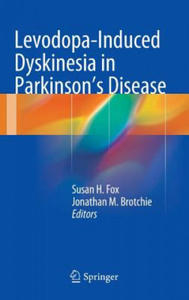 619,86 zł
Książki / Literatura obcojęzyczna
This book aims to provide a single reference source on levodopa-induced dyskinesias (LID) from bench to bedside .§Initial chapters review the clinical features and phenomenology of LID with video examples; epidemiology and genetic risk factors for LID are covered as a background to understanding risk factors for developing LID. The following chapters cover the latest preclinical studies aiming to understand the pathophysiology of LID at the cellular, neurochemical, neurophysiological and circuitry level with detailed discussion of mechanisms and future directions to take the field forward; clinical studies from phase II to phase IV; on going RCTs in LID and evidence-based medicine reviews of treatment options.§Levodopa-Induced Dyskinesia in Parkinson s Disease is aimed at an international audience of movement disorder neurologists; neuroscientists; trainees and graduate and post-graduate students.§
Sklep: Libristo.pl 352,53 zł
Książki / Literatura obcojęzyczna
This issue of "Neurologic Clinics" offers a rounded view of the latest therapeutic advances for the most common neurologic disorders and contains the following articles: Management Controversy in Chronic Daily Headaches (Rahmadan); Neurostimulation in Headache Patients (Dafer); The Selection of Anti-epileptic Drugs for the Treatment of Epilepsy in Children and Adults (Asconape); Management of Status Epilepticus in Adults (Rabinstein); Management of Blood Pressure in Acute and Hemorrhagic Stroke (Schneck); Modern Management of Brainstem Cavernous Malformations (Duckworth); and, Endovascular Treatment of Intracranial Dural Arteriovenous Fistulas (Narayanan). It also covers: Management of Motor Complications of Parkinson's Disease (Espay); Therapeutic Challenges in Dystonias (Kartha); Management of Voltage Gated Potassium Channel Antibody Disorders (Merchut); Management of Critical Care Neuromyopathies (Chawla, Gruener); Approaches to Peripheral Nerve Disorders (Toussaint, Anderson); Management of Idiopathic Intracranial Hypertension (Digre, Spencer); Management of Low Grade Gliomas (Prabhu); Management of Acute, Recurrent, and Chronic Meningitdes in Adults (Venna); and, Treatment Options for Adult Parasomnias (Attarian).
Sklep: Libristo.pl 464,22 zł
Książki / Literatura obcojęzyczna
Sarcopenia is a major therapeutic challenge and a public health priority in both the US and Europe. More than two decades after the word was first used to define a distinct clinical condition, the definition of sarcopenia remains open for discussion,nd its clinical relevance is still not fully understood. This book provides some answers. It is a valuable addition to the existing literature, providing a one-stop shop for state-of-the-art information on a topic of particular relevance for geriatricians and all those who care for the older population.§Sarcopenia has serious health consequences of sarcopenia in terms of frailty, disability, morbidity, and mortality. Identifying high risk groups of older people is straightforward, but making a diagnosis is more difficult. Having addressed the definition of sarcopenia the book therefore goes on to discuss current open questions that concern the clinical management of the condition. Chapters cover nosology, pathophysiology, clinical identification, and treatment: for example, is sarcopenia a normal part of the ageing process? When does it become a disease state? Is it only a morphologic or functional abnormality, or is it an age-related disease? Epidemiological, clinical, diagnostic and therapeutic aspects of sarcopenia are covered, as well as possible methods of prevention and treatment options.§Defines and explains the clinical relevance of sarcopenia§Covers all recent scientific evidence§Discusses treatment options§Considers ways of prevention§Written by experts in the field from both the US and Europe, this book will be of practical interest to geriatricians, clinicians and professionals working in nursing homes, nutrition and sport medicine. It is also a valuable and comprehensive reference work for professionals, post-graduates and researchers on age-related diseases, disability, nutrition and geriatric medicine.
Sklep: Libristo.pl 109,79 zł
Książki / Literatura obcojęzyczna
Over one million people suffer heart attacks each year in the United States alone. Heart disease is our number one cause of death. But many heart attacks are preventable, and heart disorders can be treated. If you or your loved ones have been touched by cardiovascular disease, 100 Questions and Answers About Heart Attack and Related Cardiac Problems offers help. Renowned cardiologist Edward K. Chung, MD, draws upon decades of clinical experience to offer authoritative, practical answers to your questions about causes of heart attacks, heart attack prevention, treatment options, post-treatment quality of life, sources of support and much more. Written in plain language for the lay reader, including an actual interview with one of Dr. Chung's patients, this book is an invaluable resource for anyone coping with the physical and emotional turmoil of this frightening disease.
Sklep: Libristo.pl 121,83 zł
Medycyna > English Division
The second edition of the WHO Guide to Mental and Neurological Health in Primary Care has been prepared in the light of the experience of primary-care clinicians and takes account of their specific needs. Concise, user-friendly and orientated towards management, this book contains essential information for GPs and other healthcare workers on how to help patients of all ages who are suffering from mental and neurological ill health. The book gives helpful guidance on diagnosis and on treatment strategies for primary care clinicians. It also provides guidance on what to say to patients and their families and how to give them support and advice. It provides materials to support clinicians in working collaboratively with patients and encouraging their active participation in treatment. A set of patient information leaflets is provided on CD-Rom. These can be printed out and given to patients. A set of summary cards is provided: they are designed to be used interactively by the clinician in order to facilitate discussion with the patient during the consultation. Suggested template charts of information about local resources for people suffering mental and neurological ill health are also provided. The text of the book is available in searchable HTML format on the Centre for Evidence Based Mental Health website: www.mentalneurologicalprimarycare.org The evidence base for the recommendations on treatments is set out: but the guidance contains much more than the outcomes of trials of the efficacy of particular treatments. It represents also the clinical wisdom of a very large group of experts whose collective experience of mental and neurological health in primary care is enormous. Although designed primary with primary care clinicians in mind, the book will be useful to others who work with primary care in the fields of mental health and neurological health - including community health workers, voluntary organizations and primary care patients. The guidance in this book is compatible with ICD-10 and with the Clinical Terms (Read Codes), which are used by GPs. As such, it provides a common language to help all those working in mental and neurological healthcare - primary and secondary care clinicians, patients, families and community groups - to communicate with each other. The volume is a highly practical, simple to use tool that can help make neurological and mental health care a more integral part of primary healthcare practice. Praise for 1st Edition 'This book is a little cracker. The style is ideal for a busy GP.' British Journal of General Practice The real beauty of the book is that it is designed for the clinician that is not a psychiatrist. Hence for learning how to deal with patients in third, fourth and final year exams (not to mention in practice) it is invaluable. This isn't a book aimed strictly at students, but reading through it I rather wished I had it before my finals. GKT Gazette This book is directed at primary care physicians and will be an invaluable resource to them. Mental health professionals will also benefit from using this book, in particular the patient information and resources. doctors.net This book can definitely be recommended as a useful resource for primary care and community mental health teams... a vade mecum of psychiatric disorders and practice. Primary Care Psychiatry An extremely useful resource for busy primary care practitioners, packed with just the sort of information needed when managing patients with mental health problems. Every consultation room should have a copy! Primary Care Mental Health. Vol 2. No 3/4 The book has already been well tested among primary care practitioners. It covers the widest range of disorders from Parkinson's disease and epilepsy to dementia and acute psychiatric disorders ... There is a useful resource directory and basic guides such as The Mental Health Act, Children act, audit tools and descriptions of psychological therapies ... This book would be an important purchase for teams and all primary care, community practices and libraries should have a copy. Primary Health Care
Sklep: Ksiazki-medyczne.eu 90,75 zł
Książki / Literatura obcojęzyczna
For people fighting many kinds of disease, bone marrow transplantation or stem cell transplantation may be the only realistic chance of a cure -- but the procedure is complicated and frightening, with many long-term ramifications. How do you decide whether this method of treatment is for you? Along with your physician's advice, let 100 Questions and Answers About Bone Marrow and Stem Cell Transplantation be your guide. It is the only book that offers the first-hand experiences of a patient and the perspective of a transplant doctor to provide you with authoritative, practical answers to your questions about treatment options, post-treatment quality of life, sources of support, and much more. This book is an invaluable resource for anyone considering a bone marrow or stem cell transplantation.
Sklep: Libristo.pl 55,85 zł
Książki / Literatura obcojęzyczna
Welcome to the world of sexed-up medicine, where patients have been turned into customers, and clinics and waiting rooms are jammed with healthy people, lured in to have their blood pressure taken and cholesterol, smear test, bowel or breast screening done. In the world of sexed-up medicine pharmaceutical companies gloss over research they don't like and charities often use dubious science and dodgy PR to 'raise awareness' of their disease, leaving a legacy of misinformation in their wake. Our obsession with screening swallows up the time of NHS staff and the money of healthy people who pay thousands to private companies for tests they don't need. Meanwhile, the truly sick are left to wrestle with disjointed services and confusing options. Explaining the truth behind the screening statistics and investigating the evidence behind the hype, Margaret McCartney, an award-winning writer and doctor, argues that this patient paradox - too much testing of well people and not enough care for the sick - worsens health inequalities and drains professionalism, harming both those who need treatment and those who don't.
Sklep: Libristo.pl 34,70 zł
Zdrowie, medycyna
This publication contains information about the reasons why people suffer from cardiovascular diseases (heart attacks and strokes) and how they can be avoided, including guidance for preventing it developing amongst children. Issues covered include: improving lifestyle choices to reduce risks, such as stopping smoking, improving diet, weight control and increasing physical exercise; how to recognise the signs of a heart attack, angina attack or a stroke and treatment options. Information is also given on other heart diseases such as heart failure, congenital heart disease, and rheumatic heart disease.
Sklep: Albertus.pl 360,62 zł
Książki / Literatura obcojęzyczna
In this country, drug addiction and alcoholism have reached crisis proportions. The grim statistics illuminate the size of this crisis. More than 30 million Americans alive today will become addicted. The use of alcohol, tobacco, and illicit drugs causes one out of every four deaths in the United States. Illegal drug use now costs the nation $67 billion a year. The Selfish Brain: Learning From Addiction takes a comprehensive, no-holds-barred look at the easy path to drug addiction and the tough road to recovery. Written in an easy-to-understand style, this book can help people confront addiction in their own lives and in their families by exploring the biological roots of addiction and the way addicts are allowed to deny their addiction by compassionate, well-meaning people. Based on his experience as a specialist on addiction and as a policymaker, former drug czar Robert L. DuPont, M.D., advocates Atough-loveA measures to strip away the denial that allows addicts to remain trapped in their destructive habit and place them on the road to recovery. He examines treatment options, especially 12-step programs, which he believes are the most effective path to recovery. Powerful and often controversial, The Selfish Brain provides an honest examination of an insidious, destructive disease.
Sklep: Libristo.pl 952,24 zł
Książki / Literatura obcojęzyczna
The latest guidance on challenging and controversial aspects of colorectal cancer Colorectal cancer is one of the most common forms of cancer in the US and Europe. Thousands of people are diagnosed with the disease every year and nearly half of these die as a result. As colorectal cancer is curable when detected early, a significant proportion of these deaths could be prevented by earlier diagnosis. Much has changed since the publication of the first edition of this book in 2001: introduction of screening programs, improved diagnosis and surgery for rectal cancer, and advances in adjuvant and palliative medical therapy to name but a few. Challenges in Colorectal Cancer provides the most up-to-date information on the new and emerging treatments. The second edition looks at the total patient management of this condition and is aimed at the entire medical team caring for those with colorectal cancer. It also contains the latest guidelines on epidemiology and prevention of colorectal cancer, and the application of molecular genetics. The expanded international editor team present advice on surgical management, including new laparoscopic and endoscopic techniques and the role of the pathologist. They also review hot topics in colorectal cancer treatment, including the role of radiotherapy, options for chemotherapy and new developments in vaccines and immunotherapy.
Sklep: Libristo.pl
Sklepy zlokalizowane w miastach: Warszawa, Kraków, Łódź, Wrocław, Poznań, Gdańsk, Szczecin, Bydgoszcz, Lublin, Katowice
Szukaj w sklepach lub całym serwisie
2. Szukaj na wszystkich stronach serwisu
t1=0.059, t2=0, t3=0, t4=0.022, t=0.059