krainaksiazek tunisian model of democracy in arab world 20124301
- znaleziono 8 produktów w 3 sklepach 114,99 zł
Książki Obcojęzyczne>Angielskie>Society & social sciences>Politics & government
0x02207b1500000000
Sklep: Gigant.pl 116,38 zł
Książki / Literatura obcojęzyczna
This is a full history of the Tunisian revolution, from its roots decades ago to the ongoing process of becoming a democracy. From late 2010 to the present day, the Arab world has been shot through with insurrection and revolt. As a result, Tunisia is now seen as the unlikely birthplace and exemplar of the process of democratisation long overdue in the Arab world. Mixing political, historical, economic, social and cultural analyses and approaches, these essays reflection the local, regional and transnational dynamics together with the long- and short-term factors that, when combined, set in motion the Tunisian revolution and the Arab uprisings. Above all, the book maps the intertwined genealogies of cultural dissent that contributed to the mobilisation of protesters and sustained the protests between 17th December 2010 and 14th January 2011, and beyond. It features 13 essays by an international and interdisciplinary set of experienced and emerging scholars who are active in researching and writing about the Tunisian and Arab Spring revolutions. It maps the origins of the Tunisian revolution, seeing it as an event that was years in the making after decades of 'collaborative revolutionism' across spaces, places and generations. It explores the various traditions of dissent under Bourguiba and Ben Ali. It includes important reflections on the major debates that dominated the post-revolutionary scene and continue to inform the transition to democracy.
Sklep: Libristo.pl 81,83 zł
Książki / Literatura obcojęzyczna
The democratic uprising throughout the Arab world is proving how wrong were the hitherto accepted political alternatives, either dictatorship or Islamism. Yet more lessons are already being learnt from this grass-root process, even while it is in the making. Above all, when it comes to freedom and justice, there is no definitely no Arab exceptionalism. Social networks have been crucial in empowering a leaderless movement, where the generational factor is striking. The Facebook-savvy globalized youngsters from the urban middle class are key, but it is from the wrong side of town that disenfranchised youths spearheaded the Tunisian revolution. Ruling regimes everywhere are striving to adapt, while major sectors of the opposition favour prolonged transitional periods to rebuild the devastated political scene. The challenge is historical for the Muslim Brotherhood in its various national forms, with a strong appeal for the Turkish model of government participation, even under constraints. But the main losers could be the jihadi groups whose discourse and violence have been invalidated by the mass protests and their pluralist agendas. Even though the situation is still volatile, nothing will be the same again in the Arab world, and a preliminary assessment of this major revolution underlines what else might change and at what cost.
Sklep: Libristo.pl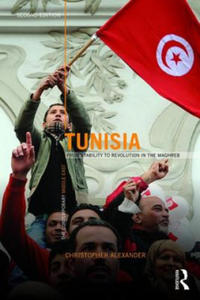 186,35 zł
Książki / Literatura obcojęzyczna
The first edition of Tunisia was released just nine months before the eruption of the Arab Spring. The most substantial period of political unrest felt by the Arab world in a half century originated in Tunisia, a fact that confounded expectations about Tunisian politics. This new edition builds upon the first edition's overview of Tunisia's political and economic development to examine how one of the region's hardiest authoritarian orders was toppled by a loosely organised protest wave.Providing the most up-to-date introduction to Tunisia's post-independence and post-Arab Spring politics, concisely written chapters cover topics such as: state formationdomestic politicseconomic developmentforeign relationscolonialismthe Arab Spring; its factors and repercussionsKey to this new edition is the examination of Tunisian history, politics and society alongside the subsequent upheaval following the outbreak of revolts in December 2010. It looks at how political and economic changes after 2001, including economic deterioration and rising inequality and corruption, had already begun to erode bases of Ben Ali's government, and explores why Tunisia is the sole Arab Spring country to construct a democracy thus far, and the challenges that this new democracy still faces.
Sklep: Libristo.pl 269,00 zł
Prezenty & Akcesoria > Zegarki
Nazwa - AEQ-200W-1AVEF Marka - Casio Kolekcja - Casio Collection Płeć - Dla mężczyzny Mechanizm - Kwarcowy Materiał bransolety / paska - Pasek z tworzywa sztucznego Bransoleta / pasek - Pasek Koperta - Z tworzywa sztucznego Datownik - Cyfrowy - wieczny kalendarz Szkiełko - Plastikowe Alarm dźwiękowy - Pięć w trybie dziennym Kod EAN - 4549526124914 Stoper - Cyfrowy Timer - Tak Podświetlenie tarczy - LED Light Klasa wodoszczelności - WR 100 Czas światowy - Tak Styl - Sportowy Odczyt - Analogowo-cyfrowy Szerokość koperty - 51 Grubość koperty - 16,4 Opakowanie - Oryginalne producenta Gwarancja - 3 lata Podatek VAT - 23% Sugerowana cena detaliczna - 299.00 zł
Sklep: InBook.pl 134,29 zł
Książki / Literatura obcojęzyczna
The question of whether Islam is compatible with democracy may best be answered not from the classical sources or even from the cauldron of Middle East politics but from the lived experiences of Muslim communities around the world. In large and diverse countries, the varied political values of different cultures can make or break the democratic experiment. Regardless of their cultural context, transitions from military to civilian rule require attention to the grassroots civic cultures that form the foundations of democratic federalism. John Paden, a noted expert on West African and Islamic societies, uses Nigeria as a critical case study of how a diverse country with a significant Muslim population is working to make the transition to a democratic society. Although little-studied, the non-Arab Muslim communities of West Africa are an important indicator as to whether Islamic democracy in a diverse nation is possible. Nigeria's success is vital to regional and global stability. As the largest country in Africa, with a population that is about half Muslim and half Christian or traditional animist, Nigeria is also the seventh largest producer of oil in the world and has gone through a series of political traumas ranging from civil war to military rule. The current democratic government is trying to balance rule-of-law concerns at a time when many communal tensions are coming to the surface. Muslim Civic Cultures and Conflict Resolution in Nigeria takes us inside the complex world of Nigerian politics, with a focus on the ways Muslim civic cultures deal with matters of leadership and conflict resolution. The book provides an essential context to the current international concern with issues ranging from Shari'a law and communal violence, to the broader war on terrorism. It argues that the requirement for regional political cooperation serves as a counterbalance to more extreme forms of political expression. Paden shows that if the Nigerian political model of democratic federalism works, then there is a real world, peaceful alternative to the "clash of civilizations" predicted by the intellectual world and threatened by al Qaeda.
Sklep: Libristo.pl 95,89 zł
Książki / Literatura obcojęzyczna
In the Arab world as elsewhere, authoritarian regimes have come under pressure for change. As yet, however, democracy has not taken root as an alternative form of governance. This book on Algeria looks at both the erosion of the authoritarian model and the difficulties of making a transition to democracy. Within the past decade, Algeria experienced one of the most promising experiments of opening up the political system and allowing a remarkable degree of freedom. That initial effort failed, however, when elections were won by an Islamist party that was unacceptable to the military, and it was followed by an explosion of political violence that in recent years has cost at least 75,000 lives. Despite this deep crisis there are reasons to believe that Algeria may emerge from its turmoil with a consensus on the need to respect pluralism and to accept the basic rules of democratic politics.Blending theoretical insights with an analysis of the Algerian case, this book demonstrates that democratization is likely to be a difficult process in the Middle East, but that the prospects for eventual success are not as gloomy as often asserted by those who see an incompatibility between democracy and Islam.
Sklep: Libristo.pl 101,37 zł
Książki / Literatura obcojęzyczna
From award-winning journalist Jack Shenker, The Egyptians is the essential book about Egypt and radical politics. In early 2011, Cairo's Tahrir Square briefly commanded the attention of the world. Half a decade later, the international media has largely moved on from Egypt's explosive cycles of revolution and counter-revolution - but the Arab World's most populous nation remains as volatile as ever, its turmoil intimately bound up with forms of authoritarian power and grassroots resistance that stretch right across the globe. In The Egyptians: A Radical Story, Jack Shenker uncovers the roots of the uprising that succeeded in toppling Hosni Mubarak, one of the Middle East's most entrenched dictators, and explores a country now divided between two irreconcilable political orders. Challenging conventional analyses that depict contemporary Egypt as a battle between Islamists and secular forces, The Egyptians illuminates other, far more important fault lines: the far-flung communities waging war against transnational corporations, the men and women fighting to subvert long-established gender norms, the workers dramatically seizing control of their own factories, and the cultural producers (novelists, graffiti artists and illicit bedroom DJs) appropriating public space in defiance of their repressive and increasingly violent western-backed regime. Situating the Egyptian revolution in its proper context - not as an isolated event, but as an ongoing popular struggle against a certain model of state authority and economic exclusion that is replicated in different forms around the world - The Egyptians explains why the events of the past five years have proved so threatening to elites both inside Egypt and abroad. As Egypt's rulers seek to eliminate all forms of dissent, seeded within the rebellious politics of Egypt's young generation are big ideas about democracy, sovereignty, social justice and resistance that could yet change the world.
Sklep: Libristo.pl
Sklepy zlokalizowane w miastach: Warszawa, Kraków, Łódź, Wrocław, Poznań, Gdańsk, Szczecin, Bydgoszcz, Lublin, Katowice
Szukaj w sklepach lub całym serwisie
2. Szukaj na wszystkich stronach serwisu
t1=0.074, t2=0, t3=0, t4=0.025, t=0.075