krainaksiazek two hearts for christmas 20119575
- znaleziono 8 produktów w 4 sklepach 31,47 zł
Książki / Literatura obcojęzyczna
Oswald T. Campbell, aged fifty-two, down-and-out in a Chicago winter, is given only months to live unless he moves South... He finds himself in the small town of Lost River, Alabama, where the residents are friendly if feud-prone and eccentric to a fault. One of them, Roy, keeps a red cardinal, a once wounded bird called Jack. Patsy, a sad, sweet little kid with a crippled leg, from the trailer park up in the woods, takes to dropping by the store - and falls in love with Jack. Flagg takes us on an emotional roller-coaster ride through the lives and hearts of an engaging crew of misfits, fixers and ordinary good-hearted folk, set against the vivid natural backdrop of a mellow Alabama winter.
Sklep: Libristo.pl 66,16 zł
Książki / Literatura obcojęzyczna
Hibs and Hearts first locked horns on Christmas Day 1875. Hearts won 1-0 and even the most ardent Hibs fan would have to admit that the Tynecastle team has had the better of things in contests for local bragging rights over the 135 years which have followed. However, Hibs have had their moments too and the 6-2 derby win at Easter Road inspired by Franck Sauzee and Russell Latapy in October 2000 is a recent example of green and white triumph. No Hibs win over their local rivals, though, has come close to the epic 7-0 victory which was recorded by the great Turnbull's Tornadoes team on the first day of 1973. On the day that the United Kingdom entered the European Economic Community, Hibs carved out their own slice of history by vanquishing Hearts by seven clear goals on their own turf at Tynecastle. As the 40th anniversary of this iconic encounter approaches, Ted Brack describes the great match and the events which preceded it and tells the story of what has happened to the players who took part in it in the decades which have followed. Ted's book is written from his own experience and draws heavily on the first-hand memories and reminiscences of other supporters and the outstanding players who wore the green and white of Hibernian on that seminal day. Ted has spoken at length to players like ice cool goalkeeper Jim Herriot, world class full back John Brownlie, rock solid centre half Jim Black, classy and composed sweeper John Blackley, midfield maestros Alex Edwards and Alex Cropley, goal scorer supreme Jimmy O'Rourke and the peerless captain Pat Stanton. The players' honesty and insight make this book the definitive account of a match which still boasts the record competitive winning margin between Edinburgh's Big Two - Hearts supporters please note. "The Game on New Year's Day" is a must read for Hibees and should bring some cheer after their recent Cup disappointments.
Sklep: Libristo.pl 17,00 zł
Ballada / Poezja śpiewana
Frank SINATRA jazz Sweet Lorraine 1. 2. 3. 4. 5. 6. 7. 8. 9. 10. 11. 12. 13. 14. 15. BONUS 16. 17. SWEET LORRAINE I BELIEVE ALL OF ME MAM' SELLE SATURDAY NIGHT BLUE SKIES S' POSIN' THERE'S NO BUSINESS LIKE SHOW BUSINESS TEA FOR TWO (DUET WITH DINAH SHORE) THE DUM - DOT SONG (WITH PIED PIPERS) TWO HEARTS ARE BETTER THAN ONE WHITE CHRISTMAS A LITTLE LEARNIN' IS A DANGEROUS THING FIVE MINUTES MORE THIT'S ALL UP TO YOU (DUET WITH DINAH SHORE) STRANGERS IN THE NIGHT NEW YORK, NEW YORK Producent - ACCORD MUSIC ...
Sklep: UNIVOX.pl 97,49 zł
Muzyka>Blues
1. Leavin' Chicago 2. Wednesday Evening Blues 3. My First Wife Left Me 4. Sally Mae 5. War Is Over (Goodbye California) 6. She Was In Chicago 7. Boogie Chillen 8. Henry's Swing Club 9. Stomp Boogie 10. Who's Been Jiving You 11. Black Man Blues 12. Shake Your Boogie 13. Poor Slim 14. Mercy Blues 15. Boogie Woogie 16. Helpless Blues 101. Good Business 102. Goin' Mad Blues 103. Morning Blues 104. Boogie Awhile 105. Tuesday Evening Blues 106. Weeping Willow Boogie 107. Hobo Blues 108. Miss Lorraine 109. Do The Boogie 110. Do The Boogie 111. 609 Boogie 112. Road Trouble 113. Christmas Time Blues 114. Drifting From Door To Door 115. Hobo Blues 116. Howlin' Wolf 201. Crawling King Snake 202. Alberta 203. Wayne Country Ramblin' Blues 204. Talkin' Boogie 205. I Love To Boogie 206. Graveyard Blues 207. Must I Wait Till Your Man Has Gone 208. Cotton Pickin' Boogie 209. Hoogie Boogie 210. Huckle Up Baby 211. Whistlin' & Moanin' Blues 212. Momma Poppa Boogie 213. Burnin' Hell 214. Sailing Blues 215. Black Cat Blues 301. Miss Rosie Mae 302. Highway Blues 303. Don't Go Baby 304. The Numbers 305. Weeping Willow Blues 306. Forgive Me 307. Howlin' Wolf 308. Playing The Races 309. Wednesday Evening Blues 310. Let Your Daddy Ride 311. Queen Bee 312. I'm In The Mood 313. Tease Me Baby 314. Turn Over A New Leaf 315. (Four) Women In My Life 401. House Rent Boogie 402. Wandering Blues 403. Questionnaire Blues 404. Real Gone Gal 405. Feed Her All Night 406. My Daddy Was A Jockey 407. Little Boy Blue 408. How Long Must I Be Your Slave 409. Ground Hog Blues 410. Mean Old Train 411. Catfish 412. Do My Baby Think Of Me? 413. Three Long Years Today 414. Strike Blues 415. Grinder Man 501. Walkin' This Highway 502. (Four) Women In My Life 503. I Need Lovin' 504. Find Me A Woman 505. Mad Man Blues 506. Hey Boogie 507. Louise 508. High Priced Woman 509. Union Station Blues 510. Ground Hog Blues 511. Leave My Wife Alone 512. Ramblin' By Myself 513. Dreamin' Blues 514. Just Me & My Telephone 515. Walking The Boogie 516. Sugar Mama 601. Please Don't Go 602. I Don't Want Your Money 603. Hey Baby 604. Bluebird 605. Walking The Boogie 606. Love Blues 607. Lonely Boy Boogie 608. Apologize 609. The Journey 610. Worried Life Blues 611. Down At The Landing 612. You Have Two Hearts 613. Blues For Big Town 614. Women & Money 615. Rock House Boogie 701. Too Much Boogie 702. Need Somebody 703. Please Take Me Back 704. Gotta Boogie (Aka Gonna Boogie) 705. Stuttering Blues 706. Pouring Down Rain 707. Love Me Baby 708. Misbelieving Baby 709. Wobbling Baby 710. Goin' South 711. My Baby Don't Love Me 712. I Ain't Got Nobody 713. Real Real Gone 714. Guitar Lovin' Man 715. Blue Monday 716. My Baby Put Me Down 801. Boom Boom 802. I Want To Hug You 803. House Rent Boogie 804. Want Ad Blues 805. I'm So Excited 806. Hard Headed Woman 807. I Wanna Walk 808. Onions 809. What Do You Say 810. Keep Your Hands To Yourself 811. Send Me Your Pillow 812. She Shot Me Down 813. I Want To Shout 814. I'm Leaving (Baby) 901. Baby Baby 902. I Feel Good 903. Going Home 904. We Are Cooking 905. Looking Back Over My Day 906. Dazie Mae 907. Stand Back 908. Call It The Night 909. Roll & Rumble 910. Bottle Of Wine 911. Baby Don't Do Me Wrong
Sklep: Gigant.pl 84,99 zł
Muzyka>Blues
1. Black Man Blues 2. Poor Joe 3. Shady Grove Blues 4. Stomp Boogie 5. Who's Been Jivin' You 6. I Had A Dream 7. Miss Eloise Aka Miss Eloise, Miss Eloise 8. Miss Lorraine 9. Talkin' Boogie 10. Do The Boogie 11. Devil's Jump 12. Nightmare Blues 13. Don't Go Baby 14. I'm Gonna Kill That Woman 15. Moaning Blues 16. The Numbers 17. Wandering Blues 18. Heart Trouble Blues 19. Slim's Stomp 20. Thinking Blues 21. Mad Man Blues 22. Boogie Now Aka Hey Boogie 101. Decoration Day Blues Aka Lord Taketh My Baby Awa 102. Lord What More Can I Do 103. Moon Is Rising 104. The Story Of A Married Woman 105. Throw This Old Dog A Bone 106. Turnin' Gray Blues 107. Welfare Blues 108. High Priced Woman 109. Union Station Blues 110. Leave My Wife Alone 111. Ramblin' By Myself 112. Dreamin' Blues 113. Just Me And My Telephone 114. Walkin' The Boogie Without Overdubs 115. Sugar Mama 116. Please Don't Go 117. I Don't Want Your Money 118. Hey Baby 119. Bluebird 120. Walkin' The Boogie With Overdubs 121. Love Blues 122. Lonely Boy Boogie 123. Apologize 124. The Journey 201. Worried Life Blues 202. Down At The Landing 203. You Have Two Hearts 204. It's My Own Fault 205. Blues For Big Town 206. Woman And Money 207. Big Fine Woman 208. Love You Baby Aka Tell Me Baby 209. Blues For Christmas 210. Cry Baby Aka Cry Baby Cry 211. Time Is Marching 212. Unfriendly Woman 213. Wheel And Deal 214. Baby Lee 215. Dimples 216. Every Night 217. Trouble Blues 218. Stop Talking 219. I'm So Excited 220. Everybody Rockin 221. I See You When You're Weak 222. Little Wheel 223. You Can Lead Me Baby 224. I Love You Honey
Sklep: Gigant.pl 38,24 zł
Książki / Literatura obcojęzyczna
Five atmospheric dramatizations of classic ghost stories, introduced by Derek Jacobi as the voice of M. R. James. Widely acknowledged as the master of the supernatural, M. R. James penned many of his classic ghost stories to be read aloud to friends, by candlelight, in his study on Christmas Eve. These five adaptations, originally broadcast on BBC Radio 4, perfectly capture the mood of nerve-jangling suspense that would surely have been present during those readings.In "Oh, Whistle, and I'll Come to You, My Lad", Professor Parkins embarks on a terrifying journey of discovery after he removes a curious artifact from the ruins of a Templar preceptory, while "The Tractate Middoth" sees diligent curator David Garrett caught up in the machinations of the mysterious Dr Rant when he's sent to retrieve an obscure manuscript from the library stacks. "Lost Hearts" tells of a young boy haunted by two ghostly children and in "The Rose Garden", terrifying forces are unleashed when the Goodmans tear down their old summer house. Finally, "Number 13" takes us to the Danish town of Viborg, where Dr. Anderson puts himself in terrible danger as he investigates why the hotel he's staying at does not contain a room 13. Starring BAFTA and Emmy-award winning actor Derek Jacobi ("Cadfael", "Gosford Park", "Doctor Who"), and with powerfully chilling music and sound effects, these rich, riveting dramatizations make for irresistible listening.
Sklep: Libristo.pl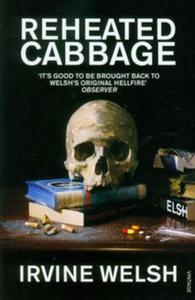 40,20 zł
Społeczno-obyczajowaOpowiadania i miniatury literackie
In Reheated Cabbage you can enjoy Christmas dinner with Begbie and discover how aliens addicted to Embassy Regal have Midlothian under surveillance. You will meet a husband who values a televised Hibs v Hearts game more than his wife's life and see two guys fighting over a beautiful girl agree - after a few pills and pints of lager - that their friendship is actually more important. And you will be delighted to welcome back 'Juice' Terry Lawson, and to watch what happens when he meets his old nemesis under the strobe-lights of a Miami Beach nightclub.
Sklep: Booknet.net.pl 33,69 zł
Książki / Literatura obcojęzyczna
One lost dog. Two lonely hearts. A Manhattan Christmas full of magic.
Sklep: Libristo.pl
Sklepy zlokalizowane w miastach: Warszawa, Kraków, Łódź, Wrocław, Poznań, Gdańsk, Szczecin, Bydgoszcz, Lublin, Katowice
Szukaj w sklepach lub całym serwisie
2. Szukaj na wszystkich stronach serwisu
t1=0.066, t2=0, t3=0, t4=0.024, t=0.066