krainaksiazek two years eight months twenty eight nights 20051536
- znaleziono 10 produkty w 3 sklepach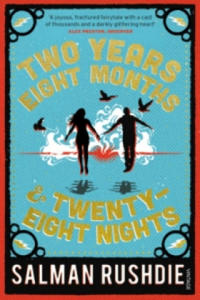 47,28 zł
Książki / Literatura obcojęzyczna
Blending history, mythology and a timeless love story, this is a satirical, magical masterpiece from one of greatest living writers
Sklep: Libristo.pl 76,79 zł
Książki / Literatura obcojęzyczna
This is from one of the greatest writers of our time: the most spellbinding, entertaining, wildly imaginative novel of his great career, which blends history and myth with tremendous philosophical depth. It is a masterful, mesmerising modern tale about worlds dangerously colliding, the monsters that are unleashed when reason recedes, and a beautiful testament to the power of love and humanity in chaotic times. Inspired by 2,000 years of storytelling yet rooted in the concerns of our present moment, this is a spectacular achievement - enchanting, both very funny and terrifying. It is narrated by our descendants 1000 years hence, looking back on 'The War of the Worlds' that began with 'the time of the strangenesses': a simple gardener begins to levitate; a baby is born with the unnerving ability to detect corruption in people; the ghosts of two long-dead philosophers begin arguing once more, and storms pummel New York so hard that a crack appears in the universe, letting in the destructive djinns of myth (as well as some graphic superheroes). Nothing less than the survival of our world is at stake. Only one, a djinn princess who centuries before had learnt to love humankind, resolves to help us: in the face of dynastic intrigue, she raises an army composed of her semi-magical great-great-etcetera-grandchildren - a small motley crew of endearing characters who come together to save the world in a battle waged for 1,001 nights - or, to be precise, 2 years, 8 months and 28 nights.
Sklep: Libristo.pl 89,99 zł
Książki Obcojęzyczne>Angielskie>Fiction & related items>Modern & contemporary fiction (post c 1945)
Centuries Ago, Dunia, A Princess Of The Jinn, Fell In Love With A Mortal Man Of Reason. Together They Produced An Astonishing Number Of Children, Unaware Of Their Fantastical Powers, Who Spread Across Generations In The Human World.
Sklep: Gigant.pl 43,99 zł
Książki Obcojęzyczne>Angielskie>Fiction & related items>Modern & contemporary fiction (post c 1945)
In The Near Future, After A Storm Strikes New York City, The Strangenesses Begin. A Down-to-earth Gardener Finds That His Feet No Longer Touch The Ground. A Graphic Novelist Awakens In His Bedroom To A Mysterious Entity That Resembles His Own Sub-Stan Lee Creation. A Seductive Gold Digger Is Soon Tapped To Combat Forces Beyond Imagining.
Sklep: Gigant.pl 28,79 zł
Książki & Multimedia > Książki
Opis - Erudycyjna baśń dla dorosłych o ponadczasowej miłości i odwiecznych konfliktach, ścieraniu się wielkich idei i triumfie rozumu nad fanatyzmem i nietolerancją. W roku 1195 pod domem Ibn Ruszda zjawia się dziewczyna imieniem Dunia, którą filozof przyjmuje pod swój dach, nie podejrzewając, że jest dżinniją, istotą z dymu bez ognia, księżniczką Peristanu, czarodziejskiej krainy zaludnionej dżinnami, ifrytami i pomniejszymi demonami. I choć związek tej specyficznej pary nie trwa długo, dzięki spektakularnej płodności Duni jego owocem jest liczna gromada nie w pełni zwyczajnych dzieci. Tysiąc lat później ich potomkowie, nieświadomi początkowo swych nadnaturalnych mocy, odegrają kluczową rolę w wojnie, która rozegra się na Ziemi i będzie trwała dwa lata, osiem miesięcy i dwadzieścia osiem nocy. I która zmieni świat na zawsze. Mistrz Rushdie po swojemu, z ironicznym humorem i niezwykłym kunsztem, łączy historię i legendy, postaci rzeczywiste i baśniowe, prawdę i zmyślenie, by ukazać naszą rzeczywistość z perspektywy odległej przyszłości, w której ludzkość żyje w szczęśliwym, areligijnym świecie. Ta nieokiełznana, zwariowana, szkatułkowa powieść mimo baśniowej konwencji stanowi trafny i przenikliwy komentarz na temat współczesności, odbijając w satyrycznym zwierciadle dylematy i szaleństwo naszych czasów. Zainspirowana Księgą tysiąca i jednej nocy, jest także hymnem jednego z największych gawędziarzy współczesnej literatury na cześć sztuki opowiadania i potęgi wyobraźni. Nazwa - Dwa lata, osiem miesięcy i dwadzieścia osiem nocy Oryginalny tytuł - TWO YEARS EIGHT MONTHS AND TWENTY-EIGHT NIGHTS Autor - Salman Rushdie Oprawa - Twarda Wydawca - Rebis Kod ISBN - 9788378187615 Kod EAN - 9788378187615 Wydanie - 1 Rok wydania - 2015 Język - polski Tłumacz - Kozłowski Jerzy Seria wydawnicza - Mistrzowie literatury Format - 15.0x22.5cm Ilość stron - 328 Podatek VAT - 5% Premiera - 2015-11-17
Sklep: InBook.pl 26,96 zł
Książki & Multimedia > Książki
Opis - Jeden z członków specjalnej grupy armii amerykańskiej zostaje odnaleziony na pustyni w Kalifornii. Martwy. Ktoś wyrzucił go z helikoptera. Pozostali członkowie ekipy zniknęli w zagadkowych okolicznościach. Jack Reacher otrzymuje zaszyfrowaną wiadomość i rusza na pomoc. Będzie musiał połączyć siły z dawnymi kolegami z żandarmerii wojskowej, żeby przeniknąć do sedna spisku związanego z międzynarodowym terroryzmem. Tylko w ten sposób ocali żywych, pogrzebie umarłych i rozwikła tajemnicę, którą z każdym dniem spowija coraz gęstszy mrok. Ludzie, którzy wzięli go na cel, nie zdają sobie jeszcze sprawy, że Reacherowi nie należy wchodzić w drogę. Nazwa - Elita zabójców Oryginalny tytuł - Bad luck and trouble Autor - Lee Child Oprawa - Miękka Wydawca - Albatros Kod ISBN - 9788379857043 Kod EAN - 9788379857043 Wydanie - 3 Rok wydania - 2016 Język - polski Tłumacz - Kościuk Zbigniew Seria wydawnicza - Jack Reacher Format - 12.5x19.5cm Ilość stron - 432 Podatek VAT - 5% Premiera - 2016-01-08
Sklep: InBook.pl 59,65 zł
Healing Land Grove Press / Atlantic Monthly Press
Książki / Literatura obcojęzyczna
Acclaimed by Rian Malan as "full of mystery, magic and strange coincidence," The Healing Land is a moving account of a remarkable personal journey through the Kalahari desert. Although brought up in "grey, drearily ordinary" London, Rupert Isaacson's links to Africa have always been strong. His mother was once a South African and his father was raised in what was then Rhodesia. Isaacson senior fled to England with no regrets, but Polly, Rupert's mother kept her memories of Africa alive, and handed them on to her children via the Bushmen nursery stories and remembrances of her early life there. Thus, from an early age, Isaacson was fascinated: "Long before I ever went to southern Africa, its names and regions had been described to me so many times that I could picture them in my mind's eye." Isaacson's relatives, mostly his grandfather Robbie, a Rhodesian farmer, frequently visited with exotic gifts and stories in tow, leaving the little boy wide-eyed and curious to go to the land of his ancestors. At eight, Isaacson finally visited Robbie in Africa, and "found the place as seductively, intensely exciting as all the stories had led [him] to expect." He also witnessed the other, less pleasant side of Africa. The war for independence was still being fought, and his grandfather's farm was fenced in with barbed wire and guarded by armed men. This first visit, however, sealed his connection to the African continent, and from then on he considered himself part English, part African. His curiosity now knew no boundaries and by the time he was twenty he embarked on his first solo trip to Africa. This marks the de facto beginning of the book as Isaacson, now a grown man, finds himself restless at home in England, yearning to be united with the Kalahari which he has made central to his identity as a young man. He visits Botswana's capital Gaborone where he meets his cousin Frank Taylor, a rather atypical white African, living in an austere home where he moved with his family, quitting his prosperous farm in South Africa, in order to help Botswana's rural poor. Isaacson learns of the plight of the Bushmen. Due to an upsurge in cattle ranching, the territories traditionally used for hunting have been fenced off and the game the Bushmen relied upon has been prevented from following the rain thus dying in droves. Eager to go deeper into the desert and to experience the Kalahari, Issacson makes several trips to the area during the following few years but never really makes it into the heart of the desert, but explores the areas surrounding it, living on a farm in Zimbabwe, traveling in South Africa and learning of its Bushman heritage. There he becomes enmeshed in the civil strife of 1993, which immediately preceded the first free elections and the rise of Nelson Mandela. He comes to experience the resentment of the black population towards the whites: he is attacked, mugged, chased by a mob of angry South African youths, but somehow all these events never put into question his resolve to come back. Eighteen months later he is back with his girlfriend and a contract to write a guidebook to Zimbabwe, Botswana, and Namibia. They start off from the Namibian capital Windhoek and two days later encounter two Bushmen while camping under a great baobab tree. Greetings are exchanged and it turns out that one of the Bushmen works for an NGO helping the cause of the local population. He speaks perfect English and invites Isaacson to go hunting with him the next day. The couple is naturally thrilled, but when they show up early next morning in the Bushman village no one seems to be up. It takes quite a while for everyone to wake up (presumably from alcoholic stupor) but all is well, and they ultimately leave for the hunting ground. The experience is disappointing, as Benjamin and his friend Xau make several attempts to catch antelopes but fail rather miserably. On their way back to the village Isaacson once again learns of the Bushmen plight, this time first-hand, and the lack of interest by the government to resolve their claims. He decides to help and try to involve a London travel agency to package tours into the Kalahari from which the Bushmen would benefit financially. Meantime, he and his girlfriend become friends with most of the villagers, sharing stories and songs, buying trinkets, and in the end witnessing a full-blown tribal dance. After his move to the USA that same year, Isaacson comes across an issue of National Geographic which features a photograph of two Bushmen kneeling in the red sand of South Africa next to a ancient figure of their dying father. According to the caption, it turns out this is a picture of the dying Regopostaan, patriarch of South Africa's Xhomani Bushmen, the last remaining clan of traditionally living Bushmen in the country. They've been ejected from a National Park, which used to make up their traditional hunting grounds, and the park authorities are resisting the Bushman land claaaaaaim. After some research, Isaacson learns of the few South Africans who are trying to counter the government indifference and fight for the Bushmen rights. With the new Mandela government chances for the Bushmen winning the claim are better but still far from becoming a reality. Later that year, in October of 1997, Isaacson arrives to the Xhomani village with a filmmaker friend who wants to make a documentary about the land claim. They meet Dawid Kruiper, the leader of the tribe, and one of the Bushmen from the National Geographic photograph, as well as the entire tribe. (Regopostaan was the tribal elder and Dawid's father, and the other person in the picture, Dawid's brother.) After spending time with them, recording interviews with Dawid, observing their day-to-day life, Isaacson begins to understand the extent of the Bushmen disenfranchisement. They are hardly the idealized hunters from his mother's stories and seem to be at the bottom of the social hierarchy not only in South Africa, but in the entire Kalahari as well. Ruined by alcohol as well as by the indifference of the politicians to take up their cause, the traditionally living Bushmen have not only dwindled in number, but have been literally reduced to beggars having lost their land and their traditional means of subsistence, and with that their identity as a people has been profoundly threatened. Dawid, the tribal leader, was once a great healer but due to his bouts with alcohol he has lost his powers. Moved by what he witnesses, Isaacson is keen to find out the other side of the story, and hence decides to interview the officials at the National Park, which has become the bane of the Bushmen's existence. The interview only serves to prove the underlying racism and corruption of the Park management which was just a few years ago a "whites only" establishment. What complicates matters even further and very much endangers the success of the Bushmen claim, is another parallel claim to the same land by another black tribe called Miet. All throughout his travels and interactions with the Bushmen, Isaacson's narrative displays an unusual sense of humanity, warmth, and openness. It's precisely these qualities that distinguish The Healing Land, and allow Isaacson to bring out the truly extraordinary spiritual legacy of the Bushmen. Thus, both the reader and the narrator bear witness to some rather remarkable displays of the Bushmen healing techniques as well as a general sense of genuine magic. The themes of healing, of Isaacson's personal quest alongside the larger, political one involving the entire Bushmen population, come together in a poignant ending which features all of the leading personalities that inhabit this extraordinary book.
Sklep: Libristo.pl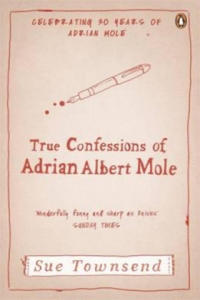 47,28 zł
Książki / Literatura obcojęzyczna
"True Confessions of Adrian Mole, Margaret Hilda Roberts and Susan Lilian Townsend" is the third book in Sue Townsend's brilliantly funny "Adrian Mole" series. Monday June 13th. I had a good, proper look at myself in the mirror tonight. I've always wanted to look clever, but at the age of twenty years and three months I have to admit that I look like a person who has never even heard of Jung or Updike. Adrian Mole is an adult. At least that's what it says on his passport. But living at home, clinging to his threadbare cuddly rabbit 'Pinky', working as a paper pusher for the DoE and pining for the love of his life, Pandora, has proved to him that adulthood isn't quite what he expected. Still, without the slings and arrows of modern life what else would an intellectual poet have to write about...Included here are two other less well-known diarists: Sue Townsend and Margaret Hilda Roberts, a rather ambitious grocer's daughter from Grantham. Bestselling author Sue Townsend has been Britain's favourite comic writer for over three decades. "Essential reading for Mole followers". ("Times Educational Supplement"). "Wonderfully funny and sharp as knives". ("Sunday Times"). Sue Townsend is Britain's favourite comic author. Her hugely successful novels include eight "Adrian Mole" books, "The Public Confessions of a Middle-Aged Woman (Aged 55 )", "Number Ten", "Ghost Children", "The Queen and I", "Queen Camilla" and "The Woman Who Went to Bed For a Year", all of which are highly acclaimed bestsellers. She has also written numerous well-received plays. She lives in Leicester, where she was born and grew up.
Sklep: Libristo.pl 47,76 zł
Książki / Literatura obcojęzyczna
This is the brand new gripping thriller from the author of The Secret Chamber. Two kilometres beneath the frozen icecaps of Antarctica lies a lake, unfrozen and perfectly preserved for twenty million years. Luca Matthews has been tasked by MI6 officer, Kieran Bates, to lead a team of scientists to the site to discover what secrets lie trapped below. But Bates has a secret of his own, and his actions are not going unnoticed. When mining investigator 'Bear' Makuru cannot reach Luca, she starts to dig into Bates' past - uncovering a plot more sinister than she could ever have imagined. Bear needs to warn Luca and fast. But there is an even greater threat tracking Luca across the frozen landscape: a killer who has been waiting through the long, dark months for a single chance to strike. Luca has only eight days to work out who he can trust. Antarctica is shutting down for the winter and if he doesn't get out now, he never will.
Sklep: Libristo.pl 57,91 zł
Książki / Literatura obcojęzyczna
This is a BBC Radio 4 full-cast dramatisation of one of the most famous adventure stories of all time, starring Roy Marsden as Robinson Crusoe. Young Robinson Crusoe has a burning ambition to be a sailor. Paying no attention to his parents' warnings he runs away to sea to embark on a series of thrilling adventures: struggles with Barbary pirates, a shipwreck and the extraordinary meeting with Man Friday...Roy Marsden plays the older Robinson Crusoe looking back on a life of recklessness, daring and adventure - and the survival of twenty-eight years, two months and nineteen days on a desert island. Based on the real-life adventures of Alexander Selkirk, "Robinson Crusoe" was one of the very first adventure stories to be published in English literature. It remains as gripping today as it did on first publication in 1719, and this enthralling dramatisation perfectly evokes the excitement and adventure of the original book.
Sklep: Libristo.pl
Sklepy zlokalizowane w miastach: Warszawa, Kraków, Łódź, Wrocław, Poznań, Gdańsk, Szczecin, Bydgoszcz, Lublin, Katowice
Szukaj w sklepach lub całym serwisie
2. Szukaj na wszystkich stronach serwisu
t1=0.039, t2=0, t3=0, t4=0.019, t=0.039