krainaksiazek understanding prophecy prophecy the prophetic and prophets 20167586
- znaleziono 10 produkty w 3 sklepach 55,91 zł 127,52 zł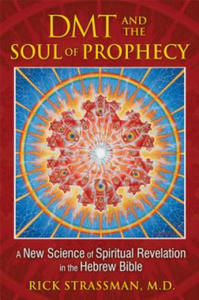 84,03 zł
Książki / Literatura obcojęzyczna
After completing his groundbreaking research chronicled in DMT: The Spirit Molecule, Rick Strassman was left with one fundamental question: What does it mean that DMT, a simple chemical naturally found in all of our bodies, instantaneously opens us to an interactive spirit world that feels more real than our own world? When his decades of clinical psychiatric research and Buddhist practice were unable to provide answers to this question, Strassman began searching for a more resonant spiritual model. He found that the visions of the Hebrew prophets--such as Ezekiel, Moses, Adam, and Daniel--were strikingly similar to those of the volunteers in his DMT studies. Carefully examining the concept of prophecy in the Hebrew Bible, he characterizes a "prophetic state of consciousness" and explains how it may share biological and metaphysical mechanisms with the DMT effect. Examining medieval commentaries on the Hebrew Bible, Strassman reveals how Jewish metaphysics provides a top-down model for both the prophetic and DMT states, a model he calls "theoneurology." Theoneurology bridges biology and spirituality by proposing that the Divine communicates with us using the brain, and DMT--whether naturally produced or ingested--is a critical factor in such visionary experience. This model provides a counterpoint to "neurotheology," which proposes that altered brain function simply generates the impression of a Divine-human encounter. Theoneurology addresses issues critical to the full flowering of the psychedelic drug experience. Perhaps even more important, it points the way to a renewal of classical prophetic consciousness, the soul of Hebrew Bible prophecy, as well as unexpected directions for the evolution of contemporary spiritual practice.
Sklep: Libristo.pl 119,99 zł
Książki Obcojęzyczne>Angielskie>Humanities>Religion & beliefs>Christianity>BiblesKsiążki Obcojęzyczne>Angielskie>Humanities>Re...
The Prophecies Of The Bible Assure Us That God Will Prevail. The Prophecy Study Bible Has Hundreds Of Pages Of Special Features That Offer A Broad Understanding Of Prophetic Themes, Salvation, Covenants, And Other Important Doctrines Of The Christian Fait
Sklep: Gigant.pl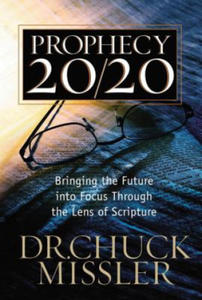 74,26 zł
Prophecy 20/20 Nelson Books an imprint of Thomas Nelson...
Książki / Literatura obcojęzyczna
Dr. Chuck Missler's Prophecy 20/20 is a comprehensive, easily digested book that will give you a basic understanding of how past events fulfilled biblical prophecy. It provides a strategic grasp of prophecy that equips you to clearly see the "prophetic moment" of current events. Chuck Missler, founder of Koinonia House, analyzes trends on the geopolitical and technological horizons as well as their implications for the coming years.
Sklep: Libristo.pl 32,99 zł
Książki Obcojęzyczne>Nieprzypisane
The Prophetic Ministry Deals Mainly With Three Areas As Shown Below. Failure To Understand These Areas And The Purpose Of Prophecy Has Caused Many People To Fall Into A Lot Of Problems, Some Have Been Ship Wrecked. I Have Personally Witnessed Friends W
Sklep: Gigant.pl 52,76 zł
Książki / Literatura obcojęzyczna
Essay from the year 2010 in the subject Theology - Biblical Theology, grade: A, University of Edinburgh (School of Divinity), course: Hebrew Prophecy, language: English, abstract: Many of the commentaries or essays which are written about Jeremiah call it not only the longest of the prophetic books in the Hebrew Bible but also the most complicated one and most difficult to understand. Thus the author of this essay asks how it is possible to make sense of this book. The understanding of prophecy and history and especially of the prophetic books in the Hebrew Bible has changed dramatically in the last decades. According to Robert R. Wilson the most important steps have been to consider the prophets as predictors of the future, as ethicists and theologians, as poets and mystics, as oracle givers as well as as authors and editors and last as interpreters of scripture. In this Essay the author will focus on the last two ways of interpretation for they are closely connected with literary criticism and thus open the door to understand the book of Jeremiah as a novel. Can the book of Jeremiah reasonable be seen as a novel and, if so, which consequence for the understanding and interpretation of the book has this approach?
Sklep: Libristo.pl 92,82 zł
Książki / Literatura obcojęzyczna
Abraham Heschel (1907-1972) was one of the great religious teachers and moral prophets of our time. Born in Warsaw to a long line of Hasidic rabbis, he chose instead to study philosophy in Germany. Expelled back to Warsaw, he escaped just weeks before the Nazi invasion and settled in the United States. Through a series of books he contributed greatly to the spiritual renewal of Judaism. But he exerted an equal influence on Christians, so much that he was called another "apostle to the gentiles." A passionate champion of interfaith dialogue, he served as an official observer at Vatican II and was influential in challenging the Catholic church to overcome the legacy of anti-Semitism. He raised a prophetic challenge to the social issues of his day, marching with Martin Luther King and protesting the Vietnam war. His writings here on prayer, God, prophecy, the human condition, and the spiritual life vividly communicate his instinct for the "holy dimension of all existence."
Sklep: Libristo.pl 87,49 zł
Książki Obcojęzyczne>Angielskie>Humanities>Religion & beliefs>Christianity>Biblical studies & exegesis>Biblical commentaries
Clear And Compelling Commentary On The Book Of Daniel By A Teacher Of Biblical Prophecy. The Life Of Daniel Is Examined With Emphasis On The Prophetic Scriptures And Their Relation To End-time Events. As The Key To Understanding End-time Prophecy, The Boo
Sklep: Gigant.pl 423,22 zł
Książki / Literatura obcojęzyczna
Jeremiah, long considered one of the most colorful of the ancient Israelite prophets, comes to life in Jack R. Lundbom's "Jeremiah 1-20". From his boyhood call to prophecy in 627 b.c.e., which Jeremiah tried to refuse, to his scathing judgments against the sins and hypocrisy of the people of Israel, Jeremiah charged through life with passion and emotion. He saw his fellow Israelites abandon their one true God, and witnessed the predictable outcome of their disregard for God's word - their tragic fall to the Babylonians.The first book of a three-volume "Anchor Bible" commentary, Jack R. Lundbom's eagerly awaited exegesis of "Jeremiah" investigates the opening twenty chapters of this Old Testament giant. With considerable skill and erudition, Lundbom leads modern readers through this prophet's often mysterious oracles, judgments, and visions. He quickly dispels the notion that the life and words of a seventh-century b.c.e. Israelite prophet can have no relevance for the contemporary reader. Clearly, Jeremiah was every bit as concerned as we are with issues like terrorism, hypocrisy, environmental pollution, and social justice.This impressive work of scholarship, essential to any biblical studies curriculum, replaces John Bright's landmark "Anchor Bible" commentary on "Jeremiah". Like its predecessor, "Jeremiah 1-20" draws on the best biblical scholarship to further our understanding of the weeping prophet and his message to the world.
Sklep: Libristo.pl
Sklepy zlokalizowane w miastach: Warszawa, Kraków, Łódź, Wrocław, Poznań, Gdańsk, Szczecin, Bydgoszcz, Lublin, Katowice
Szukaj w sklepach lub całym serwisie
2. Szukaj na wszystkich stronach serwisu
t1=0.034, t2=0, t3=0, t4=0, t=0.034