krainaksiazek university grammar of english with a swedish perspective 20107365
- znaleziono 8 produktów w 4 sklepach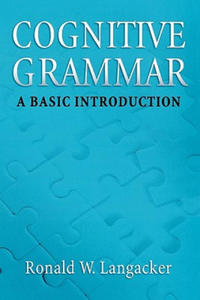 193,13 zł
Książki / Literatura obcojęzyczna
This book fills a long standing need for a basic introduction to Cognitive Grammar that is current, authoritative, comprehensive, and approachable. It presents a synthesis that draws together and refines the descriptive and theoretical notions developed in this framework over the course of three decades. In a unified manner, it accomodates both the conceptual and the social-interactive basis of linguistic structure, as well as the need for both functional explanation and explicit structural description. Starting with the fundamentals, essential aspects of the theory are systematically laid out with concrete illustrations and careful discussion of their rationale. Among the topics surveyed are conceptual semantics, grammatical classes, grammatical constructions, the lexicon-grammar continuum characterized as assemblies of symbolic structures (form-meaning pairings), and the usage- based account of productivity, restrictions, and well-formedness. The theory's central claim - that grammar is inherently meaningful - is thereby shown to be viable. The framework is further elucidated through application to nominal structure, clause structure, and complex sentences.These are examined in broad perspective, with exemplification from English and numerous other languages. In line with the theory's general principles, they are discussed not only in termsof their structural characterization, but also their conceptual value and functional motivation. Other matters explored include discourse, the temporal dimension of language structure, and what grammar reveals about cognitive processes and the contruction of our mental world.
Sklep: Libristo.pl 110,24 zł
Książki / Literatura obcojęzyczna
Offers complete in-depth preparation for the Cambridge IGCSE in English as a Second Language (E2L) examination. The revised edition of this highly successful course offers complete preparation for all papers of the Cambridge IGCSE in English as a Second Language examination. The book is endorsed by Cambridge for use with the revised syllabus. Key features include: stimulating topics, international in perspective and relevant to IGCSE students educational needs and interests; step-by-step development of the four skills to build confidence and competence; particular attention to developing a mature writing style with a focus on tone, register and audience awareness; exercises in grammar, vocabulary and spelling.
Sklep: Libristo.pl 72,57 zł
Książki & Multimedia > Filmy Video
Nazwa - GDZIE JEST DORY/GDZIE JEST NEMO - PAKIET 2 FILMÓW (2DVD) Kod EAN - 7321917506021 Rok wydania - 2016 Nośnik - Płyta DVD Ilość elementów - 2 Podatek VAT - 23% Premiera - 2016-11-21
Sklep: InBook.pl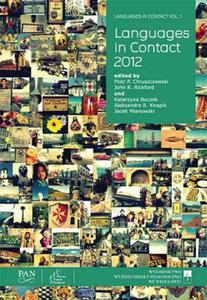 59,80 zł
Książki / Językoznawstwo i translatologia
Introduction Within the context of cultural pluralism and multiculturalism, the edition of a new book series overseen by the Committee for Philology of the Polish Academy of Sciences, Wrocław Branch, together with the Philological School of Higher Education in Wrocław, under the title of Languages in Contact is vivid proof of unity in diversity. This unity in diversity is rendered in the new books series in two ways: through the interdisciplinary methodological apparatus of anthropological linguistics, contact linguistics, sociolinguistics, cognitive grammar, communicology, and studies of culture; and through the diversity of the corpus to be analyzed (literary texts, runic texts, sign languages or visual images). The present volume is composed of papers, many of which were presented in Wrocław at the conference
Sklep: Hatteria.pl 36,75 zł
Dla tłumaczy
This volume is a collection of texts written in honour of Professor Elżbieta Tabakowska. It contains articles and essays by her students, colleagues and friends within the academia in Europe and the United States, among them scholars of such renown in the field of cognitive linguistics as Ronald W. Langacker, Günter Radden and Margaret H. Freeman. "Cognition in language" forms one part of the volume: it also includes articles concerning language and culture, literature in translation, translation teaching, etc. The diversity of themes and approaches reflects the wealth of Professor Tabakowska's interests, as well as the scope of her influence as a scholar and - not less importantly - as a mentor and friend. Professor Elżbieta Tabakowska is Director of the UNESCO Chair for Translation Studies and Intercultural Communication at the Jagiellonian University, Kraków. She is the author of over a hundred scholarly articles and, among others, the following books: Cognitive Linguistics and Poetics of Translation (Tübingen 1993), Język i obrazowanie. Wprowadzenie do językoznawstwa kognitywnego [Language and Imagery: An Introduction to Cognitive Linguistics] (Kraków 1995) and O przekładzie na przykładzie. Rozprawa tłumacza z Europą Normana Daviesa (Kraków 1998). Table of Contents Preface Introduction. A Friend of Knowledge and Wisdom Professor Elżbieta Tabakowska's publications to date Professor Elżbieta Tabakowska's MA and PhD students Norman Davies, A Flourishing Partnership of Two Decades Enrique Cay Krebs Dollerup, Elka and Me Mary Snell-Hornby, In and after the Days of Solidarność. Reminis - cences of the 1980s and 1990s with Elżbieta Tabakowska Katarzyna Jakubiak, The Guardian of Cooperation Part I. Language and Cognition Angeliki Athanasiadou, Scalarity and Subjectivity: The Case of absolutely  Barbara Bacz, S-/Z-Prefi xation and Aspect in Polish Elżbieta Górska, The Reference-point Ability and the English Noun Part and its Cognates Maria Jodłowiec, Mental Architecture and Relevance29 Henryk Kardela, Event Structure: A Force Dynamics / Absolute Construal Account Dorota Korwin-Piotrowska, Text Coherence from the Cognitive Perspective - an Analytic Attempt Ronald W. Langacker, The Present Tense in English Adverbial Clauses Andrzej Pawelec, Metaphor and the Unconscious Günter Radden, Interaction of Modality with Negation Aleksander Szwedek, Polysemy and Metaphorization Part II. Translation and Literature Teresa Bałuk-Ulewiczowa, Cross-Cultural Communication Breakdown: A 16th-Century Case Study Ewa Data-Bukowska, The World from Afar - the World in Close-up. Some Thoughts on Manifestations of Viewing in Translations of Swedish Texts into Polish Aleksander Gomola, Translation as a Diff erent Conceptualization. A linguistic analysis of a poem by Czesław Miłosz Wykład V and its English translation Magda Heydel, It Does Inspire Our Admiration! A Translationof Juliusz Słowacki's Balladyna into English Riitta Jääskeläinen, Translation Strategies - What Are Th ey? Katarzyna Jakubiak, Performing Son and Blues: Langston Hughes's and Ben Frederic Carruthers's Translation of Motivos de son Agnieszka Pokojska, W.H. Auden's The Sea and the Mirror in the Polish Translation Tadeusz Sławek, The Europe-of-Europe, or the Warranty of Translation Elżbieta Wójcik-Leese, A Shared Understanding of the Topic of Conversation? Translating Krystyna Miłobędzka's Terseness Teresa Bela, Building the Barricade: Anna Swir's Lyrical Epos of the Warsaw Uprising of 1944 Ewa Chruściel, Metonymic Compression and Mirror Blends in Lyn Hejinian's My Life. The Rhythm of Cognition Margaret H. Freeman, Poetic Iconicity Agata Hołobut, Intermedial Iconicity in E.E. Cummings' Picasso Christina Ljungberg, Cognitive Approaches to Literary Interpretation Part III. Language and Culture Jerzy Bartmiński, East-West: on the Symmetry of Senses and Cultural Differentiation of Profiles Elżbieta Chrzanowska-Kluczewska, On Interplanetary Travels Between Friendly and Unfriendly Worlds Hans-Jürgen Diller, Measuring the Growth of Semantic Fields: the Case of the English Emotion Lexicon Halina Kurek, Conceptual Categories of the Rural Linguistic--Cultural Area Janina Ozga, Krzysztof Ozga, Phonetic Correctness: between Tyranny and Courtesy Mirja Saari, The Rise of Finnish in the 19th Century Peter Franklin, The Intercultural Interaction of British and German Managers: A Comparative Analysis of Self-report Data Andrzej Kurtyka, On Technical Writing in Translation Training Notes on Contributors Acknowledgments
Sklep: Księgarnia.Poltax.waw.pl 52,76 zł
Książki / Literatura obcojęzyczna
Seminar paper from the year 2007 in the subject English Language and Literature Studies - Linguistics, printed single-sided, grade: 2,3, University of Heidelberg (Institut für Anglistik), course: Hauptseminar Functional Syntax, language: English, abstract: In this term paper I will investigate the structure of English sentences with the subject§notion as a starting point. It presents a classical notion to analyse clauses and sentences§but how exactly can a subject be defined? For this purpose, I will show that the notion is§not detailed enough and suggest a distinction into grammatical, logical and psychological§subject. This proves useful to analyse sentences which at first glance do not appear to have§any subject at all. In a next step I will focus on features of the grammatical subject§according to the Cambridge Grammar of the English language (2005). The discussion will§prove that the properties given for grammatical subjects do not constitute a fixed frame§which sharply distinguishes between elements eligible to be subjects and others that are§not. Instead I will argue that the subject category is best analysed as a prototype category§and that its features have prototypical character.§The second section is concerned with different ways of accounting for particular§structures of language. If various syntactic functions can appear at the beginning of§sentences then why does a speaker choose a particular construction instead of another? I§will argue that this question is closely related to analyses of clauses, sentences and§utterances going beyond a mere subject vs. predicate dichotomy. I will start with a§discussion of the thematic structure of sentences and clauses and introduce the distinction§of topic and comment. The second step complements the thematic structure of language§with the information structure, in which constituents can be labelled given and new .§This analysis also considers the intra- and extra-linguistic context of clauses and sentences§and can thereby account for a fair share of speaker-choices between differing§constructions. Since there are still some cases that cannot be explained by looking at the§information structure, I will then present the notion of perspective as very helpful. Taking§together these different levels of analysis one is enabled to account for a large quantity of§possible constructions in the English language.
Sklep: Libristo.pl 812,90 zł
Książki / Literatura obcojęzyczna
These previously unpublished articles offer a cross-linguistic perspective on small clauses. They discuss subjects such as the different types of small clauses across languages and lexical items, the internal syntax of small clauses and their structure, and the general topic of the grammar of predication, ranging from a total questioning of the existence of small clauses to claims that they exist in every predication context. The editors' cross-linguistic approach addresses syntactic and lexical issues as well as the relationships between small clauses and language acquisition among children. It surveys the problems raised by small clauses in light of recent developments in the principles and parameter model. The data is drawn from Danish, Dutch, English, Finnish, French, German, Hebrew, Hungarian, Icelandic, Irish, Italian, Norwegian, Portuguese, Russian, Slovak, and Swedish. The contributions share theoretical assumptions about small clauses. The cross-linguistic comparison offers the potential for defining variable and static elements of small clauses, as well as distinguishing ways that they resemble full clauses.
Sklep: Libristo.pl 231,56 zł
Książki / Literatura obcojęzyczna
Bachelor Thesis from the year 2010 in the subject Business economics - General, grade: 1,3, University of Popular Music and Music Business (Popakademie Baden-Württemberg), course: Musikbusiness/BWL, language: English, abstract: Although the recording industry finds itself in a challenging economic situation, very little is known about how to build up a business model which fulfils the demands of a new generation. The theory of access replacing ownership provides another perspective concerning the so-called digital natives. The analysis of the demands of this consumer groups shows that the ownership of music seems to be obsolete to them. The music consumers of today and tomorrow do no longer care about owning music. The Swedish model Spotify offers music on an advertisement and subscription base and is depicted as an example in which consumers are offered a model of access. The thesis results provide general information about the notion of property and ownership as a whole as well as it recovers the development of these notions on the digital age and their deep impact on the economic behaviour and the scope of dealing with these changes.The thesis uses self generated data from a survey as well as literary sources and serves as a road sign indicating the issues of access in several parts of economy, with the focus on Spotify and the recording industry. The findings of the thesis can be generalised to any industry that offers digital (entertainment) content.
Sklep: Libristo.pl
Sklepy zlokalizowane w miastach: Warszawa, Kraków, Łódź, Wrocław, Poznań, Gdańsk, Szczecin, Bydgoszcz, Lublin, Katowice
Szukaj w sklepach lub całym serwisie
2. Szukaj na wszystkich stronach serwisu
t1=0.072, t2=0, t3=0, t4=0.017, t=0.073