krainaksiazek university grammar of english with a swedish perspective 20107365
- znaleziono 8 produktów w 3 sklepach 97,12 zł
Książki / Literatura obcojęzyczna
Seminar paper from the year 2010 in the subject Computer Science - Applied, printed single-sided, grade: -, Blekinge Institute of Technology, language: English, abstract: Funding and resource allocation in a Swedish university is fast degenerating to a problematic situation. This write-up applied soft system methodology to the situation, it placed the problems in perspective and came up with a conceptual model of the problematic situation. A conclusion was drawn by comparing the model with the actual problem description.
Sklep: Libristo.pl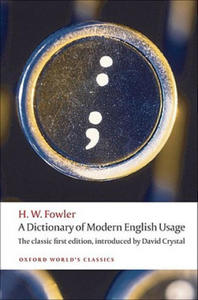 50,40 zł
Książki / Literatura obcojęzyczna
'What grammarians say should be has perhaps less influence on what shall be than even the more modest of them realize ...' No book had more influence on twentieth-century attitudes to the English language in Britain than Henry Fowler's Dictionary of Modern English Usage. It rapidly became the standard work of reference for the correct use of English in terms of choice of words, grammar, and style. Much loved for his firm opinions, passion, and dry humour, Fowler has stood the test of time and is still considered the best arbiter of good practice. In this new edition of the original Dictionary, David Crystal goes beyond the popular mythology surrounding Fowler's reputation to retrace his method and arrive at a fresh evaluation of his place in the history of linguistic thought. With a wealth of entertaining examples he looks at Fowler's stated principles and the tensions between his prescriptive and descriptive temperaments. He shows that the Dictionary does a great more than make normative recommendations and express private opinion. In addition he offers a modern perspective on some 300 entries, in which he shows how English has changed since the 1920s. ABOUT THE SERIES: For over 100 years Oxford World's Classics has made available the widest range of literature from around the globe. Each affordable volume reflects Oxford's commitment to scholarship, providing the most accurate text plus a wealth of other valuable features, including expert introductions by leading authorities, helpful notes to clarify the text, up-to-date bibliographies for further study, and much more.
Sklep: Libristo.pl 132,64 zł
Książki / Literatura obcojęzyczna
This textbook provides a detailed introduction to the study of Latin from the perspective of contemporary linguistics. It adopts some basic tenets of generative grammar in an in-depth analysis of the main phonological, morphological, and syntactic properties of Latin, and offers a step-by-step guide to the universal principles and specific parameters which shape the language, along with comparative data from English and other languages. Latin: A Linguistic Introduction is a user-friendly and essential guide to the synchronic study of Latin as a natural language. The clarity of exposition and the richness of the examples cited provide a new approach to Latin as a topic of linguistic research: although the general structure of the book is like that of a traditional Latin grammar, the discussion of grammatical rules is both more straightforward and more theoretically informed. This textbook is principally suitable for students of Latin and Romance linguistics at undergraduate level and above, but also for teachers and researchers interested in new ways of looking at the study of Latin. It differs from many other textbooks in the field by striking a valuable balance between the longstanding tradition of classical philology and the innovations of contemporary linguistics.
Sklep: Libristo.pl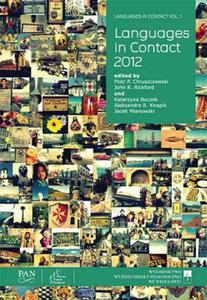 59,80 zł
Książki / Językoznawstwo i translatologia
Introduction Within the context of cultural pluralism and multiculturalism, the edition of a new book series overseen by the Committee for Philology of the Polish Academy of Sciences, Wrocław Branch, together with the Philological School of Higher Education in Wrocław, under the title of Languages in Contact is vivid proof of unity in diversity. This unity in diversity is rendered in the new books series in two ways: through the interdisciplinary methodological apparatus of anthropological linguistics, contact linguistics, sociolinguistics, cognitive grammar, communicology, and studies of culture; and through the diversity of the corpus to be analyzed (literary texts, runic texts, sign languages or visual images). The present volume is composed of papers, many of which were presented in Wrocław at the conference
Sklep: Hatteria.pl 125,60 zł
Książki / Literatura obcojęzyczna
Seminar paper from the year 2012 in the subject English - Grammar, Style, Working Technique, grade: 1,0, Humboldt-University of Berlin, language: English, abstract: Since English and German belong to the West Germanic family, both languages are - considered from a historical perspective closely related. However, English and German have developed in entirely different ways over time. While English was strongly influenced by many foreign languages, such as French, German remained closer to the language group both originally derived from. Precisely these divergent developments make a contrastive analysis between the two major languages particularly interesting. Within this paper, English and German will be compared with regard to the passive voice, one form of the grammatical category voice that is, according to König & Gast (2009: 123), easy to identify in English and German and rather unproblematic to compare. In its general meaning, the term voice is used interchangeably with diathesis. In this sense, the concept of voicerelates to the argument structure of predicates, i.e. the relationship between thematic roles like Agent, Patient, Instrument and grammatical functions like subject and object, as well as to the alternations found between different argument structures. (ibid.).While diathesis appears to be a characteristic of any verb, voice - in the more restricted understanding of the word means the form of a [...] verb which shows whether the person or thing denoted by the subject acts or is acted upon (Xavier 2008: 50). The narrower concept of voice, thus, differentiates between the active and the passive.In the course of my studies, the grammatical phenomenon of voice has been used several times to exemplarily compare English with German. The system of voice in English and German has been (re-)introduced in the course of this semester s seminar English in Contrast. Therefore, my interest in this topic was already raised before the seminar and I found it particularly interesting to learn more about the differences of English and German passives. As a future teacher of both of these major languages, I consider this an excellent opportunity to gain a detailed inside into this matter.This term paper aims at figuring out in how far the passive voice is different in English and German. Despite both languages' very same origin, it is assumed that, due to language change, English and German show considerable differences in the passive voice. The work by König & Gast (2009) will be taken as the basis for a discussion on this question...
Sklep: Libristo.pl 36,75 zł
Dla tłumaczy
This volume is a collection of texts written in honour of Professor Elżbieta Tabakowska. It contains articles and essays by her students, colleagues and friends within the academia in Europe and the United States, among them scholars of such renown in the field of cognitive linguistics as Ronald W. Langacker, Günter Radden and Margaret H. Freeman. "Cognition in language" forms one part of the volume: it also includes articles concerning language and culture, literature in translation, translation teaching, etc. The diversity of themes and approaches reflects the wealth of Professor Tabakowska's interests, as well as the scope of her influence as a scholar and - not less importantly - as a mentor and friend. Professor Elżbieta Tabakowska is Director of the UNESCO Chair for Translation Studies and Intercultural Communication at the Jagiellonian University, Kraków. She is the author of over a hundred scholarly articles and, among others, the following books: Cognitive Linguistics and Poetics of Translation (Tübingen 1993), Język i obrazowanie. Wprowadzenie do językoznawstwa kognitywnego [Language and Imagery: An Introduction to Cognitive Linguistics] (Kraków 1995) and O przekładzie na przykładzie. Rozprawa tłumacza z Europą Normana Daviesa (Kraków 1998). Table of Contents Preface Introduction. A Friend of Knowledge and Wisdom Professor Elżbieta Tabakowska's publications to date Professor Elżbieta Tabakowska's MA and PhD students Norman Davies, A Flourishing Partnership of Two Decades Enrique Cay Krebs Dollerup, Elka and Me Mary Snell-Hornby, In and after the Days of Solidarność. Reminis - cences of the 1980s and 1990s with Elżbieta Tabakowska Katarzyna Jakubiak, The Guardian of Cooperation Part I. Language and Cognition Angeliki Athanasiadou, Scalarity and Subjectivity: The Case of absolutely  Barbara Bacz, S-/Z-Prefi xation and Aspect in Polish Elżbieta Górska, The Reference-point Ability and the English Noun Part and its Cognates Maria Jodłowiec, Mental Architecture and Relevance29 Henryk Kardela, Event Structure: A Force Dynamics / Absolute Construal Account Dorota Korwin-Piotrowska, Text Coherence from the Cognitive Perspective - an Analytic Attempt Ronald W. Langacker, The Present Tense in English Adverbial Clauses Andrzej Pawelec, Metaphor and the Unconscious Günter Radden, Interaction of Modality with Negation Aleksander Szwedek, Polysemy and Metaphorization Part II. Translation and Literature Teresa Bałuk-Ulewiczowa, Cross-Cultural Communication Breakdown: A 16th-Century Case Study Ewa Data-Bukowska, The World from Afar - the World in Close-up. Some Thoughts on Manifestations of Viewing in Translations of Swedish Texts into Polish Aleksander Gomola, Translation as a Diff erent Conceptualization. A linguistic analysis of a poem by Czesław Miłosz Wykład V and its English translation Magda Heydel, It Does Inspire Our Admiration! A Translationof Juliusz Słowacki's Balladyna into English Riitta Jääskeläinen, Translation Strategies - What Are Th ey? Katarzyna Jakubiak, Performing Son and Blues: Langston Hughes's and Ben Frederic Carruthers's Translation of Motivos de son Agnieszka Pokojska, W.H. Auden's The Sea and the Mirror in the Polish Translation Tadeusz Sławek, The Europe-of-Europe, or the Warranty of Translation Elżbieta Wójcik-Leese, A Shared Understanding of the Topic of Conversation? Translating Krystyna Miłobędzka's Terseness Teresa Bela, Building the Barricade: Anna Swir's Lyrical Epos of the Warsaw Uprising of 1944 Ewa Chruściel, Metonymic Compression and Mirror Blends in Lyn Hejinian's My Life. The Rhythm of Cognition Margaret H. Freeman, Poetic Iconicity Agata Hołobut, Intermedial Iconicity in E.E. Cummings' Picasso Christina Ljungberg, Cognitive Approaches to Literary Interpretation Part III. Language and Culture Jerzy Bartmiński, East-West: on the Symmetry of Senses and Cultural Differentiation of Profiles Elżbieta Chrzanowska-Kluczewska, On Interplanetary Travels Between Friendly and Unfriendly Worlds Hans-Jürgen Diller, Measuring the Growth of Semantic Fields: the Case of the English Emotion Lexicon Halina Kurek, Conceptual Categories of the Rural Linguistic--Cultural Area Janina Ozga, Krzysztof Ozga, Phonetic Correctness: between Tyranny and Courtesy Mirja Saari, The Rise of Finnish in the 19th Century Peter Franklin, The Intercultural Interaction of British and German Managers: A Comparative Analysis of Self-report Data Andrzej Kurtyka, On Technical Writing in Translation Training Notes on Contributors Acknowledgments
Sklep: Księgarnia.Poltax.waw.pl 684,16 zł
Książki / Literatura obcojęzyczna
This volume embarks on an exploration of the processual and dynamic character of grammatical constructions in emergence, both from an emergent and an emerging perspective. Emerging constructions develop out of their surrounding discourse contexts. Emergent constructions are due to the on-line production of grammar in time. On the basis of empirical studies on spoken English, German, Hebrew, Swedish and French, this volume shows how in both senses, grammar is a highly adaptive resource for interaction.
Sklep: Libristo.pl 231,84 zł
Książki / Literatura obcojęzyczna
Bachelor Thesis from the year 2010 in the subject Business economics - General, grade: 1,3, University of Popular Music and Music Business (Popakademie Baden-Württemberg), course: Musikbusiness/BWL, language: English, abstract: Although the recording industry finds itself in a challenging economic situation, very little is known about how to build up a business model which fulfils the demands of a new generation. The theory of access replacing ownership provides another perspective concerning the so-called digital natives. The analysis of the demands of this consumer groups shows that the ownership of music seems to be obsolete to them. The music consumers of today and tomorrow do no longer care about owning music. The Swedish model Spotify offers music on an advertisement and subscription base and is depicted as an example in which consumers are offered a model of access. The thesis results provide general information about the notion of property and ownership as a whole as well as it recovers the development of these notions on the digital age and their deep impact on the economic behaviour and the scope of dealing with these changes.The thesis uses self generated data from a survey as well as literary sources and serves as a road sign indicating the issues of access in several parts of economy, with the focus on Spotify and the recording industry. The findings of the thesis can be generalised to any industry that offers digital (entertainment) content.
Sklep: Libristo.pl
Sklepy zlokalizowane w miastach: Warszawa, Kraków, Łódź, Wrocław, Poznań, Gdańsk, Szczecin, Bydgoszcz, Lublin, Katowice
Szukaj w sklepach lub całym serwisie
2. Szukaj na wszystkich stronach serwisu
t1=0.04, t2=0, t3=0, t4=0.021, t=0.04